Cameron Carr - Contributor
Never made it to Roosters training
I've only seen the guy who drove the car that put me in a wheelchair once since the accident in 1996. That was at a mate's wedding about 10 or so years ago.
Otherwise, he hasn't been in my life at all.
How does it make me feel that he's never made an effort to get in touch? It doesn't make me feel anything. He didn't mean for it to happen. You probably always think that there's a right way to react to a situation, but I don't know. Is there?
He'd be wrestling with his emotions and grief too.
Everyone expects people to act a certain way after something traumatic but everyone's different and they handle it their own way. So I probably felt anger towards him but there's nothing now. I think you just grow up, and that's the way it is.
It's not as simple as him apologising and making it better. If he had a magic pill that was going to get me out of my chair and get my life back to the way it was, then I probably would be a little bit angry that he took off.
But the fact is he doesn't have that, and him saying sorry, well, for me it wouldn't have helped. It would have just been words. My situation is something that I have had to deal with as an individual. I have had to take my own path and my own journey.
'THIS HAPPENS TO OTHER PEOPLE, NOT YOU'
Back in 1996, I was a promising young rugby league lock forward with dreams of an NRL career.
I played all my junior footy out of South Queensland, and then when I was in year 11 or 12, I signed with the former NRL team, the South Queensland Crushers.
I played a couple of under-19s games with them and I thought, 'Job done, I'll just wait until I progress through to first grade'.
I was enjoying all the stuff that goes along with being a player on the way up, and then they went, 'Oh, sorry. You're not really doing the right thing'. So they shot me down to our feeder club Logan Scorpions.
I was down there for about 12 months. Then one day in a Queensland under-19s match which was the curtain raiser to a State of Origin game, NRL immortal Arthur Beetson, who was then a recruiter with the Roosters, saw me play and must have been impressed with how I played.
My dad Norm Carr played for Queensland in the 1970s and in the early State of Origin era, and Arthur gave my dad a call.
There would have been about five clubs that made contact at that time, but the Roosters seemed to be the best fit. Shortly afterwards, I signed a two-year contract with them.
The day I was going to drive down to start pre-season training with another mate who was also playing for the Roosters, I got a call from the Roosters football manager saying my accommodation had fallen through.
He just happened to get hold of me before I left. There were no mobile phones back then, so it was the luck of a phone call getting in touch with someone back home.
He said, 'We've got you some different accommodation. Instead of driving down, we'll fly you down in two weeks time'.
I liked the idea of flying down instead of driving. Since I was now free the following weekend, I went to a mate's 21st instead. It was a good night, and I jumped into a taxi to go out afterwards with a mate of mine.
Then I decided, 'No, I'll do the right thing and I'll go home'.
I got out of the taxi and jumped into a car driven by the guy whose place I was staying at. He'd had a few drinks but not many. But he'd been out the night before if I remember right, and he was tired. Anyway, I just hopped in the car with him, and it was a five-minute drive home, and he fell asleep 100 metres from home on a straight road.
It was raining lightly and the car flipped. I saw it all unfold. It was one of those things where you're just sort of sitting there and you say, 'Why is this car doing this?' The front passenger was asleep as well, the driver had fallen asleep, and I just sort of sat in the back watching it all happen, powerless to do anything.
He fell asleep 100 metres from home on a straight road. I just sort of sat in the back watching it all happen, powerless to do anything.
I remember just sort of lying there thinking, 'Oh'.
It was sort of an out-of-body experience. I was in and out of consciousness but I remember lying there looking down at myself thinking, 'This doesn't happen to you, it happens to other people but not you'.
'WE'VE GOT THE WRONG PERSON'
For a long time afterwards I was feeling lost. I think I lost my sense of identity. I was like, 'Well, who am I now?' I can't do all those things I loved doing beforehand. And the NRL, it was just on the TV all the time.
It was a hard grind. I was angry and I wasn't accepting. 'Resilience' is a big word these days and everyone wants to be resilient, but I think it's more about being 'adaptable'. And that's probably what I struggled with at the time – adapting to my situation.
For a long time, I just wasn't willing to adapt to it. It's like I was waiting on someone to knock on my door and apologise and say, 'Shit, we've got the wrong person. Here, you can go on with your life'.
And like I say, another thing that made it harder was that the NRL was always on TV. I couldn't have that disconnect from the sport. And my dad still had his involvement. He used to get invited to certain events but it didn't interest me.
For a long time, I just wasn't willing to adapt to it. It's like I was waiting on someone to knock on my door and apologise and say, 'Shit, we've got the wrong person'.
I'm lucky I've had a good support base. Obviously having a good family base and my extended family as well has been hugely important, because it's such a huge impact on everyone else as well.
Then one day, I just sort of woke up and went, 'What am I doing?'
Obviously that moment had been slowly evolving, but there was one day when I went, 'Shit, I've got to do something! I'm 24, I've just seen five years of my life go by without doing anything'.
Or so I thought then.
Look back now, it was all just a path I had to take – my own journey of finding myself. And I just went, 'I really need to start getting fit and active and start living life again'.
When you first go into hospital with a spinal cord injury, everyone wants to sign you up for their sport. That was the last thing I wanted to do at the time. But the sport of wheelchair rugby was designed for people with an injury such as mine, so it was just a good fit. Numbers aren't huge in Paralympic sport so everyone is trying to attract new members.
I went down and started training and got into the gym and bought a hand cycle and just started from there.
STEELING MY LIFE BACK
I loved the physical contact in rugby league, I just loved it. In wheelchair rugby, you don't actually hit one another, but the sport has its different obstacles to overcome. You're always using your arms and upper body strength, but there's more to it than that.
It's a very tactical game and you've got to learn to anticipate the play. When you score a goal – or a 'try' as they call it now – you need to be defending immediately. You don't have time to be thinking about your mate scoring a goal, you've got to be defending because the transition is so quick.
It took me a little while to get used to that, because in rugby league or union you score and you get a drink and you walk back and it's a couple of minutes before the play starts again. But wheelchair rugby is always on, and that took a while to get used to.
I started playing locally and progressed to the Queensland team within six or 12 months. Within two years, I was on the national team.
In my career, I went to three Paralympics and won two gold medals and a silver, as well as a world championship gold and silver.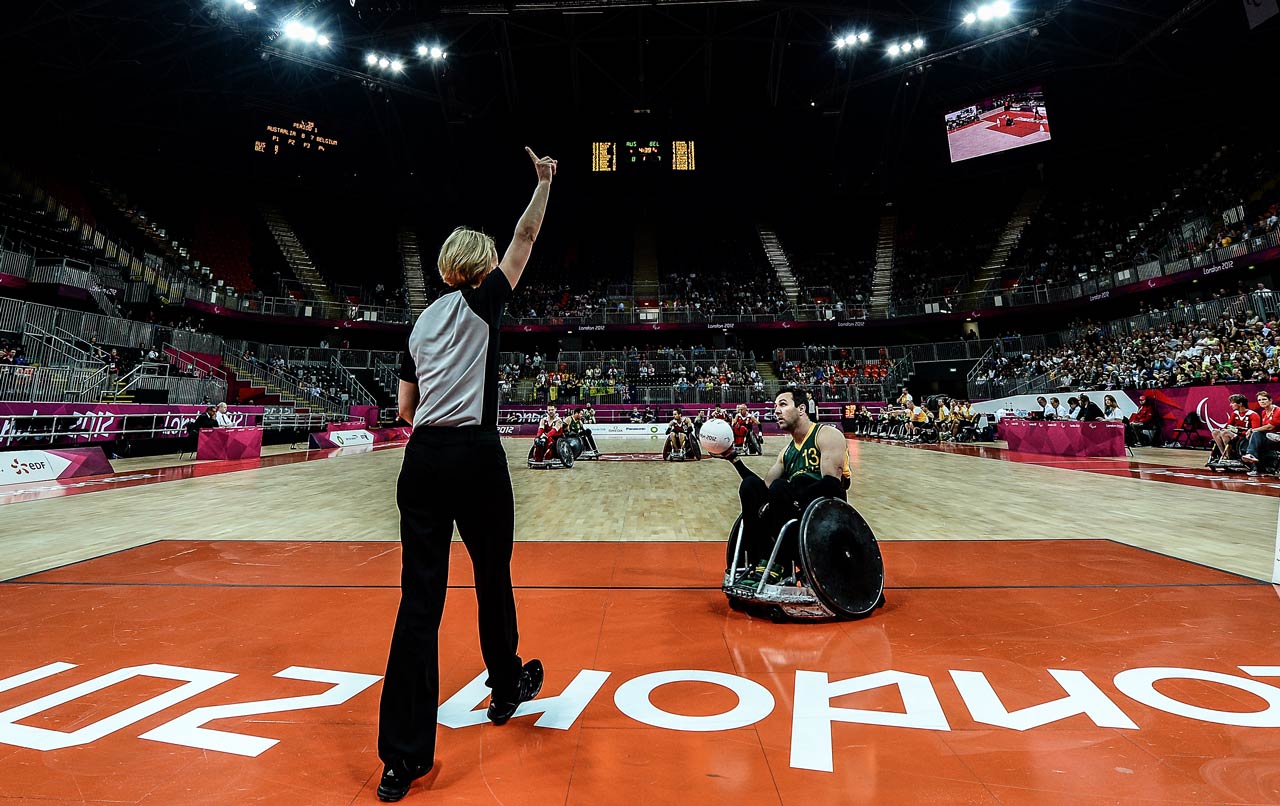 One of my most exciting moments came in Beijing in 2008. In the lead-up we don't even know how the Chinese people were going to react to disabled people, and then we got there and it was amazing, it was just huge. We couldn't go out without being swamped by people wanting our autograph, and all the games were sold out. It gave you as sense that this really was an elite level sport.
The other big moment was winning Paralympic gold in London for the first time. It was a huge weight off my shoulders. We'd stumbled a couple of times and then finally we got there.
The game has been good to me. There are 26 countries taking part in international competition, and more than 10 others developing national programs. I've certainly travelled to a few places for the sport. I think the only continent I haven't been to is Antarctica!
We don't have huge playing numbers here in Australia, but what is probably more important is that we put a lot into training. I was very lucky that throughout my time with the core group, the whole culture of the sport changed and we realised that it's more fun winning than going out partying and losing.
So the guys are training six days a week now, and other countries have realised that and they're starting to catch up. I think we saw that with the even standard of the competition at the recent Wheelchair Rugby World Cup in Sydney, where the Aussie Steelers lost 62-61 to Japan in the final.
Like any sport, wheelchair rugby obviously goes in cycles, and like any Olympic or Paralympic sport, if you're hosting a major event, there's an influx of money and media coverage and so you tend to go a little bit better.
So with Japan winning the World Cup but Australia still ranked number one in the world, it will be fascinating to see what happens at the 2020 Paralympics in Tokyo.
UNI, KIDS, THE FUTURE
I was reading recently about how decisions get made for you because your circumstances change, and that's pretty much how it was for me when I retired from wheelchair rugby recently.
I've got three young kids, and I'm finishing off a double degree at uni in exercise science and psychology.
I heard someone say the other week that double degrees are becoming more popular because you do one for yourself and one for your parents. But because I'm a mature-age student, I'm probably doing one for myself and one for my wife and employment prospects.
I started off with the exercise science degree and then I just got hooked on the psychology of mental health and performance anxiety. The two degrees go together really well. If people aren't performing in sport, you want to understand why. It's easy to fix someone physically but if they're not performing and the cause is mental, then you've got no hope of getting them to change without understanding the psychology.
Down the track, I don't know if I'd want to go into coaching, but I'd definitely do something in consulting and that sort of space – anything to do with higher performance where there are performance anxiety issues and resilience and that sort of stuff.
There probably is a bit of a social vacuum in my life now that my wheelchair rugby career is behind me. As a parent with a young family, you're pretty much chasing your tail all day. Probably the biggest thing you miss is the relationships you have, especially the bonding when you're going into training or on overseas trips. The travel is where you get to know each other well.
There's a lot less travel in my life these days but I'm loving life with my wife Kim, son Eli and my twin daughters who are two.
Having said that, it was good going down to the tournament in Sydney recently because all the boys were there and there were a few of us ex-players as well, so we all got to hang out.
I even watch the State of Origin these days. We've been winning for the best part of 12 years, so I've enjoyed that, especially since I grew up with Dad playing in the '70s when Queensland didn't win at all in the pre-Origin format.
NSW may have won this year's series, but I'm willing to learn from a loss. It's always good to get a little bit of excitement back for the following year.
More about: Disability | Injuries | Paralympics | Resilience | Tokyo 2020 | Wheelchair rugby