Derrick Rose & starting again
While my opportunities with the Chicago Bulls were few and far between, the bottom line is I didn't take advantage of them when they were given.
There were a couple of moments where I could have had a more aggressive mindset. To be successful in that environment, you need to have a professionally selfish mentality, which can be difficult to transition to growing up in the Australian team culture.
Having that mentality is ultimately what it takes to force your way into an NBA rotation. You need to have the confidence to back yourself in every situation regardless of the limitations of it.
If the right opportunity comes up, I'd love to have another crack at the NBA. But for now, I'm focused on getting my knee right and enjoying basketball as much as I can. That's what's important to me.
THE REAL DERRICK ROSE
It was eye-opening to see how Derrick Rose was treated by the Chicago fans.
I joined the Bulls right after he had spent two seasons out with injury. He wasn't playing his best basketball, which is obviously frustrating for anyone let alone a former MVP.
It was really tough to watch how the Bulls fans and media treated him. He was an awesome teammate and probably the most humble person to ever receive the league MVP.
You could tell the injuries and the way he was treated had an impact on his love for the game. But I thought Derrick handled it all really well. He was able to brush it off and remain positive throughout his time there.
My time in the NBA was an awesome experience but it was a big reality check in a few ways.
In college, you know where you're going to be playing the next year for the most part. At the University of New Mexico, I got used to playing a lot of minutes in a competitive environment.
When I got to the NBA, I was back down at the bottom. It was more cut-throat in many ways than the collegiate environment. That dynamic was a huge adjustment.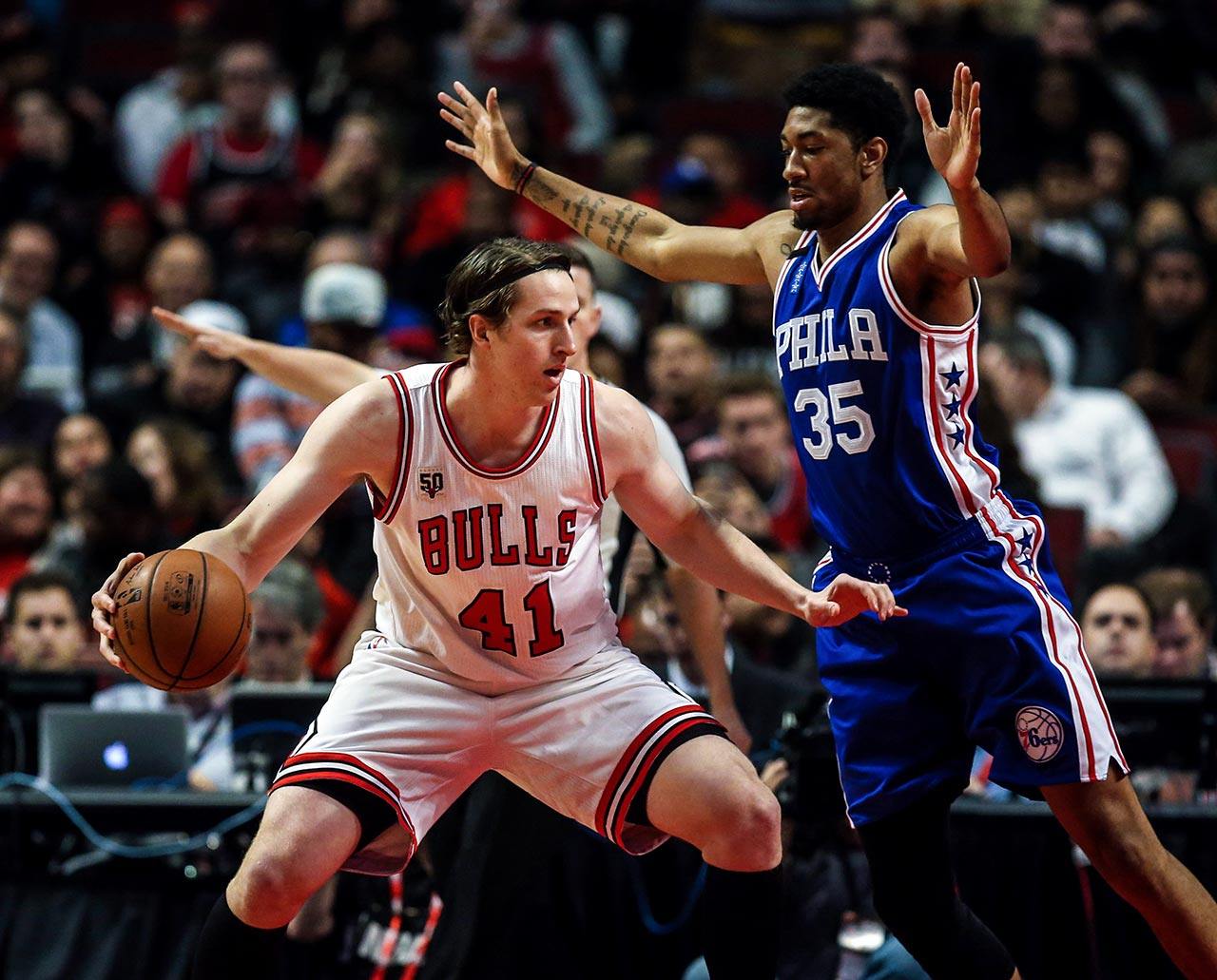 I was on a talented roster with a coach, Tom Thibodeau, who was known for playing veterans. It was hard to break into the team but that's the case on most NBA teams. You're competing with the best couple of hundred players in the world.
To survive, you've got to be able to beat out your teammates for a spot in the team and I wasn't able to do that. I had some tough competition – Pau Gasol, Joakim Noah, Taj Gibson and Nikola Mirotic were all elite big men at the time.
My frustration with not playing was further compounded by the lack of practice time, which was limited even by NBA standards. Sometimes I would go months during the season without any competitive or live action even in practice.
You try to stay positive but of course it can get to you if you don't have the right mindset. You just have to focus on what you can control. I couldn't control whether the coach played me. I just had to show up and put in the work every day.
When I did get the chance, it was awesome playing in that environment and competing with the best players in the world.
It was really tough to watch how the Bulls fans and media treated him. He was an awesome teammate and probably the most humble person to ever receive the league MVP.
My experience with the Bulls was that you show up, practice with your teammates and then everyone goes their own way. It was the same on the road. A lot of the guys have families or bring their best mates along for the ride and spend their time with them.
It makes living in a new city a bit difficult sometimes. It got pretty lonely during the first few months when I had just moved up and there weren't many distractions to take your mind off things. During a lot of the season you couldn't even go outside for a walk because it's sub-zero temperatures or snowing.
In Chicago, the disparity between the wealthy and the poor is really noticeable. You could walk a couple of blocks down the road and the world would completely change.
Every city in the world has some bad parts but Chicago had a lot of them. It was just a case of knowing where the bad areas were and staying away from them.
It was an experience I wasn't accustomed to growing up in Australia and even from my time in New Mexico, where you never thought twice about the safety of the area.
THE PIT
The last game I had played in Australia before moving over to the states for College was with the Australian Institute of Sport. There would have been 20 people in the crowd.
The University of New Mexico was another world.
UNM is in a city called Albuquerque, which is home to about 700,000 people. They are all crazy about their basketball and don't have a local professional team to follow. Just the Lobos.
UNM's arena, The Pit, is well-known for being one of the loudest venues in the USA.
There's a real mystique about it. Albuquerque is at altitude – about 1,600 metres above sea level – but what's really interesting about the arena is that it is built underground.
Noise echoes and vibrates around the Pit and during big games your ears start ringing as the crowd becomes a dull roar. Afterwards, it always felt like you'd been in a nightclub or concert.
While NBA crowds are bigger, the fans are really just there to enjoy the show. College fans are there to support their teams. While not every college has great fan support, I was fortunate to play in front of 16,000 every night.
It's something you dream of as a kid, watching the Duke and North Carolina rivalry. Games in huge stadiums, in front of crazy fans.
Another cool thing about being a Lobo basketball player was how the fans treat you. Everyone in Albuquerque knows who you are and they treat you as if you are an NBA player, not a regular college kid.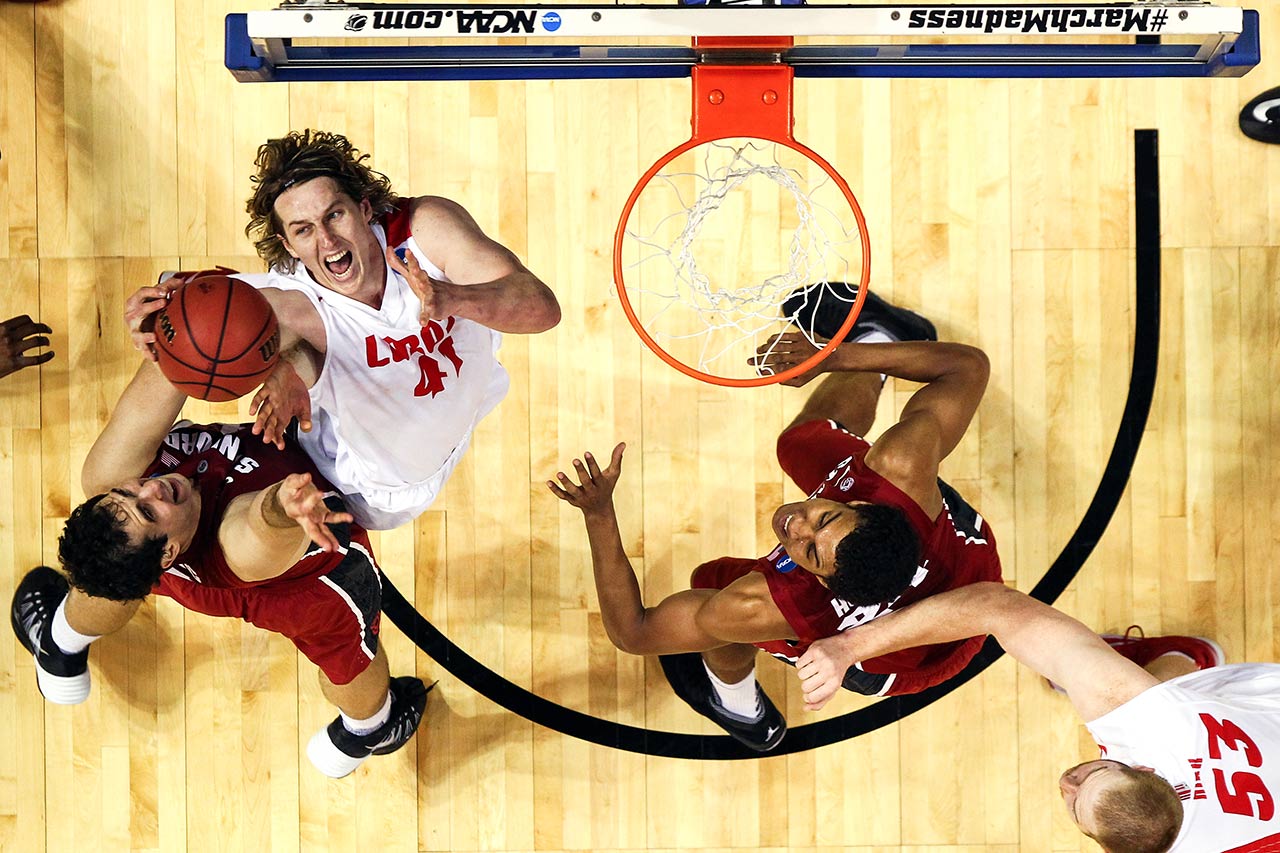 THE AUSSIE WAY
I played at the Lobos with another Aussie, Hugh Greenwood. If anyone had a cult following, it was Hugh. He had long blonde hair and a strong Aussie accent. They loved him over there.
Hugh has gone on to have a lot of success with the Crows in the AFL, which has been awesome to see.
I think it was a tough decision for him to give up basketball and pursue his other dream. It was something he'd always talked about. It took a lot of guts and a lot of people doubted him but he's proven them all wrong. 
Having two Aussies playing for the Lobos definitely contributed to the team's success. I think we brought a level of toughness and teamwork that isn't always there in US basketball culture.
Noise echoes and vibrates around the Pit and during big games your ears start ringing as the crowd becomes a dull roar. Afterwards, it always felt like you'd been in a nightclub or concert.
There are some differences in the way that they value players in the college system compared to here.
Australian coaches really focus on rewarding team-first players. In the US, it's about the stats and quantifying player contributions based on them. If you wanted to play, you needed to be making an impact on the stat sheet. Otherwise, you would be hearing about it at halftime.
I think us Aussies have a better approach. We are tough and willing to sacrifice for the good of the team. I think this stood out at the Rio Olympics with some of our performances.
The first Australian NBA player, Luc Longley, played at UNM and there's an Aussie there now, Makuach Maluach. Hopefully they can keep the pipeline going. Saint Mary's is the college that is best known for its Aussie basketballers. It would be nice to see the Lobos earn the same reputation.
BULLETS & BOOMERS
After the 2015-16 season with Chicago, I was traded to Detroit. When the Pistons cut me, there weren't many options for me in the NBA and with the Brisbane Bullets starting up again, there was an opportunity to come back and play in the NBL.
I spent my childhood watching Bobby Brannen and Derek Rucker and it was always a dream to play for the Bullets when I was a little kid. I wanted to help get the team off the ground and at the same time get a good season of basketball under my belt.
Before I could get to that, I had the opportunity to represent Australia at the Rio Olympics.
Being an Olympian is one of the greatest honours you can have as a sportsman and playing in the Australian singlet is something I will always cherish.
Unfortunately, I dislocated my shoulder during our pool game against Venezuela. It was a posterior dislocation, which isn't very common, and the medical staff weren't able to put it back in.
The ride to hospital took about an hour and was an incredibly painful experience. Every bump sent a jolt of pain through my shoulder.
When I got to hospital, they still couldn't get the joint back in. After almost two hours, the muscles relaxed and the shoulder popped back in on its own.
I was on morphine and that 'pop' was the best feeling. Straightaway I was thinking about playing again but when I woke up the following morning, my shoulder was throbbing. I knew I was in for a bit of time off.
I'm just happy I had the chance to represent my country at an Olympic Games.
I've been incredibly fortunate in my career. Before last year, I'd never had a major injury. Unfortunately, I didn't have to wait long for my second.
I missed the start of the Bullets' season and then, a couple of games after my return, I did my ACL. It was in an overtime game against Illawarra. One wrong step and some bad luck.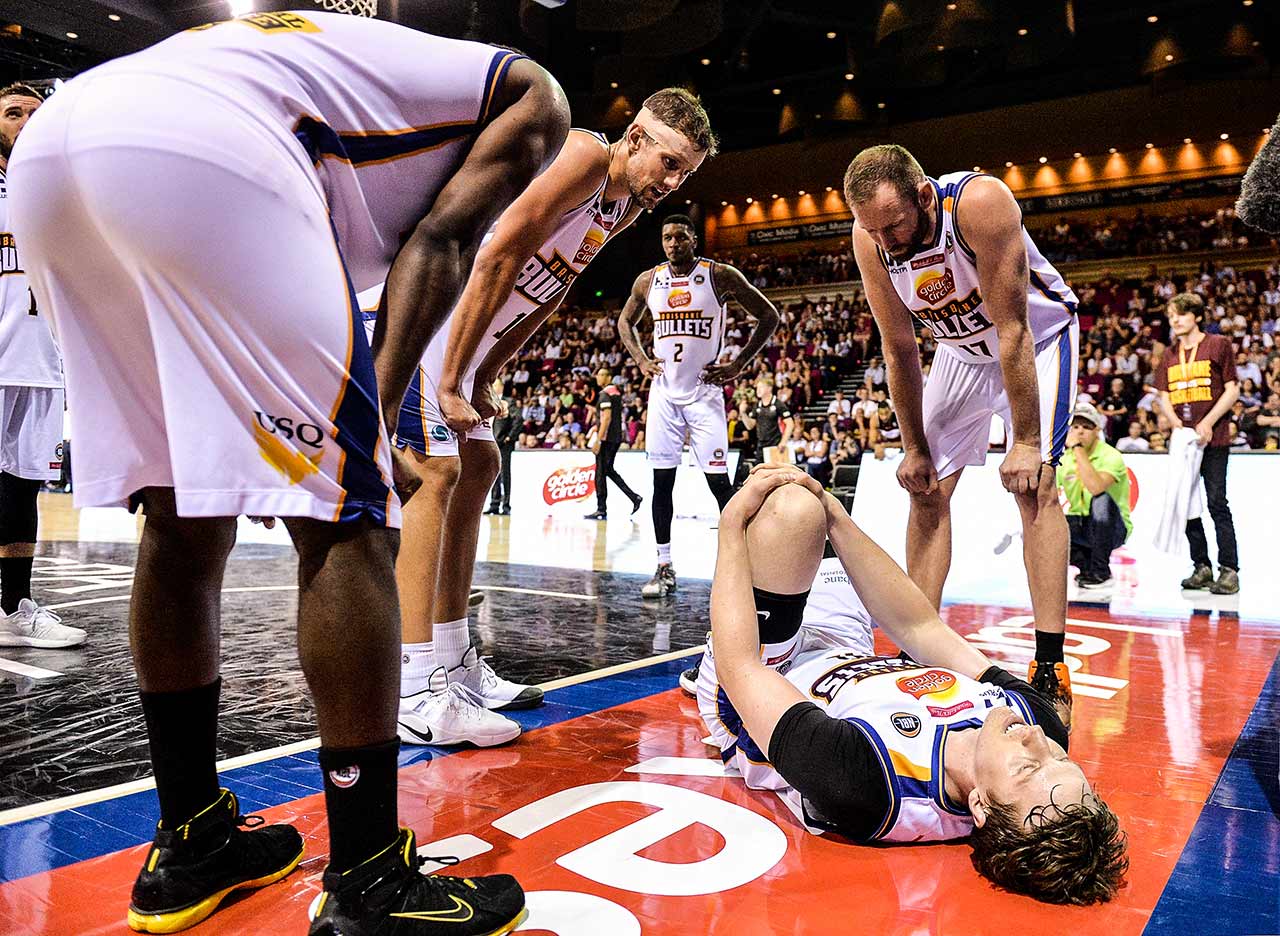 I didn't realise the severity of it at the time. I never considered that it might be my ACL. I just knew something wasn't right.
They took me off the court and the doc gave me the news. It was pretty devastating to hear.
I got a lot of support but at the end of the day it's something that you have to handle like an adult. It's a ruptured ligament, not a life-threatening disease.
I'm not sure what I want to do next. I could go back overseas but I'm loving being in Australia. I'll get my body right and then make a decision on what's best for me.
More about: Boomers | Brisbane Bullets | College basketball | Luc Longley | NBA | NBL | Resilience | Rio 2016