My life on a Mormon mission
I met them on Gadsby Road in Mangere, South Auckland.
They were living in a nearby hostel and struggling with drug and alcohol issues. Both had children to other partners but had lost custody. It was a bad scene.
I approached them on the street, talked to them for a while, got their phone number and set up an appointment to meet again.
Over time, my companion and I taught them about Jesus Christ and His Gospel. We invited them to church and to make some changes to their lives. Get clean. Make a fresh start.
Today, we're Facebook friends. They've confronted their addictions, got married and regained custody of their kids. I message them from time-to-time to check in. It makes me happy to hear how they're doing and the positive direction their lives are moving in.
If I hadn't left the Brisbane Broncos to undertake my Mormon mission, I would never have experienced this or the many other things I lived through over the two years in Auckland and Rarotonga.
Now that I'm back playing footy with the Queensland Reds, I draw on these experiences all the time.
They give me peace and perspective and remind me about what is really important in life.
HOPOATE & THE DECISION
When I was 19, I had to make the choice whether to serve a fulltime mission or to play for the Broncos. It was the hardest decision up until then that I had ever had to make.
I was born into a family with parents who loved and served the Lord. I was also born into a family who loved and played rugby.
I developed a great affection for both the church and football over the years. But when it came to the final decision, my love for God and my desire to go on a two-year mission was overwhelming. All those years attending church on Sundays had cemented my love for Jesus Christ and God. I wanted to serve Him.
Will Hopoate at the time was all over the news about how he had walked away from a big NRL contract to become a missionary. Luckily for me, he was sent to Brisbane and I was able to talk to him.
I told him about my situation and asked him about his own. What was it like to walk away from rugby league? Did he think about the money he was leaving behind? How did he break the news to the coach?
Will said to me, 'Serving the mission brings more joy and happiness than anything else'.
Talking with him helped me gain the confidence I needed to make the right decision for me, and that was to serve the Lord by going on a full-time mission and serving those around me.
Luckily for me, Will Hopoate was sent to Brisbane and I was able to talk to him.
I eventually told Anthony Griffin, the coach of the Broncos at the time, that I was leaving.
He wanted me to stay and said if I didn't take this opportunity I probably wouldn't never make it in the NRL. I don't think badly of him for saying that. He was just trying to do his job.
But my mind was made up. I chose to serve The Lord.
I did so assuming that this would be the end of my footy career. It didn't matter what other people were saying. I knew it was the right thing to do.
People often asked me about how hard it was to walk away. They think about all the years trying to make it as a footy player – the training, the dedication, the junior rep teams – and figure that it must've been a real really tough decision.
For me, it wasn't. It was something I had always wanted to do.
I didn't tell anyone on the mission about my football career. It didn't feel relevant to the work we were doing. It was only later, when a few articles about me were written, that they came to know.
They were like, 'Why didn't you tell us?' I was a little bit embarrassed.
RUGBY SCHEDULE VS MISSIONARY SCHEDULE
There are quite a few rules on the mission to help you stay focused.
You aren't allowed a mobile phone – we had a simple Nokia we could use for work purposes – and there was no internet or social media access. We are allowed access to email to write home, but we're only allowed to call twice a year, for Mother's Day and Christmas.
We work six days a week and are given one day, called Preparation Day, to clean our house, do the groceries and those kinds of things.
A day pretty much looks like this …
6.30am: Wake up
6.30am to 7am: Exercise
7am to 8am: Breakfast and get ready for the day
8am to 9am: Personal scripture study
9am to 10am: Companion scripture study
10am onwards: Teaching, serving and helping in the community.
And from there we come home, plan for the next day, go to bed and get ready to do it all again.
Fully committing myself to missionary work and following the missionary schedule helped me unplug from the world, draw closer to God and serve the people around me. 
Working on the mission also made me a much better communicator because you talk to people on the streets and on their doorsteps every day.
I didn't tell anyone on the mission about my football career.
I learned to see others as God sees them and the value all people have despite their appearance, life circumstances or personal struggles. Someone might look real rough on the outside, but when you get to know them, they're very genuine and caring.
It was a privilege to be able to touch so many lives, like the couple in Mangere I mentioned earlier.
I'll always be grateful for the opportunity to serve and know it was the right decision for me.
COMING BACK
Because I figured my footy career was over – I was planning to resume my studies to become a financial advisor – I stopped watching what I was eating.
I started the mission at a fit 110 kilos but blew out to a fat 120. It wasn't until I received an email from my agent towards the end of my mission saying that the Broncos were interested in re-signing me that I got serious about my diet again.
I also met with Kurt Richards, who is one of the coaches at the Broncos. He said, 'Don't come back to pre-season to get fit, get fit to come back to pre-season.'
From then on, I didn't touch any sweets and woke up earlier to run and go to the gym. It was one of the toughest times of my life. By the time I was finished with the mission, I was a lean 106 kilos. 
It took a little while to get used to being back in society – there were so many more new buildings in Brisbane, and the iPhone that unlocks with your thumbprint was something I hadn't seen before – but resuming footy was good once I got back in the swing of things.
While I was at the Broncos, I was playing Q Cup and nearly all the games were on Sundays. That is an important day for me. It's a day to go to church with my family and worship God. It didn't feel right to be playing footy and I remember not being very happy during that time.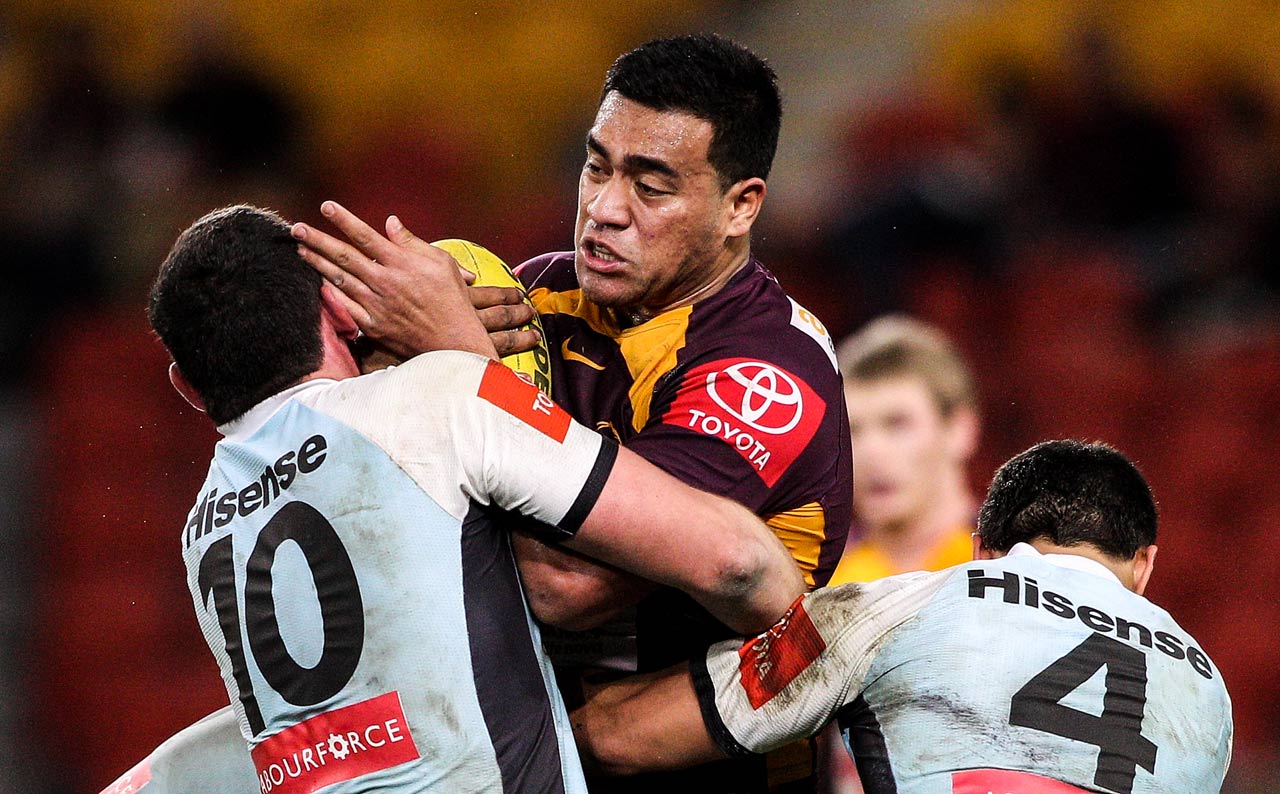 It was around this time that the Queensland Reds called. I had attended Nudgee College, which is a rugby school, and played Australian Schoolboys a few years before, and the Reds were looking for a ball-carrying forward.
I looked at their schedule. Pretty much all their games were on Saturdays, even at club level. I signed and haven't looked back since.
LIFE TODAY
Making ends meet was a challenge at first. I was driving Uber in between my Reds commitments to help pay the bills. It was tough at times to juggle everything but it was good experience to meet and learn about a lot of people. 
I've been really enjoying my time with the Queensland Reds and the experience of playing Super Rugby this season. I also owe a lot to my wife Pam, who has been a rock for me and my two boys, Kalisi and Etuate.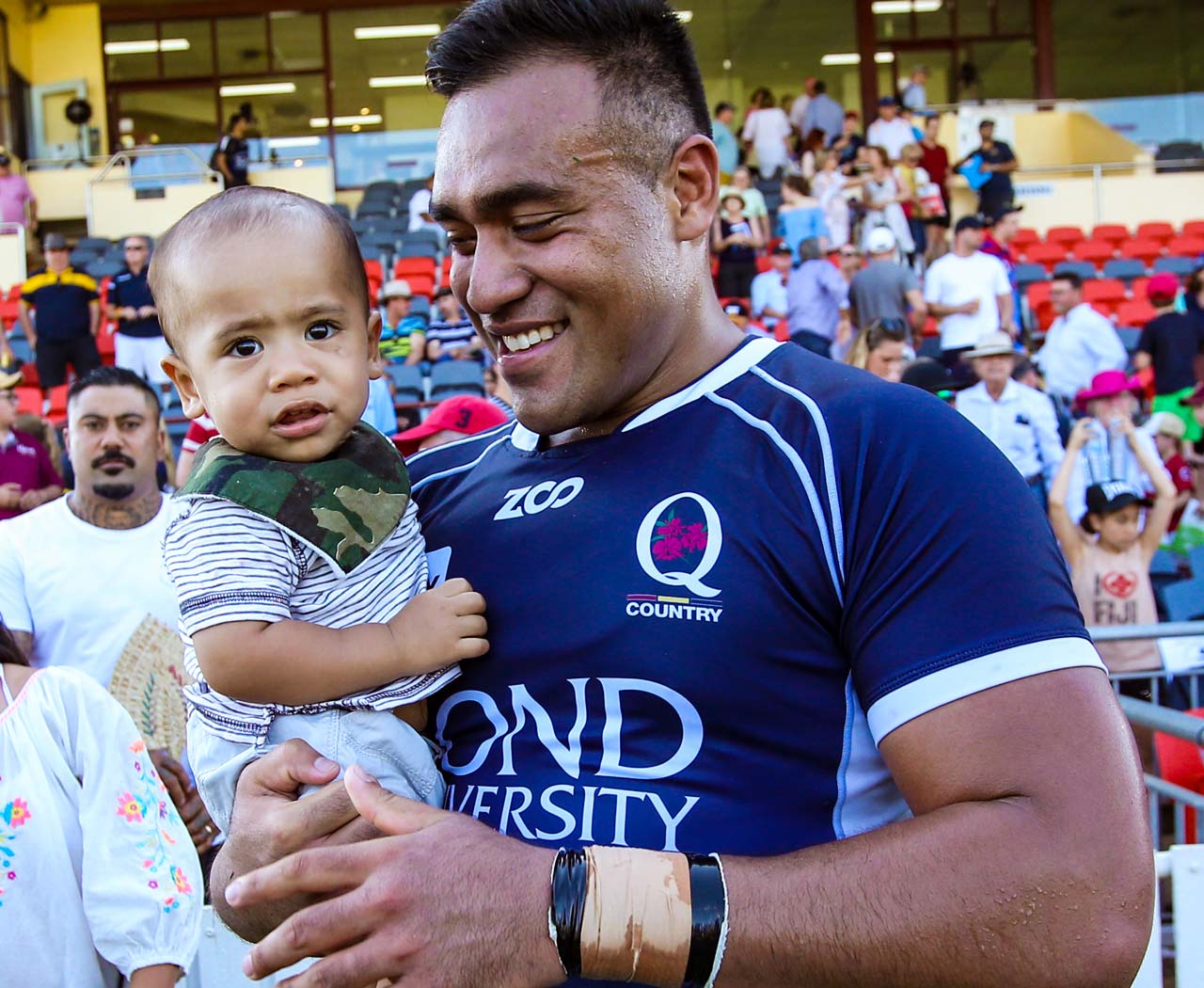 I've found balance in my life. Peace.
I don't think I would've been able to achieve that without the Lord and those two years on the mission. And as for the football, I believe that the experience of letting it go has taught me to appreciate it more.
More about: Brisbane Broncos | Queensland Reds | Super Rugby