The Matilda who turned Blue
Even when I was playing soccer for the Matildas, footy was always my first love.
I'd played Aussie Rules until the age of 12, but soon discovered there was no avenue for me to keep playing. I was absolutely shattered.
Years later, I found myself mucking around at the St Kilda Sharks in the VFLW for a bit of fun between W-League seasons. Pretty quickly I was reminded of why I loved the sport so much as a kid.
Then I heard some whispers that an AFL Women's competition might be coming.
'Surely not,' I thought.
When the AFL chief executive Gillon McLachlan came out and confirmed it, my eyes lit up at the thought. All of a sudden, I knew I had a really difficult decision to make.
I was playing for the national team in soccer, but this new competition was something I wanted to be a part of. I knew I wasn't going to be able to juggle both.
Many of my friends and family couldn't understand why I was considering switching to footy. It would have meant leaving a sport I was playing at the highest level to take up something that may never work. They thought I was throwing away too much.
When Carlton came knocking at my door offering a marquee spot, my heart was screaming at me to accept it. I couldn't ignore that feeling deep down. So, I rolled the dice and signed the contract.
It felt like I was placing blind faith in a dream, not even knowing what the league was going to look like. I'd be lying if I said there wasn't a lot of doubt. It was a scary time in my life.
It wasn't until the first game of season one that I knew I'd made the right decision.
We played Collingwood at Princes Park in front of a lockout crowd of more than 24,000 fans. It was simply incredible. It felt like we were watching the Australian sporting landscape change in front of our eyes.
Three years on from that historic game, I've seen an unbelievable rise in young girls playing footy. Seeing the impact this competition has had on the younger generation has been the best part of all.
That's what this is all about: inspiring girls to get out there and dream big.
THE PRESSURE OF ELITE SPORT
One of the interesting parts about going from soccer to AFLW has been the adjustment from a fully professional environment to one that's transitioning from amateur to professional.
In a World Cup or Olympic year with the Matildas, we were pretty much playing fulltime. When we weren't with our clubs, we'd be in camp with the national team training twice a day, every day.
We were all competing for a spot in the team, so every session was high-pressure. Being in an environment like that turns you into a perfectionist. You expect the best from yourself and your teammates do the same.
When you're pushing as hard as you can, hoping to be in a squad and you miss out, it's devastating. You have to learn how to deal with disappointments like that because it happens to everyone. It's about responding the right way.
It took me eight years to learn some of these tough lessons because it takes time to form good habits. Some of the other girls in the AFLW haven't had the same luxury.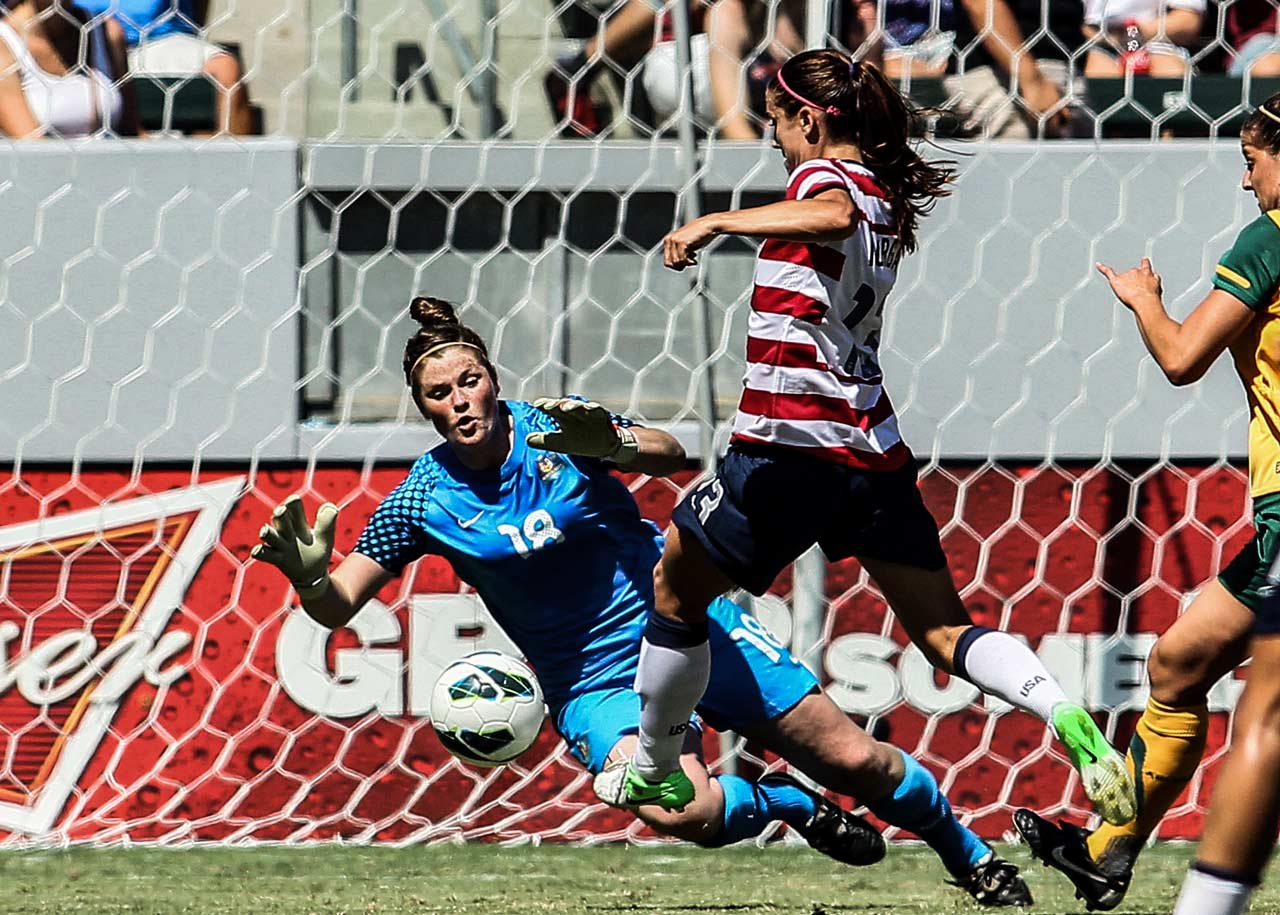 It's been a steep learning curve for many players right across the competition.
When the AFLW started, a lot of the players had never experienced elite-level sport or the pressure that comes with playing at this level. After spending their lives playing footy as amateurs, they were thrust into a new professional environment where they just had to learn on the run.
The pressure was there for them to constantly perform, while learning the game and trying to improve each week. They had to learn that when things don't go your way, you can't afford to let yourself fall into a negative bubble.
Your form will ebb and flow throughout your career. When it goes down, you've got to have the right mentality. You have to keep turning up for work every day, pushing harder than ever before.
It felt like I was placing blind faith in a dream, not even knowing what the league was going to look like. I'd be lying if I said there wasn't a lot of doubt. It was a scary time in my life.
In the future, this transition to the elite level won't be as jarring. We need to establish proper pathways to prepare the future stars of our game for the step up to the AFLW.
I see some of the young girls coming through and they've been playing since they were four or five years old. They can kick the ball with both feet and they've got footy smarts that surpass many of this competition's pioneering players. I don't mean that as a knock on those players, just as an observation of how the game is evolving.
It's exciting because you can see how much the standard of the competition will improve in the coming years.
GETTING HONEST WITH OURSELVES
With increasing professionalism comes a greater sense of honesty and personal responsibility. We've had to face up to our results and have a really good think about how to turn them around.
We didn't achieve what we wanted in the first couple of seasons, which was to win a Grand Final.
We were competitive in the first year and showed some potential, but we lost our way last year and ended up down the bottom of the ladder.
We sat down with our new coach, Daniel Harford, to regroup and get honest with ourselves about where we needed to improve.
We realised that it's down to each of us as individuals to carry our own weight. When everyone is doing that, you will get results because at this level there is no room for passengers.
We've taken accountability and, as a group, we've got a new level of focus this season. We're done talking. It's time for us to walk the walk.
More about: Carlton | Collingwood | FIFA Women's World Cup | Injuries | Matildas | Sponsored | Women's Sport