It's a miracle I lived at all
It's a miracle that I ever became a professional footballer.
It's a miracle I lived at all.
When I think about what I went through as a baby, I have no idea how I'm here today, fit and doing what I love, playing football. I had a condition called Congenital Diaphragmatic Hernia, which is a defect in the diaphragm that allows vital organs to be sucked up into the chest cavity causing suffocation.
I'm well aware of how lucky I am.
Ninety nine percent of babies didn't survive back in 1982. Luckily, I did and it has shaped my entire outlook on life.
Life was a second-by-second proposition in the period immediately after I was born. I was flown from Wollongong Hospital in a helicopter to the Children's Hospital in Sydney. It was a race against the clock.
I was rushed in for emergency surgery to repair the hernia. I was cut in half, all the way around my stomach, leaving just the skin on my back connected.
It's incredible that a human can survive that. The work of the doctors was incredible. Lifesaving.
For months, my Mother and Father, Yasna and Michael, spent a lot of sleepless nights by my side not knowing if I'd make the next day. I can't even imagine how they must have felt, seeing me hooked up to all those cords and machines. It was so painful for them that we never really spoke much about it and only recently, at 35, have we been comfortable to talk about it.
I understand why. It was such a torturous period for my parents. You would want to forget about something like that and move forward. Both my Mother and Father did an amazing job getting me to where I am today. They are incredible parents.
The process of rebuilding me took 12 months but it wasn't long before I was fighting for my life again.
When I was two years old, I suffered a ruptured appendix.
We were in the car, driving to Canberra for Christmas when I started vomiting. Mum and Dad took me to hospital. It was lucky they did. If it had gone on a few more hours I may not have survived.
I can never repay my Mum and Dad. They gave everything so I could be in the position that I am today.
They are extremely proud of what I've achieved and sometimes shake their heads in disbelief at what we got through together as a family.
Growing up with the knowledge that I came so close to death shaped who I am as a person. I've gone on to celebrate goals and win trophies. I don't feel any lasting effects of that condition but it's something that has made me brave, determined and resilient.
It sparked a fire within me.
I've still got a big scar on my stomach. Every time I see it I feel incredibly grateful for the life I have lived.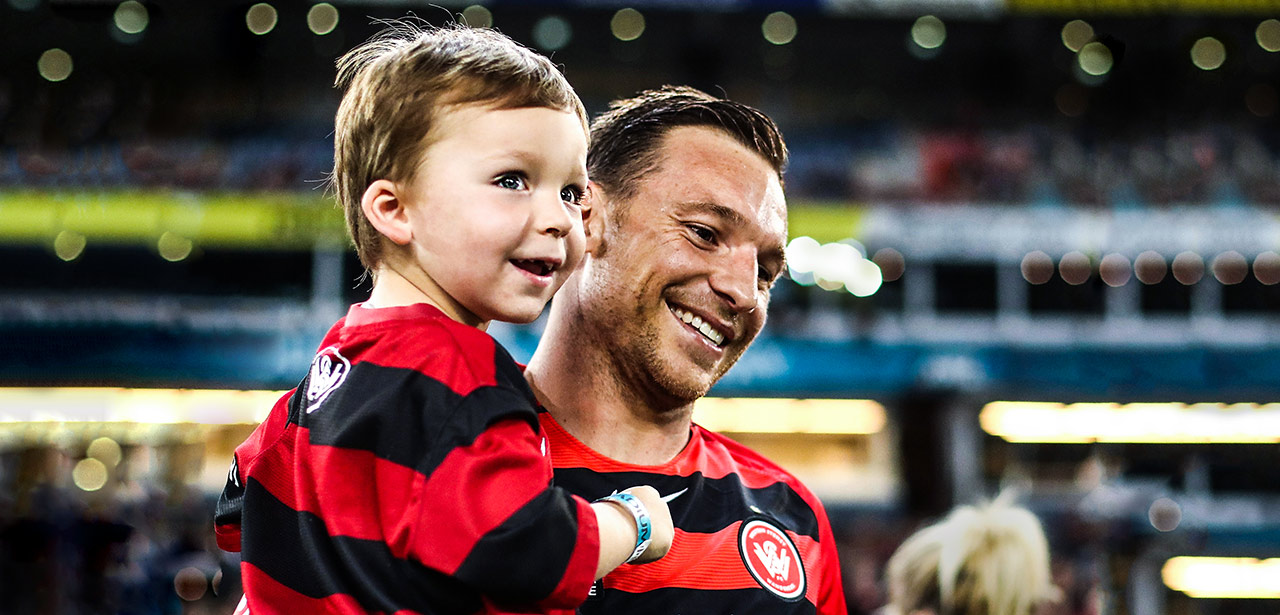 SCRUBBING BOOTS & CLEANING TOILETS
I always wanted to and dreamed of becoming a professional footballer.
I was lucky enough to be a ball boy with the Wollongong Wolves back in the old National Soccer League around 1993 when I was 11. I used to train with the first team and knock in balls for goalkeeper Brett Hughes.
I travelled with the squad to Melbourne and warmed up the 'keepers pre-match. I got to spend a lot of time in the changeroom and on the pitch experiencing a professional footballer's training day. That was priceless.
Those experiences really helped me go on and achieve what I have today. I was able to be part of a professional environment from a very young age.
My brother Michael, who is three years older than me, was a professional footballer before I was. He showed me what it took to get there. I looked up to him, passionately supporting him and breaking down in tears when he lost the grand final with Sydney United playing against South Melbourne at a packed Olympic Park in Melbourne.
Seeing that atmosphere and watching my brother experience a grand final gave me drive and motivation to try and achieve that myself one day.
Growing up with the knowledge that I came so close to death shaped who I am as a person.
When I was 17, I was lucky enough to make my professional debut alongside Michael at Parramatta Power in the old NSL. It was a day I will never forget. I scored in the 12th minute. I could not have asked for a better start to my career as a professional footballer.
I started my football apprenticeship at the Power and I finished it at Sydney United. I learned a lot a lot from an incredible group of senior players at both clubs.
When you think of an apprenticeship in any line of work, you think of the dirty work.
That's how it should be. It builds character and you have to earn the right to be in the first team with your work off the pitch and your training. It definitely did not come easy, but I would never go back and change what I learned during my football apprenticeship.
I cleaned the boots of the senior players, I cleaned the change rooms and the toilets, I made the senior boys breakfast. I had so much respect for the players who had come before me. It was an honour to be playing alongside them.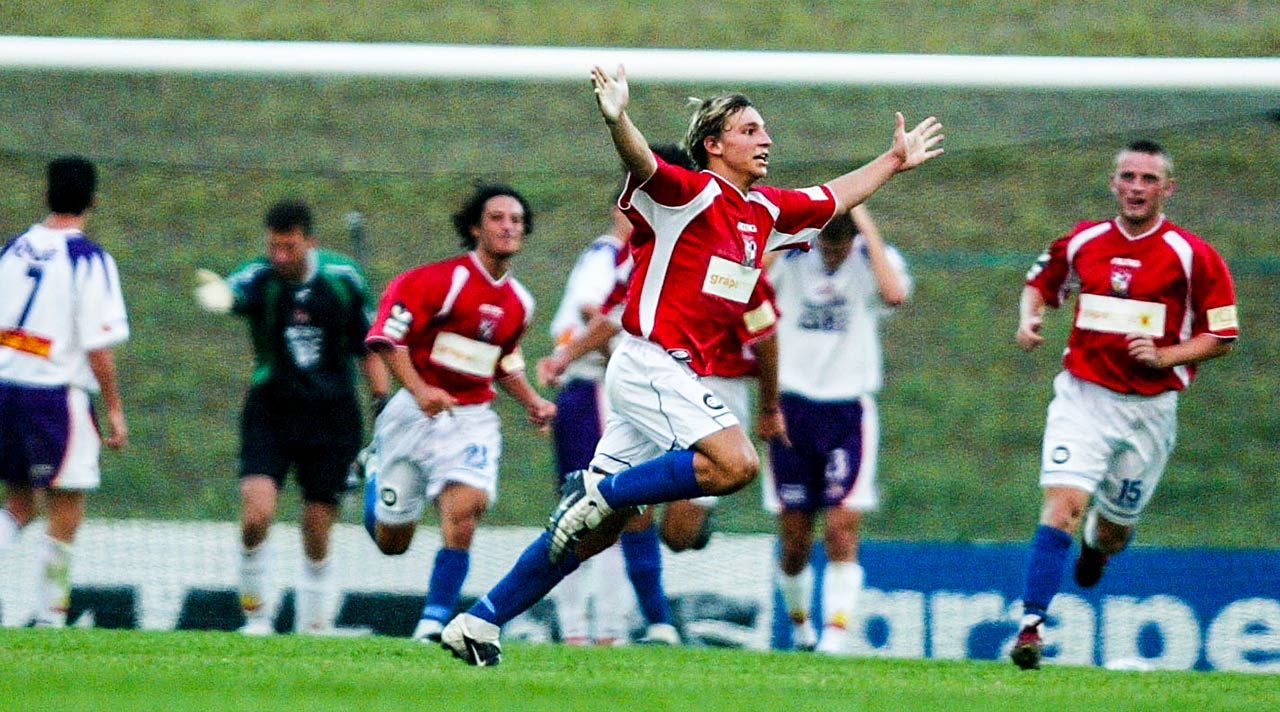 Young footballers today bypass the apprenticeship phase. Our youth need to be educated and taught the process of becoming a professional. Once this process is complete and they step into the first team, they appreciate their position and work harder to hold onto what they have, respecting the senior players along the way.
Respect for senior players and what they have achieved has slowly faded out of the game. There's a lack of respect. That old school culture needs to come back. It makes you resilient and I think a lot of young footballers these days just want things handed to them.
But you need to put in a lot of hard work first. You need to earn your future.
That culture will produce better Australian footballers.
There are a lot of crucial steps on the way to becoming a professional and you can't have people skipping them.
That old school culture needs to come back. It makes you resilient and I think a lot of young footballers these days just want things handed to them.
Look at guys like Besart Berisha and Tim Cahill. That's hard work, commitment and dedication. They are not the most technically gifted players but their work ethic is second to none. They faced adversity.
That doesn't just happen overnight. Besart had his experiences when he was a child refugee. He did it tough.
Timmy has forged a career based on sheer determination. You saw that in the second leg of the Socceroos' playoff against Syria when he played 120 minutes.
He put his country before himself. Timmy was running back 60-70m to track down Syria's attackers. He is 37 years old and we saw him do that a number of times.
That's extraordinary. He scored a double and got the winner in extra time.
That's why he is our all-time greatest. He is prepared to do whatever it takes for our country. He knows what hard work is.
KNEE INJURY NIGHTMARE 
My next career move was huge: Sydney United to the top league in Belgium.
I spent a year with Oostende before moving to another Belgian club, Sint-Truiden.
Playing over there was another level to the NSL, which had minimal media coverage. It was so much more professional. It was a tough league and I was playing in front of massive crowds.
It really opened my eyes.
It wasn't easy on my body. I struggled to get used to the training loads, the different types of training and the demands of playing at a higher intensity.
I ended up suffering serious knee injuries. I required three surgeries on my meniscus in seven months.
The way the club treated my rehab is embarrassing. I was doing jumps in a sandpit just two weeks after my first operation. I told them time and time again that my knee wasn't feeling good but they wouldn't listen. They forced me to do exercises that I really didn't agree with. I was in constant pain.
I ended up tearing my meniscus a second time and I had to go back in for surgery.
I remember coming out of hospital after that operation and there was no one there from the club to take me home. That's when I knew they had given up on me and just didn't care.
I was very isolated at the time and didn't have many friends in Belgium. I ended up calling one of my teammates, Marco Nijs, who lived an hour and a half away in a town called Mol.
Marco drove all the way to Sint-Truiden to come pick me up and take me home, before getting back in the car and driving back to Mol.
I'm forever grateful for his generosity. We actually spoke last year, out of the blue. He got in touch on WhatsApp to see how I was going. I straightaway thought of that moment.
Anyway, I got home and I had no food in my apartment, which also needed to be cleaned. I went to the supermarket but it was a struggle. I had my hands full of shopping bags as I tried to walk home on my crutches.
I didn't end up hearing from the club until 10 days after my operation, at a time when I needed their support most. I didn't feel like a professional footballer. It was pretty heartbreaking.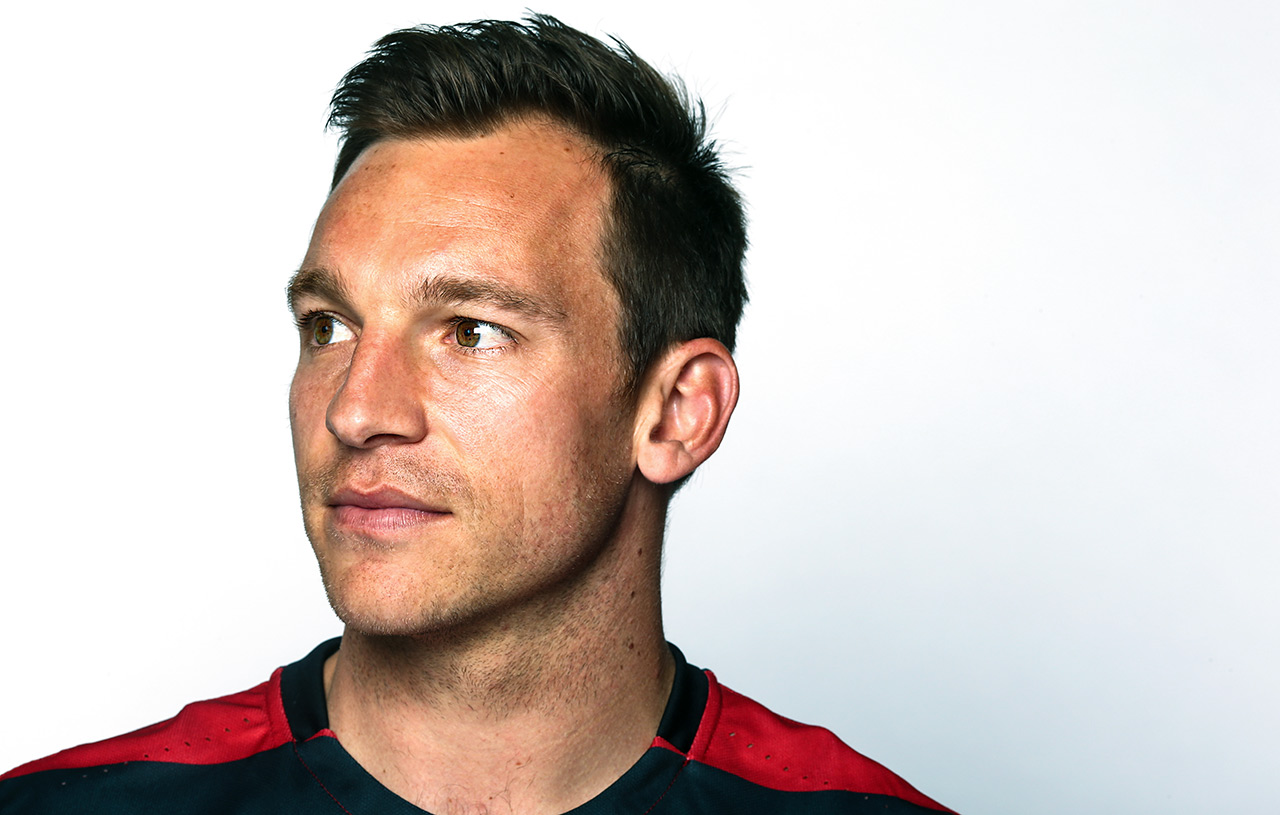 LOAN MOVE & RETURN TO AUS
After getting over that second operation, I needed a new start.
I secured a loan move to a Hungarian club called Ujpest.
I'd taken a chance in the hope I could get my knee right and play some football but the loan deal just didn't work.
Ujpest were having some financial trouble and their relationship with Sint-Truiden was fading fast. I hadn't been paid in two or three months when bang, my knee went a third time in training.
It was devastating. I knew I had to come home. I'd missed nearly a year of football and I'd been dealing with a lot of the pressure on my own. I was drained mentally and physically.
It was a huge relief coming back to Australia. I came back to my family and good medical staff who could really look after me.
Sint-Truiden still weren't paying me and I was angry at them for what they had put me through. It was the one time in my life when the fight went out of me. I felt like it was the end of the road.
I remember coming out of hospital after that operation and there was no one there from the club to take me home. That's when I knew they'd given up on me and just didn't care.
I didn't get paid for another five months – eight in total. I got it all in the end and I have to thank the PFA, because without them I would have lost everything.
By that stage, I'd pretty much moved on. I was 24, living with my parents in Wollongong and about to become a builder with my Dad.
A phone call from Branko Culina changed everything. He was coaching Sydney FC at the time and he called me out of the blue to ask what I was doing.
I was at the end of my rehab, so I told him that I was getting back into training. He invited me up to Sydney for a coffee and to have a chat about my future. I ended up signing a two-year contract.
Without a doubt, Branko saved my career.
He's not someone that I see often but I think about that phone call all the time and what he did for me. It was life-changing.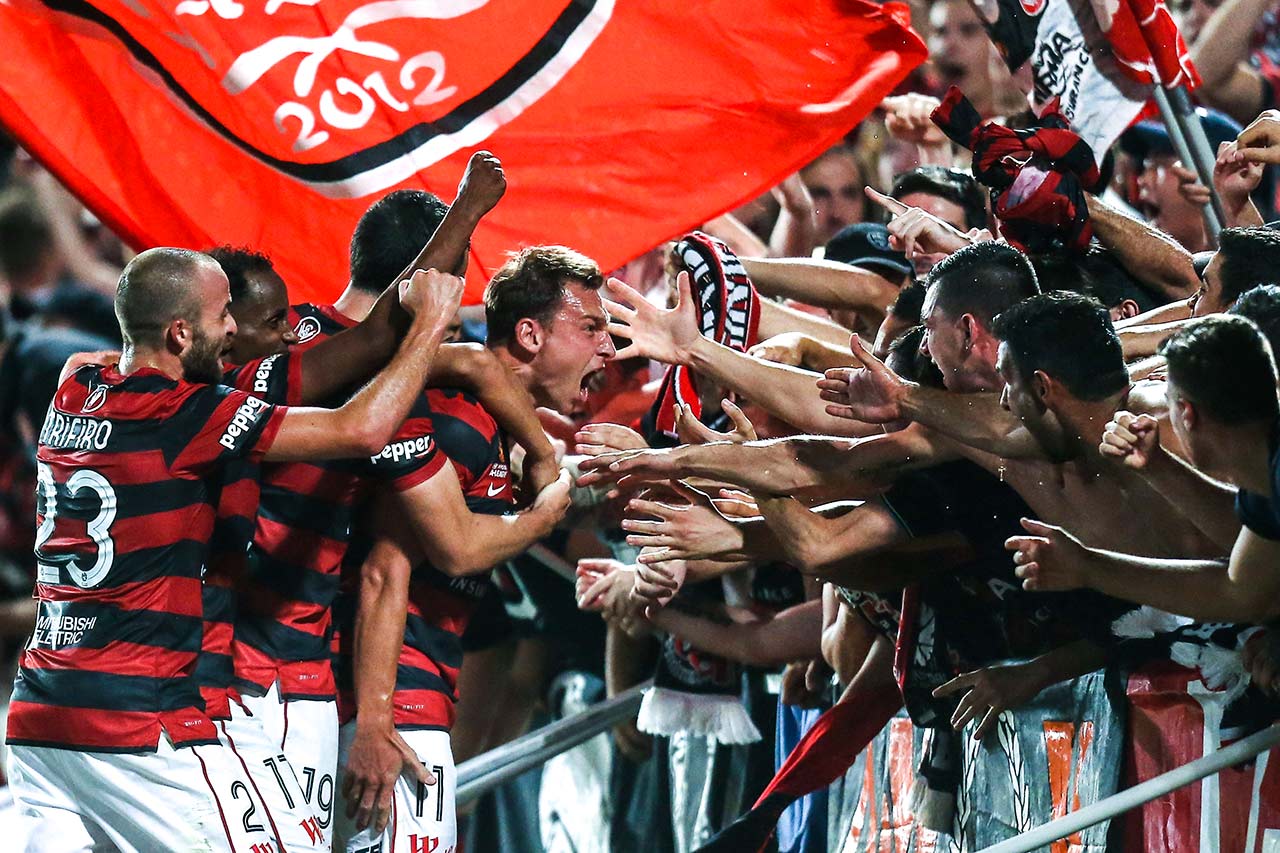 WANDERLAND & PRIDE
I've spent more than four years at the Western Sydney Wanderers and the whole time has been incredible. The Sydney Derby this weekend will no doubt be another highlight. It's the biggest football rivalry in the country.
Winning the Asian Champions League and making two Grand Finals has been a journey beyond my belief.
Off the field, ambassador roles with CDH Australia and Ronald McDonald House Westmead sit very close to my heart.
The response from parents is overwhelming. The positive affect I have on their children is something I'm very proud of – prouder than anything I've ever achieved on the football pitch.
More about: A-League | Brendon Santalab