It should have been a celebration. Reaching 200 games in an AFL career is an awesome achievement. It's a strong reflection of character, persistence and athleticism. But, in this case, it was anything but a happy occasion.
Jobe Watson was famous around the group for giving memorable pre-match speeches. Some were really good. Others went the other way, which often gave us a bit of a laugh. Either way, they brought us closer together and got us primed for what lay ahead.
This time, as Jobe prepared to lead us out to take on St Kilda, his big milestone match, it became plainly obvious that Etihad Stadium that Sunday in mid-2015 was the last place he wanted to be.
Before us in the dressing room was a man completely dejected and sapped of energy. When he started speaking, I remember I could feel the whole room just deflate.
Jobe was our captain, our leader, someone who'd been so strong and put on such a brave face as the investigation and speculation went on and on. But now he was beyond trying to pretend.
It's a pretty good excuse for what ended up happening in that game. We got beaten by over 100 points. Publicly, it was revealed that Jobe had a shoulder injury, which ended up needing surgery and ended his season. But there was much more to it than that. It was obvious to everyone in the room that the bubble had burst.
I went on record some time later saying it was the only time in my footy career that I'd given up in a game. Whatever obstacles I'd faced in my time playing to that point – and there were many – that game against my old club, the Saints, was the only time I've felt that it was all too hard. I say that with a fair bit of grief.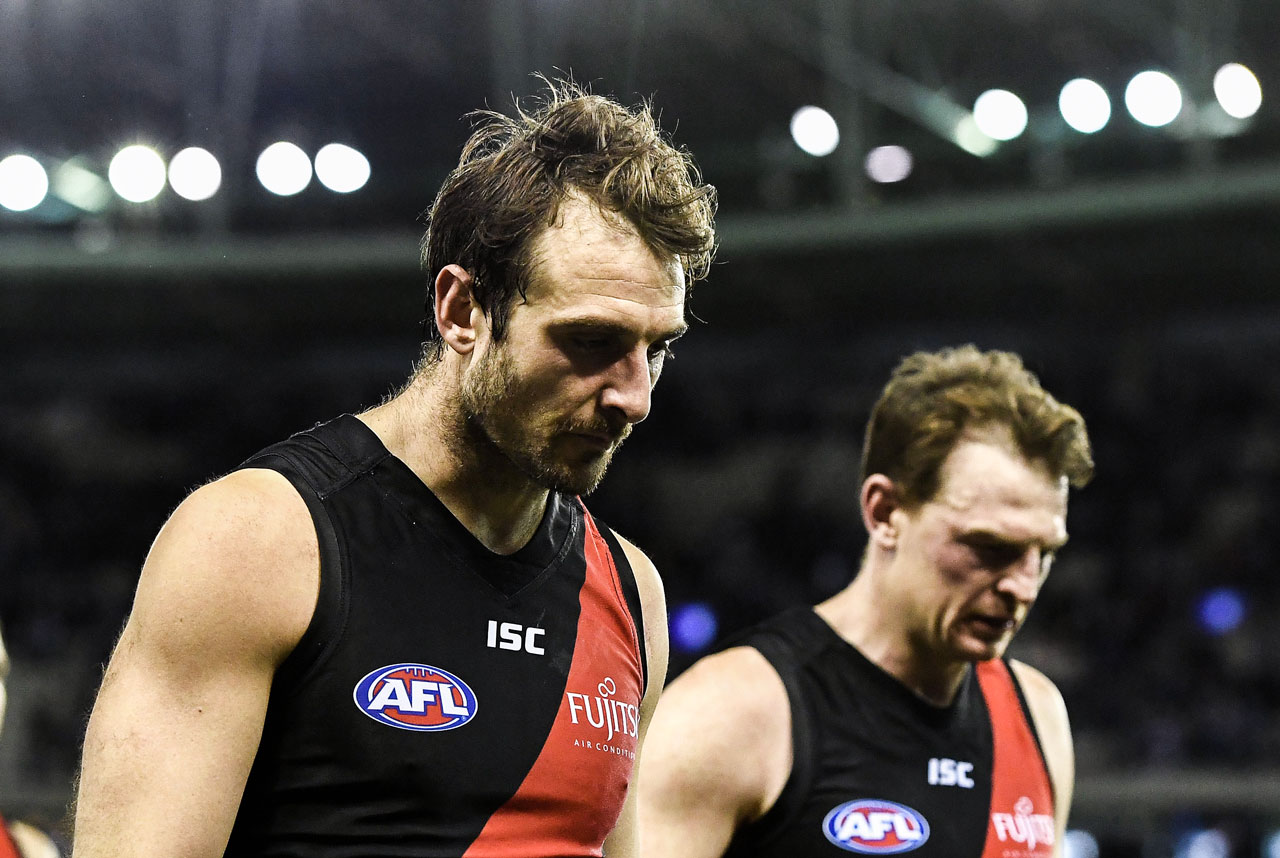 A Silver lining
I'm a firm believer that going through great adversity is when you learn and evolve. I think everyone who went through Essendon's dark days is probably a better person for it, as hard as it was. I also strongly believe the club is in better shape now than when I started there in 2012 after a decade at the Saints.
I was excited to join the Bombers. We did what we believed was due diligence and thought Essendon was a great fit. The club itself, their history, their list at the time – we were optimistic they were destined for success and I could play a worthwhile role.
Everyone involved at Essendon had no idea of the things that were about to unfold at the time of my departure from St Kilda. When news broke, it was a shock for everyone. To have it drag out as long as it did, that's probably the main frustration looking back.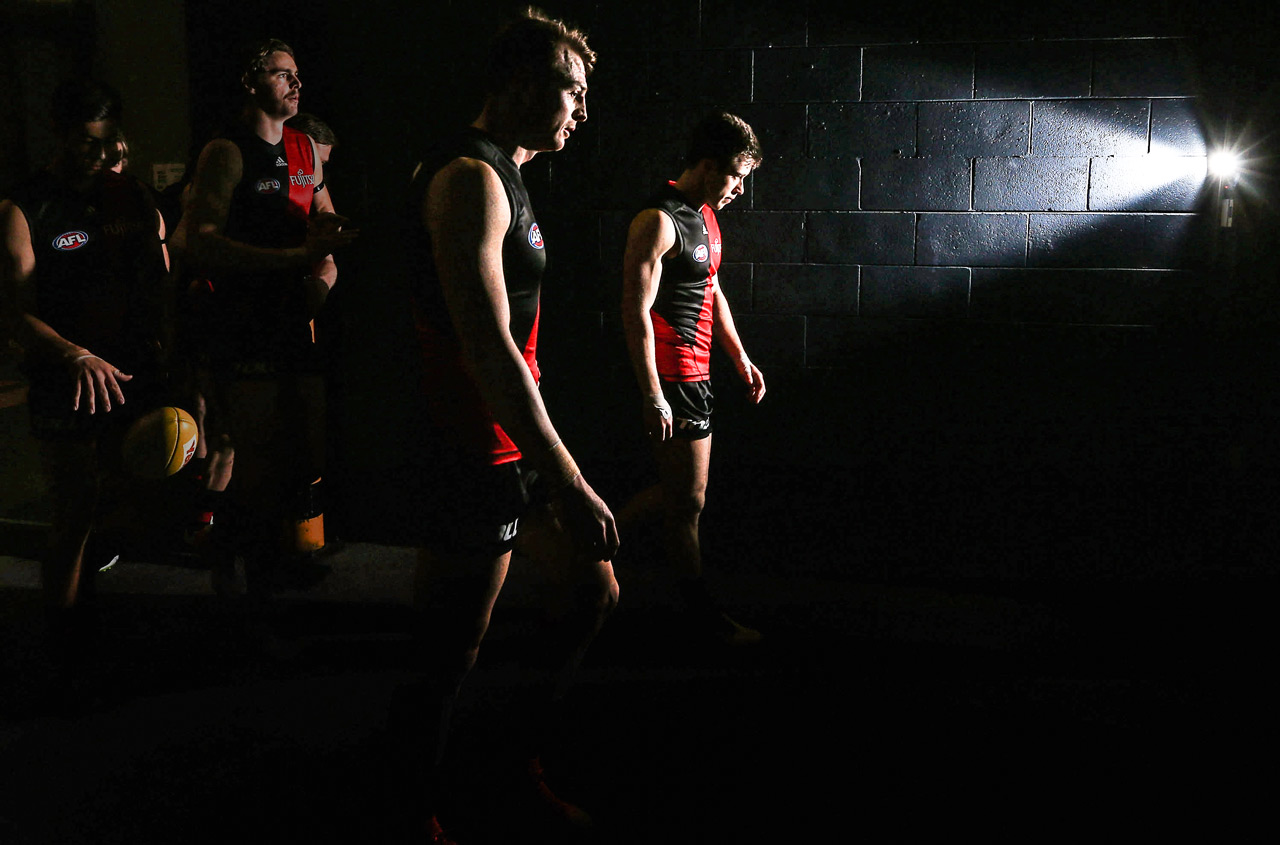 I saw what it did to the club and the supporters. I saw what it did to the coaches and support staff, people like Hirdy, Bomber and Bruce Reid.
Seeing Hirdy, we're all aware of his struggles in more recent times but, back then, to see a guy with such resilience go through that and try to get on with his job was inspirational but also really tough. He's one of the most mentally tough individuals I've ever met, but it even got the better of him.
The chairman David Evans, one of my really good friends, was a victim of it all. His health deteriorated and seeing the toll it took on him was devastating.
Then there's the players. It robbed four or five years from the careers of 30-odd individuals. The flow-on effect is hard to measure, in terms of how it might affect them long-term. Jobe probably took more responsibility and load than anyone, being the face of the club and the captain. Everyone went through a long and sustained period of extreme adversity.
As hard as that was, we tried to keep it in perspective and see it just as a hurdle in our lives. Dealing with hurdles presents opportunities to grow. When it probably looked from the outside like we were at our lowest point, in 2016, I felt that the club started to gain a second wind and began to rebuild.
With Jobe out, I captained the side that year and, as much as there was still doom and gloom, it also ended up being one of the most enjoyable years of football I've had.
It was a unique situation, with a dozen players forced onto the sidelines. But what that meant was there was no expectation on us to win. It was never talked about that way, but finishing up the table was out of the equation. We knew we were going to struggle, with top-up players and a very young list, but I kind of found the enjoyment of playing football again for what it is.
I could just focus on playing the game I love, helping develop young players and seeing their potential. I really enjoyed that.
I don't think someone like Orazio Fantasia would be the player he is now if not for the situation we were in back then. Same with Zach Merrett and Joe Daniher. There's a real silver lining there.
A lot of people focus on the negatives. I do it at times, too. But I think we did a great job, led by John Worsfold, who made sure the attitude was always positive. The result is that the club is in pretty good shape now as a business and, most importantly, in terms of culture.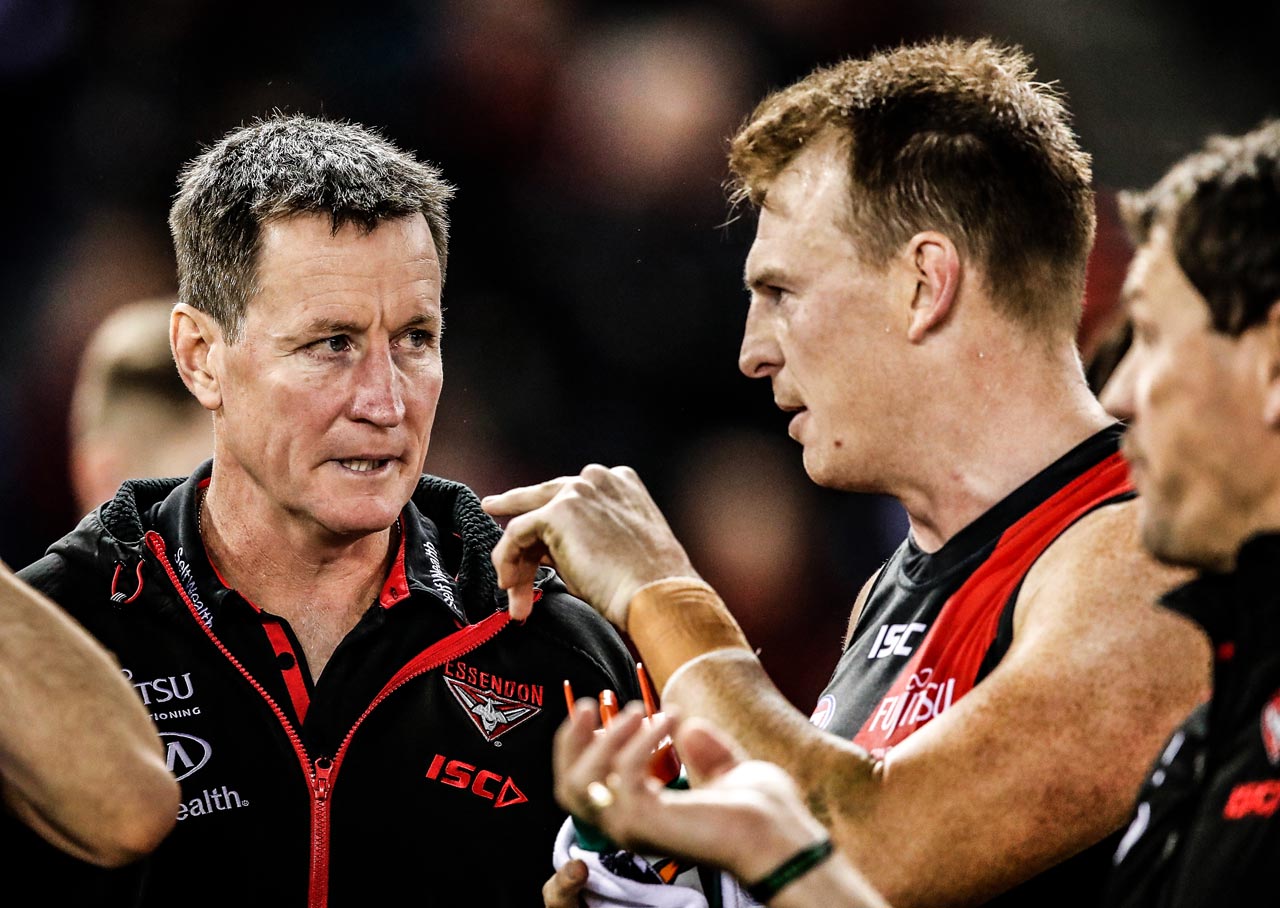 Shutting out the noise
With all the information and opinions flying about the place, it was impossible to ignore the commotion around us. But I'd had a good education in dealing with that sort of thing from a pretty early age and was able to draw on that.
It started when I was playing top-level AFL football as a Year 12 student at Caulfield Grammar. The school used to allow me a couple of half days a week to go to main training sessions. I didn't have my licence yet, hadn't turned 18, so Aaron Hamill would drive past school mid-morning and pick me up in his BMW, which was a pretty unique situation.
From about Year 9 or 10, when it became clear I was going to be entrenched in senior football, my studies started to suffer. It just wasn't all that important to me anymore. I made sure I passed my final exams – I was determined to tick that box – but, when you're that young and being talked about as a potential top draft pick, it's hard to think about much else.
I don't think someone like Orazio Fantasia would be the player he is if not for the situation we were in. Same with Zach Merrett and Joe Daniher. There's a real silver lining there.
Starting your career that early doesn't happen anymore, with the draft age increasing, probably to give kids a chance to grow up a little bit, physically and mentally, before going into the footy bubble. I think that's a good thing, together with better pathway systems leading up to that point.
I was lucky to have a good management group, which I signed with as a schoolkid. They helped me prepare as much as possible. Still, going from being a carefree schoolboy to playing AFL footy, where the microscope is on you all the time, is a big change.
I was well supported at St Kilda. I stressed a bit at times about my progress and whether I was living up to expectations. But the club and the players, including mentors like Robert Harvey, Fraser Gehrig, Aaron Hamill, Andrew Thompson and others, kept me on track.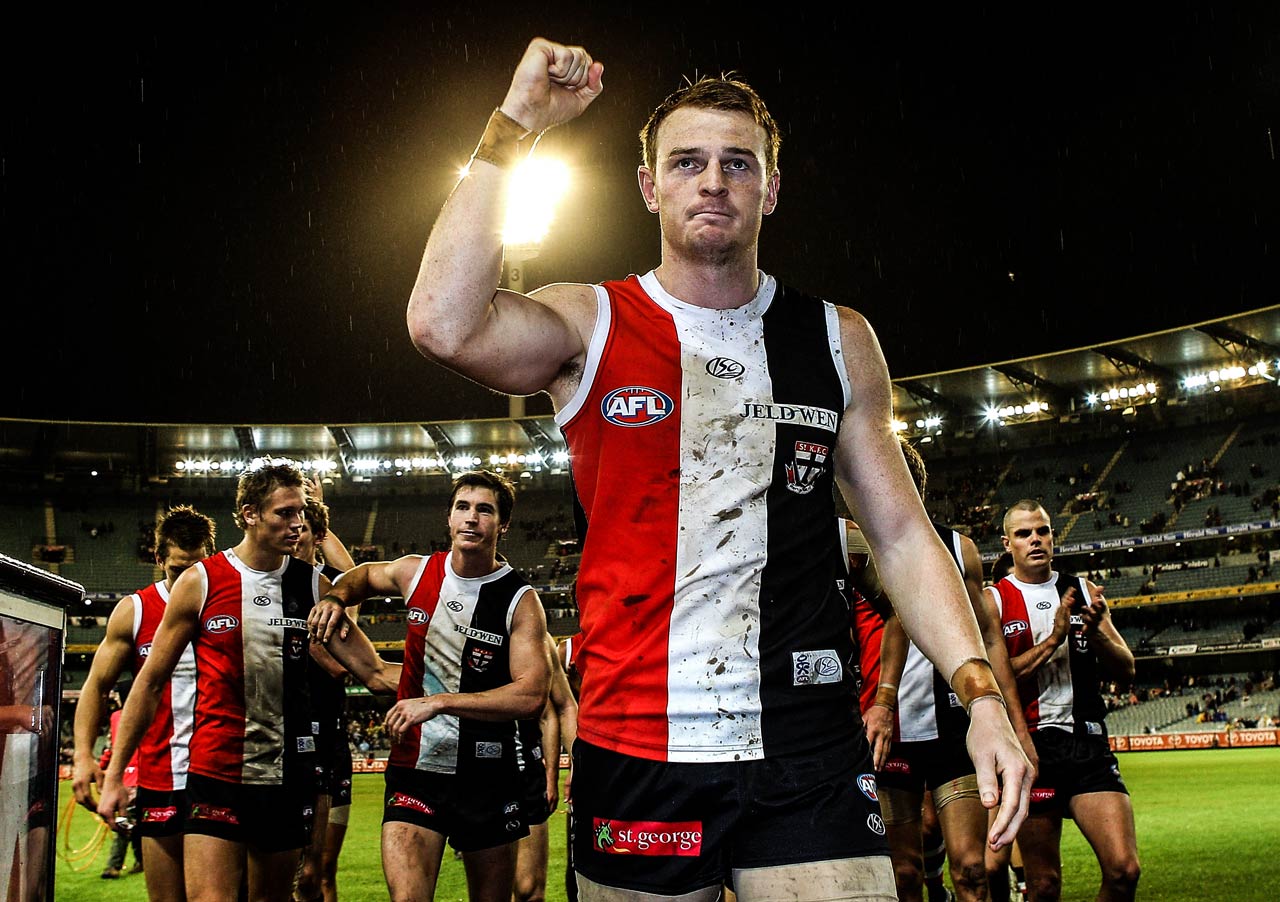 They reminded me that the only thing that was important was what my coaches and teammates thought and that I needed to learn to shut out the 'noise', as we call it these days.
It was a tough lesson. It was probably a good three or four years before I felt comfortable with the idea that scrutiny from so-called experts is always going to be there. It's part and parcel of the game and you have to deal with it.
The fact is, of course, we're all human and get affected by the things going on around us. Footballers are not superheroes. They're not bulletproof. With the growing discussion about mental health, hopefully we're heading in a better direction than when I started out.
More about: Essendon | Leadership | Retirement | Sponsored | St Kilda