In late 1996, my dad, Chris, was playing out the end of his career with Old Bar and won another premiership. On April 4, 1997, my mum, Lanai, passed away from breast cancer.
I was only four.
I don't remember seeing dad play. And I don't have too many memories of mum. That hurts me a lot. Missing out on growing up with her has been the hardest thing in my life.
But every story that I hear of mum makes me happy – what a good person she was, and how much everyone loved to be around her. It makes me proud to be her son. Everything I do is in memory of her. To try to make her proud. Mum, my dad, and my big brother, Dane.
Mum occupies a lot of my thoughts, mostly when I'm on my own. Once I've had time to process big moments in my life, like captaining NSW to the Origin series win this year, I start to think about how special it would have been if mum was there to experience it with me.
But I know she's looking down, watching me. That makes me happy.
It wasn't until I grew older, maybe 20, that I fully appreciated how much dad had done for Dane and I after losing mum.
Chris Cordner debuted in first grade for Taree Old Bar when he was 15 and played fullback in a premiership side the next season, before playing grade for the Bulldogs, Dragons and Steelers. He was a very good footballer.
He's a better dad.
He's my hero.
GROWING UP FAST
Apart from losing mum, I wouldn't change my childhood for the world. I had an awesome upbringing thanks to dad, who remains my biggest influence, and also my nan and pop.
Dad is a strong, resilient character, with a big heart. It's difficult to find the words to describe him. In my life, he's the man. He's tough. I had a lot of growing up to do, pretty quickly, after losing mum. Dad always treated me like a man and he expected that I earn respect like a man.
I got that respect off him from a young age. Dad told the story once of how, when I was three, I spotted him putting his shoes on to go for a run and wanted to come along. He figured I'd go home after a couple of minutes. I ran with him for nearly 5km.
As a young kid, you just want to be like your dad.
I wanted to be like Dane, too. He used to call me The Parrot, because I was hanging off him all the time. Anywhere he went, I wanted to go.
Dad was our rock. He sacrificed so much for my brother and I. He took us everywhere across the countryside to footy training, trial matches, school carnivals. He gave us every opportunity to be great, to do what we wanted to do with our lives.
And from ever since I can remember, all I wanted to do was play rugby league.
My earliest memories are of footy. When we were asked at school what we wanted to do when we grew up, I said I wanted to play rugby league at the highest level. It became my whole life, with no back-up plan.
All our family knew was footy. My dad, my uncle, Tony Dawson, my pop, Joe Cordner, my great-grandfather, Ron Kelly, were all handy players.
We lived with my pop and my nan, Bev, when we were young and dad was spending time working as a plumber in Sydney. We learned some cool things from nan and pop and they instilled values in us that I'll be forever grateful for.
We didn't have to worry about a thing with nan. My clothes would be ironed and laying on the bed ready for school, my brekky was ready on the table and lunch was made. Nan's a special lady. She never asked for anything in return, she just wanted her kids and grandkids to be happy.
We lived with nan and pop from when I was 11 until I was 16, when I moved to Sydney after signing with the Roosters.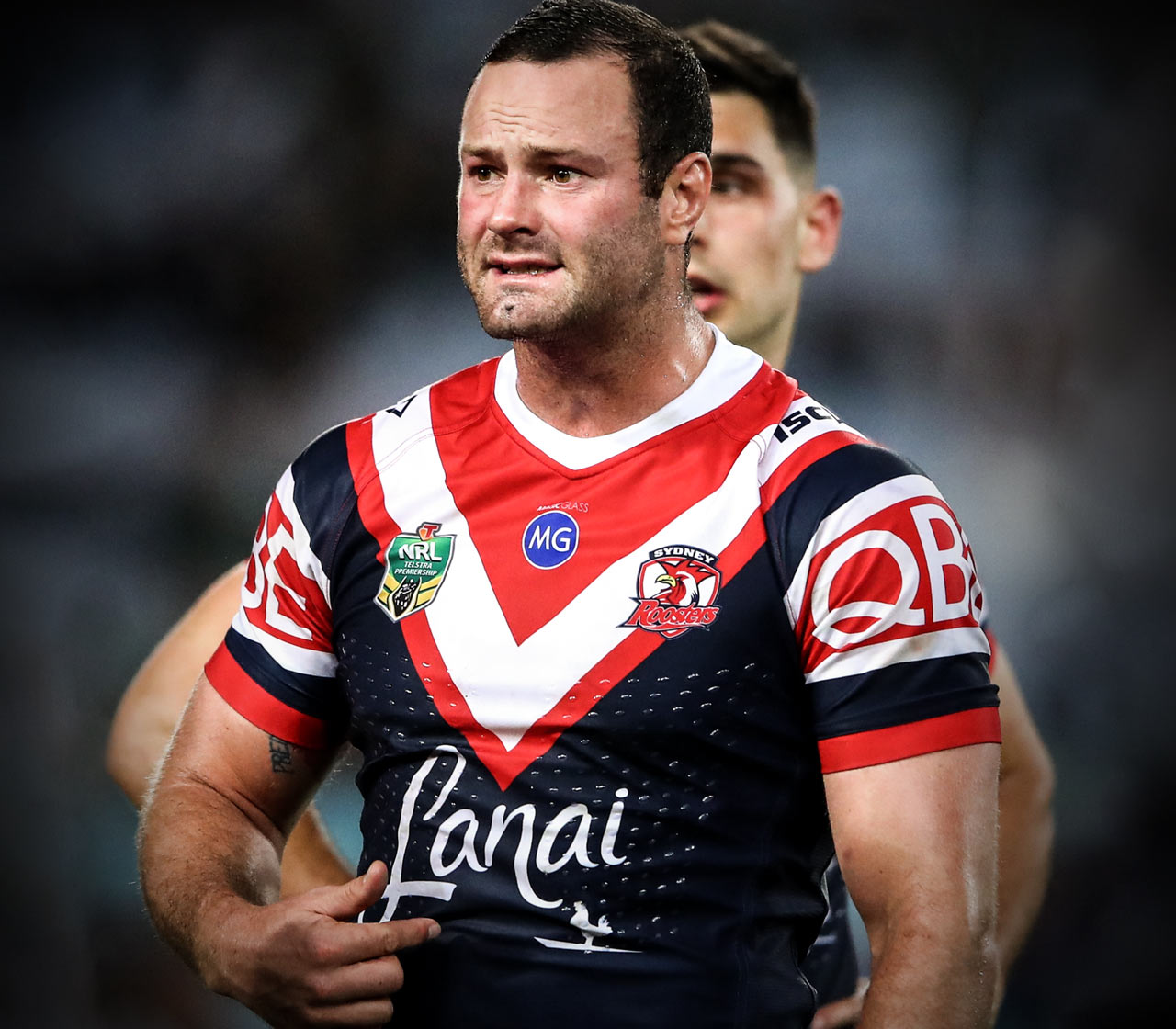 MY SYDNEY MUM
At the time, I didn't think anything of moving to Sydney because I was so determined to play NRL. But looking back, 16 was a young age to leave behind a country town and my family for a big city.
I was driven to make a name for myself. I went down to Sydney with the mindset of going for it, leaving no stone unturned. It was hard at first, being away from my friends and family, but they were only three and a half hours up the road and dad came down a lot.
After a short while, I moved in with people dad knew. Fantastic people. Family friends who played a huge part in my life. Dad played with Donna Mason's brother, Greg Evans, at the Dragons. They became close mates and, ever since then, we've had that family connection.
Donna lived in a big house at Mascot with her husband, Larry, daughter, Shannon, and son, Kelvin, who is two years older than me. When I was first living in Sydney and still finding my feet, Kelvin came to see me a fair bit. After a while, he asked his parents if I could move in.
I was there for five years. I would not be where I am without that family and what they've done for me. It was like home. Donna and Larry took me in as one of their own. I still catch up with Donna and Kelvin. There's still running jokes about how I was the favourite, or how Donna would always cook whatever I wanted for dinner. I used to love her chilli chicken pasta and her schnitzel nights were the best.
When we were asked at school what we wanted to do when we grew up, I said I wanted to play rugby league at the highest level. It became my whole life, with no back-up plan.
Having that constant source of support was important early in my career.
My first serious injury was a broken jaw. I was 16, playing in the under-20s.
It was a bad break and to this day, that's the most pain I have ever been in. It was horrible trying to get that right. I had a pretty good pre-season the next year, when I was 17 and training with first grade. But the session before our first trial game, I did my ACL and was out for all of 2010, the year I turned 18.
In early 2011, I'd had another full pre-season with first grade. I started the year off in 20s, played one reserve grade game, then made my NRL debut: June 4, round 13 against the Warriors, at Allianz Stadium (we won 13-6). I've been playing NRL ever since.
With the knee injury and some ankle injuries I had along the way, I had an ice machine that I brought home from the club. I took it everywhere while I was in the Masons' house, trying to get my body right. It spent a lot of time in Donna's lounge room and she started to call it my girlfriend, joking that it never left my side.
The injuries only made the success that followed sweeter, I think. It was a lot of hard work. I've always been self-driven and every time I got injured, it just made me more motivated.
But something far more serious happened when I was living with the Masons.
Larry passed away in 2013.
It was a bad time for the family. It rocked us. I don't want to sound selfish when it was their loss, but I was so involved with their family at the time that I felt their pain. Larry was the man of the house, Donna's husband, Kelvin and Shannon's dad, and a person who had done a lot for me. I owed him plenty for how he took me in.
It was shocking time. It still hurts today.
I was asked to be a pallbearer at Larry's funeral. It was a massive honour to do that for the family.
EMOTIONS I CAN'T HIDE
Death is part of life. You can't hide from it. It doesn't discriminate.

Last month, my Uncle Greg, dad's brother, passed away in a car crash. It was another devastating time for my family. He was given a beautiful farewell by the community of Tanilba Bay, up in Port Stephens. It's a small community and a tight one. There was a big turnout for his funeral. It showed the kind of man he was: loved and respected.

I travelled up to pay my respects during the week before our first final against Cronulla. I wouldn't have missed it for the world.
More about: Brad Fittler | Cameron Smith | Canberra Raiders | Canterbury Bulldogs | Cooper Cronk | Injuries | James Tedesco | Latrell Mitchell | Manly Sea Eagles | NSW Blues | Queensland Maroons | Resilience | South Sydney Rabbitohs | St George Illawarra Dragons | State of Origin | Sydney Roosters