Gus, Freddy & our new Blues
My reaction to Gus Gould saying he wouldn't pick me for State of Origin?
If you want everyone to like you, go and sell ice creams.
That's our sport. Not everyone's going to like the way you play or like the way you perform. That criticism just comes with it.
It's all said and done now. It didn't bother me too much but obviously coming from a guy like Gus, him being from NSW and with the record he has in Origin, it did hurt a bit. I won't be dwelling on it for too long because if you do, it just does your head in even more.
LIVE stream every game of every round of the 2018 NRL Telstra Premiership. Get Foxtel & start watching in minutes. SIGN UP NOW >
I'm not sure where those comments came from but that's the way he sees it. I'll respect his opinion and move forward.
Brad Fittler's message to me afterwards was simple: I've got your back.
FREDDY: COACH & HERO
When I first came down from home, a 16-year-old arriving in Sydney from Old Bar, Freddy was the Roosters coach. That was mind-blowing and it's special that he's now my coach at Origin level.
We've had a full-on start to camp. The team is gelling quickly. We had our main bonding session on Tuesday night: we went on a cruise and had a feed at Opera Bar, then had a day off on Wednesday. Sunday, we head down to Melbourne for Origin I at the MCG.
Freddy has been great around the group. He brings enormous energy and it's obvious just how much he's loving the job already.
And of course, he's one of the greatest players to wear the NSW jersey. A hero to our players, 100 per cent.
Growing up, some of my earliest memories of State of Origin are from when he was playing, and at his best. He's someone that has all the respect of the playing group; all the boys know how much he did for the game and what kind of player he was.
And that all helps. When he says something, you listen and you do it.
Freddy's message to me afterwards was simple: I've got your back.
There's a slight difference from Laurie Daley, even though the boys are all fully aware of what a great player Loz was. Laurie's last Origin game was in 1999, before some of our boys might really remember. But Freddy, with his last game in 2004, all the boys grew up watching him play on TV. It's just that special respect from having witnessed him dominating at this level.
With 11 debutants, a record number of fresh faces in a NSW team, it's clear this is Freddy's side. It has the feel of a new era. To see how excited the new boys are, they haven't taken the smile off their faces.
They're all playing with great confidence for their clubs and if they carry that through camp and into the game, I'm sure they'll do a great job.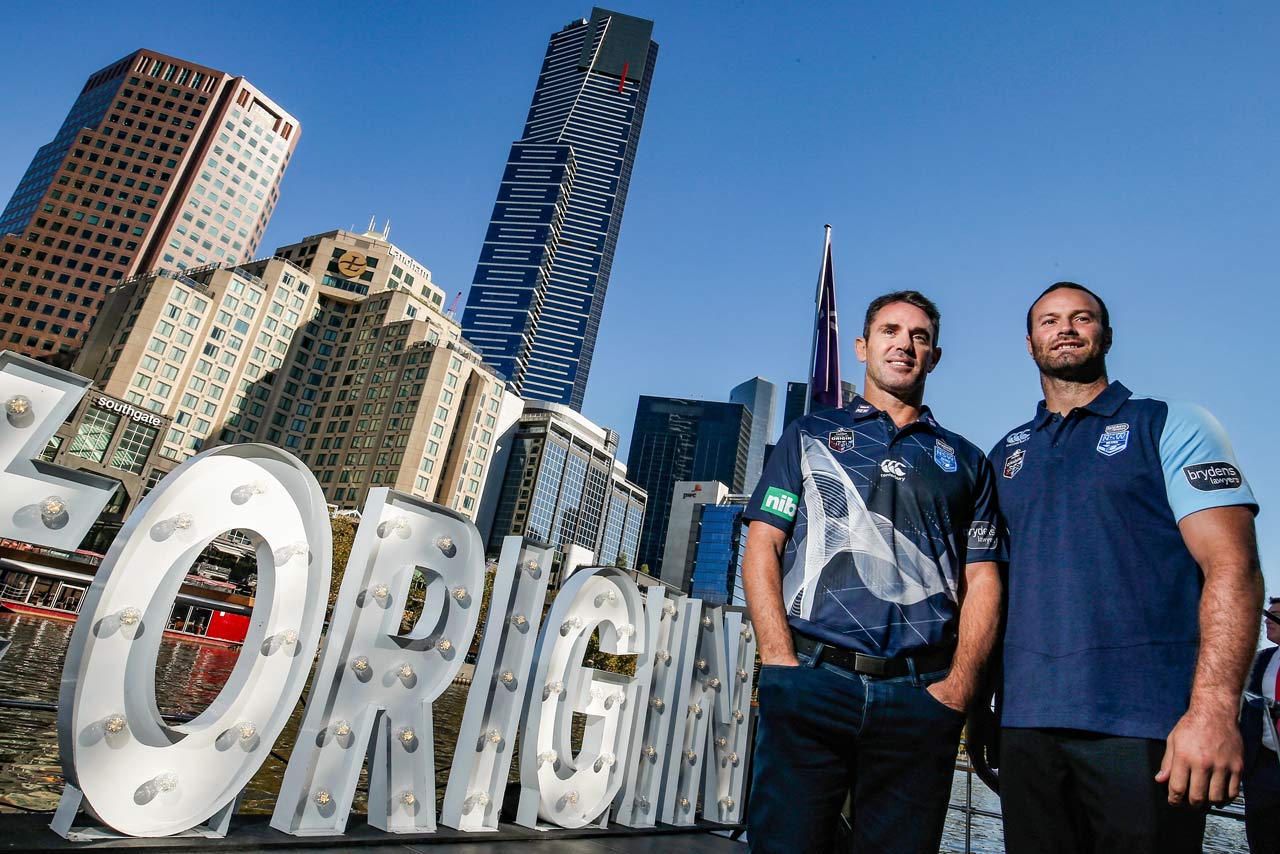 OUR NEW BLUES
With a young team comes a big opportunity: to have a sustained run of success. If we can win this series, we have a great chance to do something special.
Queensland showed how it can be done, with Cameron Smith, Johnathan Thurston, Billy Slater and company forming a core to the team that delivered series wins over a long period.
Nathan Cleary, only 20 years old, has been impressive. It strikes you straight away how calm he is. I guess his temperament is what's made him such a good player at such a young age.
He's a cool character in that key halfback role. He hasn't been fazed by it all. He just wants to rip in and play hard. Closer to the game, he won't be overawed by anything.
James Maloney is the perfect guy to have alongside him. They know each other's games, make each other comfortable and have been performing well at Penrith.
Having Jimmy and his experience will help Nathan. I'll be defending on Jimmy's side. While a bit has been made about his defence this season, he'll be right come Wednesday night.
I'm so happy for Latrell Mitchell, my Roosters teammate. When he came down to our club as a kid, everyone knew he was going to be a superstar but he's taken his game to another level now and is getting his rewards.
He's got his big opportunity and he's more pumped than anybody about it. So are his family. I've been speaking to him a fair bit, he can't wait to go out and do the state proud.
I know where Latrell has come from, with both of us being mid-north coast boys. I can relate to what he's been through, coming from that laidback area to being a footy player in Sydney. It's nice to have shared that experience with a younger bloke, right through now to the Origin arena.
James Tedesco is starting to play his best footy. I think his form all year at the Roosters has been outstanding, he's been one of our best players. He's a classy player and a bloke who's already impressed at this level. He won't let anyone down.
And the rest of our outside backs: Tom Trbojevic, James Roberts, Josh Addo-Carr. The intent is clear. They're exciting players. The back five are young, with plenty of speed and power. If we can get it right with bringing them into the game, they'll be hard to stop.
Freddy's one of the greatest players to wear the NSW jersey. A hero to our players, 100 per cent.
Tyrone Peachey's a ball of energy, a natural footballer who can play anywhere. Reagan Campbell-Gillard, it's been awesome to see how excited he is to be in camp. He's played for Australia before and now he's got his opportunity at Origin. Paul Vaughan and Damien Cook bring great form into the series, as does Jack de Belin, who's been knocking on the door for a while. His spot is well-deserved and it will mean a lot to him to run out on that field.
I hadn't had much to do with Angus Crichton before but he's a good bloke, a confident kid and a fair player. I'm excited for him, making his debut, and he'll be more than welcome at the Roosters.
And I did have a look at his finger. Pretty weird actually, seeing that for the first time!
Angus was picked along with me as a back-rower. Players of the calibre of Wade Graham and Josh Jackson, a recent Brad Fittler Medallist, missed out. That kind of depth is good news for NSW. Plenty of good, in-form guys have missed out despite strong cases to play Origin.
And I'm feeling good. Nine Origins under my belt now, second year as captain and every year I come into camp, I feel more confident and comfortable. There were plenty of lessons from last year, taking over as skipper, and I'm better for the experience. I'm ready to take my game and leadership to another level.
WE BLEED BLUE
My passion for the jersey only gets stronger. I had tears in my eyes as I was announced as captain last year and that sums up what the jersey means to me.
When I was a kid, I was born and bred to love NSW, to love that blue jersey. I was footy-mad from a young age and always so passionate about NSW and State of Origin. You dream of playing, never knowing if it will come true.
Then last year … Blues captain.
All the emotions of the journey I had to take to get there flooded through. All the injury setbacks. It was pretty special.
With a young team comes a big opportunity: to have a sustained run of success. If we can win this series, we have a great chance to do something special.
And with this team, speaking to our debutants about how they felt when they got the phone call, I know it's the same for them.
Angus Crichton was at dinner with his family, on the phone, swearing. Nathan Cleary had sweaty palms when he got a call from Greg Alexander, a Penrith and Blues legend. Latrell Mitchell's family was breaking down with happiness when he was told.
They love the jersey as much as anyone. They can't wait to put it on and perform.
While it's a new era for us, it's the same for Queensland.
The fact Cooper Cronk and Cameron Smith, on top of JT, won't be playing this Origin series … it all happened pretty quickly, didn't it? They obviously felt it was their time.
While we've had Cooper in the Roosters sheds this season, I haven't spoken about Origin with him. You can see, though, why he's had the sort of success that he has.
I've been around him playing for Australia but seeing him week-in, week-out, he knows his footy inside out and is the ultimate professional. He's a great example, role model and leader for our team.
But he won't be there come Wednesday night. A new era of Origin is here, with new opportunities. Bring it on.
More about: Angus Crichton | Boyd Cordner | Brad Fittler | Cooper Cronk | Damien Cook | Greg Alexander | Josh Addo-Carr | Latrell Mitchell | Nathan Cleary | NSW Blues | Paul Vaughan | Queensland Maroons | Reagan Campbell-Gillard | State of Origin | Sydney Roosters | Tyrone Peachey