I still tear-up talking about it
I've shown my Thunderbirds teammates how to put a water bucket on your head and walk without holding it. A few of them tried. It was funny.
It's been good just to be among the girls and share my upbringing. Sometimes they sit and listen and they go, 'Whoa, we can't believe it, that's really amazing'. Sharing experiences helps people to understand each other better.
In Hammarsdale Township in Durban, we grew up without running water, so every day we would walk up and down with our buckets to fill up the big tank near our home. Enough for cooking and washing and cleaning. Enough water to last the day.
We used to collect wood to make a fire outside so that my mum could cook. Eventually, we got electricity and we now have a water tap at home, so we don't have to walk to get the water any more. Last year, we put a sink inside the house.
I've achieved so much through netball. I never thought I would have a car but I bought one from my netball money. My first job was because of netball. Going to uni was because of netball. Since I played my first game when I was 16, basically everything in my life has revolved around netball.
But I'm looking forward, as well. I want to lead, I want to have kids growing up wanting to play netball and I want to be involved in teaching them the skills, helping them out to understand what they can do better than I did.
The more I can share, the more I hope they can take a shorter route than mine. I'm 30 and playing my first year in Suncorp Super Netball. It's been difficult but it's been an amazing experience.
I've learnt to be grateful for the things that I wouldn't have had before I went to play Superleague in England, or before I came here to Adelaide, because everything that I get from netball, no matter the situation, it's always better than what I would have had if I was at home.
So when I decided I wanted to be a netball player, I taught myself that every situation is just an opportunity for me to learn. And as much as we're losing at Thunderbirds, I still feel like I've improved as a person and a player.
That's the only thing I could ask for: not being the same Bongi as I was when I came here. And I'm definitely not.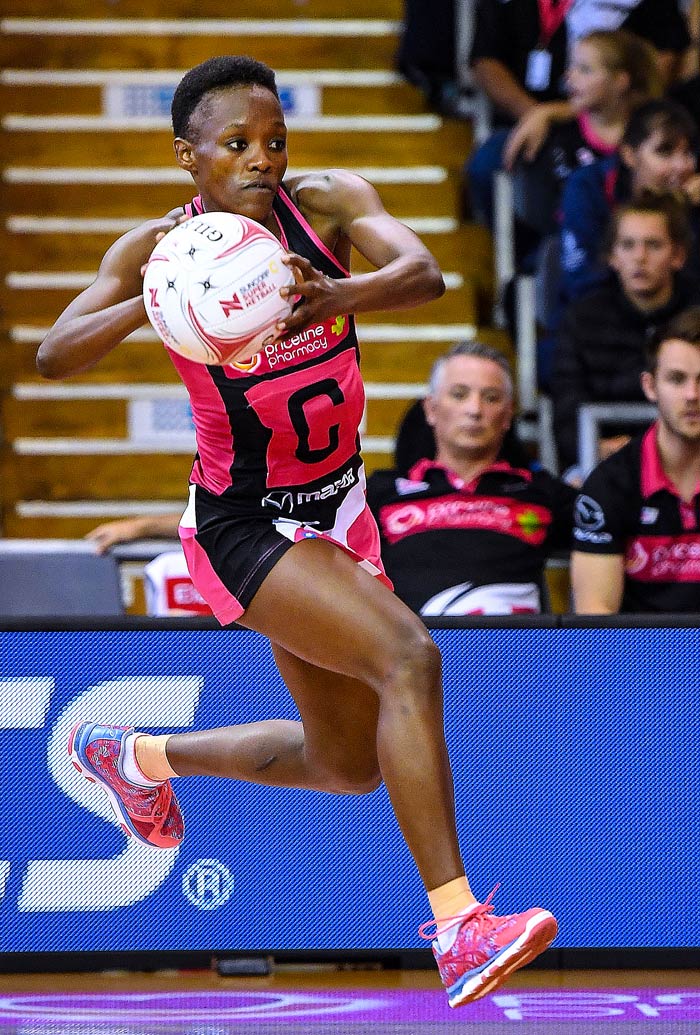 MY BEGINNINGS
I'm the fifth of eight children and the youngest are twins. So we were meant to be seven and they decided to be two, so we are eight.
My mum used to be a machinist, making clothing in a factory, and she would get paid basically nothing every week. So with eight of us to look after when my dad left, it was really a tough ride. But at that stage, to be honest, I never even realised it was tough.
Only after a couple of years starting to understand things and earning money myself working as a coach and PE teacher, I realised my mum was getting just enough to get to and from work. Now, she sells sausages and beers and stuff to have some cash, but she's just at home with five of my siblings and their kids. It's a big family; when I go back home, there'll be 15-plus of us in the house. It's a lot!
I've shown my Thunderbirds teammates how to put a water bucket on your head and walk without holding it. A few of them tried. It was funny.
I started as a fill-in player, at wing defence, when I was 16 years old. I never had a passion for netball; I just went to watch my friends at training. One day, there was only 13 of them, so I filled in so they could play a full match and after that, the coach asked me to come back on the Monday.
I never had training shoes or any training gear, so he gave me one of the girls' old kits. But as a girl, I wasn't allowed to wear pants at home when my dad was still there. For that short time before he left, if I was wearing shorts at training, I'd have to change before I got home.
I still tear-up when I talk about how being spotted that day as a fill-in player changed my life. Back home, but not for me only, this is really big. Me being a netball player has made so many people respect me in such a way that it even gets scary, because I've never seen it coming.
Starting as a 16-year-old, everyone around you already has great skills and it was quite embarrassing for me at that age, not to be able to catch the ball or being called for stepping every time. The coach who found me, Sithembiso Mncwabe, wanted me to do more training than everyone else so I could catch up. He is a high school teacher, very passionate about netball. I wouldn't be where I am without him.
Liking training and wanting to learn has been the base of me being a netball player and, even now, as captain of the Spar Proteas and playing in the best league in the world, I try to make sure that I learn something out of every experience, because that's how I started and that's what made me the person I am today.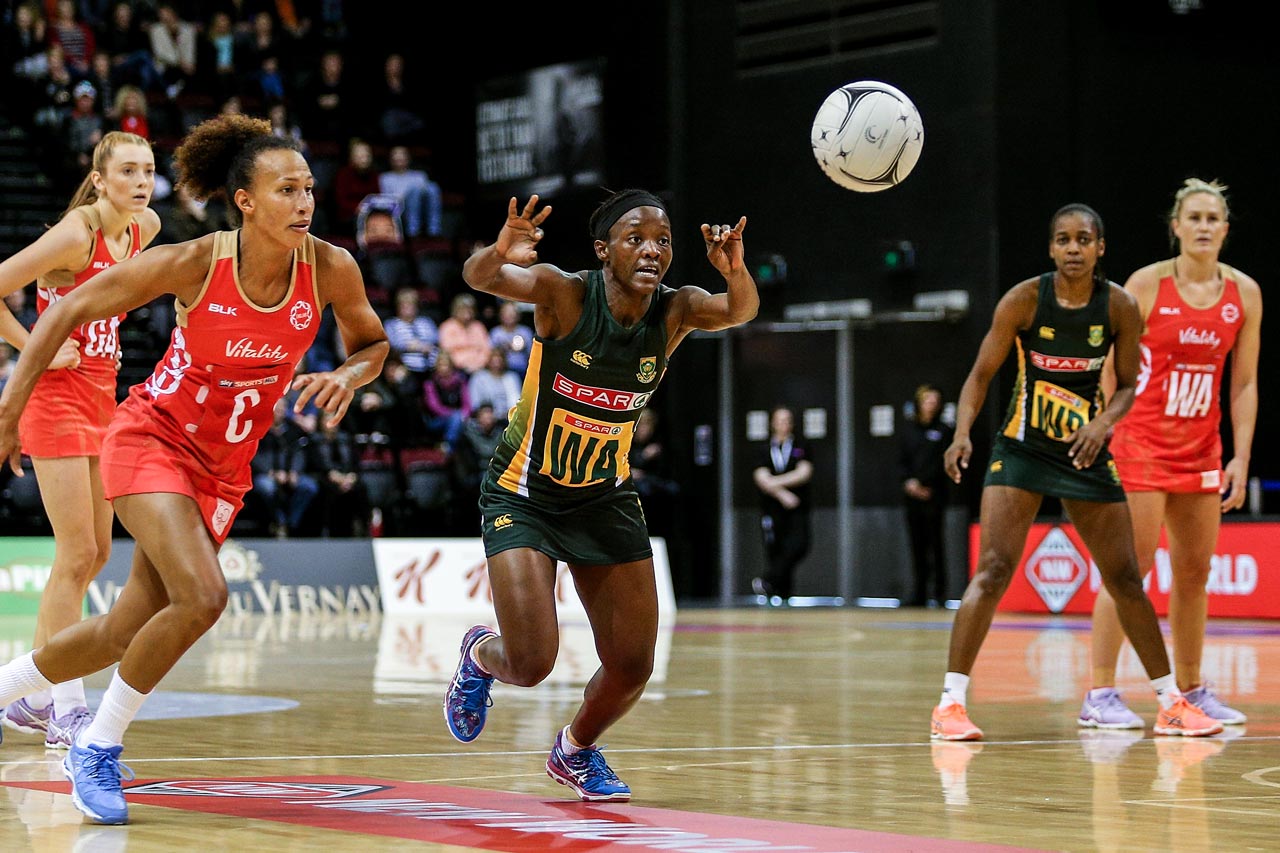 PROUD PROTEA
Captaining South Africa at the 2009 World Youth Cup in the Cook Islands was probably the start of the big things. I speak Zulu, and the language barrier can really be an issue. 

Until I finished school, I never had to have a conversation in English. Netball has many cultures, but English is the major language, so from 16, 17-years-old, I had to start making a sentence in English. It was very hard.

If I were to speak English at home, they would look at me with the 'who do you think you are' attitude! My mum, nieces and nephews wouldn't even understand. And even if they did, they would be too shy to speak it. And to be fair, they never have to.

Being captain of the under-21s made such a difference, because I had to do interviews in English and address the girls; I had to make sure I could communicate whenever I needed to. It was really a big thing.

I still tear-up when I talk about how being spotted that day as a fill-in player changed my life.

After the World Cup, I was invited to the Spar Proteas' training camp for the first time and in 2011, I made the team for the World Cup in Singapore. Everything started from there – again. Without netball, I don't know where I would be, because when I see my friends back home, I get scared to think of what would have happened to me if I didn't play the sport.

From where I come from, most don't even finish school and if they do, they're struggling financially, so they don't have the money to go to uni. Not many people know that you can apply for financial aid from the government for education. I applied, because I had netball people helping me who knew about it.

Some of the girls I played with would be working like my mum did: as a machinist in a factory. It's scary to think how they're even looking after themselves or their kids, because the money they get is just not enough to live. I was really blessed to start netball because of how completely it's changed my life.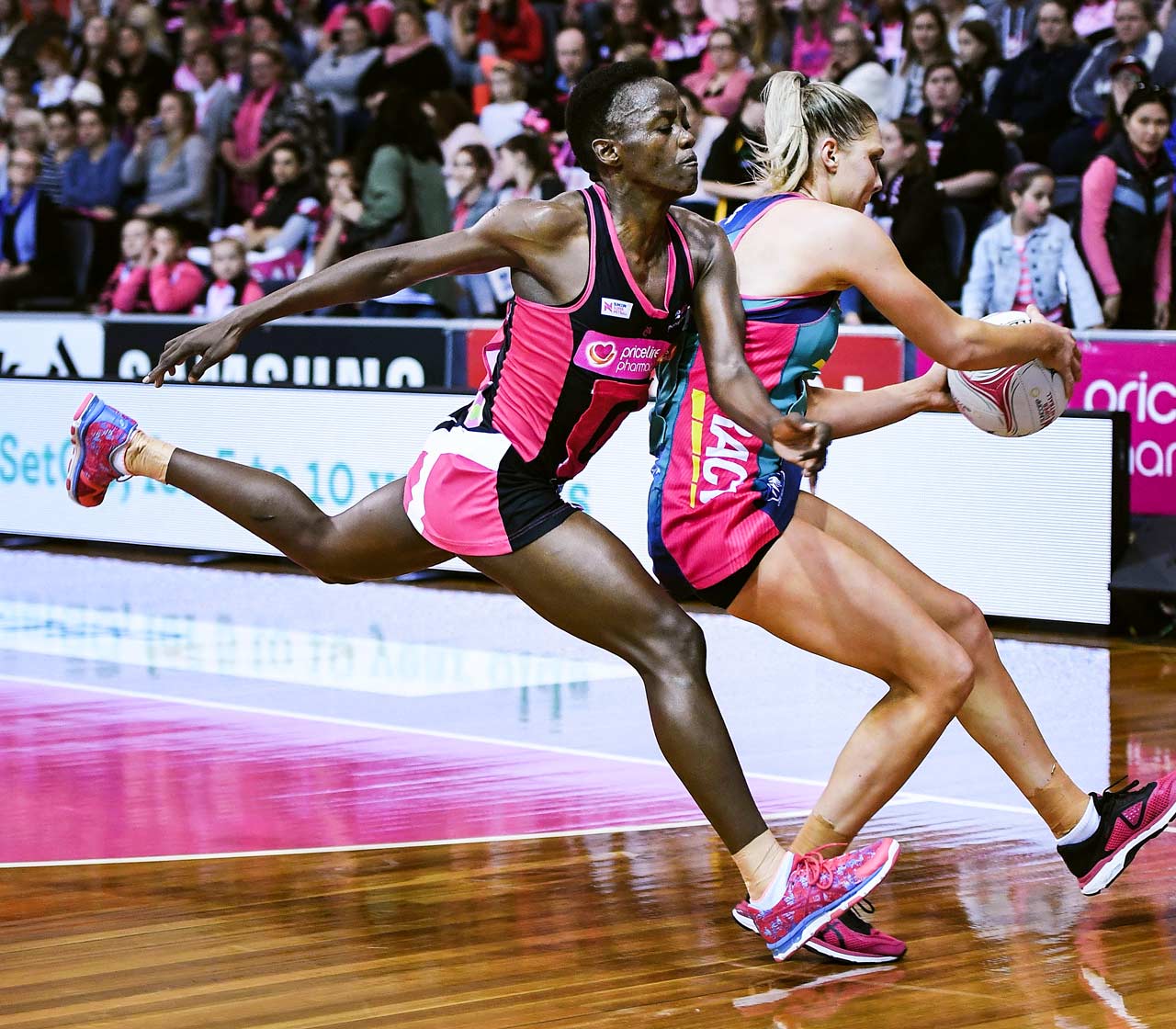 OVERSEAS ADVENTURES
My first netball contract was in the UK. It was amazing for Tamsin Greenway, the Surrey Storm coach, to track me down on Facebook and then offer to pay me to play the sport I love.

I was 27 years old and I was just happy to play, let alone having the opportunity to travel and go to so many places. My siblings have never been overseas and I doubt they ever will. I played for Surrey in 2015 and then Wasps under Tamsin in 2017, and we won the league both times.

A few weeks after I got home in 2017, I got the Thunderbirds' offer. It was a tough decision to leave Wasps after how good Tamsin, the Wasps team and the Wasps family had been to me. But I've always wanted to grow as a person and to experiment as much as I can, because my wish is to be able to take things back and change someone's life. And I'm not young any more.

So I decided to come over and I'm so grateful I did, because I've learnt so much. If you have a season like we've had and you focus on all the negatives, you might as well just stop half-way and say 'cut'. But I've been grateful and really appreciative of what the team has been like, considering that we really have been struggling.

With three games left, we are still full-on and looking forward to getting our first win, which is really motivating for me as well. This has all been so important to me personally. Learning how to be so professional in every aspect of being an athlete has been the highlight.

I know I haven't been on court much but when I have, it's been amazing. It's felt at times like I was playing for my country against Australia, because it's so intense. It just gives you that mentality that netball is more than just catching and passing. You have to be physically strong and conditioning is so important. As, obviously, is skill.

It's been a tough season for me but I've learnt so much on and off court. That includes the information to help me go home and start my own academy. There's so much talent there and if I can be impactful in some of the girls' netball success, that would be my reward and my thank-you for what netball has done for me.

Without netball, I don't know where I would be, because when I see my friends back home, I get scared to think of what would have happened to me if I didn't play the sport.

The Spar Proteas' Australian coach, Norma Plummer, has changed so much for us, but the biggest thing is making us love and respect the sport.

I feel like we as players have been waiting for coaches to give us information and feedback. Norma has taught us to go out there and watch the opposition and be ready for what to expect so that it doesn't come as a surprise. Thinking for ourselves is not something we've done before.

Norma is very true. Her decisions are solely based on performance and making everyone in the 12 feel equal. She always says, 'Don't drop the standard'. We're so grateful to Norma and her assistant, Nic Cusack. Besides being great coaches, they do so much for us and for netball in our country.

Next year's World Cup in Liverpool will be big for us. In the Quad Series against Australia, New Zealand and England, we're getting better almost every time. Every team plays to win but we used to play to lower the score margin.

Against Australia, for example, we used to lose by 30, 40 goals, and we cut that down to four in last year's Quad Series. We've improved so much, we're at the point where we don't have to worry about the scoreline, just the performance.

So now, we're looking forward to our first win against one of the big countries. We beat England in the Quad Series and England have just won Commonwealth Games gold, so it's a big step forward for us. I hope all our injured players will be ready and I know we've got a few girls back home who are coming up.
I'm usually the shortest in every team, which is another challenge. But I saw Temepara Bailey play for New Zealand in Singapore in 2011, and she was so fast and playing such great netball. And she was almost as short as I am: 166cm.
I'd never had a role model in netball, because back home even when we had TV, we didn't have access to professional international netball and I never knew of any black netballers. Because I never really wanted to play the sport from the beginning, I never had interest, but even if I did, I couldn't have watched them. So seeing Temepara playing for the Silver Ferns was when, in my head, I thought, 'Actually, there's nothing that can stop me'.
I had to understand that height doesn't really matter; that if I worked hard at being as fit and fast and smart as I can, and upping my skill level, then I'd be OK. And it went not just OK but OK, because I'm here.
I think Kelsey Browne is amazing. I've been watching her and it's just great to see another shorty going out there and giving her all. It has never been easy for me, Bongi, to be a netballer. Everything is just a learning process for me and I enjoy that, because that's how it has been since I started.
More about: Adelaide Thunderbirds | Diamonds | England Roses | Kelsey Browne | Netball World Cup | Sponsored | Super Netball | Women's Sport