I've been helping out in the NSW State of Origin camp this week and I thought I'd share a few impressions about the team and, in particular, the members of the NSW forward pack.
David Klemmer
I was speaking to him about how he's the most experienced player in this side with 10 Origin games and I said to him, 'You've got to own it. It's your time. You've got to own it'. He loves someone to talk to. He had a great piece in the paper the other day where he talked about how he plays for his family. I love that. Everyone's got to have a reason.
Damien Cook
I don't think I've ever seen anyone as explosive out of dummy half as him in the history of the game, or at least while I've been watching the game. We've seen some great hookers over the years in Cameron Smith and Benny Elias and Danny Buderus and all those sort of guys, and they all bring different things. But I haven't seen anyone with such explosive speed out of dummy half.
Reagan Campbell-Gillard
I love him, he reminds me so much of a young Chief Harragon, just hell for leather. He wants confrontation. And every side I've been involved with, you've got to have one of those in your side.
Tyson Frizell
Tyson Frizell scares me – the power of the way that bloke can run, and the power that he generates. When you talk to people in the game, he is up there with the most difficult blokes in the game to tackle. He is relentless.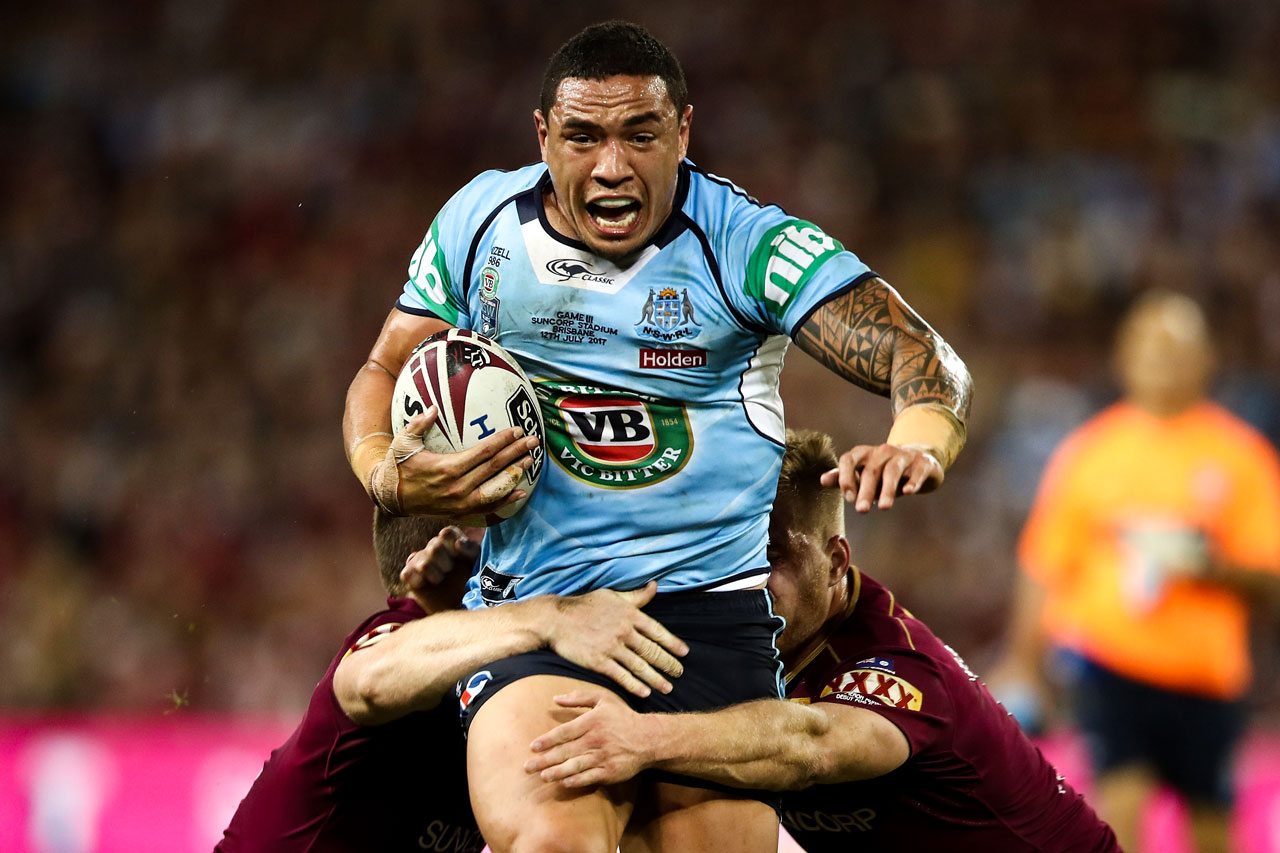 Boyd Cordner
I understand why he is the captain. He is just a hard no-nonsense bloke who doesn't say many words, but he is an action man. The greatest captains that I've ever seen or played with were blokes that were doers, not talkers. And he is one of those guys who just rolls his sleeves up and away he goes.
Jack de Belin
The best tackling technique in the NRL. He cuts blokes in half. I haven't seen a technique like his since Wayne Pearce. Unbelievable.
Jake Trbojevic
A hard man and a wonderful defender. He's a throwback to the English lock forwards who can ball play. This guy has nowhere near reached his potential of what he's going to do in the game. I honestly think he's a superstar. When you look at it, most blokes are good at one thing. He can do both. I think he's a great player.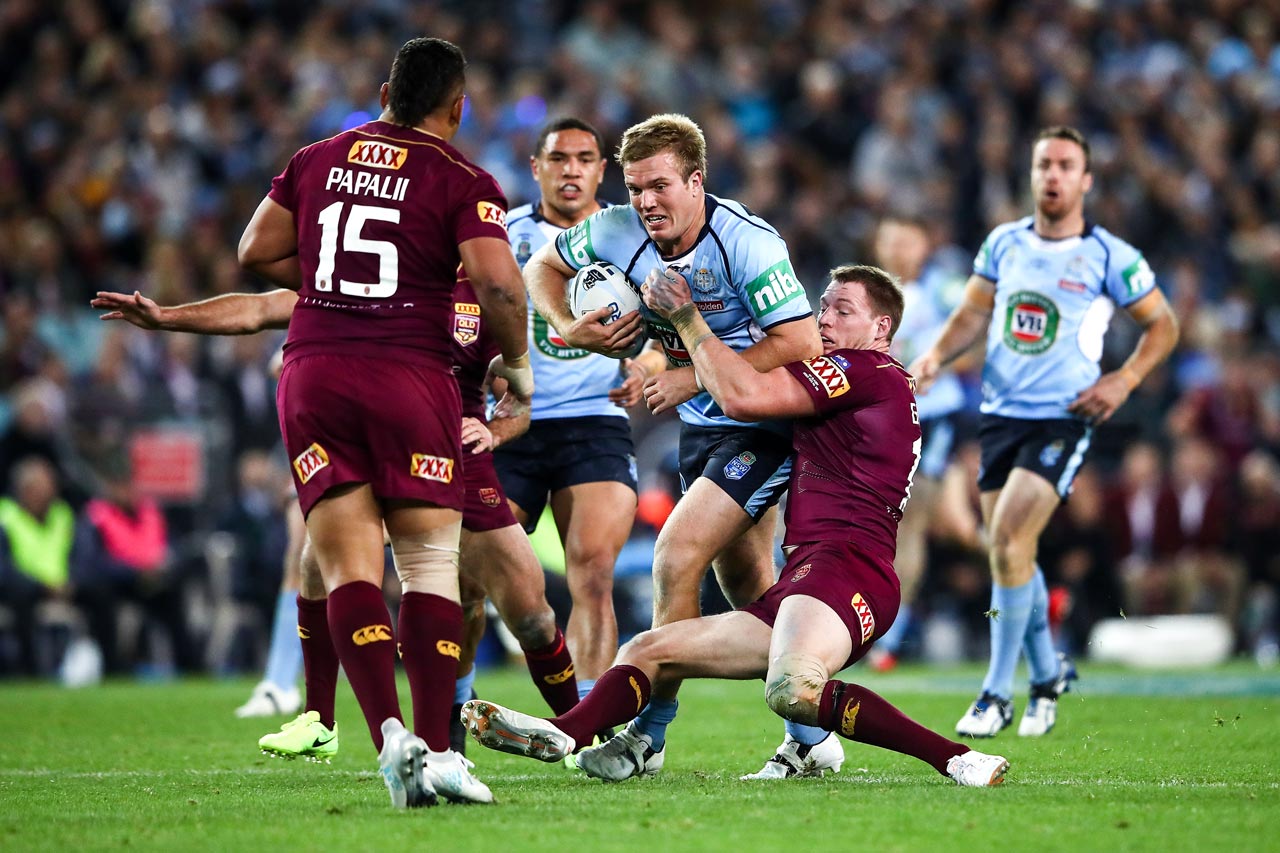 Paul Vaughan
He's a great player with a wonderful knack of being able to read ruck speed and getting in behind rucks. He's got speed too for a big man, and you can't buy that. If you've got speed in that position and you're that size, you've got it made.
Angus Crichton
Superstar. He's being schooled by Sam Burgess, a bloke who is one of the top five English forwards I have ever seen, and he's going to be something special.
Tyrone Peachey
I've never seen the bloke with the smile off his face. Peachey can play anywhere. You can play him at hooker, second row lock, five-eighth, halfback, centre, anywhere. He reminds me of a Craig Wing. Wing had that unbelievable knack of turning nothing into something and I think Peachey is along that same line.
A final comment on the forwards
When you look at all the NSW back rowers, most of them play 80 minutes for their club. So the hard thing for the NSW coaching staff is how to get all these boys on. They're going to have to do their homework and find out how they're going to keep the tempo of the game going up, or say to these guys at the start, 'Just go hard until you run out of juice'.
It'll be difficult, but the great thing about the way they've selected this side with mobility and speed upfront is you can put Jack de Belin in the front row or lock, you can put Jake Trbojevic in the front row. So you've got this great rotation, but it's going to be all about how they put it together.
CRACKing THE QLD STREAK
I played 17 games for NSW, and when I look back at my own Origin career, there's not one moment that stands out. The great thing about State of Origin is that every game virtually breathes its own life, so it's very hard to pick out one particular moment.
But I suppose something I remember is winning the first-ever series for NSW in 1985. That would probably stand out as the best. That was the year we won 2-1, and in 1986 we won 3-blot. But in saying that, every Origin was great because we were competing against the best players in the game.
When we won in 1985, we cracked a three-year Queensland winning streak. That's the same task facing NSW this year.
How did we do it back in the day? I think obviously having a good side helped, and the balance of the side was important too. We had a pretty well-balanced side with Peter Tunks and I in the front row, Benny Elias, who was my teammate at the Tigers, as hooker, and in the back row we had Noel Cleal who was a brilliant runner of the ball.
I think that Cleal, Paul Sironen and Brad Clyde are probably the best ball runners that I've seen in that position, and then we had Steve Folkes who was doing 50 tackles, and Wayne Pearce, who could do both – he could run the ball and tackle. So we had it pretty well covered.
BREAKING NEWS: Balmain's Steve Roach suspended for 4 weeks for patting ref Eddie Ward on the head. #NRL pic.twitter.com/LmTBbgeNWV

— The Winfield Cup (@winfield_cup) March 15, 2016
Then you talk about the only bloke to ever handle Wally Lewis in State of Origin – and that was Brett Kenny. He was absolutely brilliant and even now I hear Wally say that Brett Kenny was the bloke that could handle him.
Then there was Chris Mortimer who was very under-rated and handled Mal Meninga and Gene Miles. Not a lot of people talk about 'Louie' Mortimer but he was a great player and then, of course, there was the captain Steve Mortimer. He just had this wonderful will to win and didn't expect anyone to do anything that he wouldn't do. He was a great leader.
The great thing about these guys in the team now is that they're exposed to big games every week, so I don't think the inexperience of the Blues is an issue. When I was a kid and the ABC was the match of the day, there was one game on television. Now every game is shown, so these guys can handle the exposure to big games and to media and all that sort of stuff.
I've been in camp with these guys and I can't believe how calm they are. They just get on with their jobs, go about their business, prepare themselves and won't worry about Wednesday night until probably Tuesday. They're quite casual, there's a lot of heavy self-belief in these guys. I don't know if they're churning up inside but they certainly don't show it.
I've been in camp with these guys and I can't believe how calm they are… I don't know if they're churning up inside but they certainly don't show it.
When I look at all these guys, they look like they're having a good time, and at the end of the day when we all started whatever sport we played as kids, the whole idea was to have fun. Nothing fazes these guys. They look like they're having the time of their lives and Origin is everything that they expected it to be.
No one can answer the question of whether these guys will go better than some of the younger players who've been picked in the past. That question is in limbo at the moment and we'll see what they do Wednesday night. But from all the signs and from everything I've seen, it all points towards a great performance.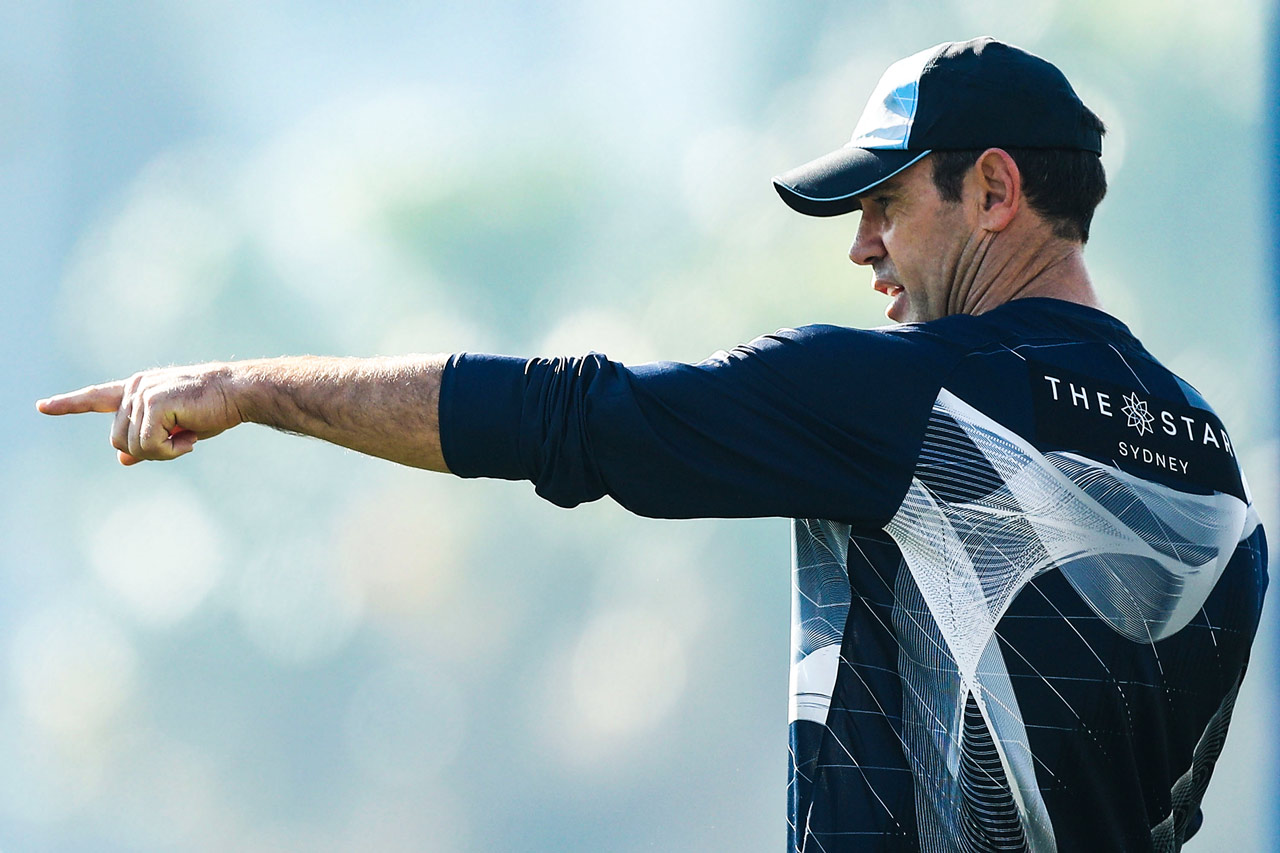 THE NSW BRAINS TRUST
Another important factor for NSW is the gang they've got together. Not that the blokes that came before them have done a bad job – they just came up against a great Queensland side.
But I know Brad Fittler very well. I played in his opening State of Origin game when he was only 18 and he's one of those guys that luck follows, that fortune follows. He does so much good in the world that everything gets brought back to him, that's the way I'd describe him.
He's an out-there sort of dude, but there's an aura about him, some sort of energy about him, and then he's got Greg Alexander who's his best mate. They won premierships together at Penrith and, with all Brad's weirdness, Greg Alexander's got this unbelievable ability to bring him back to where he needs to be.
They were both phenomenal players. I remember the first time I ever saw Brad Fittler, I saw him chip over the top, regather, chip over the fullback, regather again and then score. In first grade you're not playing against mugs, but he'd just go, 'This is what I do'. He was so ho-hum about it.
And in an era of great halfbacks where you had Sterling and Alfie Langer and Ricky Stuart and a million of them, Greg Alexander was a phenomenal, unbelievable player. He was lost in the mix of all those great halfbacks a bit, but I recently watched a documentary of his top 100 tries – wow! Brandy was that good, and he had a phenomenal partnership with Fittler.
And talking about the coaching staff, there's Danny Buderus, who was a great NSW player and captain, and to Brad Fittler's credit, he gets Joey Johns in to do the attack. Brad Fittler was arguably one of the top five or six attackers ever to play the game, and generally when people are in those sort of positions, maybe their ego steps up a bit and think that they probably don't need all those sort of guys.
But Freddy's the opposite. He's brought in somebody that he thinks can help in Joey Johns, who was arguably the greatest attacker ever.
I've been floating around there as well doing a bit of media and that sort of stuff, and a lot of the players come over to me and talk to me about Origin.
I went up to Freddy the other day – because as I said we played a lot of Origins together – and I said to him, 'Mate, we're all about learning – I'm about learning still, I'm 57 – do you mind if I sit in on the video sessions?'.
He said, 'No worries, do whatever you want'.
So that's the sort of relaxed atmosphere that you crave and that you like to see. And with the NSW players having these guys mentoring them, it could be a new dawn, depending on what happens on Wednesday.
Because some of those guys are 20 and they could play Origin for a decade.
More about: Andrew Johns | Angus Crichton | Boyd Cordner | Brad Fittler | Damien Cook | David Klemmer | Greg Alexander | Jack de Belin | Jake Trbojevic | NSW Blues | Paul Vaughan | Reagan Campbell-Gillard | State of Origin | Steve Roach | Tyrone Peachey | Tyson Frizell