'Scary!' Brothers' big Smith challenge
Blood is thicker than water. Thicker than two guys competing for the same spot in a footy team. The bond I have with my older brother, Jayden, will never be threatened by that.
The fact we both play the same position and only one of us can start games for Cronulla hasn't changed the nature of our relationship. We're not looking at each other differently or being less honest with each other. We'd never try to trip each other up.
It's not awkward, or difficult. If anything, it's made our relationship even stronger, which is good because we're both still living at home and if things were tense between us it would make life difficult.
We're really close. We play golf together, we surf together, we've got a lot in common. We're like I think any brothers are – we really look after each other. I know footy-wise, especially, I pick his brain. We really bounce off each other.
Jayden's always had my back. I was never going to have any problems with anyone picking on me at high school.
My brother and his mates were a couple of years ahead of me and I was close with all of them as well, because I'd always see them around at our house.
There have been plenty of instances where brothers have played together in NRL teams, but they've usually been in different positions, or positions where there's room for more than one player. But there can only be one hooker in a starting side.
It's a bit of a weird situation to people on the outside, but I think both Jayden and I actually enjoy it.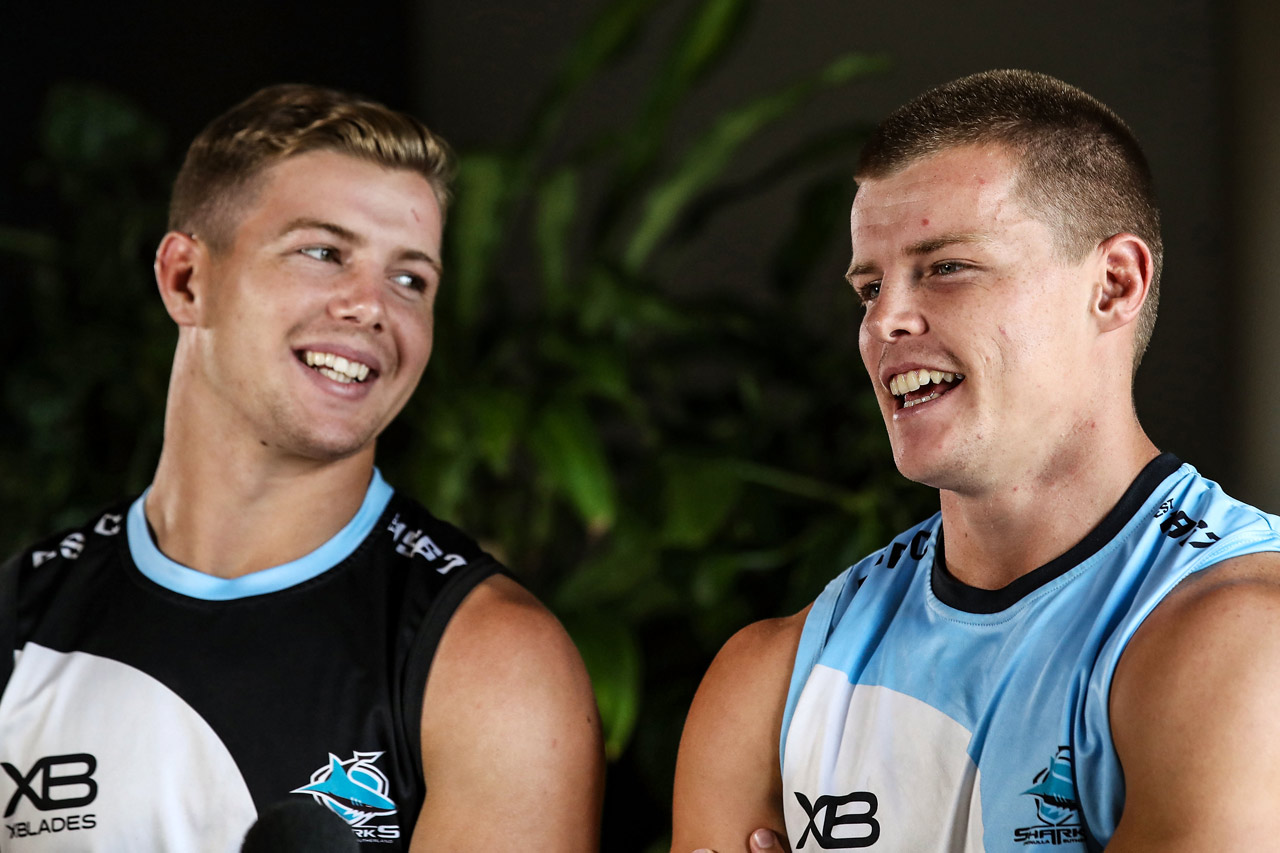 It's a really proud time for our family, to see both of us in the 17 at the Sharks. That's happened every round so far this season.
And when we can both actually get on the field together, which has already happened three times out of my seven first-grade games – I've come off the bench and Jayden has stayed on and moved to lock – it's fantastic. We love it when that happens.
The first time was against the Cowboys in round three, when I scored my first NRL try. Jayden was the first player to get to me and give me a hug.
Even before the game we're always sitting together in the dressing-room and talking about what we can each do out there. He's always the last person I hug and shake hands with before the team walks out.
We both want to be starting hookers. Jayden's already taken that step and done it brilliantly and I want to do it as well.
I recently signed a new, three-year contract with the Sharks, so obviously I want to do it here. But I'm sure Jayden isn't planning on giving up the spot. He'll be doing everything he can to keep it.
That sort of situation might seem confusing to some people looking on, but not us. It makes things a bit more interesting, but we don't let it get between us.
We really enjoy the competition. It's a bit of a friendly rivalry and we support each other and encourage each other. That'll never stop, but we're both really competitive people and I know neither of us is going to take a backward step.
We don't know how it's going to work out down the track. Whether we'll end up at different clubs or whatever. But the good thing for us now is that we don't make the decisions on who starts. That's up to the coach, so it's out of our hands. It makes it more comfortable for us.
We just get on with playing.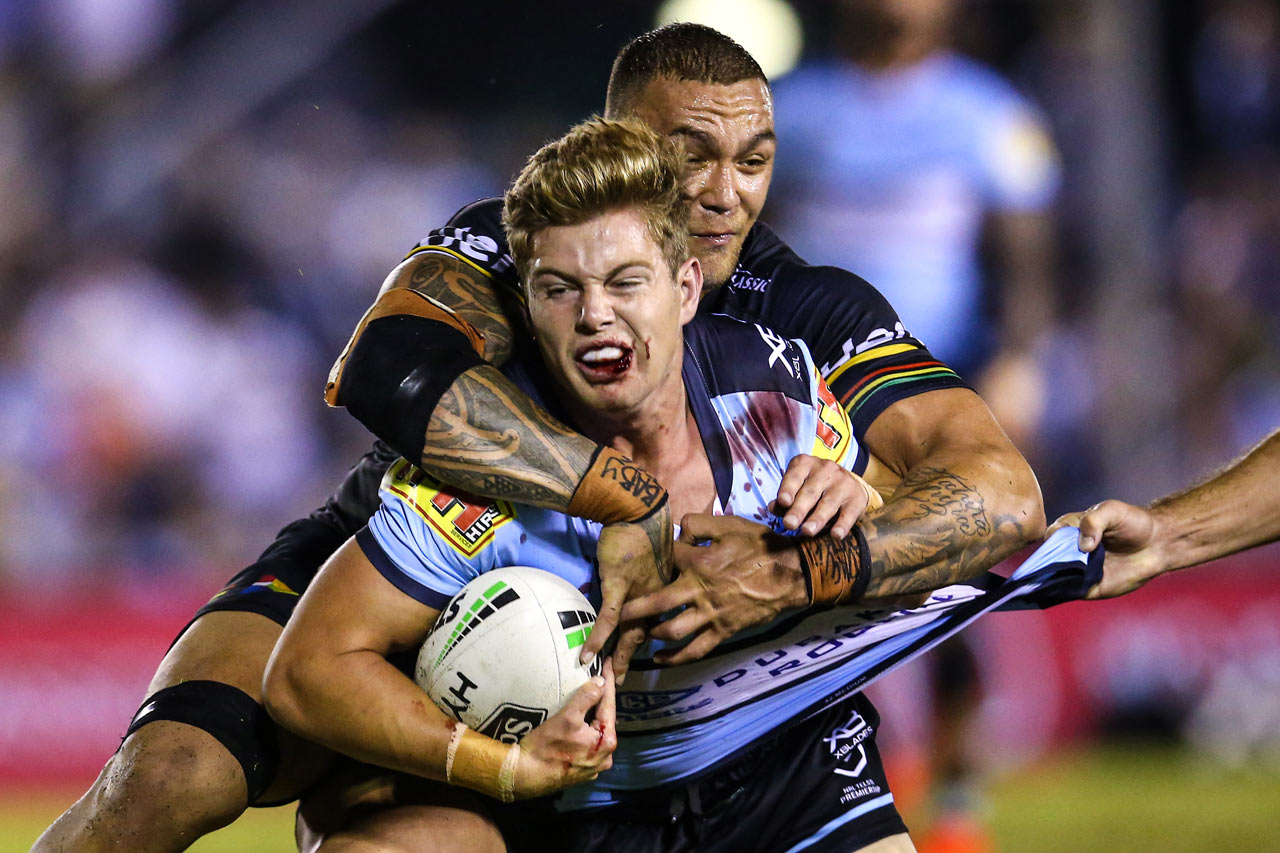 Mum can't watch
I think not only Sharks fans but any league fan who saw the video of the moment Bronson Xerri was told by our coach, John Morris, that he would be making his first-grade debut had to get a huge kick out of it.
Bronson's emotional reaction as he sat in John's office ahead of round four showed how much it means to finally crack it after you've come through the juniors and worked so hard to reach that stage. I played with Bronson all through my junior career. I knew exactly what it meant to him.
It happened the same way with me – only without the secret video!
John called me into his office before round one. I'd set myself the goal of being in the team, but I didn't know it was about to happen. I got goosebumps when he told me I was in. All the years of hard work and I was finally getting my chance.
I worked out that I was only three years old when Cameron made his first-grade debut. But it gets weirder – I was only two when Paul Gallen made his and now I'm playing alongside him.

I found Jayden and told him first. He was so excited for me. I knew it was one of his goals, the same as it was for me, for us to play first-grade together. Then I rang my parents – Carla and Glenn – and they got a bit emotional. My mum cried.
Then the coach made the announcement to the team and they were all excited for me. My first thought was, 'I don't want to let the team down', but the senior players know what it's like for a young bloke and they give you the best advice.
They told me they believed in me and to just play how I normally play. 'Do what got you into the team, don't try to do anything you wouldn't normally do and just make your tackles, provide good service and anything else good that you do will be a bonus'. That set me straight.
I've mostly been getting about 20 minutes at the back end of games, apart from a couple of times when circumstances meant I was out there for a lot longer.
Against the Titans in round two Jayden didn't come back on after a head injury assessment and I played the last 56 minutes, then against the Broncos last weekend Shaun Johnson went off injured, Jayden went to the halves and I played the last 58 minutes.
We'd obviously rather we weren't getting those injury setbacks, but I've gained a lot of confidence from being out there for those extended periods. I know I can handle it.
My role is to come on and just run as much as I can and bring some more energy to the back end of the game. The game is often still there to be won, so it gives me a lot of confidence that the coach believes in my ability to close out that sort of situation.
Not every club runs two hookers in their 17. I know Jayden can play 80 minutes, so I'm really fortunate that Cronulla are bringing that sort of number 14 role to me, to add a bit of spark to the team. Even just five minutes of NRL any week is another dream come true for me.
It's a bit tough on my mum though. She gets nervous when Jayden and I play. Like any mum, she just doesn't want to see us get hurt. So in those times when we're both on the field together, she closes her eyes. She can't watch.
More about: Cameron Smith | Cronulla Sharks | Melbourne Storm | Paul Gallen