From zero to 80,000 overnight
I couldn't believe it. There were 80 thousand people packed into Twickenham, the home of English rugby, and I was sitting there on the sidelines, ready to run on at any moment.
Four weeks earlier, I was playing in the equivalent of Sydney third-grade rugby. In my life, I had never played in front of more than a couple of thousand people. Then with four minutes to go, the call came…
I'm 27 these days, but when I was younger, I was in the Australian Rugby Performance Academy academy, which was basically like a Waratahs academy at the time. I spent a couple of years there and then I was playing Shute Shield in Sydney for Norths. I felt like I was playing well and sort of knocking on the door for Super Rugby selection, but I just couldn't get a contract.
I've got a British passport, so my manager at the time strung up a deal to go over to England to play in a competition of a similar standard to the Shute Shield. The plan was to play a season and then see how it goes. But I got over there and it wasn't quite what they'd advertised. I was playing at a pretty shit level, probably the equivalent of third-grade Shute Shield and whilst I made some unbelievable friends for life at this club, overall I was pretty down in the dumps.
Then Gloucester – a team in the English premiership – had a few injuries in their centres, and I got in touch with them through a connection over there. They had a second-tier Cup game coming up and I went and played a second half in that and managed to play really well. A few weeks later, I came off the bench in that game where they had 80,000 there.
That was my premiership debut.
In the English premiership, they do a double-header every year. It's called The Big Game and it's always at Twickenham and they usually sell it out. It was unbelievable. As I said, I had never played before more than a couple of thousand people.
I only got four minutes at the back end of the game, but I debuted, which was good. I spent the game just soaking it up on the sidelines, I couldn't really believe what was going on. I was texting my dad after the game saying, 'Did you see it?'. It was pretty exciting.
I played the home game the next weekend for Gloucester, and I ended up getting a rookie contract with them the next year. Then after that I signed for two more years. So I was at Gloucester for three seasons.
I think just being in a professional environment full-time is what I needed. When you're playing club rugby, you're obviously working full-time as well, so you can't really fully commit to it. For me, the experience of playing for Gloucester was about being around professionals and ex-internationals that I could learn from.
So it was a huge learning curve for me, and I reckon England is where I really turned it up and became a much better player.
VULNERABILITY IS A STRENGTH
My style of rugby has sort of changed a bit over the last couple of years, and I reckon that's 
because I learned a whole different style of rugby over in England.
It's obviously a bit wetter in England and the rugby is a bit more confrontational and set-piece oriented, and probably not quite as quick as it is in Australia. So you learn to be a bit more confrontational and a bit more physical and in-your-face.
It's probably more traditional in Australia now to have your number 12 as a second ball player, so as I've transitioned back to Australian rugby and shed a few kilos. I've learned a lot more around that part of my game whilst still trying to add in that physical side.
After my stint at Gloucester, I came back to Australia on a super rugby contract with the Western Force. After the Force was removed from the Super Rugby competition, there were 13 or so guys that came over to the Rebels, which is a fair chunk of our team.
I was a bit sceptical coming over. A lot of us Force boys weren't really sure how the Rebels boys would accept us, but it's honestly been amazing. I think a lot of the way we've come together is due to the fact that both teams were in the same boat last year. We both went through the same things and were both playing with a lot of uncertainty. Hats off to the coaching and management staff for bringing us all together. They've made us all feel really close, and it's starting to show on the field.
Dave Wessels is a very intense and honest coach. A lot of the things we did at the start of the year were literally as simple as sitting down together in a room and getting to know each other. But it works.
A big thing for Dave is he likes players to show vulnerability. That might sound a bit strange, but once you fully understand someone and get to know someone's back story and what makes them tick and what motivates them, then you can really have a conversation with them and have a good understanding of what everyone's about.
We did a bit of that at the Force last year so it wasn't much of a shock to us, but the Rebels guys said, 'Geez, we've never sort of done activity like that'. But it definitely helps.
I was a bit sceptical coming over. A lot of us Force boys weren't really sure how the Rebels boys would accept us, but it's honestly been amazing.
Dave's always the first one to jump off and talk about his background and what drove him and what excites him about playing rugby. He told us about the 1995 World Cup in South Africa and the background of the racial disagreements that were going on at that stage, and Nelson Mandela and all that. He was growing up in South Africa at the time and he gets teary when he talks about it.
He was basically talking about his love for rugby and what that World Cup meant to his country, and about how that's why he got into rugby in the first place because he saw the game had the ability to change things.
A huge contingent of our team are Islander boys and obviously a lot of them can be pretty quiet at times, so for them to be able to speak up and feel like they can talk in front of the group has been huge for us as well.
I remember our captain Adam Coleman for example talking about his upbringing. He didn't have much money growing up. He was from Tassie and his mum supported him, and then Tatafu Polota-Nau basically paid Adam's way over to Sydney to play in the Shute Shield there. It's unbelievable.
Other boys have spoken about the sacrifices their parents have made over the years to get them to where they are. It's all pretty powerful stuff. There were definitely a lot of teary eyes in the room. But it's definitely brought us together stronger.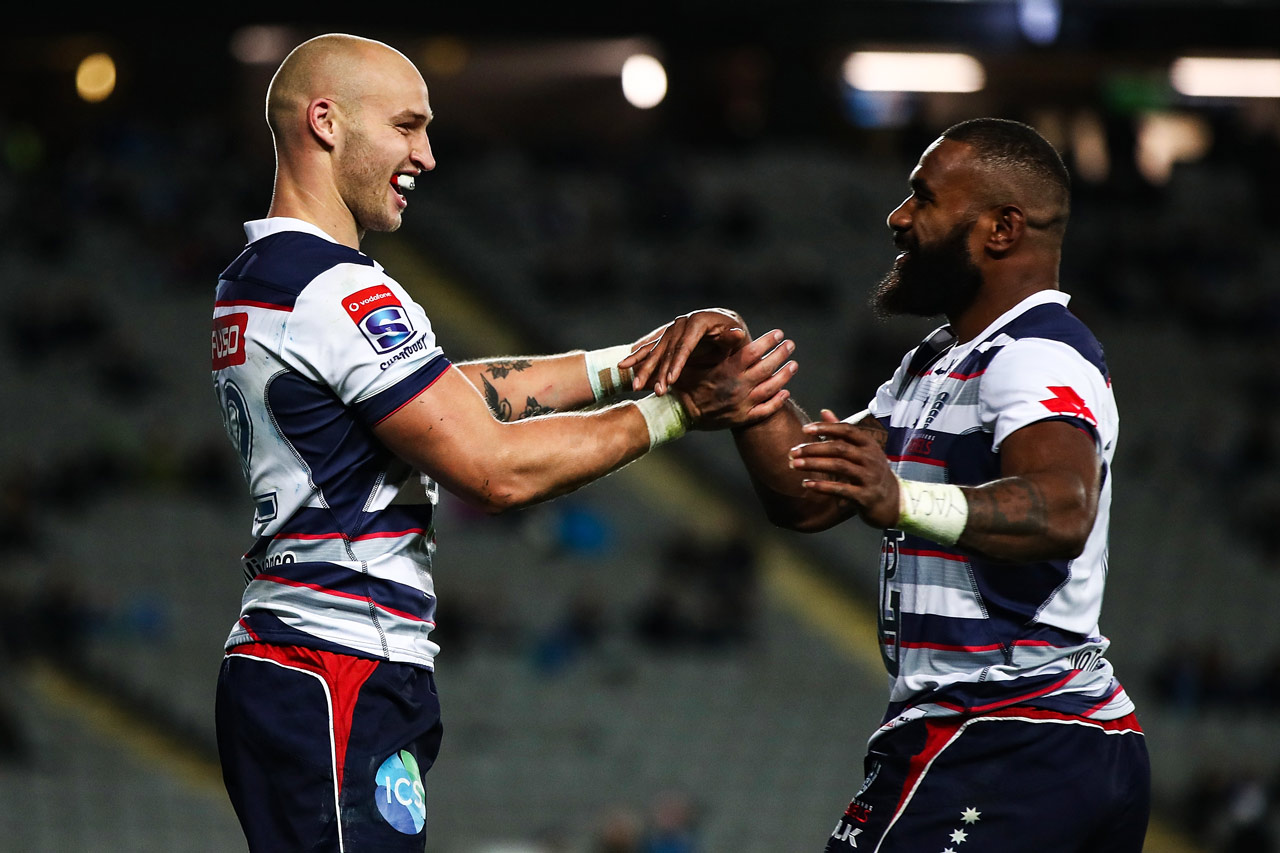 TA-TA, TAHS!
This Friday night against the Waratahs is a must-win. It's a huge game for us, especially off the back of the June break where a lot of the boys haven't been playing rugby for a while.
It'll be nice to get out there, especially playing at home. It's a top-of-the-table clash for our conference, so to come away with points this weekend for either team would be massive, and all the boys are pretty pumped for what should be a pretty exciting match.
We're well aware that the best way to make the finals is to top your conference, which means you go through automatically. The other four teams in the finals are the teams with the most points (apart from the conference winners), so there's a possibility we could finish second and still make it, but there are no guarantees.
The top three or four Kiwi teams in their conference usually slide into the finals because they're so competitive throughout the season, so to finish first is obviously the ideal situation because it takes chance out of the equation. This game is huge.
Our form running into the June break gives us confidence. We had three back-to-back wins, and I think with the new group that we've got, it has taken a while to gel our combinations, to get our heads around the way we want to play, and our identity as a team. We might not get to exactly where we want to be by the end of this season, but we're definitely getting closer and it's showing on the field.
I think we've got so much confidence in the way we're playing at the moment, and then obviously we've got a lot of boys coming back from international duties who performed well over the June break. They'll be back into the system, so there are a few things that stack up in our favour.
But I'd probably say the main thing going for us at the moment is our belief. We're confident we can continue the form that we've shown recently.
CHEIKS AND BALANCES
I was born in Manly and lived there until I was about 17. I miss the beach. That's one thing 
I'm definitely hanging out for, especially living in Perth last year, and now that we're in the 
depths of the Melbourne winter, I'm struggling a bit. I miss the beach almost every day.
But I do enjoy Melbourne. Perth is beautiful but it is a pretty quiet city with not too much going on. Being from Sydney, I enjoy the city life. I'd never really spent much time in Melbourne before I moved here, but there's definitely a lot of sport and other events going on. It's been great so far. I love it.
I was always a rugby person. I played the game from the age of five or six. My dad played a bit when he was younger too. Nothing competitive, but my uncle Wally Meakes played for the Waratahs when he was a bit younger. I also went to Joeys in Sydney which is a bit of a rugby hub.
Rugby is in my blood and I would love to earn a Wallabies cap one day. I played against the Barbarians for the Wallabies but you don't get a cap for that.
Wallabies coach Michael Cheika has been really good. He called me before the team was announced for the June series against Ireland and told me I wasn't going to be involved. He gave me a couple of reasons and a couple of things to work on.
I was in the Wallabies squad for four or five months towards the end of last year and I didn't get a cap, but throughout the whole process, Cheiks always gave me things to work on, which made me so committed to getting in there.
The way Cheiks communicates with players on the fringe of the team like me is very impressive, and I'd probably say one of his strengths is communication and commitment to players that are in his squad or on the fringes of it. I respect him for being really open and honest and if I'm being completely honest with myself, I probably didn't deserve to be in that June squad. Probably at the start of the year I wasn't playing as well as I would have liked.
But recently I've been pretty happy with my form, and it's a good challenge for me to try and get back in that squad at the back end of the year, so it's a big few weeks coming up for myself personally.
Playing in the World Cup next year is definitely the biggest dream I've got. It would be a dream come true, but I've obviously got a lot of work to do between now and then.
More about: Dave Wessels | England | Melbourne Rebels | Michael Cheika | Super Rugby | Wallabies | Waratahs | Western Force