My kneecap was in my quad
Warning: there are a lot of f-bombs coming in this story. Everyone watching me at Wimbledon and on TV around the world has already heard them.
I like to say that everything changed in a split-step. Until that moment at the All England Club in 2017, I was riding some huge momentum.
I was No.1 in the world in doubles, had won a gold medal at the Rio 2016 Olympics and three doubles grand slams in a row with my partner Lucie Safarova. I'd come off a great singles win against Petra Kvitova at the French Open and was feeling amazing – physically, mentally, tennis-wise, career-wise.
I was in the Wimbledon second round of singles, starting the third set against Sorana Cirstea, who's one of my good friends on tour, and I remember the moment pretty clearly. 
It happened in slow-motion. I ripped a return and then split-stepped on my way into the net when my left leg slipped. I heard a pop as I was falling and remember thinking, 'Is that me? What happened? Is there pain?'
I had 50 thoughts going through my mind before I even hit the ground and then there was kind of this moment – it felt like 10 seconds for me but was probably instantaneous – where I felt pressure in my knee.
I looked down and because my patellar tendon had ruptured, my kneecap had dislocated and was up in my quad. My leg just looked wrong to me. I didn't know if it was broken, I didn't know if it was dislocated, all I knew was my knee looked really, pardon my French, fucked-up.
That was the moment I yelled out 'Fuuuuuuuuuck, somebody help me'. I was lying on the grass and nobody moved for a little bit. I remember my husband, Justin, running out right away and Cirstea's physio there too holding my leg. Justin was by my head. The pain was beyond excruciating.
I've had my fair share of injuries. I've had ankle sprains, two hip surgeries, torn my rotator cuff and done countless hours of rehab. But this… Even if my muscle twitched, I felt pain and didn't want anyone to touch it.
My biggest fear was that a medic or doctor would come and try to straighten it to put it back in place. I didn't know if it was broken or dislocated but I was envisioning this World War I movie, where someone dumped a bunch of whiskey in the wounded soldier's mouth, stuffed a rag in there and said, 'Ready?'
I thought, 'Hell, no, let's not do this on the ground at Wimbledon! There's no way! I want to be in hospital with drugs for that situation'.
I said, 'Justin, Justin, how fucking bad is it?' He said, 'Babe, just don't look at it'. I snapped back at him, 'No, fuck you, I already looked at it'. He made a sound, like an inhaling noise, and said, 'It's not good'.
My husband is a very honest person who sugar-coats nothing. When I asked him if I could finish playing, he laughed. When I asked him if I would be able to walk off the court, he said, 'No, you're not going to be able to'… Well, I knew.
I was told it was about 25 minutes. But it felt like I was out there forever. The medics gave me morphine injections through IV on the court and it wasn't helping the pain at all.
I don't know if my adrenaline was too high because it was the middle of a match. I'm super en pointe because we athletes are in such tune with our bodies and know when something's really wrong. It was panic mode a little bit.
The morphine wasn't working. They kept giving me more and I kept arguing and yelling, 'Are you guys giving me morphine or water? I feel no different! I feel everything!'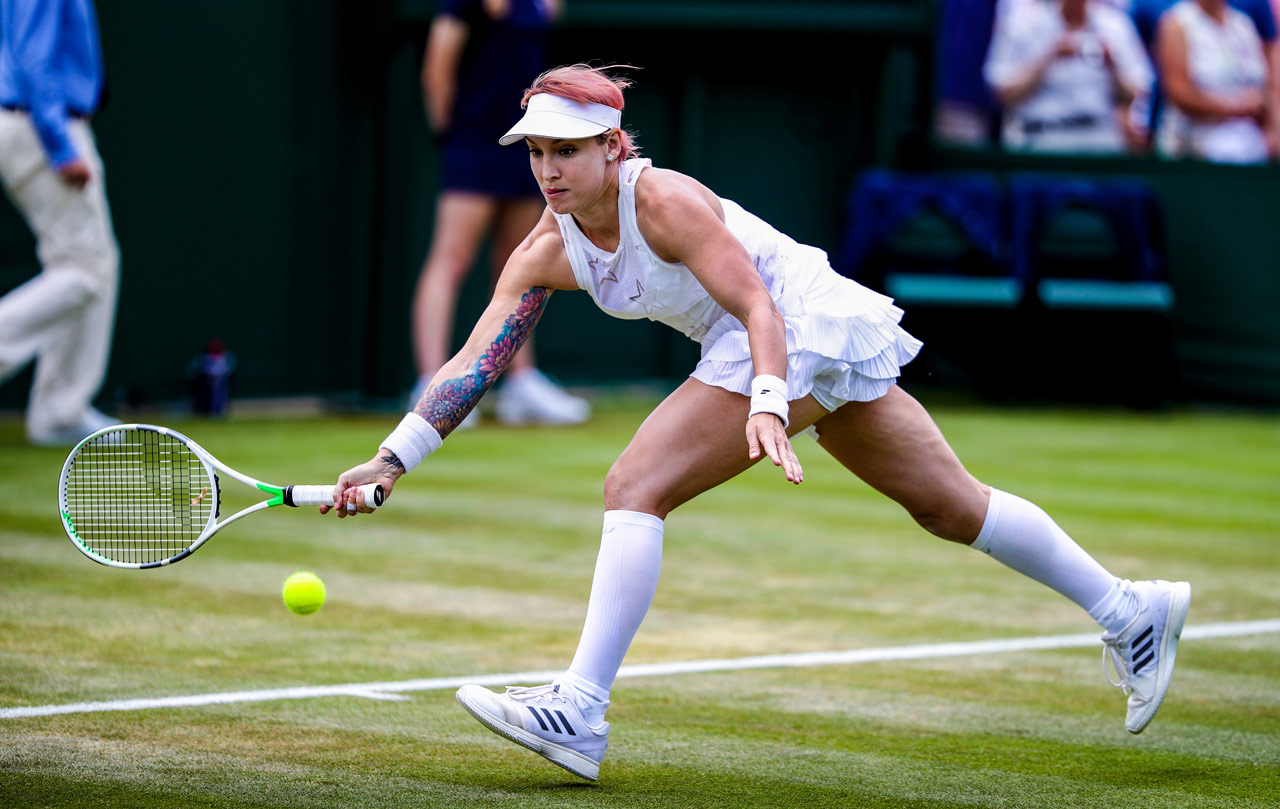 I was just trying to find my happy place. I remember lying there and counting blades of grass just to change the focus from the pain. I kept re-counting.
I'd get to one, two, three, and then I'd get distracted and I'd be like, 'There's another blade of grass, that's beautiful'. I thought, 'Wow they're all really even, they did a good job on this court'. It's Wimbledon after all, so I shouldn't have expected anything different, but it was some really nice grass!
I wasn't prepared for the incredible response I got — from other players, fans, everyone. But it happened in the spotlight, basically, at one of the world's biggest tournaments and I wanted to keep everyone included on what happened afterwards. If that was the last time I played tennis, it wasn't how I wanted to leave it.
That's why I was really vocal about my journey afterwards. It's why Lucie and I did a little dance in my hotel room after I was out of hospital, just to keep the spirits up. Once I did that, I really felt the support from my fans, family and friends. It was inspiring to me. I was determined to stay positive.
A couple of days before the injury I'd posted something like, 'No matter what your circumstances, you can choose your mentality'. After this all happened, I was like, 'Why did I post that? Now I've got to own up to it!'
I had to walk through the fire. Not to be hard on myself, but I had to face the person in the mirror and ask, 'If that's really what I believed in, could I walk it?' It's helped me discover a lot about myself. I'm pretty outgoing, obviously, so I've been happy to share it. It's cool for me that something I've gone through can be an inspiration for someone else.
People ask me, 'Did you think you were going to play again?' I actually didn't have a doubt that I would, but my goal was just to bend my knee to 80 degrees. The next day it was to 85 degrees. I had to make that my win.
More about: Australian Open | Injuries | Olympic Games | Rio 2016 | Tattoos | Wimbledon | Women's Sport