The problem with chasing perfection
The problem with chasing perfection is that it doesn't exist. That's what I feel like we're doing with Video Assistant Referees in football right now.
VAR was introduced because the football community weren't willing to trust referees or accept mistakes anymore. The new technology was supposed to make everything clear-cut. It was supposed to stop the howlers.
Well, when you look at the media scrutiny of VAR since it was introduced, we seem to be 'debating' refereeing decisions more than ever before.
Don't get me wrong, I'm not against the use of technology, but it seems that we haven't fixed a single thing. In fact, even when the right call has been made by VAR – as we saw with the Wanderers' disallowed goal in the Sydney Derby – people still aren't happy.
I heard people argue that the technology shouldn't have been used or that it wasn't a foul or that Michael Zullo 'wouldn't have got there anyway'.
At the end of the day, the officials made a ruling. Michael was impeded by Jaushua Sotirio who was coming back from an offside position, and that stopped him defending the cross that led to Roly Bonevacia's goal. The officials were right to correct it.
The FFA have since come out and said they want to set a higher threshold for when VAR can be used. They don't want 'nitpicking'. Now we're trying to find a middle ground between assisting referees and interfering with the game, and everyone will have a different opinion on where that line is.
What the Sydney Derby incident does tell me is that VAR doesn't have an inherent technical flaw. The outrage was over a refusal to accept an interpretation of the Laws of the Game by a team of referees using the technology.
In that case, the powers that be can tweak VAR as much as they want. It seems refereeing decisions will be argued about in coffee shops forever.
And for me, the answer is simple. It's something that has been lacking from Australian football for quite some time.
Respect.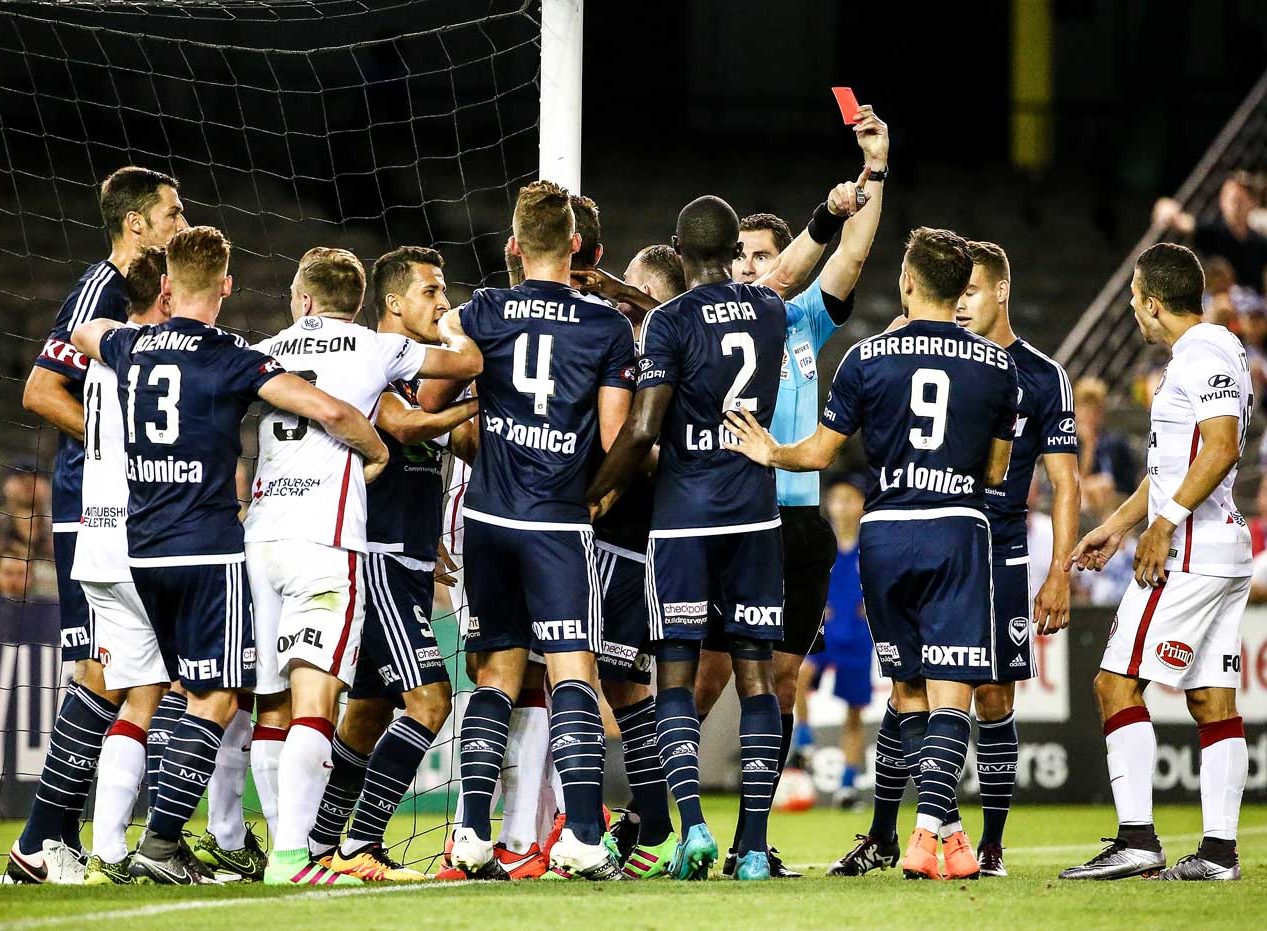 THIS ISN'T A DEMOCRACY
People talk about refereeing decisions as if there is a debate to be had. We need to get real about one thing here: refereeing isn't democratic.
I don't know whether it's a part of our Aussie culture that goes back to the colonial days or what, but we struggle to show respect for people in authority. It doesn't matter if we're talking about a police officer, or in my case a qualified teacher and referee. Respect just isn't there as a given. 
In football, a team of officials have been given a job after a stringent selection process, to go out there and make the tough calls. And they've been trained to do a better job at that than anyone else, under incredible pressure. That's where the frustration lies for me, because I loved the challenge of honing my craft. I'm proud of my profession.
With my friends Mathew Cream and Hakan Anaz, I travelled to 46 different countries refereeing tournaments: World Cup qualifiers, international friendlies and even a J-League derby between Urawa and Kashima at the Saitama Stadium during my exchange in Japan.
When it comes to respect for referees, I can tell you that Australia is worse than many of those countries I have visited.
For me, the answer is simple. It's something that has been lacking from Australian football for quite some time. Respect.
I remember one incident from the 2014 World Cup in Brasil that illustrates this perfectly. I had to make a really tough call in my second match at the tournament, which was between Belgium and South Korea.
It was 0-0 right before half-time when I saw one of the Belgian guys, Steven Defour, stomp on the leg of a Korean player. I knew in that moment, that no one in the stadium – players, coaches or spectators – expected a red card. Still, I knew that the player must be sent off. The tough, but correct call, needed to be made.
The tackle could have broken the Korean bloke's leg and the slow-motion replays after the game would have showed that. I knew that if I didn't act, my boss would be booking me a ticket home the next day.
So, I trusted my gut. I told my team what I was going to do and they didn't try to talk me down, so I walked over and issued a red card.
Everyone in the stadium was stunned and I remember Kevin Mirallas and Marouane Fellaini coming over to ask what happened. But you know what? When I told them Steven had stomped on the Korean player's leg and could have broken it, they just said, 'OK, fair enough.'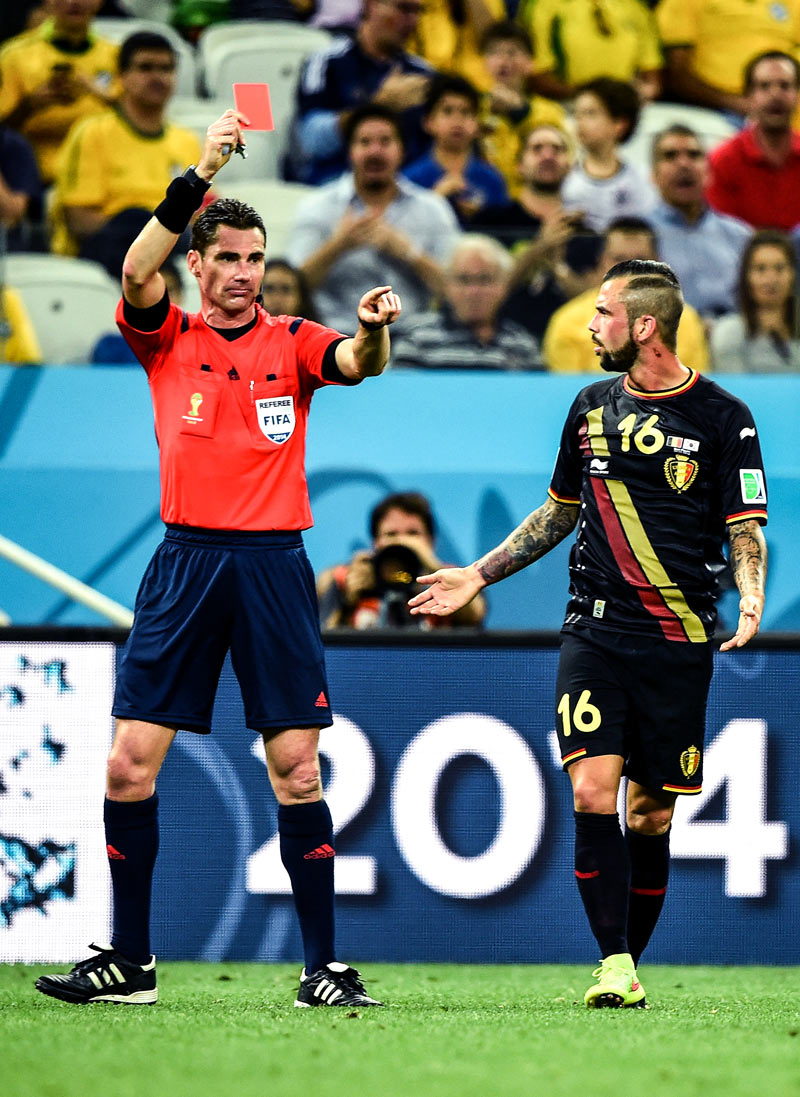 I thought, 'If I'd made that same decision in the A-League, the players would have gone absolutely berko and the fans would have been cursing me'. Even worse, I would have been brutally castigated in the media.
At the World Cup, I was congratulated for making the right decision. My team and I went on to be appointed for a match in the round of 16 – the first Aussies at a men's World Cup to be appointed past the group stage. Then I was back again in the quarter-finals as a Fourth Official for the match between Argentina and Belgium.
There was an understanding, acceptance and professionalism around that incident that is often absent in Australia.
I've seen our national teams and club sides struggle with this when they compete on the world stage and a decision goes against them. If you lose your head over a decision from the referee, mentally you've lost the game.
For success at the highest level, we need to change. We need to rediscover the resilience many of our old national teams were famous for.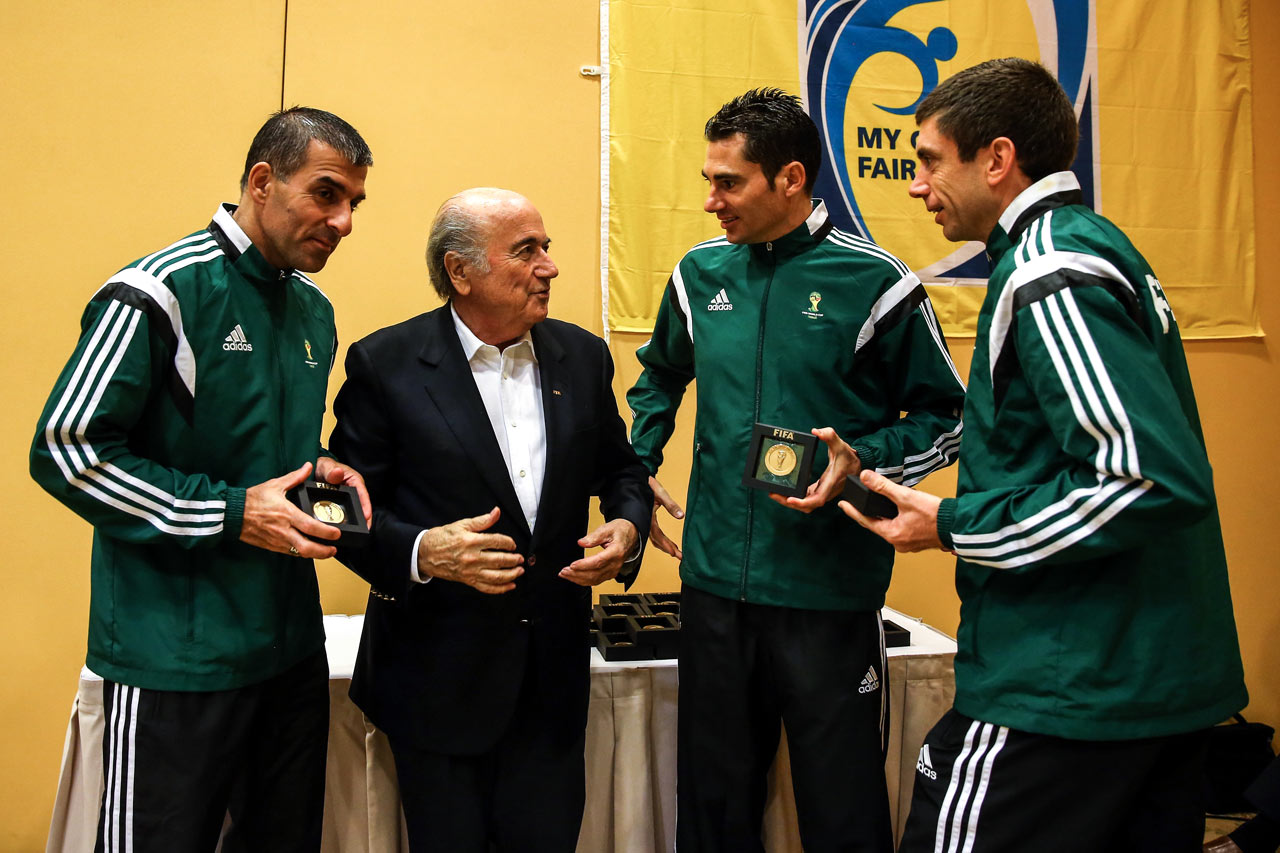 THE COST OF A BIG CALL
There are two other moments that stand out in my memory.
The first is from a mid-week FFA Cup match where I had to send a defender from one team off for kicking an attacking player in the chest.
I knew that it was 100 per cent the right call to make but after the match no one backed me up. The commentators had plenty of scathing things to say and they got the coach to say what they wanted – that I'd ruined the match and cost his team. It all blew up.
I was supposed to be on the Melbourne Derby that weekend but there was such a media outcry that I was taken off the match. A different referee was appointed in my place.
I'd been excited for the derby for ages as well, because those big games are the ones you look forward to, just the same as the players and fans do. It's a huge buzz refereeing in front of big crowds like that.
You can imagine how disappointing it was to miss out.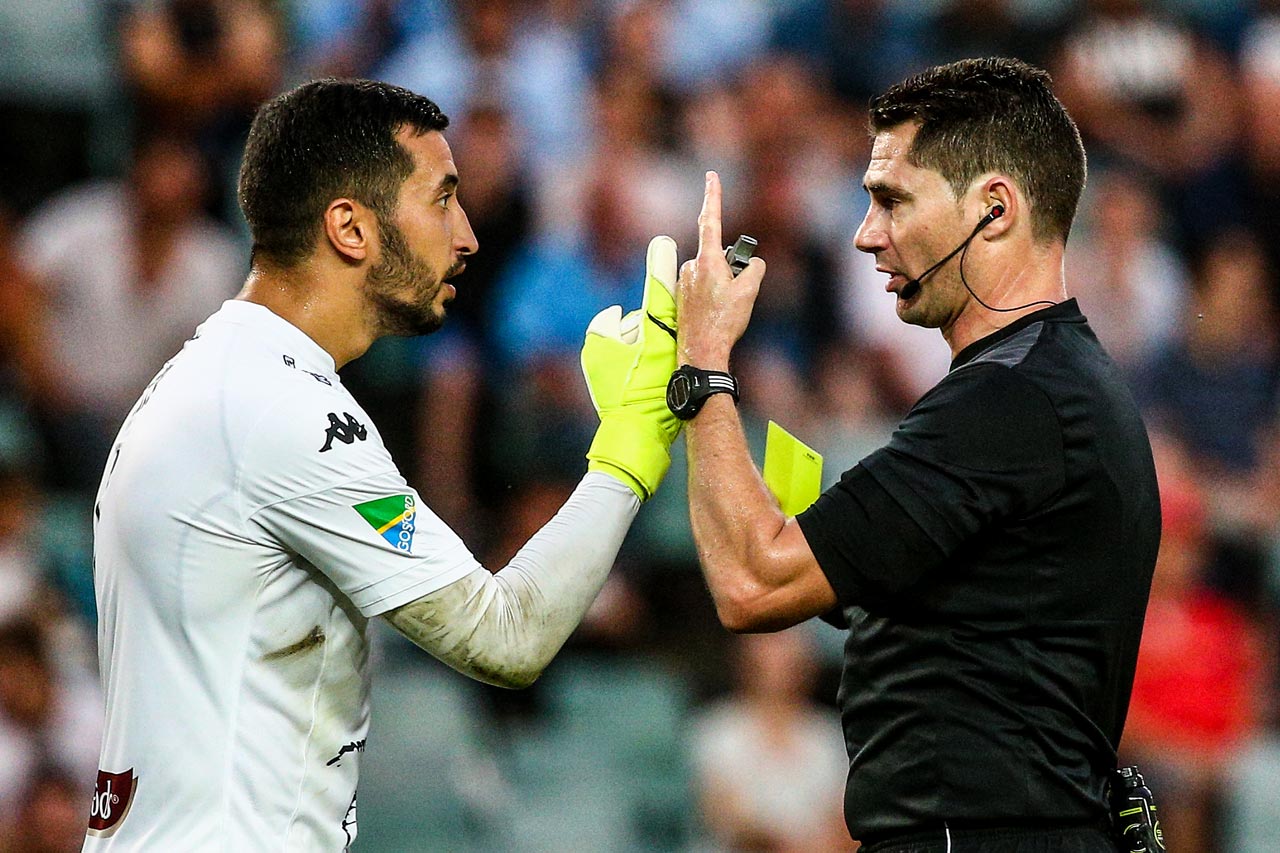 It wasn't long after that I flew to Kuala Lumpur for a training seminar at the AFC headquarters.
As I was walking in, FIFA's main instructor took me aside. He said he had one of my clips in his presentation. As you can imagine, I was more than a bit nervous to hear that.
He said, 'Yeah, the red card in the Cup. We're using that as an example for other referees of what they should do.'
The way everything had panned out was laughable. In Australia, many people had hung me out to dry for that decision but here was FIFA, using it as an example of good refereeing. Talk about a lack of understanding and respect!
The second incident was at the 2015 Asian Cup in Australia. I was appointed referee for a quarter-final in Canberra between two huge rivals – Iran and Iraq.
We had known this was a potential match-up since the draw had been released, and that my team may be a chance of being appointed. With that in mind, I worked with my two assistant referees, Matthew Cream and Paul Centrangolo, on our analysis before the tournament so we could be fully prepared.
I was excited about the prospect of being tested in such a big match, in my hometown, in front of my family and friends.
It was a match that certainly lived up to the hype!
With Iran up 1-0 just before half-time, I had to caution one of their players for simulation in the penalty area. He was attempting to deceive me into awarding a penalty.
I ran over and told him there was no foul and that he needed to get up. He refused to follow my requests and stayed down, insisting there had been a foul. After calmly asking a few times, I said again that there was no foul and that he needed to get on with the game or face a caution.
He continued to delay, so he received a yellow card as he sat on the ground with his number obscured.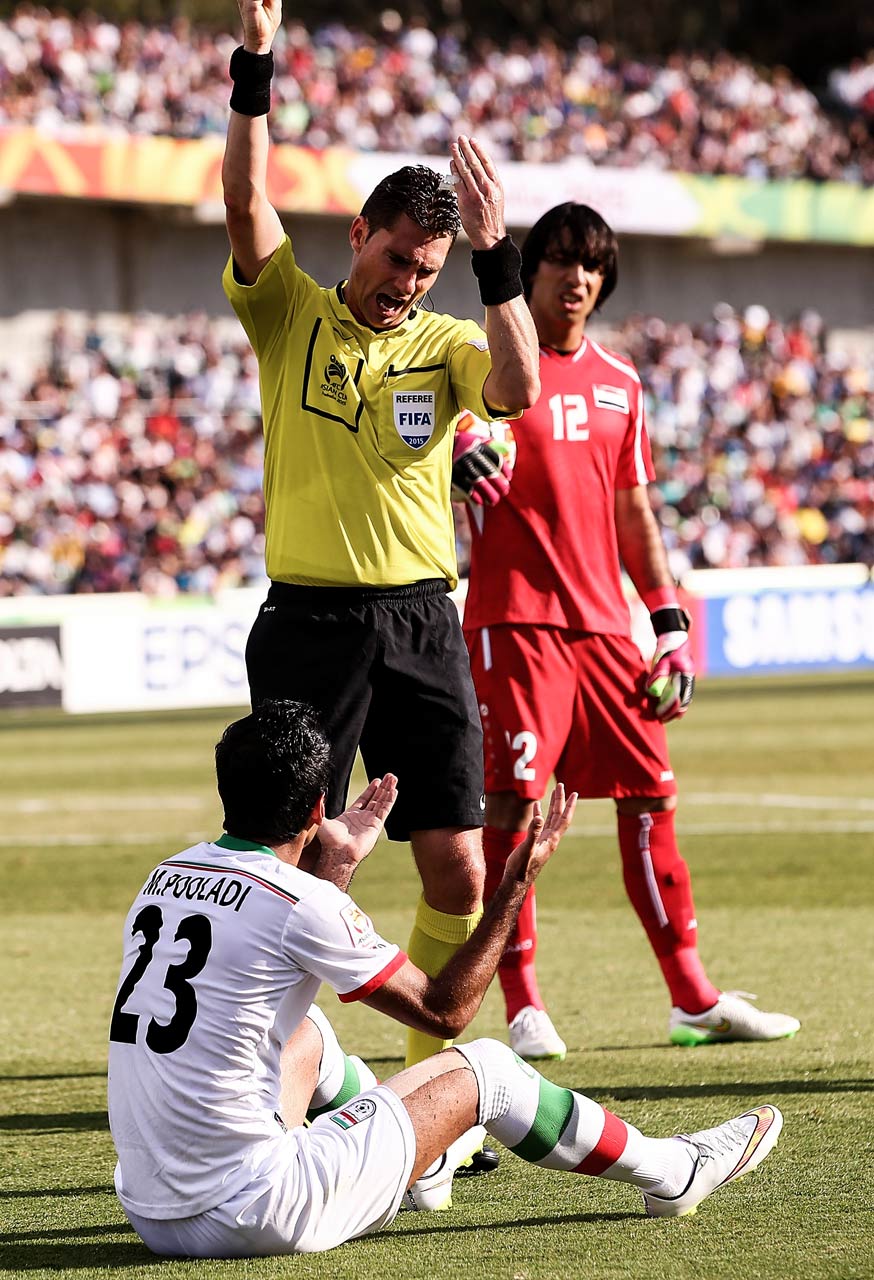 As I ran back to halfway, the Iraqi players pointed out that it was his second yellow. I checked and saw it was indeed a player that had already been booked. The Laws of the Game are clear, so I showed the red card and he was sent off.
In such a big match, the delay between the yellow and the red card caused the 'controversy'. It wasn't ideal, but it was the right thing to do for that player's behaviour. I had to act.
The match got even more crazy after that. It was 1-1 after regular time, then 3-3 after extra time before Iraq won on penalties. It was one of the most intense games I'd ever been involved with as a referee and walking off the field I was confident in all the decisions my team had made.
But once again, the Australian media castigated me and the way they attacked me framed how the match was reported on internationally by the world media.
Thankfully, I've never been on social media. The Iranian fans went crazy and flooded the Facebook page of some other unsuspecting Ben Williams.
I didn't read any of the media or comments after the match, but my wife did. She saw all the death threats being made against us and our baby.
As you can imagine, my wife didn't feel safe staying in our own home that night.
An Australian Federal Police officer had been assigned to each team of referees for the whole tournament. The officer looking after us said my family would be protected, but for me the line had already been crossed.
Members of the Aussie media had fuelled the hatred, in turn jeopardising the safety of my family. All over a decision that had been correct, albeit delayed.
The Aussie commentators had made out like I was the worst person to ever take up the whistle. On the other hand, the AFC stood by my decision and backed me up, and when my performance was assessed, I received extremely high marks.
In fact, the match had so many challenging moments that it became an example used by referee coaches throughout Asia.
My wife saw all the death threats being made against us and our baby. As you can imagine, she didn't feel safe staying in our own home that night.
Unfortunately, in my career there were many other times where I felt misrepresented in the Australian media.
In fact, it got to the point where I considered legal action for defamation because I have no doubt that there were refereeing appointments I missed out on because of what was said about me in the media and how I was portrayed. I see this as a problem for many officials.
The greatest currency for a referee is credibility, and when that credibility is eroded by uninformed voices it diminishes a referee's capacity to control a match and make the hard but fair calls.
I know I was a referee that stuck to his guns and some people didn't like that. If I'd not had any success outside of Australia maybe I could understand my critics saying, 'You know what, mate, you weren't that good,' but I won't cop that, because I did achieve a lot internationally.
With the help of my team, I managed to get into the top 10 referees in the world and was voted best in the AFC. I refereed at FIFA tournaments, the Olympics and even the Asian Champions League Final.
I didn't stop and think much about all that at the time. It's only since my career ended that I've been able to sit back, reflect, and feel a great sense of pride at what I achieved.
There's one thing I never got the chance to do, though.
I never got to referee an A-League Grand Final.
That kind of says it all really. Mind you, I wouldn't trade my experiences internationally for that A-League GF!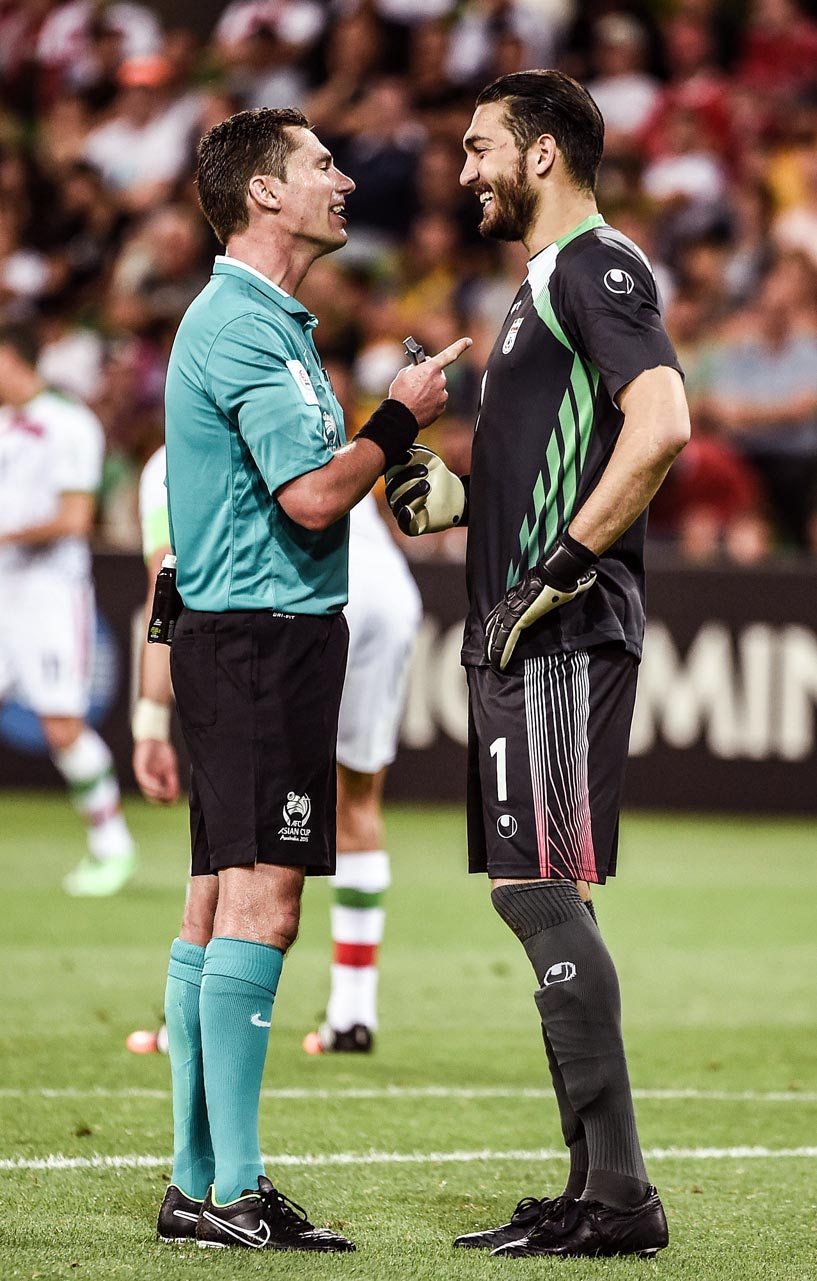 WHY WE NEED TO CHANGE
The younger officials just starting out now are the people I feel really bad for in all this. 
All those young boys and girls who will give up their lives for football, to go out there and do what they love, with the dream of representing Australia on the international stage one day.
As it stands, they won't receive the gratitude or respect they deserve for the sacrifices they make for the game. All they'll get is criticism and anger for the small number of mistakes that are inevitable for any referee finding their feet at the elite level.
Referees are marked against decision-making KPIs and achieve percentiles high in the 90s. You could argue that is much higher than the players!
Star strikers will sometimes shoot the ball over the bar from six yards out, or a goalkeeper will fail to make an easy save. Still, the media never seem to go after those players in the same way they do with referees.
Why can't we just accept that referees will get it correct far more often than they get it wrong?
In Australia, many people had hung me out to dry for that decision but here was FIFA, using it as an example of good refereeing. Talk about a lack of understanding and respect!
It's a tall-poppy syndrome and it extends beyond how we treat officials. I've seen top Socceroos brought down in the same way when they've come back to play in the A-League. One error and they're crucified for it. 
It's sad because that makes other Socceroos start thinking, 'Well, why would I come back to play in Australia and put myself through that?'
We're only hurting ourselves in all this and that's why Australian football needs to change.
I think it all comes down to education. There would be more respect for referees if people were less ignorant of what we actually do.
We don't just 'rock up' on matchday, see how we feel, and blow a whistle.
Self-analysis. Coaching and peer mentoring. Video analysis of tactics, teams and players. Discussing decision-making with other elite officials and coaches around the world. These are just some of the things we do each and every week to stay at the top of our game.
Refereeing is physically demanding as well and it's our own money that we spend to make sure our bodies can keep pace with the quickest players in the world. Getting on the park each week takes massage, acupuncture, running technique coaches and advice from nutritionists. Mentally, you might even need sessions with a sports psychologist. There's more to refereeing than meets the eye!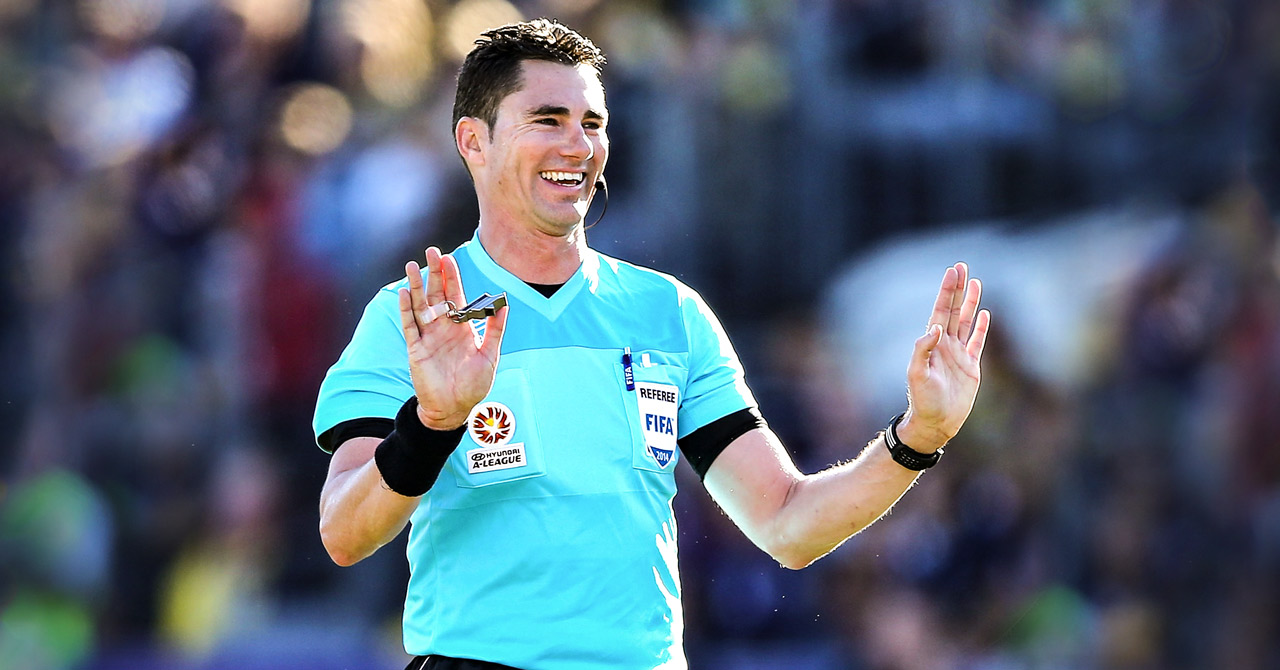 In recent years, we've been trying to educate people more about the preparation required.
At the 2014 World Cup, the legendary Brasilian footballer Zico loaned his football facility in Rio de Janeiro to FIFA for the referees to use as a training base. He understood that referees need support to perform at the highest level and wanted us to have the best.
After we'd settled in, the Head of Referees put on an open training session for the media. More than 160 members of the media from all around the world came to watch and speak with us. They lapped it up, because it was all stuff they'd never seen before.
We took that idea into the 2015 Asian Cup in Australia and hosted a similar day in Sydney.
Media came from as far as Japan and the Middle East but no one from Australia, even though it was in our own backyard.
It's unfortunate, because our commentators and journalists are the ones who could have benefitted most, I think. It's important because the public often hear the commentary and read what's in the newspapers and take that information as gospel. But when it comes to the 'expert commentary' regarding referees, it is ill-informed and unbalanced.
In my opinion, the Australian media's relationship with domestic clubs is often too close.
Many Aussie commentators are ex-players who may have been sent off by the referees they are now commentating on. With the platform they now have, it's easy for them to voice their own opinions, or even ask players and coaches for headlines, to feed outrage.
That outrage can suit coaches as well because it's an opportunity to deflect pressure away from their team. It's easier for them to blame a referee instead of having to answer for their team's poor performance. I think our media let coaches off too easily by providing them with this out.
In some other countries, football analysts see through these smoke-screens and hold teams to account for the betterment of the game.
I miss the balanced opinions and commentary of Les Murray and Mike Cockerill, who were respectful in the way they covered every aspect of the game. Football in our country is worse off without them.
But there are still journalists, like Simon Hill, who honour Les and Mike's memories in the way they report on our game. That is the standard we should hold ourselves to.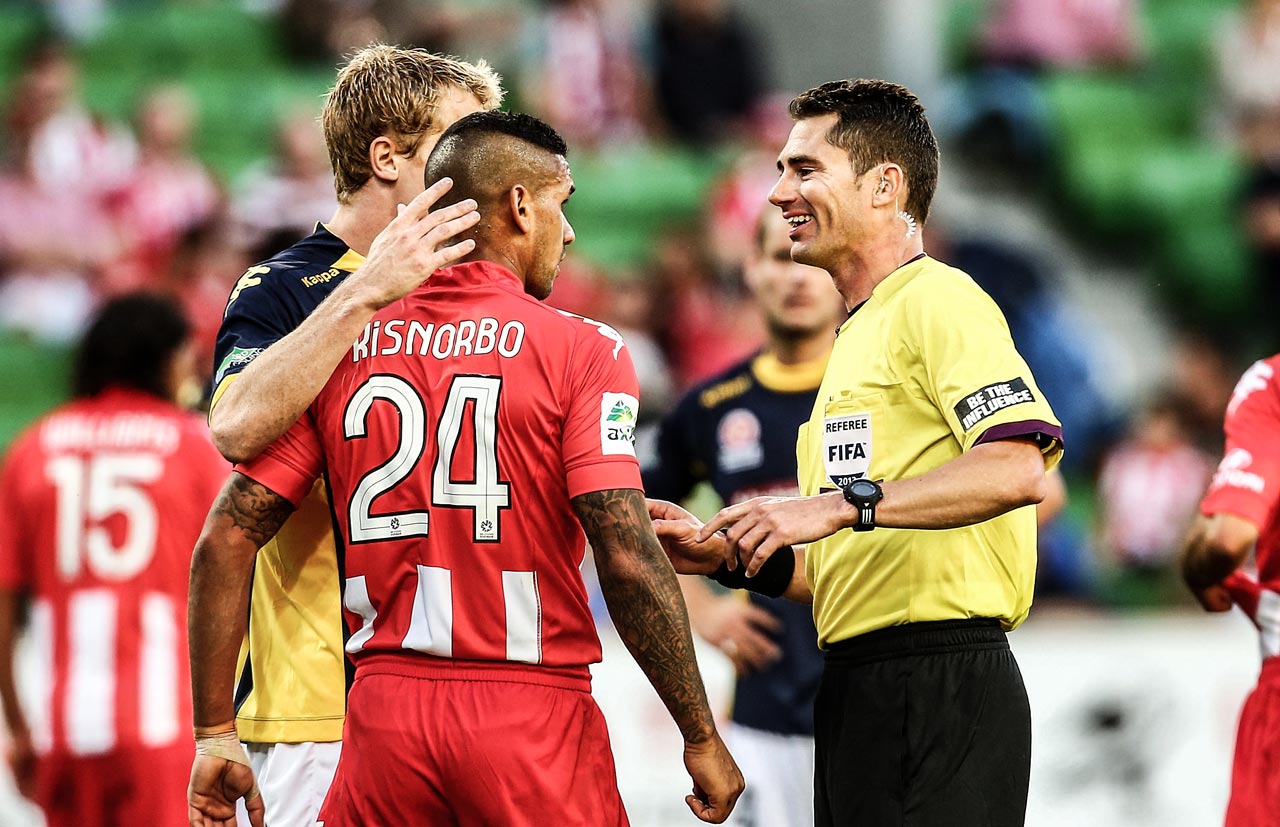 THE ONE THING I MISS
In the two-and-a-half years before the 2014 World Cup, I spent 400 days overseas. It got to the point where I'd be at the airport getting ready to fly out again, and my daughter would be pleading, 'Daddy please don't go.'
It breaks your heart and changes your perspective on things, that's for sure. From that point, chasing a football around the world became less important.
I decided to give up refereeing in 2016 after 25 years in the profession. It was time for me to focus on my family.
My wife knew me well before my football career really took off and she has supported me in achieving my dreams, even when we were going through some really tough times.
We lost our first daughter just a couple of months before the Olympics in 2012, and my Dad passed away nine days after I got back from the 2014 World Cup. Life has so many highs and lows.
My wife was my strength off the field. She and my family kept me grounded, supporting me through it all.
Away from home, Matthew Cream and Hakan Anaz were the best teammates I could have hoped for. I'm endlessly grateful because they were always there for me.
I'm not sharing this information to seek pity – just as a reminder that referees are human.
We have strengths and weaknesses and we're certainly not infallible. I made mistakes in my career, but I can tell you that I got it right far more than I got it wrong.
I want the next generation to get the right support. I don't want them to miss out on the same magnificent ride that I was blessed to experience. I want them to go on and surpass my achievements and for our country to be proud of them.
Do I miss running out in front of 100,000 people? Bloody oath!
But I don't miss the negative press or the countless training hours. I don't miss red-eye flights back from Perth, Japan or the Middle East and catching a taxi straight from the airport to work. I don't miss flying out again the next day to referee an A-League game, again and again. I don't miss suffering financially for taking leave from work, just to represent my country.
I don't miss the sacrifices and moments missed with family.
What I do miss, is running out into a cauldron atmosphere with your best mates and getting an absolute box seat for some of the best football in the world. Nothing can replace that.
Those memories, they'll live with me forever.
More about: A-League | Asian Cup | FIFA World Cup | Melbourne Derby | Sydney Derby | Sydney FC | Western Sydney Wanderers