From Tigerland to Los Angeles
I've had a couple of visits to Los Angeles now and I'm starting to get my head around the areas where the AFL and US college football are similar – and where they're worlds apart.
Take the band, for example. I used to wonder whether all that music and excitement and choreography was just made up for the movies. No way. It's very real. The hype around every home game over there feels like a grand final back here.
I don't officially arrive at the University of Southern California until next month – and I'm not scheduled to play until next year – but I have had a few trips over to scope everything out. On my last visit, I found myself at a rally the night before a game against Colorado standing next to my special teams coordinator, John Baxter, and dead in between the USC cheerleaders and The Spirit of Troy, the Trojans' marching band.
Then the players arrived. The place went crazy! The band started playing, the cheerleaders were jumping around and the fans were delirious. Everyone is so passionate about their school and patriotic about their country. I was a bit rattled, to be honest, especially with the coach dragging me into the middle of it all. There's not much in footy back home you can compare it to. I'm just glad I've experienced it now so it won't shock me when I'm actually over there playing.
Preparation, on the other hand, isn't all that different to what we'd go through at Richmond. For home games, everyone checks into a local hotel. Warm-ups and recovery are pretty similar. Team meetings are structured much the same way the Tigers' are, although there's probably a little more video work done with the USC boys given how structured each play is in American football.
As for Aussies in college football, we're still pretty unique – and a bit of a mystery to the locals. The coach introduced me to the team as a 'professional rugby player' and added a year to my age. I hadn't started yet so I wasn't too keen to correct him in front of everyone! The boys asked plenty of questions about footy, but I'm not sure I advanced the cause too much. Everyone seemed convinced I'd been playing a cross between rugby and soccer. Lost in translation …
All in all, though, I can't wait to get this new chapter of my life started. I'm grateful to the Tigers for everything they've done for me and I will carry so many of those experiences with me when I hit LA the week before Christmas.
And then it's down to work.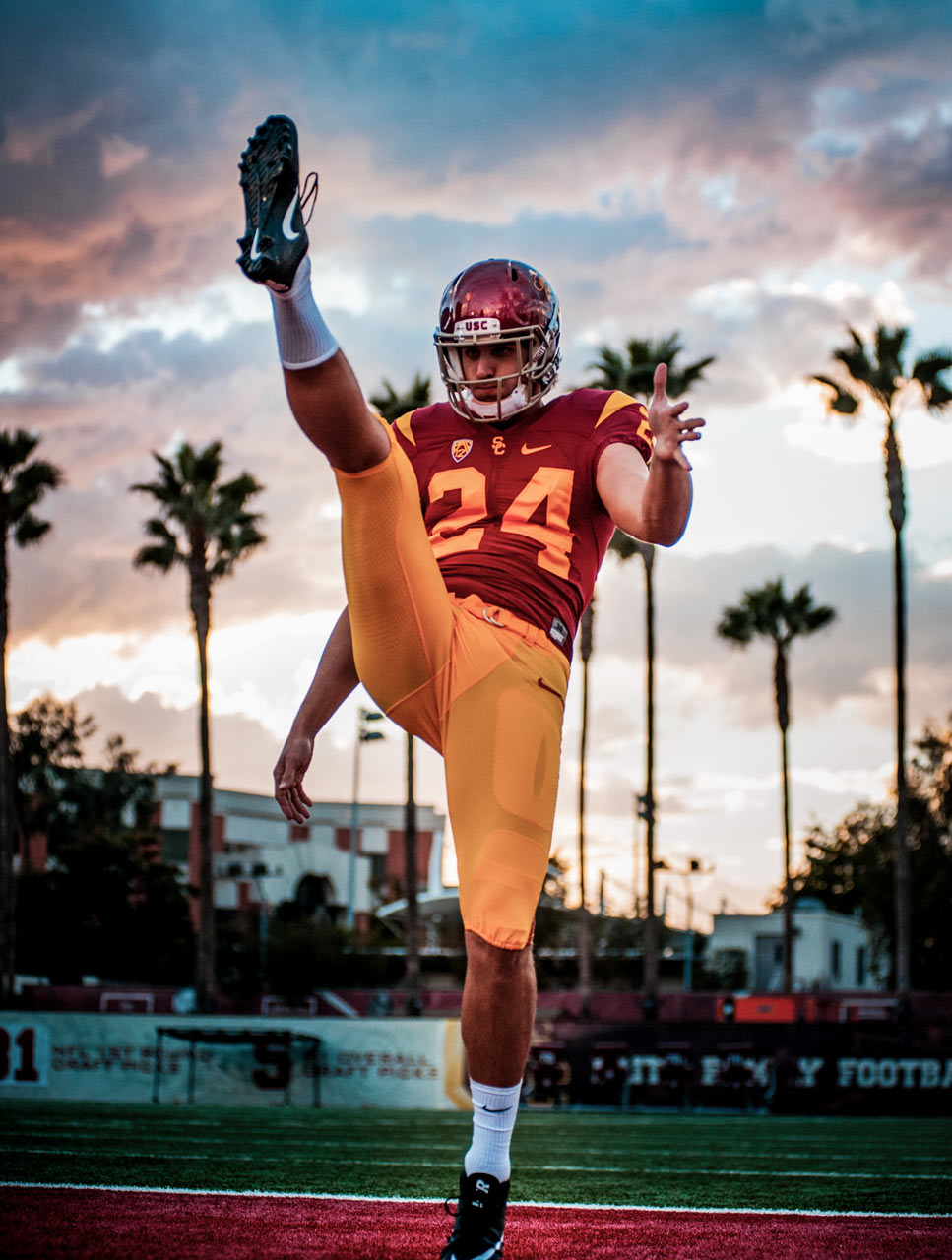 THANK YOU, RICHMOND
My favourite memory at the Tigers? There are certainly a few to choose from! Winning nine straight to sneak into the finals in 2014 is up there. So is Sam Lloyd's goal after the siren to beat the Swans by a point at the 'G in 2016.
But it's impossible to go past last year's premiership.
I was sitting up in the stands watching with a few of the other boys when the realisation hit us, 'Shit, we're going to win this!' We all ran down to the race and waited for the final siren. As soon as it sounded, we bolted out onto the field.
There were a few seconds of bitter-sweetness. You think, 'THIS IS THE BEST THING EVER!' and then then your mind goes, 'Gee, it would've been nice to be part of it,' and then that leaves your thinking as soon as you see how happy your teammates are. It was the greatest moment I've been part of in footy. I won't forget the smile on David Astbury's face for as long as I live.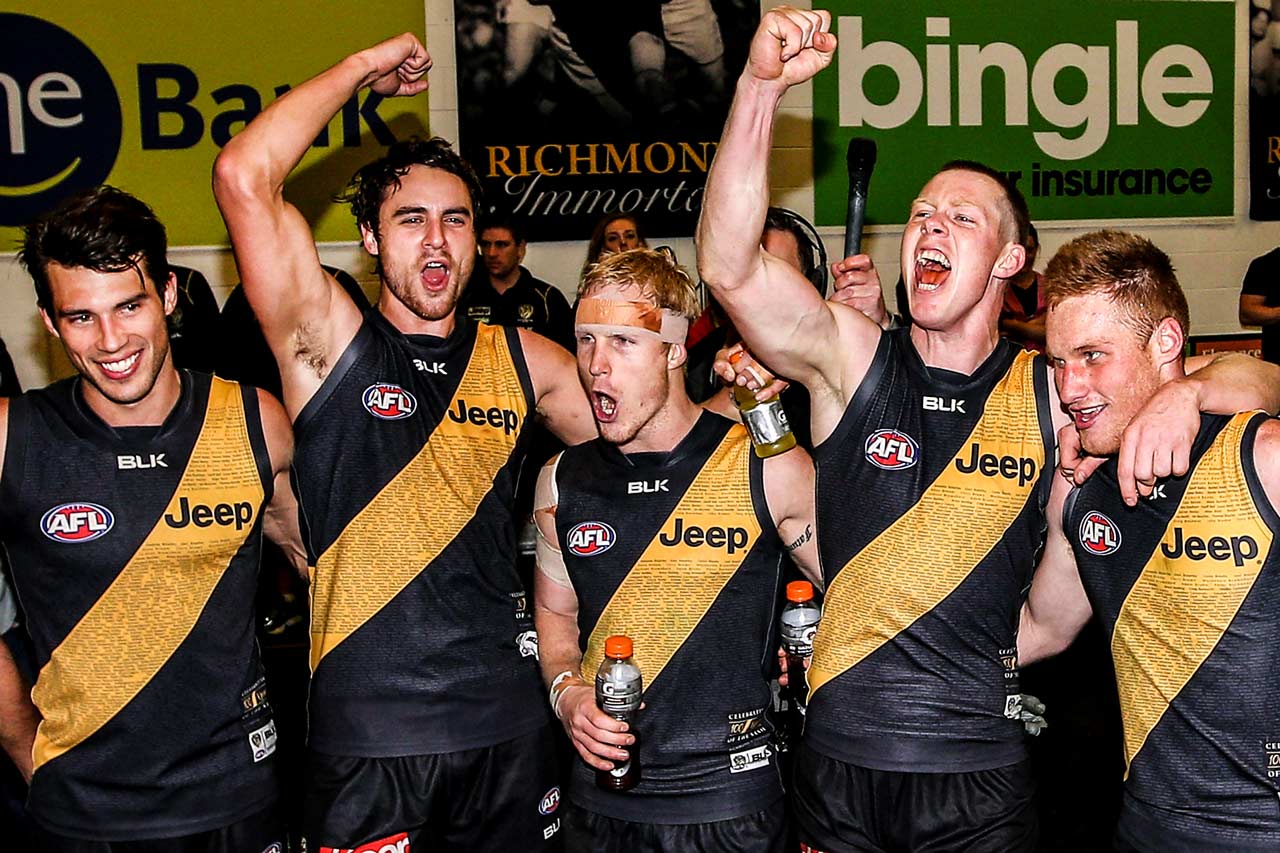 I still had a year to run on my contract with Richmond when I accepted the punting scholarship from the Trojans. People have asked me whether it was a difficult decision to switch from a professional sport to an amateur one.
Honestly, it was reasonably straightforward.
I thought about the possibility of playing out my final year with Richmond and maybe making a grand final but, when I really stopped and thought about it, I knew the opportunity presented to me by USC was once-in-a-lifetime stuff.
The injuries and the concussions in recent years helped put things in perspective for me, too. I realised that, at the end of the day, footy is a game and you can't compromise your long-term health pursuing it. I thought more about getting an education and how the opportunity to study would set me up for the long-term.
Don't get me wrong: I'll always love the game and the Tigers, in particular. Richmond is a club that prides itself on its close connections and being part of an environment that shows genuine care towards you … it will always be part of you no matter where you go in life. At the same time, the opportunity to study and play at one of the most famous universities in the world certainly had its upside. Not many people get the chance to do that.
More about: College football | Grand Final | Prokick Australia | Richmond Tigers