A Mother's Day like no other
This Mother's Day will be different.
I've got the big local derby between my team, the Giants, and the NSW Swifts at Qudos Bank Arena in Sydney at 1pm. I have played with a few of the Swifts players previously. There's a lot of talent in that team and it's going to be a very tough game.
But in the morning, I'll hopefully start with a nice family breakfast in bed. My husband Randall makes very good poached eggs with smoked salmon on sourdough toast. He's already locked that in, then we'll probably get a coffee and my daughter Indie – who's two years and two months – will have a cino. And then I'll get ready for the game at 1pm.
I don't think I appreciated Mother's Day as much as I do now that I've become a mum. It really is a special day and it'll be nice hanging out as a family before the game.
When we go to the game, Randall will be the carer. Indie gets her own seat – not that she sits in it for long! She understands that mum's out there and it's pretty cute, she spends a lot of time waving to me out on the court even though she's way up in the stands!
Indie loves coming to the netball and cheering on both teams. She just claps when everyone else claps.
Indie knows all my teammates' names which is really nice. All the girls love to see her in the change rooms after the game and have a play. Last year, I was still breastfeeding. She'd come into the change room before the game so I could feed her, and afterwards so I could feed her again.
I'm just lucky to be playing at all. There is no way I would be playing in the Suncorp Super Netball competition if not for the league's parental policy and the support I received from Netball NSW and Giants Netball.
TWO PERFECT ENDINGS
Not many people know this, but I won a netball world championship while I was nine weeks pregnant. This was in 2015.
In 2014, I was playing for the Adelaide Thunderbirds and I wasn't sure if I wanted to continue or not because I was thinking about starting a family. I decided, 'Yep, I would play another season', and then the Thunderbirds signed a fourth defender, so there was no longer a spot for me.
I thought, 'I can't finish on that note' and I was lucky enough to be offered a spot with the Queensland Firebirds. I had a feeling that was going to be my last season, so I wanted to enjoy it. I was realistic that they had a great defensive line-up with Laura Geitz and Clare McMeniman.
I knew that I would be spending some time on the bench, but thought that if I did the right thing by the team and supported them any way I could, I'd enjoy my last season and hopefully win a premiership and finish on a high.
Indie spends a lot of time waving to me out on the court even though she's way up in the stands.
At halftime in the grand final, the coach said, 'You're on' and I was like, 'Yep, this is meant to be'. I had been nervous that I wouldn't get to play in what I knew was my last game. And then I was like 'Oh, thank goodness I actually get to finish my career the way I wanted to'.
And what a finish. With three-and-a-half minutes to go, we were five goals down. With a minute to go, we were one goal down. With 14 seconds to go, we were in front for the first time in the whole game.
The grand final was in June. It was a World Cup year and I didn't expect to be selected given the fact I hadn't had a lot of court time during the season. But the next day I got a phone call from Diamonds coach Lisa Alexander and she told me I'd been selected.
I actually thought she was joking when she told me. Then I was like, 'No, she wouldn't do that'. I'd already rehearsed in my head what I was going to say to her when I was unfortunately not selected. Looking back now, it's quite funny.
So we were going into the world championships and I wasn't feeling the best one day. That's when I discovered I was pregnant. But I went and did a lot of research and what it showed was that up to 12 weeks, your baby is very protected in the womb. Basically, there has to be the force of a car crash to harm the baby. So I felt confident I could manage.
Probably the only issue is that I was very tired. After the tournament, the girls said, 'Oh, so that's why you were sleeping all the time!'.
We won the World Cup beating New Zealand 58-55 in the final, and then I retired. Or so I thought at the time.
a surprise comeback
In 2016, I was happily retired and enjoying being a new mum with no thoughts of coming back to netball after my retirement in 2015.
Then the phone rang. It was Giants head coach Julie Fitzgerald, and she rang me because a key defender had snapped her Achilles and was out for the season. I thought she was calling me about potentially doing some specialist defence coaching, but it turned out she wanted me to play again.
My initial thought was, 'No, I can't do it, I'll just embarrass myself. I'll be the old slow mum who can't do it anymore'.
I'd started doing some netball coaching in the year I'd finished up playing, and kind of joined in a few sessions for some fitness but took it really easy. I definitely wasn't match-fit.
To be honest, before the new policies entitling us to maternity leave, paid babysitters and travel for carers were put in place, I wasn't contemplating coming back.
But my husband Randall was like, 'You know what Bec? I think you can do it. You just need to get fit'.
I discovered I was pregnant during the world championships. After the tournament, the girls said, 'Oh, so that's why you were sleeping all the time!'.
I started running. I followed a program from a few years ago that got me quite fit. Then I just needed to get the volume in my legs. I was a bit worried that if I did come back I would get injured and, as mentioned, I really didn't want to embarrass myself.
I was actually surprised myself how quickly everything came back, and how naturally I was able to play and feel like my old self again. Obviously the first few games were tough, because I was still getting my match fitness back, but I guess my motivation was that I had a little bit of a point to prove.
In my whole career I've always been super competitive, and I wanted to show that you could have a baby and make a successful comeback.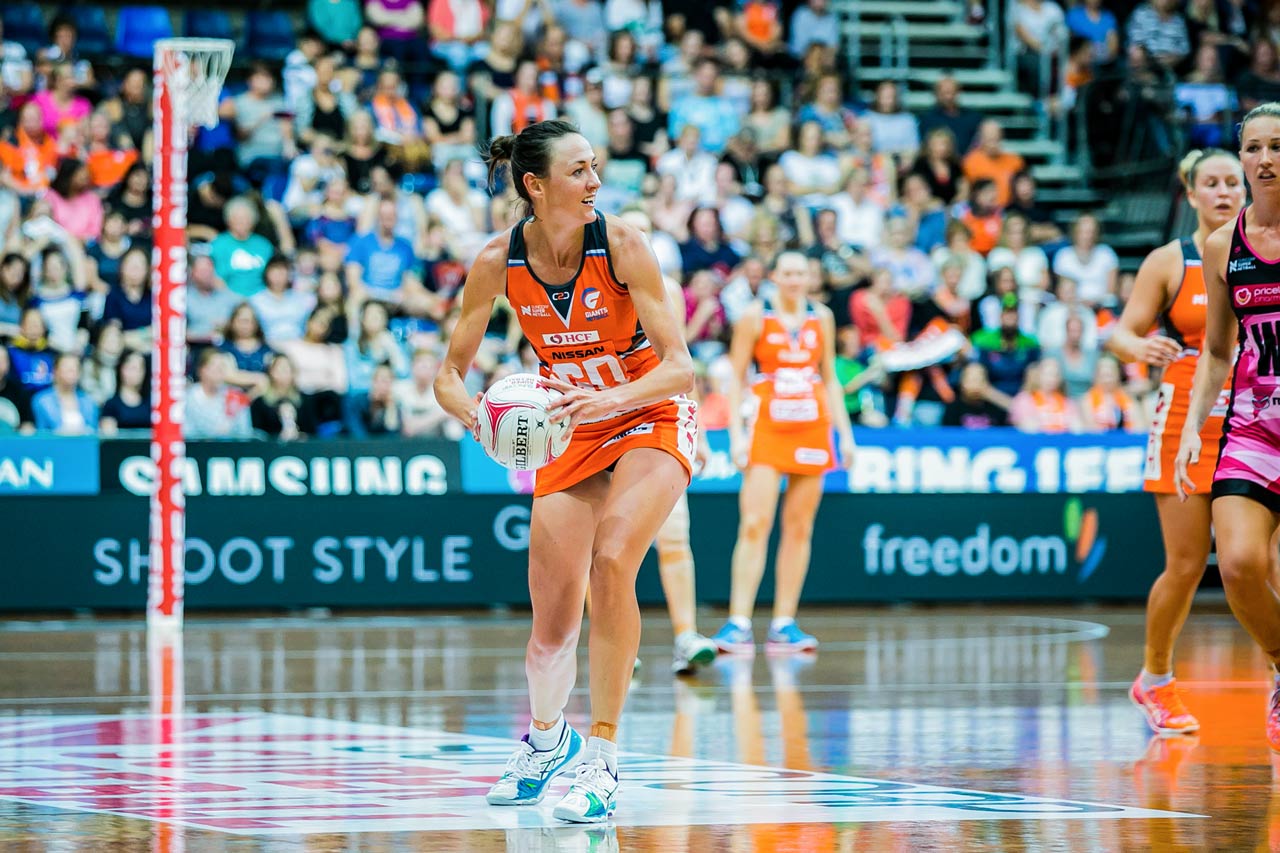 on the shoulders of giants
I would have had a baby years earlier if I could have juggled motherhood and netball. I was married at 25, and I would have loved to have a baby and then come back and play netball.
But there just never seemed to be a right time. I was going from national league into Diamonds commitments, and in those days you ran the risk of not getting your spot back if you did take time off.
The main thing was that there just wasn't the support. You had to manage on your own, leaving the baby at home on weekends while you were away. Having Indie now, there's no way I would play netball if it meant leaving her at home on the weekend.
Sharelle McMahon was instrumental in helping change the rules for mothers. She came back to netball when her son was three months old, and she said, 'This is what I need', and got all those things included in her contract.
I think then the Players Association and Netball Australia worked together to come up with these parental policies. Looking at the Diamonds team, a lot of players are young and married and potentially wanted to have children, and those players would've been lost forever. So it was good for the players and good for the game.
So now I'm loving life at the Giants. We're very fortunate that we're aligned with the Giants franchise and football club because they have amazing facilities. The way I see it is, I feel like we're part of a big family. And when you go out and play, you want to do your family proud. The men's and women's footballers are like our brothers and sisters.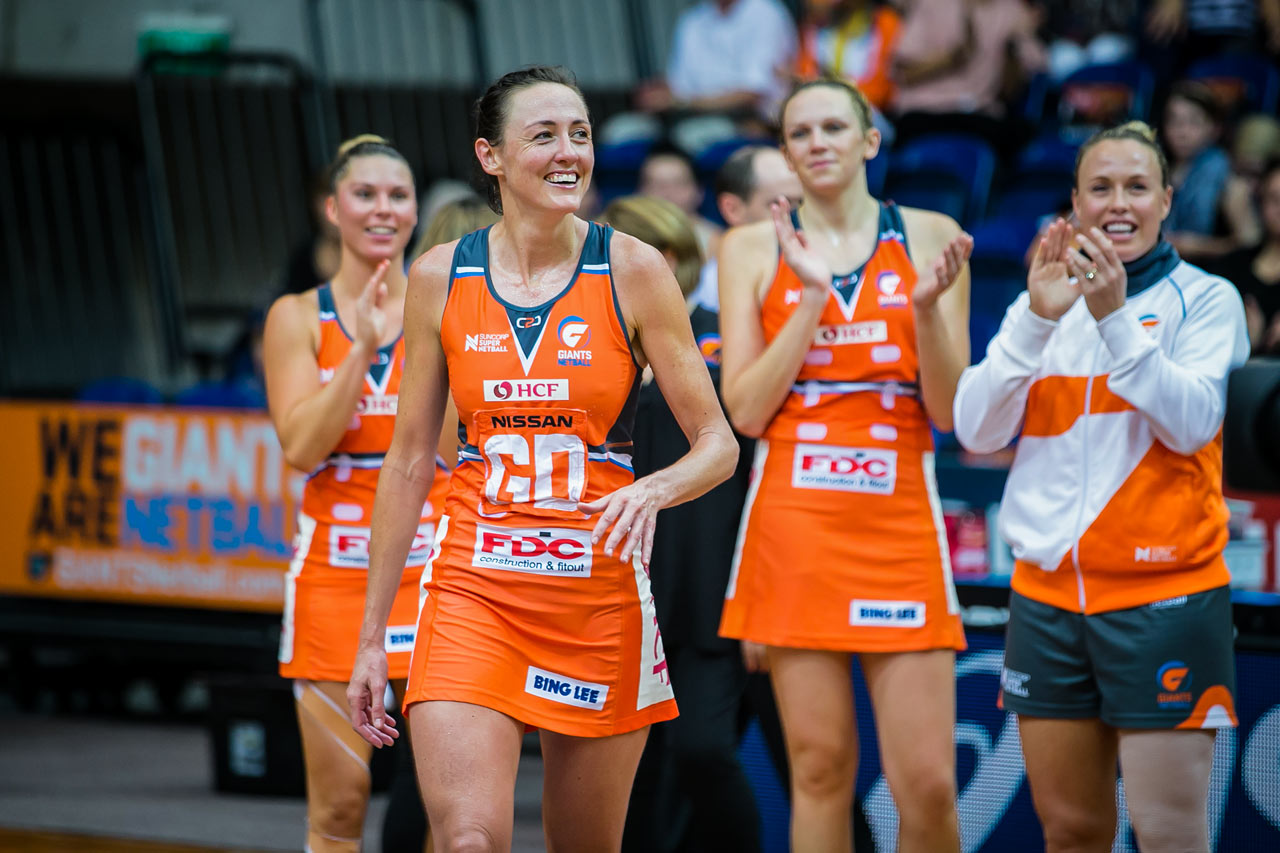 Netball NSW are part of our club too. They have been amazing. They went above and beyond what they were required to provide me under the parental policy. Whatever I needed, they were like, 'We can do that!'.
I have a designated babysitter, Donna, who is awesome. I use her for court work sessions and Indie will usually go hang out with her in the office. I just think, 'What mum wouldn't want childcare support at their workplace?' I'm very fortunate.
Since it's Mother's Day, I should also thank my own mother. My mum was my first coach. Actually she still thinks that she's my coach sometimes! It's quite funny when she compares her playing career to mine. I'm like, 'Mum, you played country-level A grade netball in Victoria', which is where I started my own netball career.
The one great thing about my mother is that no matter how I play, she'll say 'Well done'. Depending how much she says, you know whether you've played well or badly!
More about: Diamonds | Giants netball | Julie Fitzgerald | NSW Swifts | Super Netball | Women's Sport