I didn't get a fulltime gig last season. I'd played the last two rounds of 2017 in first grade with the Tigers and had a full pre-season with them, too. But, by the time the actual competition started, I was back to part-time with the NSW Cup squad.
It was one of the most rewarding years of my life.
When I wasn't training or playing, I was working part-time at Giant Steps at Gladesville. It's an education centre for children and young adults with autism and the work they do is incredible.
I worked as a carer, mainly with the young adults. I helped when they went to work experience, often in cafes and restaurants, helping to set up tables and things like that. If someone needed help moving things or something got dropped, I'd quietly step in and help out. No fuss.
Two of the main aims of Giant Steps are to help people with autism become more independent and get used to mixing with the general public. I'd go out with them to a shopping mall, or the local park, places like that. Places to stimulate the mind and the body.
It wasn't just me. A few of the other reserve graders worked there as well through a contact at the Tigers. It's busy work and they needed people who were active. We jumped at the opportunity to do something different and help people.
I think people are much more understanding of those with autism these days. A big reason for that is encouraging them to get out there and mix more. They're people just like the rest of us. They go through all of the emotions just like we do. You've just got to be patient.
You can't help but get attached to the people you're helping, as well as the folks working there fulltime. Carers, occupational therapists, speech therapists. They do amazing work. I consider a couple of them friends for life now.
A job like that grounds you. You take for granted the life you live as a rugby league player sometimes – I know I did growing up – and working to help people who are relying on you in a totally different way puts life in perspective.
I think, more than anything, the experience helped me mature.
I might not have played first grade last year but it was still one of the best years I've had.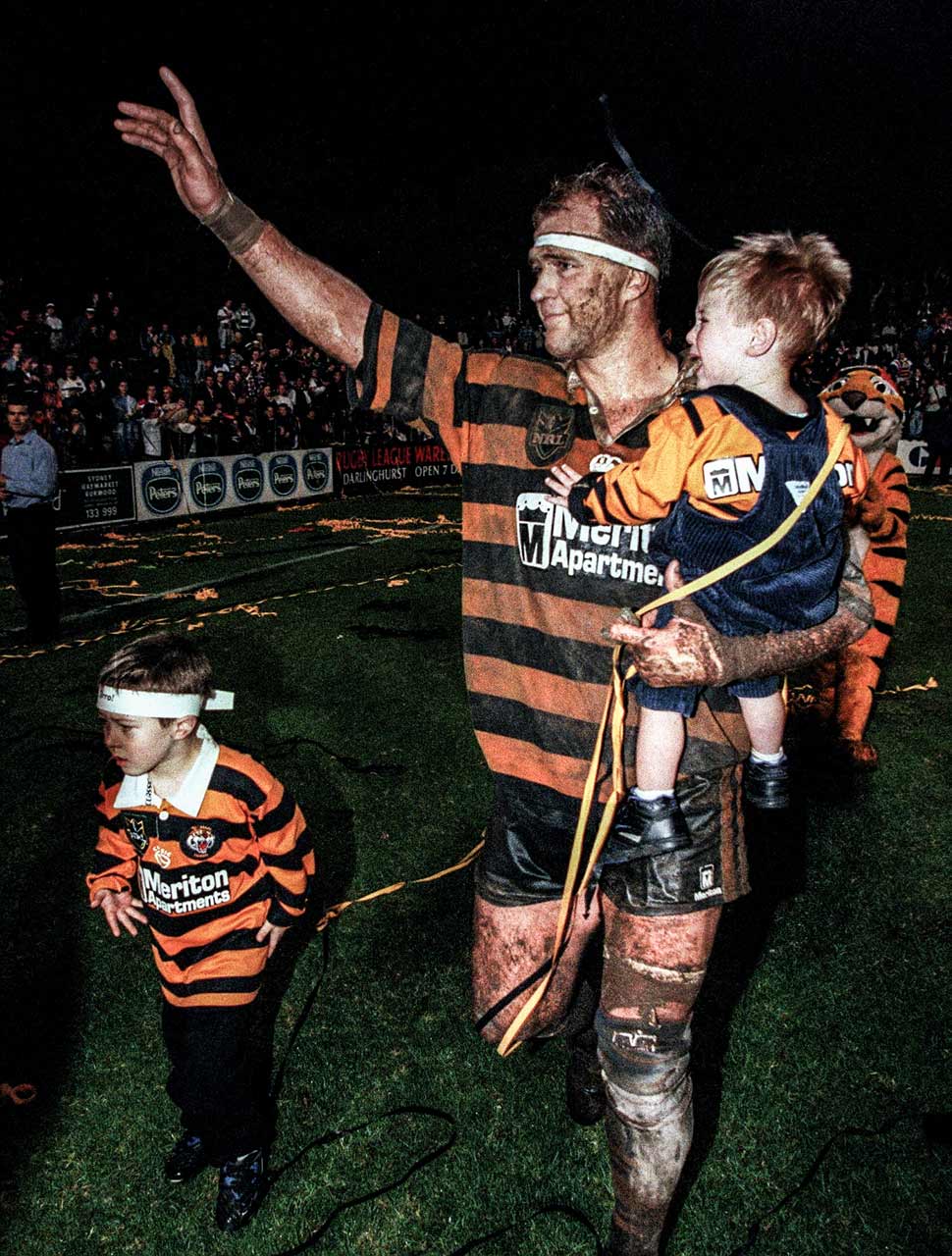 LIVING WITH THE SIRONENS
Being a Sironen wasn't going to land me a footy career.
It might make people take a second look at you, but that's about it. I've realised over time that attitude and commitment are the only things that will make a difference. Not my name.
I think the whole father-son thing is less of a novelty these days. I'm sure it was harder for my older brother, Curtis, as the first one coming through. He struggled with it a bit more at the start but, in saying that, we were always privileged to have Dad around us and the ability to tap into his knowledge of the game.
There's always been a bit of that, 'Oh, that's Paul Sironen's son,' and, 'He'll never be as good as his old man,' but it hasn't been over the top. I learned to block it out. So did Curtis.
People will always make that connection because of Dad's outstanding career, but the game's not going to do us any favours because of the things he was able to achieve for the Tigers, NSW and Australia.
Curtis and I actually started out as soccer players when we were kids. Dad didn't try to push us into footy. Neither did Mum, Lee-Anne, even though she loves rugby league as much as anyone. They wanted us to find our own way in life. But we were never far away from footy.
Being a Sironen wasn't going to land me a footy career. It might make people take a second look at you, but that's about it.
There's a great photo of Dad covered in mud and walking a lap of Leichhardt Oval after playing his last game for Balmain in 1998. He's carrying me and Curtis is walking beside us.
I was only 20 months old at the time so I obviously don't remember it, but I love it whenever I see that old image published. It's something unique to our family.
I fell in love with the game early and, even though I was playing soccer for Putney Rangers, I had a friend living down the street who was playing footy for Holy Cross Rhinos so I used to go to training with him. I doubled-up for a few years but, when I was 14 or 15 and had been going to Holy Cross College for a year or two, I made a call. League it was.
I enjoyed the physicality of it more than soccer. To be honest, I wasn't much good at soccer anyway. I had two left feet. I don't think Manchester United would've been beating down my door had I stuck it out.
I was pretty good with my hand-eye co-ordination so I gravitated towards the halves initially. The bigger I got the more I played in the back-row. I ended up there for good but I've always tried to hang on to that skill factor to maintain some versatility.
Dad coached me for a couple of years in the juniors. Curtis, too. Curtis is three years older than me, so we never got the chance to play together as kids or coming through the junior system at Wests Tigers. We would have loved to play together for the Tigers one day but that's not the way it worked out.
Congratulations to @bayleysironen, who becomes Wests Tigers Player 2️⃣0️⃣7️⃣!

? READ ≫ https://t.co/ST5FPG3foR pic.twitter.com/SrvdjBi25g

— Wests Tigers (@WestsTigers) August 22, 2017
Curtis was a good big brother growing up. Still is. I see him as a friend now and we've built a pretty close relationship. We lean on each other and try to learn from the other's mistakes. We don't just talk footy – we talk about anything that matters to us.
There were some pretty rugged backyard games as kids at East Ryde. We actually grew up in the same street as the Roaches. They moved in down the road and Steve had three boys himself – Daniel, Liam and Aidan.
All of us would play in the backyard, or pool footy. It got rough at times. But that helps you growing up – especially being a younger brother and having to try and mix it with the big boys. I copped a few.
Curtis is at Manly now and I'm at South Sydney. That's footy. It's unpredictable. Maybe down the track we'll get to pull on the same jersey and play alongside each other. Who knows?
There's now more chance of us playing against each other than playing together. Sea Eagles v Rabbitohs. Round four. I looked for it as soon as the draw came out. You've got to aim high.
More about: Anthony Seibold | Ivan Cleary | John Sutton | Manly Sea Eagles | Sam Burgess | South Sydney Rabbitohs | Sponsored | Wayne Bennett | Wests Tigers