Everyone keeps asking, 'Why are you doing this?'
The only response I have is because I can and I have always wanted to. At 15 I had to choose between football and netball – two sports I had grown up playing. Today I don't have to make that choice.
I'm a Collingwood athlete who has the opportunity to play the two sports I love.
I honestly can't say I love one more than the other. I love them equally, for different reasons. What's amazing is I'm able to play both now. I thought the possibility of playing football would only ever happen once my netball career was over.  I never had any doubt I'd play footy, but always presumed it would be later in life.
I have my netball coach Kristy Keppich-Birrell to thank, actually. When Collingwood were trying to get me to sign with them for Super Netball they flew my wife Brooke and I over from Perth to have a look at the facility.
One thing that stood out to me was Kristy's comments on football. She said, 'We know you really like footy, and if there's ever a possibility you can play both, would you?' She went on to say, 'Because you know anything is possible at Collingwood.' 
I think she was just joking, that it was never going to happen.
But I wrote that down, remembered it, put it in my back pocket.
DREAM BECOMES REALITY
Timing is everything.
The timing of the netball season next year was what made this possible. The fact that the Commonwealth Games had pushed our start back to the end of April gave me the opportunity to put my name forward to play AFLW if I missed out on Comm Games.
So at our Magpies awards night back in June when I came runner-up I said in my speech that if I wasn't to make Diamonds – and I put it out publicly that I 100% wanted to – then I was going to call Kristy the next day and ask if I could play football.
And I did. As soon as I found out I wasn't in, I asked the question.
Kristy did everything you would expect a coach to do – she fully supported me, but made me be accountable for decision and convince her my AFLW dream wasn't a knee jerk reaction to missing out on Diamonds.
We had quite a few really honest discussions about my future plans and genuine determination to push myself as an athlete.
She said, 'We know you really like footy, and if there's ever a possibility you can play both, would you?' She went on to say, 'Because you know anything is possible at Collingwood.' 
From those early days to the draft day, there was so much to work though. The club had to talk to Netball Australia, we had to review contracts and check insurance cover.
So much has gone on behind the scenes to make this dream of mine turn in to a possibility. My coaches from both codes and the high performance teams are constantly working on the schedule to make sure it all works. I think this will continue as things pop up.
When it came to telling my teammates, I was really nervous. We are a supportive group, but I didn't know where they would stand with this.
The girls were great, though. They had nothing but my best interest at heart. We obviously had some tough conversations about injury risk, over training and my commitment to the netball program. All things that Kristy and I had already discussed.
What was so special is how supported I felt from my teammates. They trusted me to remain committed to the netball team while I tried to achieve things outside of it as well.
Running out on the football field for the first time, with my netball team mates cheering on, is something I can't wait for.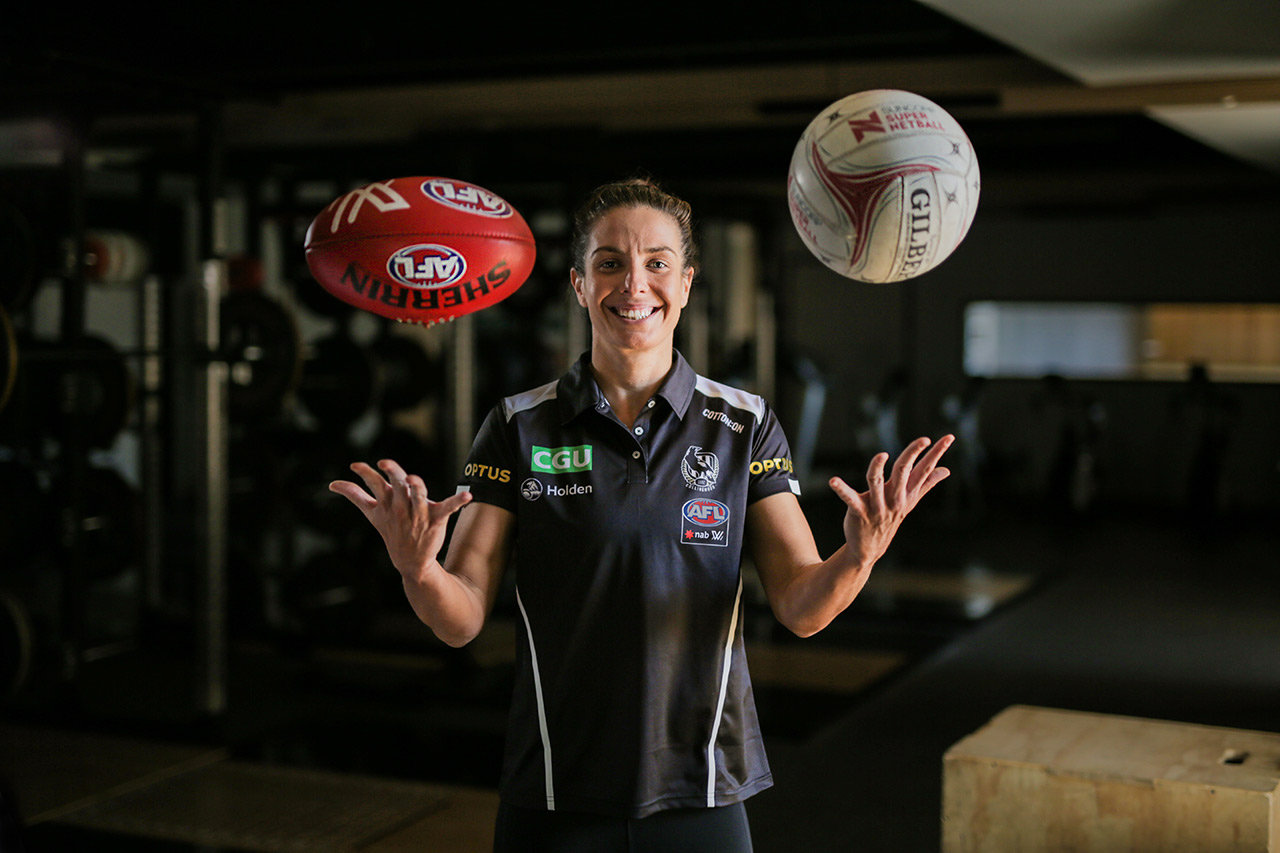 'I was sweating bullets'
When it got leaked that I'd nominated for the draft, that's when it all became real.
I was at the Australian Institute of Sport in Canberra for an Australian Fast5 Camp and I had my manager Alex back in Melbourne looking after things. 
A few Victorian clubs contacted Alex just to see what the go was and then it was back and forward. I had teams say they'd take me at pick 10, and other different picks – it was actually pretty nerve wracking.
Trying to play for another football club was going to be incredibly difficult with netball commitments. Watching the draft was really difficult. I was wishing that Collingwood would say my name every time they went to the microphone.
They had five picks before it got to 35, and the Bulldogs had said they'd take me before that. So when it got to pick 34, which was the Bulldogs', I was like, 'Here we go, here's my name. That's it, I can't play. It's gonna be too hard, how are we gonna make this work?'
And then they passed. The Bulldogs passed. Brooke and I were just like, 'Oh my God.'
I was sweating bullets. I was so sick and over it. And then Steph Chiocci got up for pick 35 and said, 'We pick Ashleigh Brazill.'
I don't know what happened after that point. Brooke and I just screamed. Then Brooke got up and started kicking the grass. Her reaction was priceless. I just felt like a kid that got chosen for their first ever sporting team. It was amazing.
It was also a huge relief. In the last three months there's been so many tears, so many ups, so many downs, just working out how it would work. It's been an emotional rollercoaster.
In front of everyone I have tried to keep everything pretty close to my chest by saying, 'It's all good, if I don't make it, it's OK,' but deep down knowing, 'If I don't get picked up, I'll be gutted.'
After my name was called was the first time I could actually show my emotions. I was wrapped.
THe cross-code opportunity
I'm lucky that at the moment AFLW is accepting cross-code athletes.
I fully expect the development pathway will be that good soon athletes won't be able to just cross over. If a football player wanted to come across to netball, you couldn't do it.
It's so hard for us to even keep our spot, let alone someone just trying to switch over. For me, personally, it really feels like the planets have aligned. I don't know how. I'm so thankful. Someone's up there looking after me, for sure.
The main thing I'll need to manage is my body. There's obviously the risk I could get injured and then miss the netball season, but injuries can happen anywhere, and the best thing for me is being under one roof, where I can be monitored.
There'll be sessions that I have to miss because there's only a certain amount of hours I can do. It's going to be tough, because I'm not someone who likes sitting out. There's definitely going to be hurdles we have to jump, but we're all committed to it, so we'll have to see where we can go.
There's a lot of similarities between the sports.
The other day I trained with the football girls, and I was introduced as 'the netballer'.
It wasn't long before I pulled out some netball tricks. There were eight of us doing a handball drill on court, and we couldn't score a goal. I said, 'In netball we do this…' and we scored the next four goals, so there's definitely crossover like that, especially with the ball skills.
At 15 I had to choose between football and netball – two sports I had grown up playing. Today I don't have to make that choice.
I've been brought up with both of sports, so hopefully I can just switch in and out from one to the other. The best thing is that the seasons aren't at the same time, so I'll still have a few weeks to get back into netball mode once footy's finished.
Hopefully I don't tackle anyone or give them a hip and shoulder.
The physicality is very different, but it's not really about size or even strength in some ways. When we were playing these muck-around games, there was one girl I probably could lift more than in the gym, but when I got pushed I just went flying.
In netball, you're never ready to take that big hit, because it's semi-non-contact and you have to go around cleanly, whereas in footy you can run through people. It's just making sure that I'm always braced for the contact, so that I can keep my feet.
But because football's only just started, the competition is raw and the playing group is so new to the elite environment. That's precisely what I love about it. There's so much to achieve as a team, to learn from each other and to create as a club.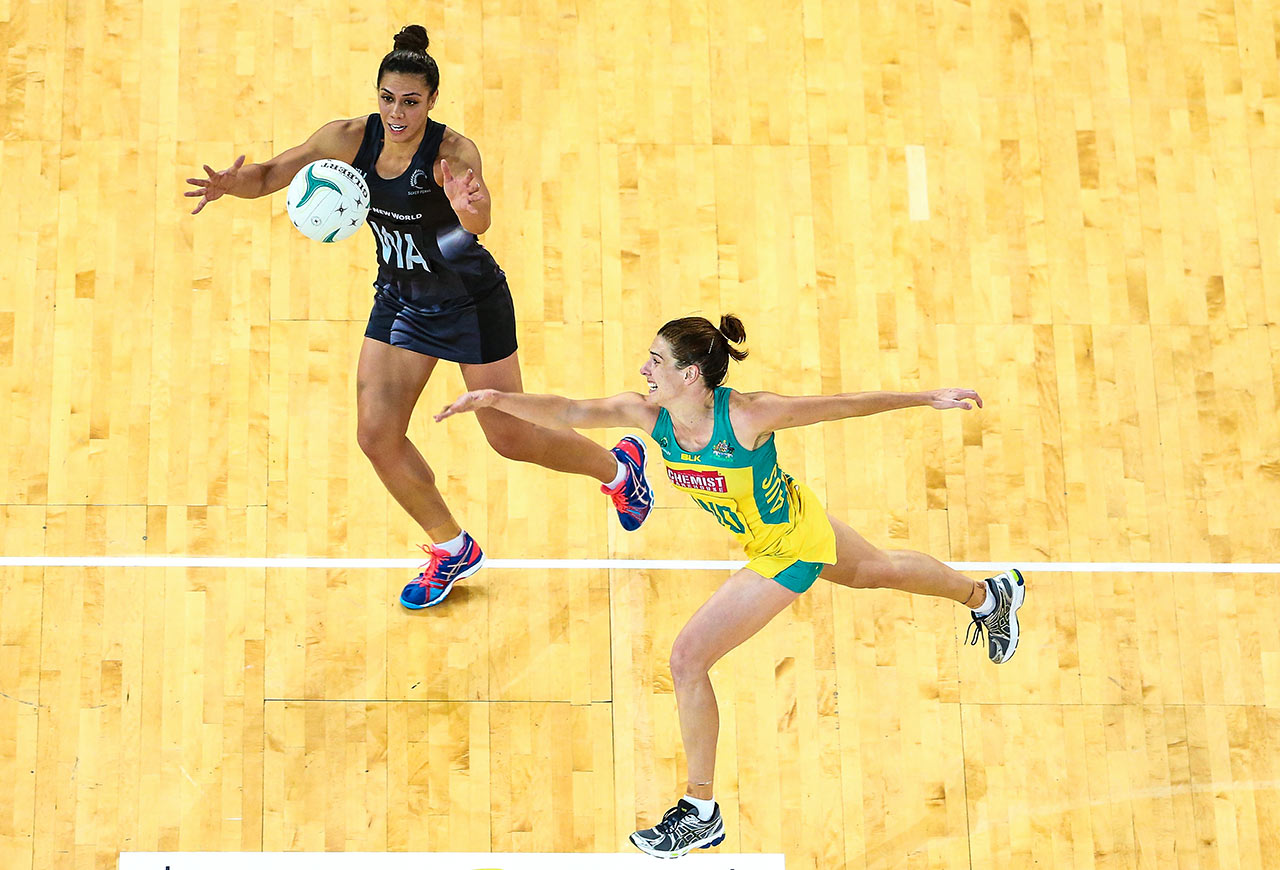 THE choice
I'll be interested to see whether I'm going to be looked at as the footballer or the netballer. Hopefully it's both.
If someone asked me what I do for a living, I'd just say I play for Collingwood. I'm a Collingwood athlete. That's it. I wouldn't even say what sport.
I don't know what will happen in the future if the seasons overlap, because I don't think I could do both. I'm only contracted next year for netball, so a decision will have to be made, but I don't know what that decision is yet.
Everyone's assuming I'll go straight back to netball, but I'm not a young athlete any more. I'm 27, getting towards the end of my career, and if footy's what I prefer, then that's what I'm going to do. I'll make that decision when I have to.
This season I got my footy hit by just having a kick around.
A few of the boys, like Brodie Grundy, would have a kick with us, and the coaches would come over for a kick, or our coach would yell at us to put the ball down, so we had a little bit of fun with that.
Just being around a football club, that was enough for me. The players would say, 'You should swap to footy.' They thought they were joking and I was taking it seriously.
If someone asked me what I do for a living, I'd just say I play for Collingwood. I'm a Collingwood athlete. That's it. I wouldn't even say what sport.
I played about 10 games for East Fremantle and Swan Districts when I was playing for West Coast Fever, but this is so much bigger.
The nerves will definitely be there game one. Brooke's jokes with me, 'You'd better play well now, because everyone thinks you're good, but no-one's seen you play, so you'd better do all right.'
But she is right, the nerves are definitely there. It's just fun. It's going be nuts.
PLAYING against the boys
I'm a NSW country girl. I'm that kid who loves any, every sport. I love playing it, watching it. My family moved from Campbelltown when I was in Year Four.
Our girls' team at school won the state title, and I got named player of the competition. In netball you're so limited to one or two areas of the court, whereas in football I can be a defender and still kick goals. I think that's what I loved about it.
I only played with the girls at school. On Saturdays I only played with the boys, for the Wollondilly Redbacks. You were supposed to stop when you were 13 or 14, so my club had to apply for an exemption.
I won this big award, tied as MVP with one of the boys who went on to get drafted by Collingwood in 2010, Tom Young, so every second week a selector would come out to make sure that I was still able to compete with the boys. 
Then, at 16, I got into the NSW Institute of Sport for netball, and that was it. I get asked a lot, 'Why did you choose netball?' But that opportunity came along, and you couldn't say no to it. Plus I love the game. 
Now when I do clinics and parents come up to me and go, 'Oh, my daughter's 11, and she has to choose,' I'm like, 'She's 11, let her do whatever.'
I 100 per cent believe that the way I play netball is because of the way I played football so long ago. You learn different elements without even realising it, and I think kids who play all different sports are the ones who get to the top.
Just look at Erin Phillips, who's the biggest name in football.
I'd probably describe myself as a netballer playing like a footballer. I'm definitely a vertical player in netball.  People say, 'Don't put it high to the pockets, because Ash can jump,' and I get told a lot that the way I jump, with my knee up, is like a footballer.
I'll back my speed and my vertical jump in netball, and I can't see it being any different in footy. I'll just need to get a lot more physical.
'a little kid in a candy shop'
Perceptions about netball are changing, though. The footy girls are coming to Fast5, they came to Collingwood netball all year.
You get the comments from the girls, 'We would never have watched a netball game, but we can't get over how physical and how fast it is,' All it takes is for people to get to one or two games and they love it.
If I had kids I would definitely take them to watch netball because I think it's such a great sport. And I'd be encouraging them, 100 per cent, to play both. Whatever they want to do.
For me, it feels like this was just meant to happen. It's weird. I definitely put my best foot forward this year to make the Diamonds squad, and unfortunately that's just sport – you make some, you miss some – but this happening has allowed my footy dream to come true.
I honestly didn't think I'd be this excited about it. I need to calm down a little bit, because I feel like a little kid in a candy shop right now. I can't wait for it to start.
More about: Collingwood