Why I had to leave my mum
I grew up in a small bush town called Kambalda, out in the red dirt of Western Australia's golden outback.
It was a close-knit mining community of about 3,000 people, 40 minutes south of Kalgoorlie where my mum worked in an underground gold mine driving 50-tonne trucks.
She had to do it all by herself because my dad has never really been in the picture. For her, that meant doing long hours of shift work, day and night, to provide.
Watching her work her arse off for the two of us taught me three things.
First, a work ethic. Second, how to be an independent woman. And third, how to have a sense of humour about things regardless of how tough they are.
And even as a little girl I put those lessons into action.
From about eight years old, I got myself to and from school. I made my own lunches and did my own laundry. I washed the dishes. I made my bed and cleaned my room. I'd get groceries with the money that Mum left out.
I spent a lot of time at my Nanna's but mostly I was looking after myself. And I enjoyed that responsibility because the flip side was freedom. It meant I didn't have a strict mother on my case all the time and I could do what I wanted, as long as I was home before the streetlights came on.
I loved growing up in Kambalda. It's the kind of place where everyone knows everyone, and you always leave your house unlocked.
The weekends were for riding motorbikes, playing footy and making cubby houses, because you learn to make your own fun when you grow up in the bush.
I remember when I was 10 my best mate McKenzie and I found a shopping trolley while we were out riding motorbikes.
We got some rope and tied the trolley upside-down to the back of the bike, so we could tow each other around. I'd be standing on the trolley and she'd be pinging it around corners and going cross-country.
We had some big stacks, sending each other flying. I don't know how we didn't break our necks doing stuff like that.
When I talk to my friends on the Gold Coast about how I grew up, they can't understand that way of life.
THE LIFE I NEVER WANTED
The only real downside of growing up in Kambalda was knowing that your future was pretty much made up for you.
Boys would grow up to get a trade and a job in the mines. For the girls, it was a tougher choice.
Still, I always believed I had a bigger potential than either becoming a teenage mother or working 12-hour shifts in a truck. I just wanted a different life for myself, especially after hearing the derogatory comments and bullshit that my mum had to put up with.
I remember her telling me about the guys at work walking past her with smirks on their faces, laughing because she was a woman working in a mine. They couldn't understand that there's a reason why women get employed to drive the big trucks.
A lot of the blokes would turn up to work tired after a big night drinking and they'd have accidents that could be avoided. Female drivers just have more respect for the large machinery they are operating, which can be worth millions of dollars.
I got myself to and from school. I made my own lunches and did my own laundry. I washed the dishes. I made my bed and cleaned my room. I'd get groceries with the money that Mum left out.
My mum is renowned for being an amazing truck driver; she's never crashed or damaged a vehicle in her entire career. That's why the comments didn't really bother her. She doesn't cop any shit.
But I do remember this one guy who took it way too far.
One night when I was 11, he followed Mum home and broke into our house while we were asleep. We always kept our bedroom doors shut at night but when we woke up, they were wide open. He'd also left a note for Mum and stolen the house key off her keyring.
I just couldn't wrap my head around it. Had he touched my things? Had he watched us sleep? It made me feel very vulnerable in my own home.
Mum was furious, mostly because it made her scared for me, so she went to the police and they filed a restraining order against the man. I think he also got sacked from the mine.
It sucks because Mum was a hard worker who minded her own business. She only knew this bloke from work and he just couldn't respect those boundaries.
What made it even harder to deal with was that I went to school with his son, who came up to me one day and started having a go about how my mum had ruined his family's life.
That made me furious because it was his dad that had broken into our house.
I got a tiny amount of revenge though. Me and my friends egged their house on Halloween as payback.
I felt like mum bailed on me
McKenzie's older brother Brandon played footy, and us two girls would be out in the backyard with him all the time, kicking the ball around and tackling each other. That was our idea of fun.
We played for a local boys' team and thanks to all that time in the backyard, we held our own just fine.
Back then, my Mum was with a guy called Lee who would take me to all the games. He was a great dude and I'd started calling him my step-dad. I think he liked me a lot as well because I was this wild girl who was into footy. It was something we could bond over.
Lee's the reason we left Kambalda.
One day, my mother came back from a holiday with him and said that we were moving to the Gold Coast so Lee could be closer to his daughter who lived in Brisbane.
At 13, life in Kambalda was all I knew. I just wanted to stay with my friends. I wasn't to know that the move would change my life for the better.
At first, I hated the Gold Coast.
I didn't know anyone, and my life just felt upside down because I'd lost my freedom. I didn't have my motorbike and the city was busy and chaotic.
I went from one life in remote Western Australia, to another as the new girl at Robina State High School.
I felt lost amongst 1,500 other students. I'd never had to be aware of different social groups and dynamics or how to make friends in Kambalda.
I lasted three months before I moved back to WA with my Nanna. Still, Mum wouldn't take no for an answer and she made me move back over to the Gold Coast, to give it another go.
I've been here ever since. In hindsight, it's the best decision she ever made for me.
I only had one condition: I had to be playing footy. We found a club called the Broadbeach Cats and I joined their under-15s girls team.
By the end of that first season, I'd made the Gold Coast under-17s rep team and I was the league's best and fairest.
Footy gave me a group of friends and I started to feel at home on the Gold Coast. After two years there, I had a new life and I liked it a lot.
That all fell apart when I was 15, when Mum and Lee split up and he moved away. All of a sudden, everything was uncertain again.
Mum was struggling to get mining work in Queensland and one night she came home and told me we were moving back to WA. She was going to book flights that night.
I just said, 'No way'.
I'd already uprooted my whole life and now she wanted me to do it all again. I had my footy teams, my friends at school and a boyfriend, Kurtis. There was no way that I was going to lose everything.
I didn't want to go back to some other mining town in the middle of nowhere. I wanted a different life for myself.
I always believed I had a bigger potential than either becoming a teenage mother or working 12-hour shifts in a truck.
I remember calling Kurtis in tears and telling him. He was in the car with his mum Kirsty at the time, with me on loudspeaker. She calmed me down and said I could come and live with them for a few weeks, so I wouldn't have to move straightaway.
That blew me away. I couldn't believe that someone could be that generous.    
Mum took some convincing, but after a lot of arguments she left the Gold Coast and I stayed. I was almost happy to see her go.
I had this gut-wrenching resentment towards her because I felt she was only moving away for her own happiness, without even considering mine. She'd chosen this life for us and now she was packing up again without even trying to make it work.
I felt like she was bailing on me.
I moved my stuff into Kirsty and her husband Neil's spare room and, after a few weeks, they offered for me to stay on long-term.
Looking back now, I think that probably saved my life.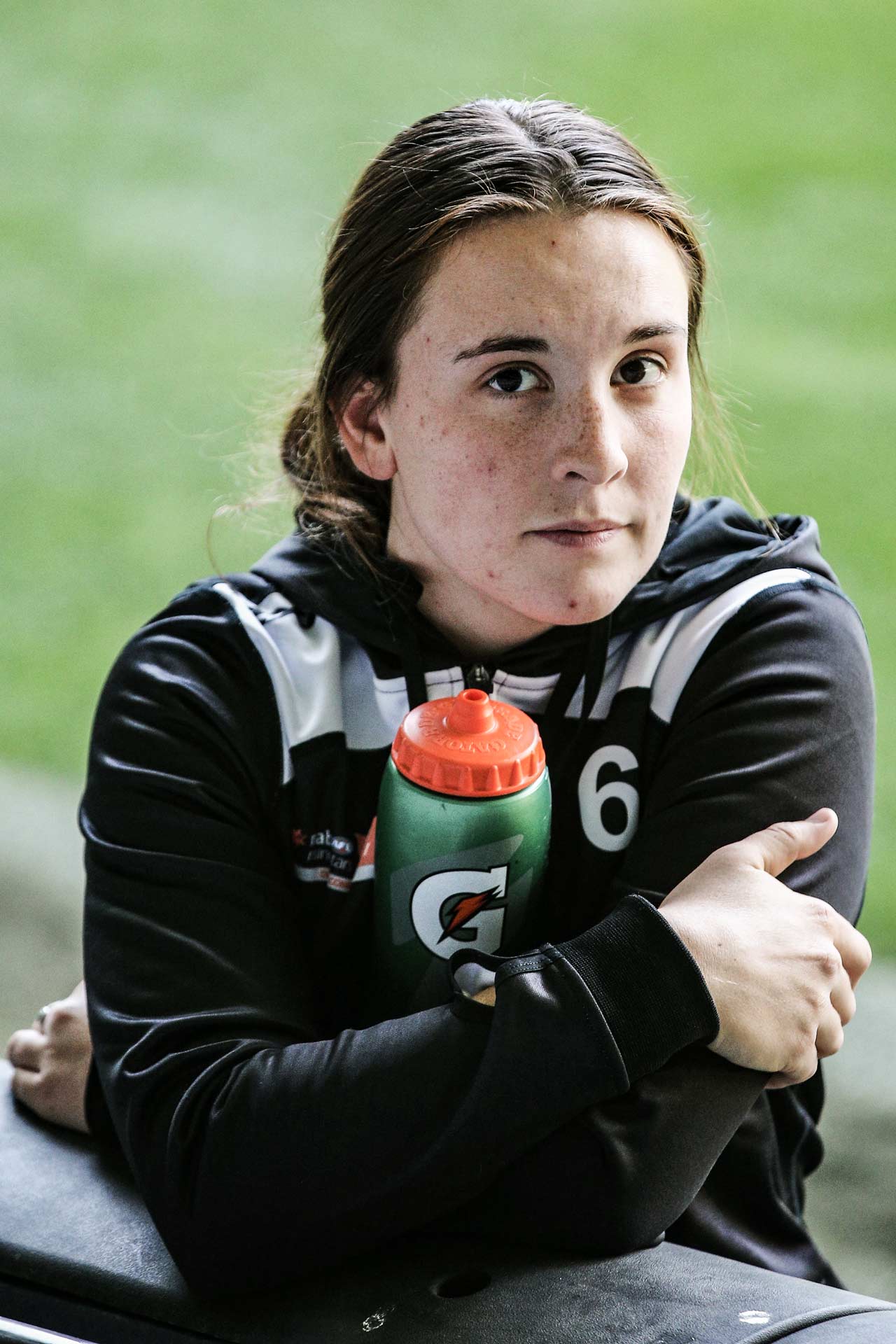 trouble at the kebab shop
Leaving my mother meant I had to take responsibility for my own finances.
All of a sudden, I had school fees to worry about as well as the cost of living and I knew I needed savings to fall back on in case something went wrong. But most importantly, I wanted to pay rent to Kirsty and Neil. I refused to be a freeloader.
The first thing I did was get a job at a Turkish kebab shop in Robina. It meant long hours between work and school and footy, but it gave me a chance pay my own way.
In not much time, I was managing the shop.
I used to work Monday to Thursday after school. Then on Fridays, Saturdays and Sundays when I didn't have school, I'd open the shop at 7am and do the day shift. I'd duck out on Saturday and Sunday afternoons to play footy and then come back to do the closing shift.
I was proud to be working so hard and supporting myself but, looking back, my boss was simply exploiting me.
From the age of 16 I was doing the books, worrying about cashflow and rostering and paying staff wages. And I was doing it all for just $12 an hour.
If Kirsty and Neil had known, they would have told me I was getting rorted. But I didn't discuss my finances with them because I didn't want them to worry that I was paying too much for rent.
It all came to a head one weekend, at the start of my year 12.
I used to keep my three rings in a safe place in the office because I couldn't wear them while I was preparing food. One of them was a family heirloom given to me by my Nanna – a chunky aquamarine diamond ring worth $4,000. That ring meant the world to me.
Anyway, this one weekend the till came up $200 short. There could have been any number of explanations for that, but my boss blamed me.
That's when my rings disappeared.
By the time we discovered it was another staff member that had taken the money, it was already too late. I'm sure my boss had sold the rings as punishment and that's why he refused to let me look at the CCTV footage.
Losing that ring broke my heart and I never went back.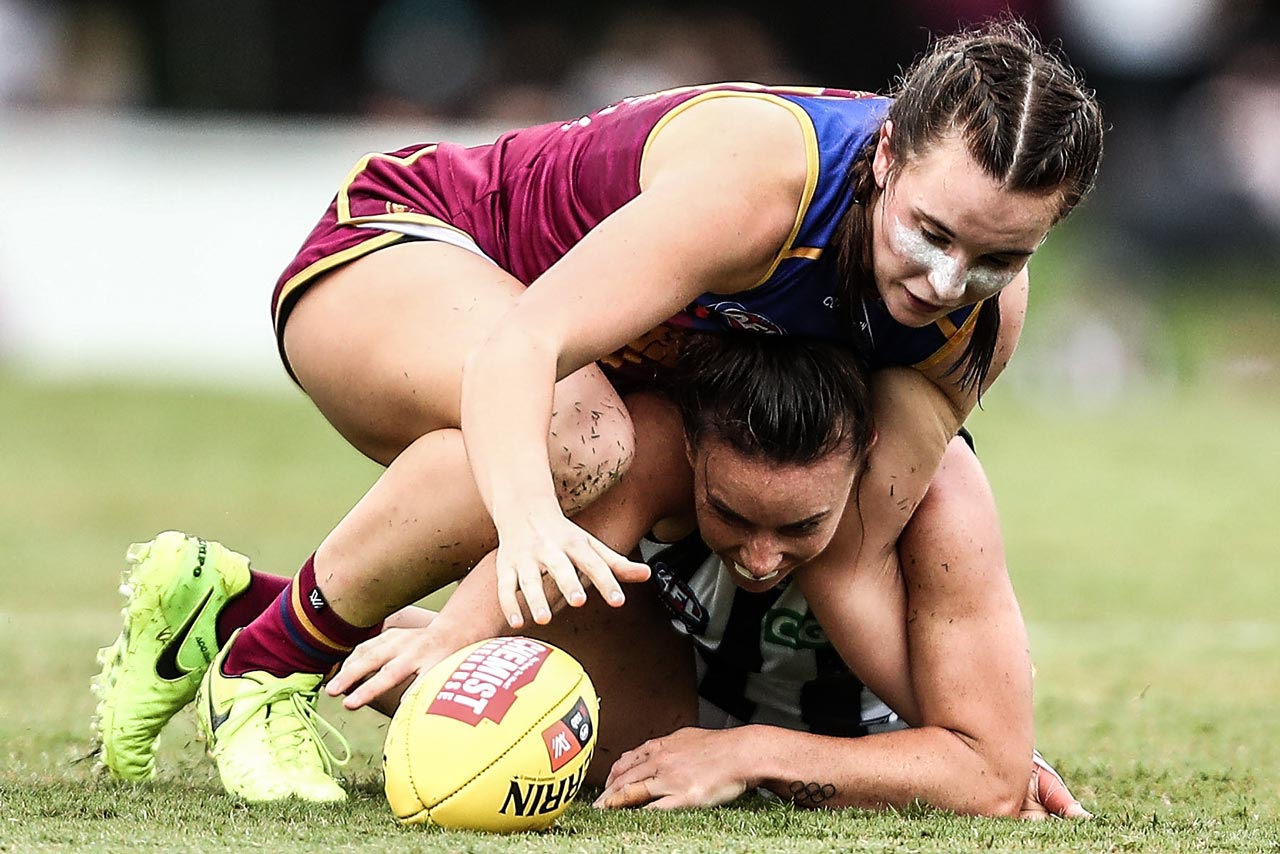 the password that says it all
By then, I'd saved enough that I could afford to take some time off work to focus on my studies, which was probably the right thing to do given that I was in year 12!
And I wanted to put more time into my footy.
At the start of that year, I sat down with Craig Starcevich, who coaches the Brisbane Lions AFLW team. He'd been my coach with the state team for four years and been an important mentor in my life. He said that if I worked really hard, they'd look at drafting me.
I'd left Mum to give myself a chance at something like this. So, with that offer on the table, I put everything into making it happen. I even set up a bank account with NAB, with the password GetDrafted.2018.
It was a busy year. I wanted to do my best academically, but I was also training harder than ever with footy.
Kurtis is an incredibly talented goalkeeper who was playing Australian Schoolboys and training all over. Between the two of us, it was a big commitment for Kirsty and Neil to be running us around to different training sessions.
They both work fulltime for QLD Rail, but they always found time, especially for me. No joke, if both of us had training but only one of them was free, they'd take me to training and make Kurtis get a lift with mates.
I couldn't have done it without them.
I got into the National Women's Academy that year as well, which meant I was flying around Australia playing against the other states and at the end of the season I was named All-Australian.
I wasn't sure whether I'd done enough to get drafted but I'd started to believe.
I'd left Mum to give myself a chance at something like this.
When I was named school captain, none of the teachers really knew I was into AFL. By the time the draft came around, they were all over it.
I was in mathematics when the ceremony was on in Melbourne, but the teacher knew how much it meant to me and put a live stream up on the wall, while we sat there doing algebra.
And then my name got called out and everyone stopped.
Pick number 15 to the Brisbane Lions. My class exploded!
Everyone was screaming and congratulating me, and then the principal and my English teacher burst through the door to join the celebrations.
Craig calling me was the most emotional part.
He knew my story and I could hear his voice start to crack on the phone. He's not the kind of guy who shows much emotion, but I felt I had made him proud.
I still get emotional, just remembering that moment and everything I'd been through to get there. Finally, it felt like proof that all the heartache had been worth it.
It was a relief almost. Like I could finally breathe a little.
After the most gruelling and intense pre-season, I made my debut for the Lions against Adelaide, in round one last season.
When I came off the bench that day and looked around, I was in awe of the crowd of 11,000 people at Norwood Stadium. I was honestly having flashbacks to playing footy in the bush, back in Kambalda. I know that sounds clichéd but it's true.
I just couldn't believe how far I'd come from that little town in WA. And then with my first touch, I kicked the ball out on the full! Which was embarrassing.
Thankfully, my season only got better from there. I played all eight games, including the Grand Final. Losing to the Bulldogs felt horrible, but it's only made me more determined to get better.
I've set some goals this off-season. I want to transition from the backline into the midfield and I want to stand up and be more of a leader.
I'm a second-year player now and I don't want to take a back seat.
getting over my anger
For a long time, I really struggled to get over the anger and resentment I felt towards my mother.
Just the thought of having a conversation with her used to make me anxious and, for years, we'd really only speak to each other on the big days – Christmas, birthdays and Mother's Day.
But in the last few weeks, we've reconnected.
It started with me reaching out to her because I was getting my passport and needed her birth certificate. Since then, we've been speaking every three days or so.
It's been a big thing for both of us but I think it's meant a lot to Mum, because she knew she'd let me down. That's why she'd been hesitant to reach out for so long.
We definitely don't have a strong relationship now, but we're working on it.
Kirsty and Neil have more or less become my adopted Mum and Dad. I can't be bothered to explain my whole life story to most people I meet, so I just refer to them as my parents.
Kurtis and I realised we were better off as friends at the start of year 12 but I've only grown closer to the family since then. It might sound weird, but I honestly think of him as my brother now. He's my best mate.
The three of them have taught me so much about the true meaning of generosity and family.
When I first moved in with them, I was this cocky little 15-year-old who thought she could take on the world. They've shown me that it's OK to lean on other people for help.
I'm living away from home now because I got a full scholarship at Bond University on the Gold Coast, with free accommodation for the first year.
It means the world to me that Kirsty and Neil still have my room set up, ready for if I ever want to stay the night.
They've accepted me as part of their family. I'll be forever grateful.
More about: Brisbane Lions | Resilience | Women's Sport