How to scout a World Cup squad
Fran Karacic's Socceroos call-up made the back-page of Croatia's biggest sports newspaper, Sportske Novosti. That's how much attention his decision to choose Australia over Croatia has received over here.
I'm living in Zagreb these days. It's easier for me to monitor the European-based Socceroos from here and I've had people talking to me about Fran all week.
One person came up to me and said, 'Fair play to you because we've taken plenty of your Aussies!'.
That's true. We've lost some great talent in the past. Josip Šimunic, Joey Didulica, Anthony Šeric all went to a World Cup for Croatia. That doesn't bother me at all. It's their decision. But it's nice for the shoe to be on the other foot for a change!
I've been monitoring Fran's progress for a couple of years now. I first came across him on the computer program Wyscout when I was searching for new Aussie prospects. I saw he was playing for Lokomotiva in the Croatian first division and I started following his progress very closely.
The first time I got the chance to watch him play in person, Lokomotiva were playing at home against Hajduk Split, one of Croatia's biggest teams. I didn't tell him that I was coming to watch because sometimes it's better you don't. You don't want to put too much pressure on young players and distract them from their job.
Lokomotiva were playing a back three – which was how we were setting up the Socceroos' defence at the time – with Fran as a right wingback. He scored from a set piece and put in a very impressive performance.
He's more naturally attacking than defensive: he gets a few assists, can take on his man and cross the ball and he has a good long throw as well.
He's quite versatile too. I went to watch him play against Dinamo Zagreb this week and he lined up at centre back. Dinamo just needed a win to claim the championship but Lokomotiva beat them 3-1.
When you look at his age and where he's playing, it's very exciting. He definitely has the potential to have a very good career. He might have joined the Socceroos sooner if it hadn't been for an injury in the lead-up to the Confederations Cup last year.
Some people may see that he has never lived in Australia and wonder whether he is passionate enough about playing for the Socceroos. That's up to him to prove if he makes the squad to train in Turkey.
At the end of the day, he chose us despite having established himself in a very solid Croatian Under-21 team alongside footballers playing for some of Europe's top clubs.
His grandfather lived in Australia for 30 years and his father was born there before his family returned to Croatia. Australia is a part of his identity and he has an Aussie passport.
Sometimes, that's how it is. Every footballer's path is different.
Fran Karačić s Australijom na svjetskom prvenstvu!??

"Iznimno sam ponosan na pozivu! Kada sam dobio poziv nisam dvojio ni minute!"

?Full article: https://t.co/cktQtPrGbb#lokosi pic.twitter.com/8Ko0tBUEIi

— NK Lokomotiva Zagreb (@NKLokomotiva) May 7, 2018
THE YOUNGSTERS
Along with Fran, Daniel Arzani is the other uncapped player named in the preliminary squad. Aleks Susnjar only got his first call-up for our last camp.
Whether they make it all the way to Russia or not, it's about gaining invaluable experience.
Mass Luongo is a perfect example. He went to Brazil for the last World Cup and didn't play a single minute. Six months later, when we won the Asian Cup, he was the player of the tournament.
Sometimes, that's how it is. Every footballer's path is different.
When the FFA asked me to take charge of the Olyroos at the under-23 Asian Cup in China this year, I made a decision to look at as many players as possible regardless of whether they would be eligible for the Olympics or not.
Aleks is one player who will be too old to play at the Tokyo Games in 2020. When I brought him into the squad for the first time, he wouldn't have dreamed a Socceroos call-up would follow so soon after.
Until recently, not many people knew about Aleks but Bert and his staff watched his three games in China and were impressed with how he played. On the back of that, he was invited into camp with the Socceroos. All of a sudden, he was in an environment learning off Maty Ryan, Mile Jedinak and Tim Cahill.
He made his international debut against Norway and no one can ever take that away from him. It's the biggest honour there is, to play for your country.
He's gone from the state league in Perth to playing in the lesser leagues of Europe, to now being a chance of playing on football's greatest stage.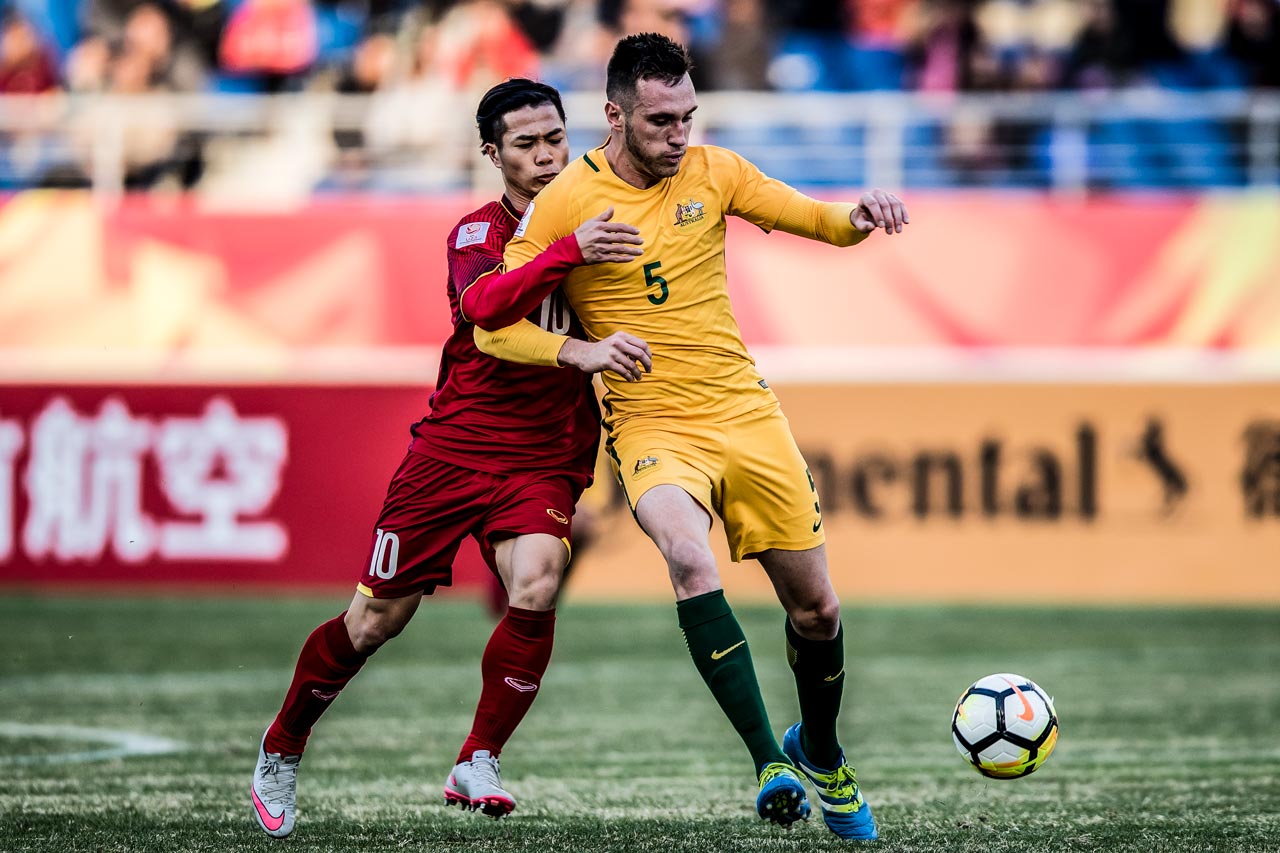 SURVIVING THE CUT
It's never easy seeing people cut from a squad. Rejection is one of the hardest parts of a footballer's career and, in the coming weeks, nine Aussies will be given the tough news that they will miss the World Cup.
Amongst all the excitement of announcing a squad, I never forget that.
The days of relying on someone else's word or getting DVDs sent to you are long gone. All I need is a player's name and I can watch all their games.
I love following their careers and riding the highs and lows. I feel their frustration when they're not being selected, when they're out injured or when results just aren't going their way.
Wyscout has taken me down a rabbit hole. I'll start watching one Aussie, then get linked in to another and so on. I spend hours on it, writing down names and making notes. You become invested in all their careers.
When you see them playing well, it's a huge joy. It's the little things that really hit home, like hearing foreign commentators mentioning their names and talking a little bit about them. You feel like you're on that journey with them.
That's why seeing a player cut is never easy. But that's football.
On the flipside, when you reflect on the individual stories of those that do make the squad – their backgrounds, their family life and the sacrifices they've made – that's what it's all about. Seeing those young men realise their dreams is the best part of the job.
Every single one of them has a story.
Mile Jedinak went overseas as a young boy but it didn't work out. He came back to Australia to play state league, went to the Mariners as an injury replacement, then got a move to Turkey. Next thing, he's captaining Crystal Palace in an FA Cup Final and scoring those goals against Honduras to send the Socceroos to Russia.
I remember when I was coaching at Melbourne Heart, we had a pre-season camp in Geelong. Aziz Behich drove there from Melbourne every day just to train with us because he wanted a contract that bad. He'd been cut by the Victory but refused to give up.
I remember when Massimo Luongo was a part of the Young Socceroos set-up and he never once made the final squad. Now look at him.
Aaron Mooy is another one. When we won the Asian Cup, he wasn't even in the squad. I remember coaching him with the Young Socceroos in 2009 and thinking he had something special. He scored a free kick against Brazil that got everyone talking but it took him years to really break through.
Manchester City bought him and I'll never forget that interview where Pep Guardiola mentioned his name and praised him for the fantastic season he was having with Huddersfield.
Those kinds of memories are the ones that mean the most, and when I see our guys playing for the national team, I can't help but have a smile on my face.
People really need to understand how much work and effort you have to put in to get to that moment. It's not always glamorous and people should know that there isn't always a red carpet being rolled out when our players get to Europe. They do it extremely hard.
It's disappointing, but our guys don't get the respect they deserve over here. If some of our better players had different passports they'd be looked at very differently and might be playing for different clubs, in different leagues.
We're still not seen as a 'football nation' but every tournament is a chance to change that perception, even just a little bit.
More about: Audio Recording | Daniel Arzani | FIFA World Cup | Mile Jedinak | Socceroos | Tim Cahill | Tokyo 2020