What I didn't expect in Origin camp
I must've set 45 alarms for Monday morning.
The excitement and nerves were in overdrive. I didn't want to be the bloke checking in late for his first Origin camp. So I took a few precautionary measures. And then a few more. Just to be sure.
I parked out the front of the team hotel, the Crowne Plaza in Coogee, and waited for Damien Cook, my Rabbitohs teammate. He'd bought me a coffee from around the corner, good bloke that he is, and we walked in together.
I don't mind admitting that I was shitting myself. No idea what to expect. I knew Cookie, Tyson Frizell, Jack de Belin and Latrell Mitchell, but that was pretty much it in terms of the NSW squad.
The first two people I saw in the lobby were Nathan Cleary and Tyrone Peachey. I'd met Nathan once or twice before. He looked as nervous as I did, which made me feel a bit better. 
LIVE stream every game of every round of the 2018 NRL Telstra Premiership. Get Foxtel & start watching in minutes. SIGN UP NOW >
I'd never met Tyrone to that point. Immediately, his face lit up into a huge smile.
'YEAH, BRO! ORIGIN! HOW GOOD'S THIS! WE'RE ROOMIES!!!' And he gave me a hug.
For me, Tyrone has set the tone for the whole camp. Before I got here I thought we might all gravitate towards the people we're most familiar with, and I'd be hanging out with Cookie more than the others. The opposite has been the case.
I've been busy meeting and talking to all the other blokes. I feel like I've known them for a lot longer than two days. There are no egos here, just a bunch of players bloody determined to give everything for their state.
There are the little pinch-yourself-moments along the way. I was having a chat with Latrell a couple of days ago and said, 'Four years ago we were playing SG Ball together. How about this?' He smiled. I can't wait to get out on the field with him.
There's also a lot to take in. Boyd Cordner and Tyson are two of the best backrowers in the game. I'm watching what they do, how they go about their business, learning from it and thinking about what they do that I could steal and incorporate into my game and career to make me a better player.
So, yeah, it's been a big couple of days!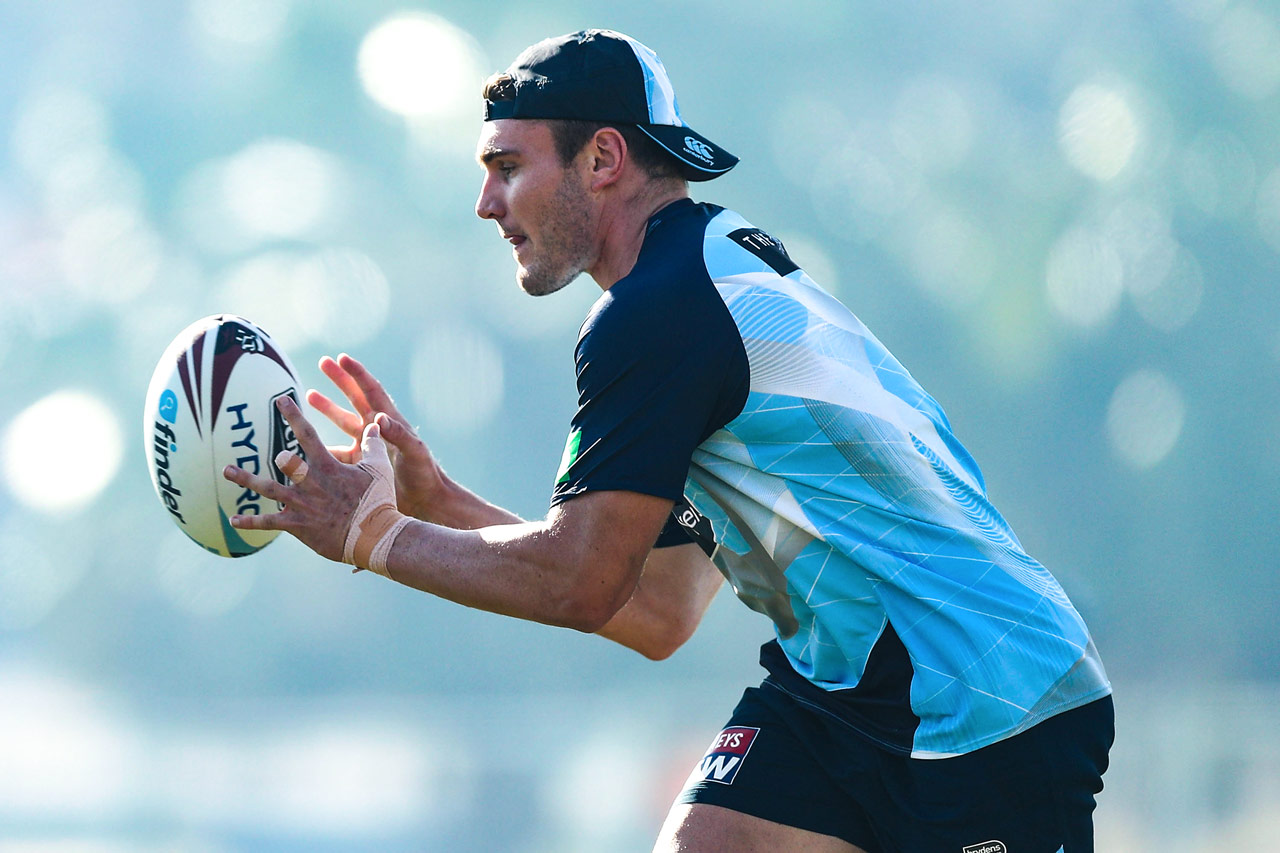 THE FARM & THE BOARDING HOUSE
My boyhood connection to Origin is different to a lot of the others.
I played rugby union for most of my life. I absolutely loved watching Origin, but never with the mindset of that'll be me one day, like the guys who grew up playing league. My goals at the time were all based around rugby. Origin didn't become an aspiration until I finished high school and joined the Rabbitohs.
We grew up on a 6,500-acre sheep and cattle farm about 40 kilometres outside of Young. It was an hour each-way on the bus to school each day. The isolation made us close as a family.
Origin was a time for dad and I. Dad is more than a father to me. He's one of my best mates and a brother in a way, too. I loved those Origin nights with him, jumping up and down and cheering the Blues home. They're special memories.
It was the era of Freddy Fittler and Joey Johns and we were right into it. Freddy was my favourite player. He brought so much excitement onto the field whenever he played. He had the attitude that he didn't care who was in front of him, or what their reputations were. He was going to play his way. Deal with it.
A few years later, I was at boarding school in Sydney at Scots College. 
I absolutely loved watching Origin, but never with the mindset of that'll be me one day, like the guys who grew up playing league.
Even though Scots is a rugby school, Origin was still a massive occasion. I was there during the period when Queensland started their era of domination. All the boys in Aspinall House, from year eight to year 12, would get together in the TV room for Origin nights. It was pretty rowdy – 50-odd kids, from all around Australia, riding the rollercoaster of emotions three times a year. 
My grandparents were rugby union through-and-through. They straight-up refused to watch league. They're pretty old fashioned that way.
Hasn't their tune changed!
These days, my grandma is on the iPad all day researching myself and my mates. Seriously, I checked out her search history and it was all her googling my teammates' names and Instagrams. When I called her up to tell her about my Origin call-up, she almost burst out crying. It was lovely.
My granddad watches all eight games of NRL a week now. He deadest doesn't miss a match. Last year was the first time he had ever watched a State of Origin game. He said Game I was the best game of footy he had ever seen.
I called him to tell him I was in the Blues squad but, before I could get the words out, he told me he had just picked his own NSW side. He was like, 'I've got Cleary, Maloney …' Fortunately, I made his 17.
When I eventually got around to telling him that the actual selectors had named me in the squad, he was stoked. Everyone is coming down to Melbourne for the game – my folks, my sisters and grandparents from both sides. I want to do them and the state proud.
It's crazy when you stop and think about it. 
Next Wednesday, I'll be playing on the same stage that dad and I bonded over back in Young, and all the boys in the boarding house went nuts over at Scots. And my favourite player back then is now our coach.
Freddy is coaching his attitude into us. With the talent and the connections we're building, I'm confident we'll play some good footy together as a unit.
IT'S NOT ABOUT ME
I cannot thank the Rabbitohs enough for everything they've done to get me to this point. 
If not for them, I'm not in the Blues squad. It's that simple.
Adam Reynolds has been playing some great footy at halfback and making me look better than I am. Big Greg Inglis has been on fire in his return from injury. Sam Burgess and John Sutton have been unbelievably good to me over the last couple of years and I've learned so much from them.
From Anthony Seibold, to the boys in Reggies and NSW Cup, to all my teammates and the coaching staff, I'm sincerely grateful for all the support they've given me. 
Seibs is all about selflessness. When everyone buys into an environment like that, as they have, the results will come. And when your team is going well, it obviously improves your chances of catching the eye of selectors.
There hasn't been a moment this season where I've sat there and wondered, 'I wonder if I'm going to play Origin this year?' The focus has been on the club and results. In a funny way, it's that kind of single-mindedness that suits rep footy, I reckon.
My pre-season wasn't ideal, with the finger surgery and the Achilles problem. I didn't get as much training time in as I wanted to. But that's part and parcel of playing this game. You're going to have setbacks. You're going to have injuries. You have to find a way to deal with them.
That's something I've learned being part of the South Sydney forward pack. It has really stood up this season. We've still got a lot of improvement left in us, which is exciting.
And now the focus turns to Origin. I can't wait to play against big Greggy and Dane Gagai and alongside Cookie and the other NSW boys. 
It's one of the most exciting weeks of my life.
More about: Angus Crichton | Brad Fittler | Damien Cook | Latrell Mitchell | NSW Blues | South Sydney Rabbitohs | State of Origin