Trust is more powerful than sight
If I had to identify a moment that best sums up everything that is happening here at the Rabbitohs this season, it would be a try Greg Inglis scored 10 minutes before halftime against the Warriors in round 12.
Cody Walker was in possession and one of the Warriors defenders rushed up out of the line. Cody couldn't see where I was, but he could sense me. He knew I would be hitting the space behind him. He passed to where he thought I would be and I showed up. Then I was tackled. I could hear Greg Inglis behind me, but like Cody to me, I couldn't see him. I flicked a pass to where I sensed he would be. Sure enough, he was there. We scored.
That entire movement was about trust.
You believe the person next to you will do their job. You know they'll show up. You've seen them do it before. They've told you they'll be there. You go with it.
Cody and I don't usually play on the same side of the field but he had faith that I would be where he needed me to be. He'd seen me do it over and over again at training and in games. We know each other's thinking and skillsets back-to-front.
This doesn't happen all the time in sport. When it does, it's very special to be part of.
It took us a while to click. To be honest, I still don't think we're fully there. I feel like there is a heap of improvement left in us. There were a lot of new faces at the start of the season – new teammates, new coaching staff and a new playing style. It was different at first.
I had been used to a certain style under Michael Maguire, a style that had brought the club a lot of success. But Anthony Seibold had his own ideas. He's been in our shoes. He understands what the players are going through and what they need to keep excelling.
Seibs is brilliant at building relationships.
That's what trust is built on – relationships, combinations and repetition. We are just starting to bring to games what we've been doing on the training paddock. The more we train and play alongside the same people, the better the result. You have those reps together. You know how they move, how fast they are, their skills.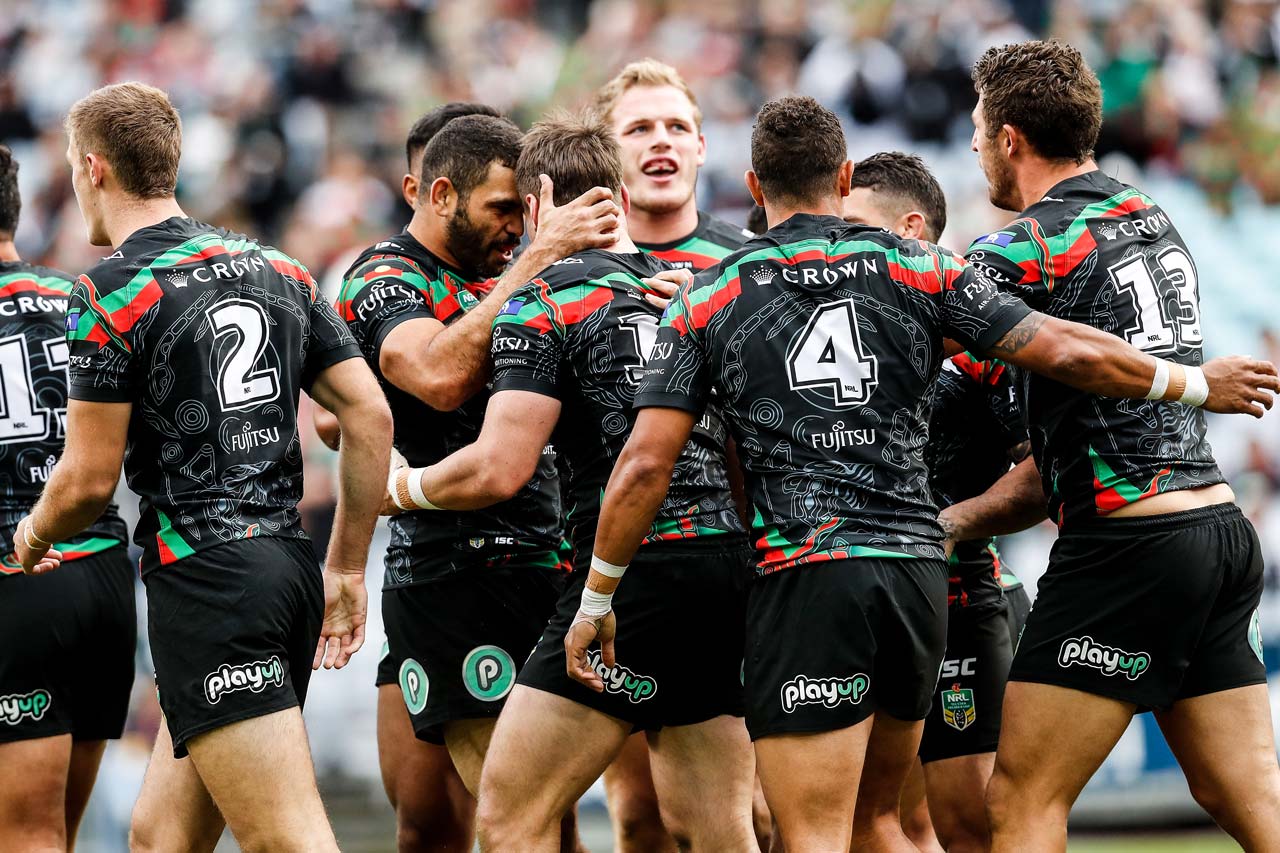 'I WANT TO SEE HOW YOU REACT'
Sam Burgess signed with English rugby early in the 2014 season. He went on to win a premiership with the Rabbitohs that season.
It's no secret that I want to do the same thing this year.
At the start of the season, not long after news of my signing had been announced, Sam had been at the races and was out in Bondi. He sent the message around to the boys, 'Someone come out, where are the young lads? It's not how it was back in the day'.
I thought, 'OK, sweet, I'm only around the corner, I'll come out.' So I headed over to meet him, sober as, and bought the first round.
He was a few drinks in and looked me in the eye.
He said, 'I was in your shoes in '14. When you're at a club and you know it's going to be your last year, the fans will be unhappy, it'll be tough. There will be times you're going to be questioned. There will be times when you're called upon and you'll have to answer'.
'I want to see how you react,' he continued. 'It might be round 14 or 15 and you have to play with a few needles to get on the field. That will test your strength of character.'
You believe the person next to you will do their job. You know they'll show up. You've seen them do it before. They've told you they'll be there. You go with it.
It really stuck with me. To me, Sam Burgess is hands-down the best forward in the NRL and, I would argue, the best player in the league. Every opportunity I have to train and play with him I view as a chance to learn. I look at what he does on and off the field, see what might be relevant to me and try to apply it to my game or life.
I told him, 'I'm here 100 per cent. I had the opportunity to leave straightaway but I didn't. I have belief in this club and what we are doing this year. I think we're a genuine chance of winning the competition.'
As it turns out, I've been playing with a local anaesthetic in my shoulder for the last three-and-a-half months. It's just an AC sprain, a lot of boys have them. It might have taken time, but I think through my actions I've shown that I do care.
Unfortunately, that was pretty much the end of that story. I thought we were settling in for a big night. Then Phoebe, Sam's wife, called. He was in the next cab home.
Old fellas these days.
SUTTO & CODY
It's not hard to find inspiration around this club.
I only have to think back to last weekend. The result against the Tigers obviously didn't go our way, but there were a few things that happened in the lead-up that will stay with me for a long time.
John Sutton is my roommate. We've become very close.
I said to him during the week, 'How good is this? My roomie is playing his 300th game!'
'Nah,' he replied. 'We're pushing for 10 wins in a row.'
That sums up John Sutton. He's selfless. It was all about the team, not a personal milestone.
Sutto is playing out of his skin this season. It might be the best footy of his career. I didn't know him when he was younger – they tell me he was a bit of a loose cannon – but the man he is now to his family, his teammates, and to me is everything you'd want in a person.
Because of the love I have for him, playing alongside him in his 300th was on a similar level for me as Origin. I couldn't wait to get out there.
I can't overstate how important he has been to me as a mentor. If I've made a mistake, on or off the field, Sutto will be the first to tell me. That's not him criticising me. It's him making me a better player and person.
Because of the love I have for Sutto, playing alongside him in his 300th was on a similar level for me as Origin. I couldn't wait to get out there.
He's been where I am, he's done what I've done. He's talked to me about family and footy. He's even given me guidance when I was looking at investing in a house.
He said to me early on, 'The best players are the ones who can stay on the field longest'. What he means by that is that if you can tough it out, prepare well, manage the pain and stay on the field, you're going to give yourself a better chance to help your team.
It's not about having a blinder one game, writing yourself out and sitting out two weeks. It's about getting your body right for every week. Always turning up.
He's pretty funny as a roommate. He's this big unit, tatts on his neck, pretty scary looking. But he's the opposite of that in real life. He's considerate and compassionate and has been incredibly generous to me as I've made my way into first grade.
He's got some weird habits, too. He can't wear a shirt with any creases in it. I'm not particularly messy, but I won't think twice about stuffing a few shirts into my bag before a road trip. If they come out crinkled, I don't really think about it.
Sutto can't do that. He says if he is wearing a crinkled shirt, he feels like everyone is looking at him. He even helped me iron one of my shirts a couple of weeks ago.
Cody Walker is another player who continually inspires me.
Like Sutto, he is playing the best footy of his career at the moment. Cody and I came to Souths at the same time. He travelled up from Melbourne and he was quiet, would keep to himself, often had his head down. He was trying to find the balance between being a father and his other commitments. It couldn't have been an easy time.
He has matured so much in the years that followed. The way he carried himself after his mother's passing earlier this season was incredible. I said to him after that game, 'I am so proud of not only the player you are, but the person you have become'.
I truly mean that.
As a teammate, as a friend and as a family man, I couldn't be prouder of Cody Walker.
CONFOUNDING THE PHYSIOS
I'm just happy I can be part of it all, because there was a period during the pre-season where I didn't think I would be.
My Achilles was stuffed. I hadn't run for more than a month. I'd been doing cardio, but I couldn't take off when I tried to run. The condition was called crepitus, and inflammation of the tendon, and it meant my Achilles would creak. I felt like I had sand in it.
I went to a surgeon and got scans. He said, 'Mate, we need to operate on your Achilles. It could be a six-month rehab. We want to get it done as soon as possible.'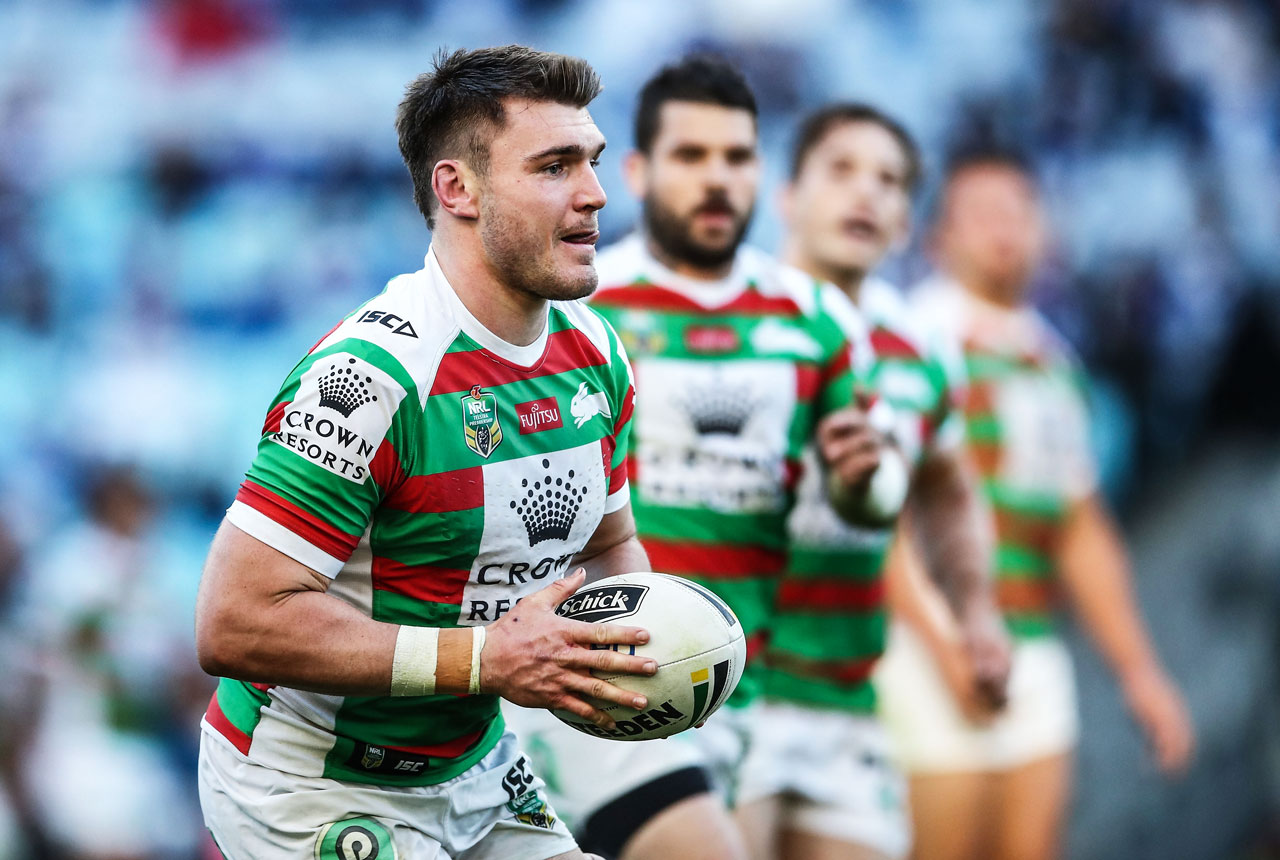 I'd had a cortisone injection in it the previous weekend. The surgeon said he'd need to wait 10 days for the cortisone to be out of my system before he could operate.
The Charity Shield was seven days away.
I headed back to the car with Eddie Farah, our physio. 'If I'm going to be out for six months, at least let me play against the Dragons and see how I go,' I said. 'I haven't played a game for a long time.'
And he said, 'No way. You've barely done any pre-season. You haven't done any full training with the team, we have to follow our protocols.'
He was right. I'd done 30 per cent of the pre-season, according to the stats at the time. The usual progression coming back from injury is running, then building up to at least one week of no-contact work, then another week of full contact.
I was nowhere near that. But I begged him, 'For my mental health, to keep me sane, I need to at least try and play the game. What if it is alright? What if I don't need surgery?'
I went up to Mudgee that week having not done any full-contact drills. I came off the bench and played about 40 minutes.
The Achilles was absolutely fine. It was bizarre. I could barely run prior to that, but something happened in that game that seemed to fix it. The physios didn't have any answers for what happened. They were like, 'Have you done something differently?'
If not for the cortisone, I would've had the surgery straightaway. And if I hadn't played the Charity Shield, I would've gone under the knife a few days later.
I would've missed more than half the season, and everything that has happened so far this year. It's funny how things work out sometimes.
THE ROAD AHEAD
There's a lot of belief in this club. There are no egos. Everyone is driven by a common goal. Everyone holds each other accountable.
I believe we can do great things this season.
I'm excited to be part of it.
More about: Angus Crichton | Anthony Seibold | Cody Walker | Greg Inglis | John Sutton | Michael Maguire | Sam Burgess | South Sydney Rabbitohs