The player no club wanted
I fell through the cracks at the Victory and lost my confidence. I overcame anxiety and depression. In Malaysia, I worked harder than ever before, only to be cut loose because of club politics. I was left without a club and seemingly without a future in the sport.
The Jets rescued me.
I thought my career was finished but Lawrie McKinna threw me a lifeline. Eighteen months later, I'm off to play in Japan. And not just for any club. Urawa Red Diamonds, the biggest club in the J-League.
There was even more good news this week: my selection in the Socceroos' preliminary squad. To be recognised in this way is huge. It's something I've been working towards my whole career. The Japanese season will keep me playing right up until the World Cup. Hopefully that puts me in good stead for selection.
I can look back now at those tough times and know they made me a better footballer and a better human being. I'm proud of the hard work I've put in to get to this point. But I know it's only just starting. I've still got a long way to go.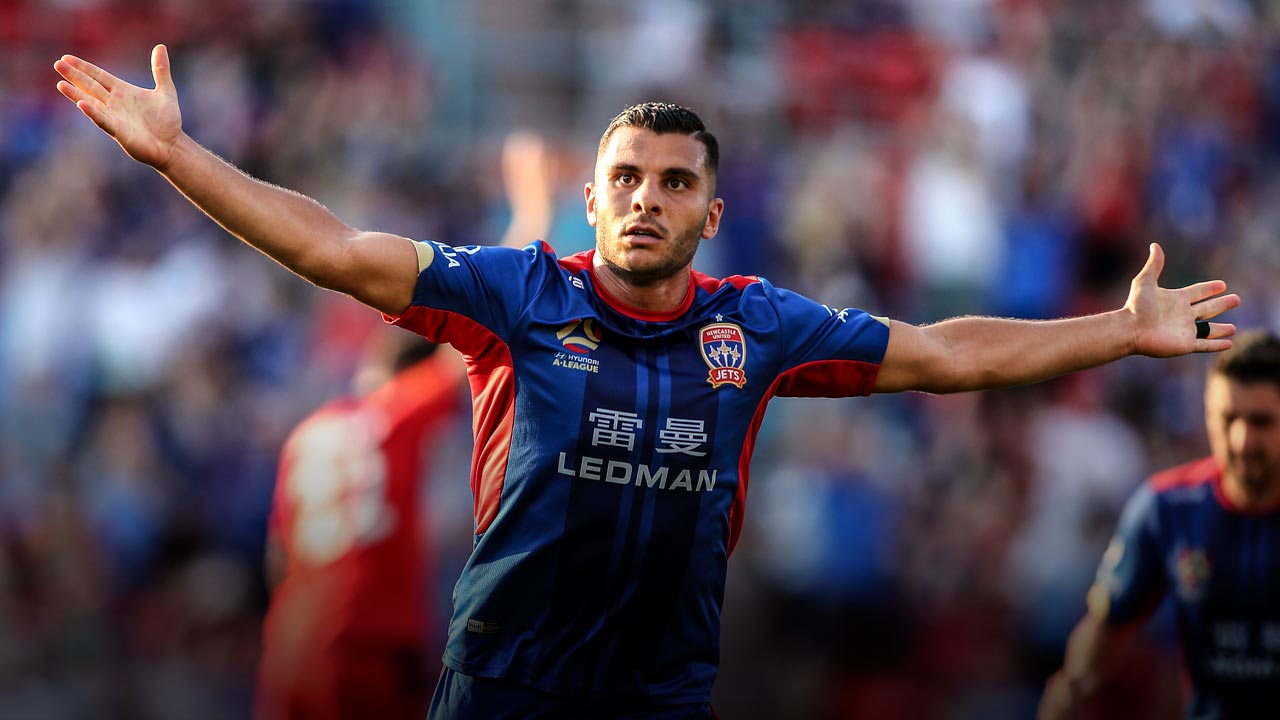 'I WAS CONSTANTLY ANGRY'
I went to the Victory at a young age. I progressed through the ranks until I was playing a fair bit in the first team. There were some great moments. The night I scored two goals in the last 25 minutes to beat Sydney FC 3-2 was a highlight.
But the Victory demand success. They brought in some big names to help them win titles. To be fair, they were very good players and as one of the young guys, I got pushed down the ranks.
That's natural. But after a while I didn't know what more I could do to get a chance.
I'd grown up thinking that hard work always pays off. I was doing extra sessions on my own and my teammates were telling me my opportunity would come soon. I thought that if they could see it, the coach would too.
It got to the point where I did think maybe I wasn't good enough. The squad list would go up on the board on the day before a game. When my name wasn't on it, I would go through days of dealing with just real anger. It felt degrading.
I reached a low point in my career. I was battling a lot of anxiety and depression.
I'd come home from training and go to my room and shut the lights off and sit there, staring at the ceiling for hours. I didn't want to see anyone or speak to anyone. I had no patience. I was constantly angry.
I felt like smashing a ball against a wall until I had nothing left because football is my whole life, and someone was effectively saying I wasn't good enough. I didn't know what else to do. The thought of throwing in the towel did cross my mind, but I never gave up all hope.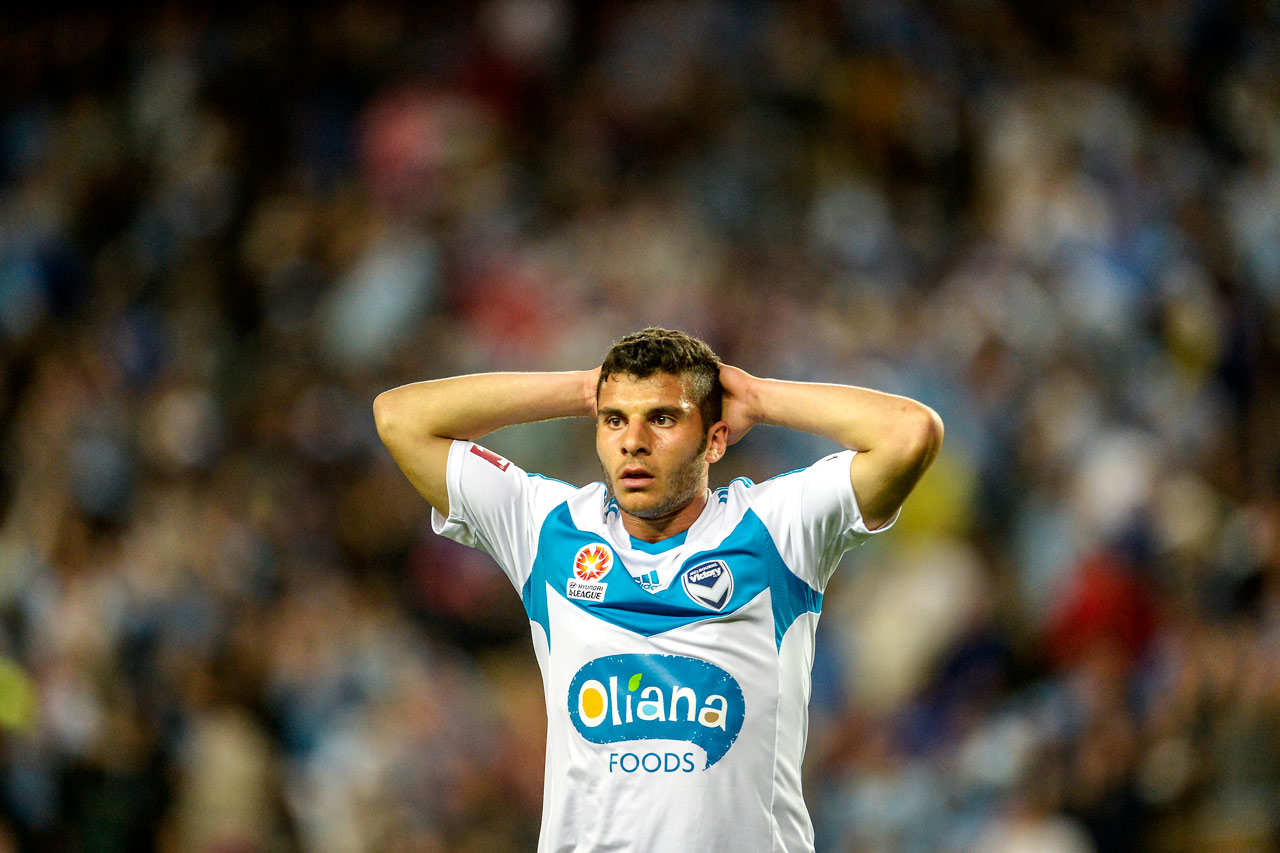 My wife Sam encouraged me to get in touch with a sports psychologist that I had access to through the PFA. At first, I thought it was the weak way out. I was determined not to give in to that kind of pressure. But being a hard arse wasn't working for me anymore. She made me see how I was wrong.
Sam came with me to the sessions because sometimes it can be hard to explain things and put your emotions into words. It ended up being the best thing I've done. The psychologist helped teach me how to deal with things.
I'd come home from training and go to my room and shut the lights off and sit there, staring at the ceiling for hours. I didn't want to see anyone or speak to anyone. I was constantly angry.
In hindsight, I'm glad I went through all that because it made me realise that I have the capability to deal with those type of demons. If it happens again, I'll know how to handle myself.
Sam downplays the impact she has had on my career but she has been my biggest supporter. We got married in June last year. I come home from training every day now and can't wait to tell her what happened.
She keeps my feet on the ground and reminds me to be grateful for what I have. She's the best thing that's happened to me – in my career, in my life.
THE DARK SIDE OF POLITICS
I never got another chance at the Victory. I ended up getting released at the end of the 2014-15 season. I went six months without a club.
I was at the park on my own every day, working out to stay fit and ready for any chance that might come up.
I went on trial at the Mariners. They promised to send an offer to my agent, Tony Rallis. I waited for weeks and weeks. It never came through. There wasn't any interest from the other A-League clubs either.
Then, finally, an opportunity! It was to play in Malaysia, in the second division for a club called Negeri Sembilan FA. I was in. I had nothing to lose.
It was an up-and-down experience but I learned a lot about myself over there. I also found out that there are places where politics matter more than your performances on the field.
I'd be playing well but if I missed one shot I'd get dragged off, even if I'd already scored in that game. I'd look at the Aussie coach they had at the time, Gary Phillips, and I'd know that it wasn't him who had made the substitution. The president of the club had sent a message down from the stands, telling him what to do.
People like that will sack you on the spot so you just do what you're told. I realised it was all about the president's ego and need to show off his power.
The end came very suddenly. In the lead-up to the final game, there were rumours that they were trying to bring in new players to replace Joel Chianese and myself.
I learned a lot about myself over there. I also found out that there are places where politics matter more than your performances on the field.
I didn't want to believe it because I was top-scorer for the team and fourth-highest across the league at the time. I had the most assists and we were second on the table.
Then, one day at training, they came up to us and said we were no longer required at the club. I remember looking at the team manager in disbelief and saying, 'Are you joking?'
I'd been working harder than ever, the supporters loved me and I'd grown close to all the local players. I didn't know what more I could have done. They tried to lowball me on what I was still owed but I stood my ground and got my compensation.
Ever since, I've been determined to make them regret letting me go like that.
Funnily enough, despite only playing 12 games and leaving the club, I still finished the season as their top scorer with nine goals and nine assists.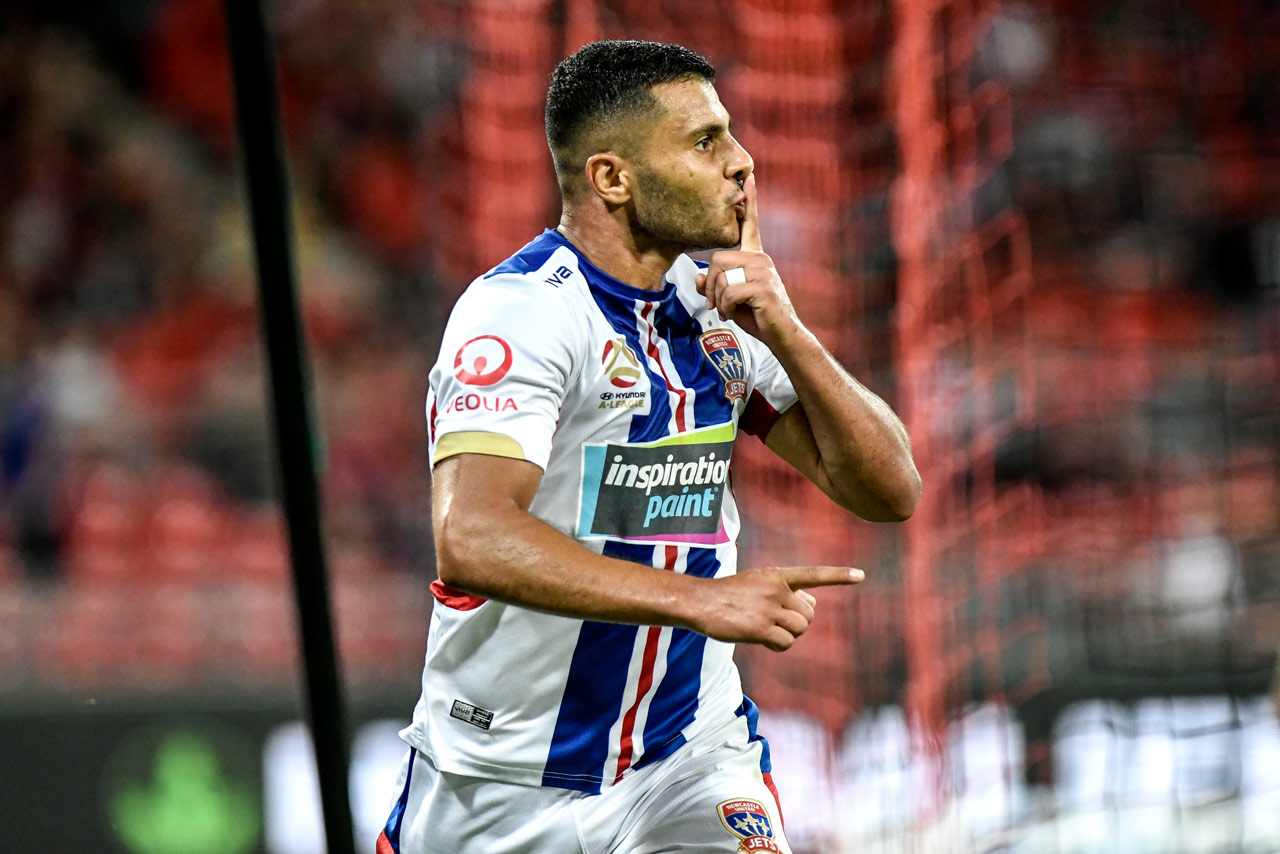 A JET OF GRATITUDE
I returned to Australia and thought, 'What now?'.
There were no A-league clubs interested in me. I was mentally preparing for the worst. It could have been the end of my professional career.
I have no idea what I would have done if things hadn't worked out because I had no plan B. I've wanted nothing in life other than to be a pro footballer. They say that to make it as a pro, you have to be one in a million. I've always wanted to be that one. That's why I work my arse off every day.
I remember the moment it all turned around. I was at the snow at Mount Buller with my brother, trying to get away from everything, when Tony called.
He told me to get off my snowboard and get moving. There was an opportunity with Newcastle, but I'd have to pay for my own flights and accommodation. I didn't care. I would have paid anything for that chance.
I told my brother what was going on. We got in the car and drove straight back to Melbourne, so I could catch a flight up to Newcastle.
Before I left, I remember saying to Sam that this was our last chance and I would give it everything I had. I haven't looked back since.
When my trial at Newcastle started, I was thrown straight in despite not having trained with a team for a few months. I loved being around a football club again, even though I barely knew anyone there.
Scott Miller constantly pulled me aside to give me feedback and, although he wasn't there for very long after I signed, I learnt so much from him and I am thankful for the opportunity he gave me.
I really turned things around at the Jets. I learnt a lot from Mark Jones in my first season at the club but my game went to a new level once Ernie Merrick came in. My success this season, is largely due to his influence. He doesn't just make you a better player, he's helped me grow into a more resilient and all-round better person.
They say that to make it as a pro, you have to be one in a million. I've always wanted to be that one. That's why I work my arse off every day.
Over the last 12 months, there has been a lot of interest in me.
I told Tony to deal with everything off the field. I told him unless there was something there for me to sign, I didn't want to hear about all the rumours.
He heard there was some interest from Urawa and got in touch with them a few months ago. They said they were keen on me and would keep an eye on my progress.
It got to the point where I felt things had stagnated and the opportunity might have gone. But then I scored a nice goal against the Wanderers. All of a sudden, the interest was back again.
Urawa sent someone over to Australia to watch me play and I spoke with them over the phone. It all happened quickly after that.
I got the news a couple of days before the Sydney FC game. I was sitting at home on the couch playing the PlayStation against Ronnie Vargas.
He's someone I've grown close to here and we play online against each other almost every night to get our minds off things. We'll plug our microphones in and chat all night while we play.
A call from Tony was coming through, so I put my microphone on mute and answered the phone.
He said Urawa had put an offer in to the Jets. It was looking like they would accept. He said the game against Sydney would probably be my last for the club.
Honestly, my first thought was, 'What are my teammates going to think?' Ronnie was still on mute at the time.
I got off the phone and ended the game and just took a moment to let it sink in. I spoke to Sam. We both knew it was an offer I couldn't really turn down.
It was a no-brainer considering how big a club Urawa is. I'm 25 and a football career is very short. You have to make the most of it while it lasts.
Japan is a highly regarded league with very good players. And Urawa are a big club and have expectations to win silverware. It will be a big test for me.
They won the Asian Champions League last season but finished seventh in the league.
I want to help them get back on top.
THE LAST GOODBYE
The deal was pretty much done but I couldn't tell my teammates.
I knew the game against Sydney FC was going to be my last playing alongside them, but we needed to be focused. We were preparing for a top-of-the-table clash against the competition leaders.
To score what proved to be the winning goal in my final game, when we were down to 10 men and playing at home in front of 18,000 fans … I couldn't have asked for a better way to finish things off with Newcastle.
I was substituted off just before full-time and given a standing ovation as I walked off. That brought a tear to my eye. I didn't know how to react. I just wanted to soak in the atmosphere and take it all in because it was amazing.
I owe a lot to this town and to this club. They took me in when no one else would. I had nowhere else to go when I got back from Malaysia and the Jets gave me an opportunity. That's why I got emotional.
This club and Lawrie McKinna resurrected my career.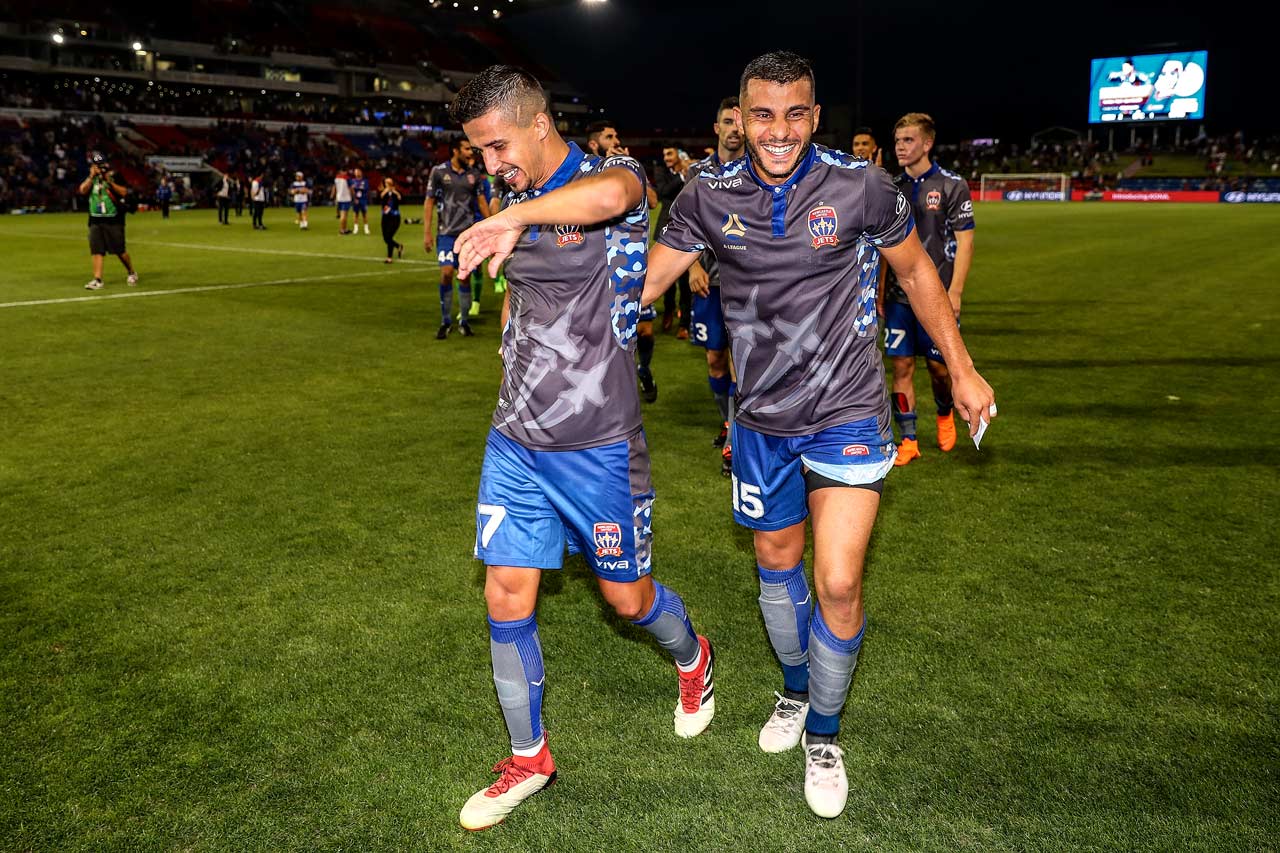 I prepared a long message to send to all the boys in our group chat on Monday morning before the news was announced at 2pm. Honestly, I spent five minutes staring at that message before I sent it because I didn't know how they were going to react. It was pretty tough.
I wanted them to hear it from me first, and to let them know that it has been a pleasure getting to know each of them. They're the best bunch of boys I've played with. I'll be cheering them on from Japan.
I'm gutted that I won't be here to finish what we started, but I've got no doubt that they'll go all the way and lift the trophy at the end of the season. This team is more than good enough to do that.
As expected, they gave me plenty of shit!
There were plenty of dollar signs being thrown around, but they know that's not what it's about. They understand this is a huge chance. They couldn't be happier for me.
I'd told my family that the deal was very close to happening two days before the Sydney game.
My mum, dad, brother, sister and a few friends booked seats on the next flight out of Melbourne because they wanted to come and watch my last game.
Mum finds it hard to hold emotion in. If I get tackled, she starts crying. You can imagine her emotions when I scored the goal!
I have a very large extended family. They usually all get together at my parents' house every week when our games are on. They'll bring food and have a big Lebanese feast before watching the game. It's a ritual for them.
Dad has a big TV in the garage and everyone will sit in there to watch the game. He's had to take the ceiling fan out because he cut his head open on it, jumping up to celebrate one of my goals. He's bald and was walking around with a big scar on his head for a while after that.
Now I'm off to Japan, I reckon dad will have to extend the garage or it won't be big enough to fit everyone in. They've been averaging about 20 people coming to watch every week, sometimes more.
Even if there's no seats left, my family don't care. They'll sit on the floor… wherever they can find a spot with a good view.
They're a noisy bunch, so they have to shut the garage door to not disturb the neighbours.
If I score for Urawa, I reckon I'll hear them from Saitama.
More about: A-League | Andrew Nabbout | Melbourne Victory | Newcastle Jets | Socceroos