Friendship and the finals
You can smash all your KPIs, improve your PBs, win everything in front of you. But you know what I've learned over the years?
It's the people that make rugby league great. The friendships you make in this game are more enduring than any trophy or reward.
We're coming up against the Dragons this weekend and that means playing against Benny Hunt.
We've been mates for more than 16 years. We first met when I was playing for Darling Downs and he was representing Central Queensland at a schoolboy carnival in Toowoomba. We both got picked for the Queensland team that season. Through the years, I've stayed at his place and he's stayed with my folks in Dalby, and then we both landed at the Broncos.
We'll be friends long after our playing careers have finished.
I was surprised and, in a way, happy when he spoke publicly about seeing a psychologist this week. Benny is usually a pretty closed book when it comes to talking about sensitive issues. There are only a handful of people he confides in. I'm wired the same way, so I get it.
The fact he spoke so openly about his feelings in an interview jumped out at me at first. But when I thought about it, I realised it was a positive thing. He's acknowledging there are things he needs to sort out, he's taking steps to address them and, in doing so, he's back on the path to enjoying his footy again. That takes courage.
He is over-criticised as a player. There isn't a halfback in the game who wouldn't be under the pump behind a pack not playing at their best and a five-eighth out with injury.
It's made all the more difficult when it happens in your first year living away from home. They're pretty vocal down there in Sydney. There's plenty of passion, but it can be a fine line at times.
We still talk every few days and I'll see him on Saturday night before the final. Nothing has changed between us in that regard.
But I think the difference this year has been his inability to reach out to a really old mate and pop up the road for a feed and a chat. It's the same with his wife, Bridget. All their family and lifelong friends are in Queensland. In Benny's case, whether it was me or Jharal Yow Yeh or one of the other boys, we were just around the corner and always there for each other.
I know Ben has made plenty of friends at the Dragons, too, but it takes time to build those deep relationships and support networks. You can't just click your fingers and make them happen, as much as you'd like to. They're built over years.
ANGRY BIRDS & ROAST DINNERS
I've had reason to think about another of those old relationships these last few weeks.
Sammy Thaiday's retirement is real end-of-an-era stuff. It's not just the 300-plus games he's played for the Broncos, or the Origins and Test matches he's won, but the personality he's brought to the game and the generosity he has shown to younger players everywhere.
I know first-hand. I was one of them.
I first met Sammy on Bathurst St in Red Hill. That was where Paul and Donna Bunn lived. They'd throw the doors open to young Broncos kids from outside the Brisbane area. I moved from Dalby to do my last year of high school in Brisbane, so I was living with Paul and Donna.
Sammy had moved out of their place a little while before me – he was 22 or 23 years old at this point – but he would still pop over two or three nights a week for dinner. He loved the company and Donna's home-cooked meals, the big fella.
It was hard to get a gauge on him at first. He challenged the idea that all modern footballers need to be athletic and super-serious about diet. He smoked and ate what he wanted. It was just Sam being Sam.
But over time, I came to understand there was much, much more to him.
Sammy Thaiday's retirement is real end-of-an-era stuff. It's not just the 300-plus games he's played for the Broncos, or the Origins and Test matches he's won, but the personality he's brought to the game and the generosity he has shown to younger players everywhere.
He got together with Rachel – which pretty much meant the end of his smoking days! – and he'd invite me over to their place in Northgate for Sunday roasts, veggies, mash … the lot. He never talked about the homesickness he'd experienced when he first came down from Townsville, but I reckon this was his little way of making sure young guys didn't feel the loneliness he did at the start.
For a young bloke like me, living a long way from home in a flat in Ascot, that little taste of home made all the difference in the world. He didn't have to do it, but I'm bloody glad he did.
Sam and Rachel have got a family of their own these days, but Sam still makes time to help the younger guys out. He's done a lot of work with guys like Tevita Pangai Jr, Matt Lodge and Josh McGuire – passing on advice on how to defend on certain opponents, going to the outside of a player rather than coming back in … little technical things that have worked well for him.
Sam wants to help them be the best they can be.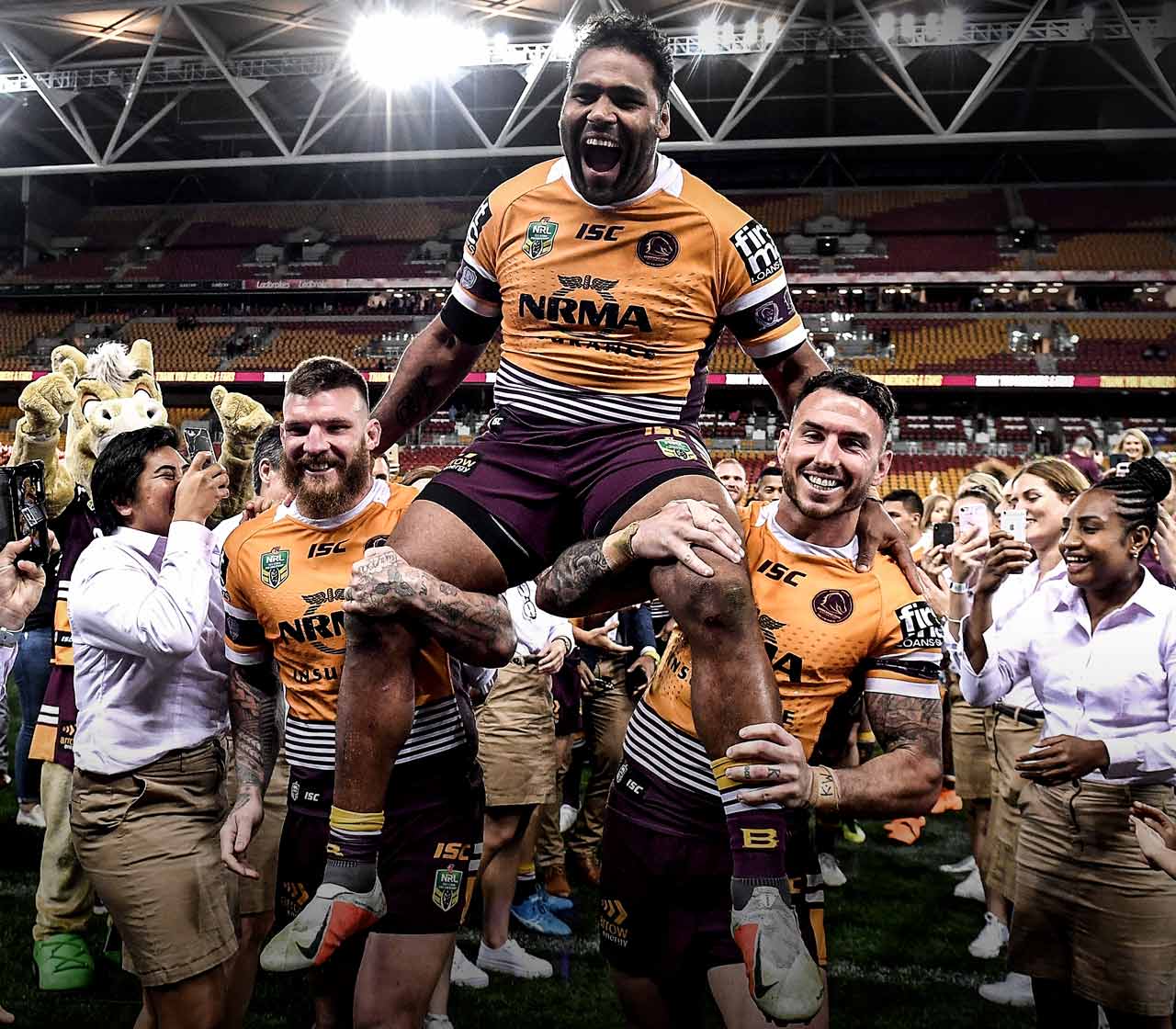 When a bloke like Sam retires, it's not about finding a bloke of roughly the same dimensions and skillset to replace him for the next season. He's the kind of player who leaves a hole for quite some time.
Footy needs blokes with a bit of spark about them. Sam's got that. He can lift the entire group with one talk and lighten the mood with a joke. I don't know if there'll ever be another player with a pre-game routine like his: no walking, no stretching, just sitting around in his undies playing Angry Birds on his phone until it's time to run out the tunnel.
Nothing too strenuous!
Then there are the footy elements. Sam is never going to lead fitness drills or speed sessions, but his sheer ability and determination are second-to-none. He always plays hard. When he's in your pack, it gives confidence to everyone around him.
He's aggressive and doesn't mind getting amongst it, but he's got plenty of skill, too. He's got a late step for a big guy. A late mover with a bit of ball work at the line is so important in the modern game. It puts defenders in two minds.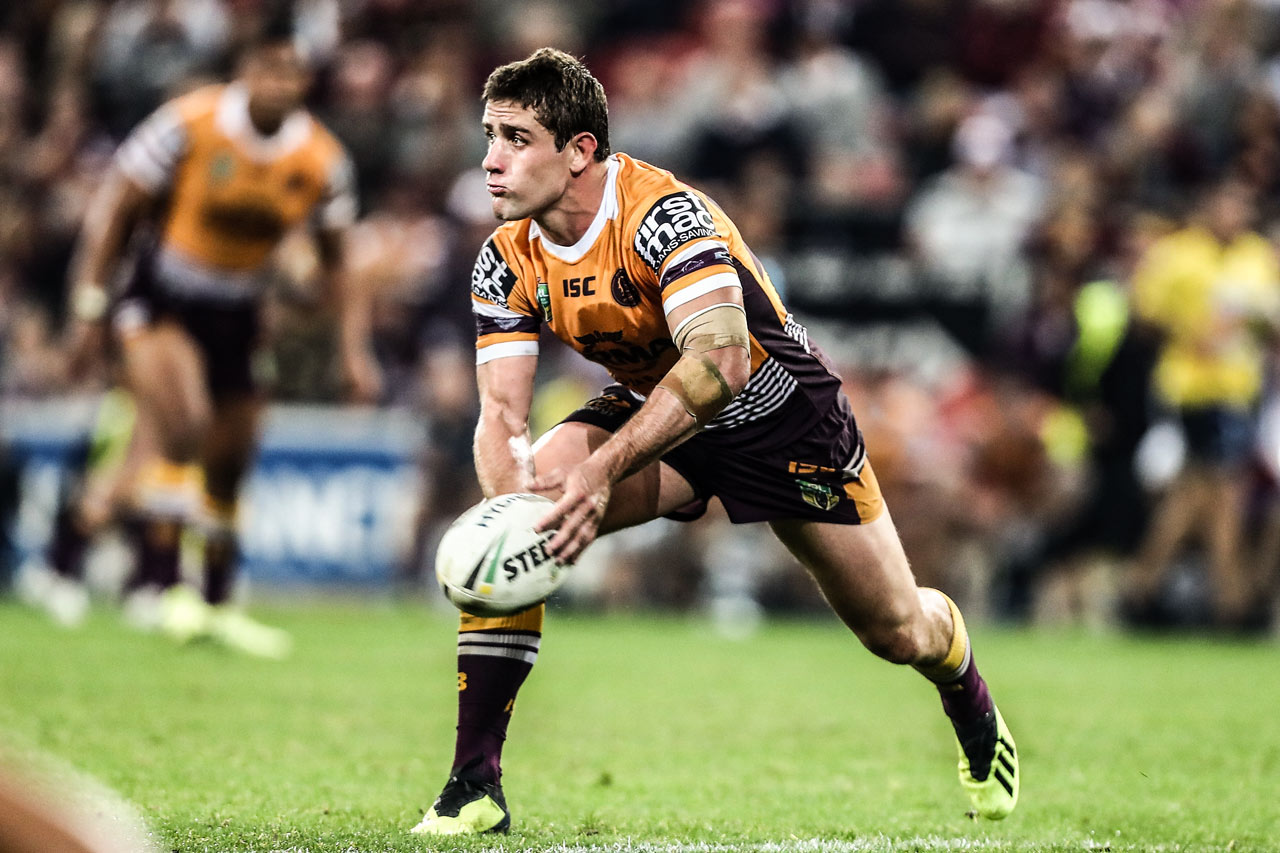 I know rugby league is getting more and more professional each season, but I really hope it doesn't come at the expense of guys like Sam.
The game needs more players like him. It's not all about pinch tests and beep tests. You also need the guys who make teammates feel good when things aren't going great, someone who makes fans feel a true connection with the club.
I know our boys will miss Sam. I reckon the wider game will, too.
With any luck, there's another chubby kid from Townsville on his way to Brisbane now who can start his own legacy!
THE FINALS
There's never any shortage of motivation at finals time, but even more so this year with Sam retiring. I reckon he's enjoyed his footy these last few months more than he has for a while. The pressure about whether or not to continue on has gone. He's enjoying every game for what it is.
We're pretty happy with the way we finished the season. We didn't think we were too far off against the Cowboys – we let a few little things go discipline-wise and we had a few guys out – but the effort was there. The Souths game gave us belief, and then to back that up against the Roosters was big.
The game on Sunday should be a beauty. We're confident in the squad we've got and hopefully there'll be a big crowd along at Suncorp to get behind us.
More about: Andrew McCullough | Ben Hunt | Brisbane Broncos | Mental health | Queensland Maroons | Retirement | St George Illawarra Dragons | State of Origin