My bags were already packed
'I heard you're going to Bali,' Kevvy Walters said. 'Can you call it off? I'm going to need you next week.'
The coach was right. My wife Carlie and I had booked a short trip to Indonesia around the time Queensland's squad for Origin I was to be announced. The Broncos had the week off and it seemed like a good opportunity for a mid-season freshen-up. The bags were all packed.
Queenslanders were in shock when Cam Smith announced he was retiring from rep football. He had been such a durable and dominant player for the Maroons and his club form was excellent.
His decision certainly wasn't something I was counting on. I figured someone had to be his understudy and I was happy to be that. Hard work and form at the right time could work in my favour down the track. But I didn't dream it would happen this year.
I never thought the call would come so quickly.
Of course, I had dreamed of playing Origin. Every kid in Queensland does. But I'd also made peace with the fact it might not happen for me. Cam might've played on for a few more years. If I didn't play Origin, I was always going to be proud of my achievements in rugby league.
My name was tossed about in some quarters as his replacement but I wasn't a firm believer it would be me in the No. 9 jersey, as the booking to Bali would indicate. I did tell the folks at Flight Centre there was a chance I'd be backing out of the trip due to a work commitment – just in case – and they inserted a special clause in the contract.
Selection day was a long one.
Carlie and I tried to stay busy and keep our minds occupied. We went to breakfast, then took in a movie. Then Kevvy called around 6 o'clock.
When the news sank in, there were tears of excitement, happiness and a bit of relief.
I thought about the road I'd travelled to get there. All the sacrifices those around me had made to get me to this point. All the extras I'd put it in through the years.
I called my parents, Wendy and Graeme. They still make the six-hour round trip from Dalby to Brisbane for all the Broncos home games. Night games are tough. They don't get home until the early hours of the morning the next day. But they back up, week after week. It's incredible, really.
To tell them I had made the Queensland Origin squad was very special. This was their call-up as much as it was mine. It was a dream 27 years in the making.
I also want to say that behind me all the way in my career has been my wife, Carlie. I work hard at my footy but she's the one who gives great balance to my life. She's my outlet, she understands me and what I am trying to achieve.
Carlie is such a positive person, she is the one I can talk to about anything, any time. She's really kind-hearted and is always willing to help people in need.
She is definitely my better half and I owe her so much.
THE ADVICE
Benny Hunt was the guy who handed me my Origin jersey.
They try to make it someone who has had a significant impact on your career, someone you've had a bit to do with over time. I was delighted it was Ben. We've known each other since we were 12 and played lots of footy together at all levels. He thinks he'll take it off me one day but I won't be letting him any time soon! I'll make sure of that.
As for my debut, I got some good advice from Michael Morgan.
He said it would be good to get out onto the ground as quickly as possible and soak up as much atmosphere I could before the kick-off. He suggested I try to run out close behind the captain and get that first crowd reaction. For me it wasn't so much nerves – it was excitement and relief. I reminded myself how long I had worked and waited for the opportunity.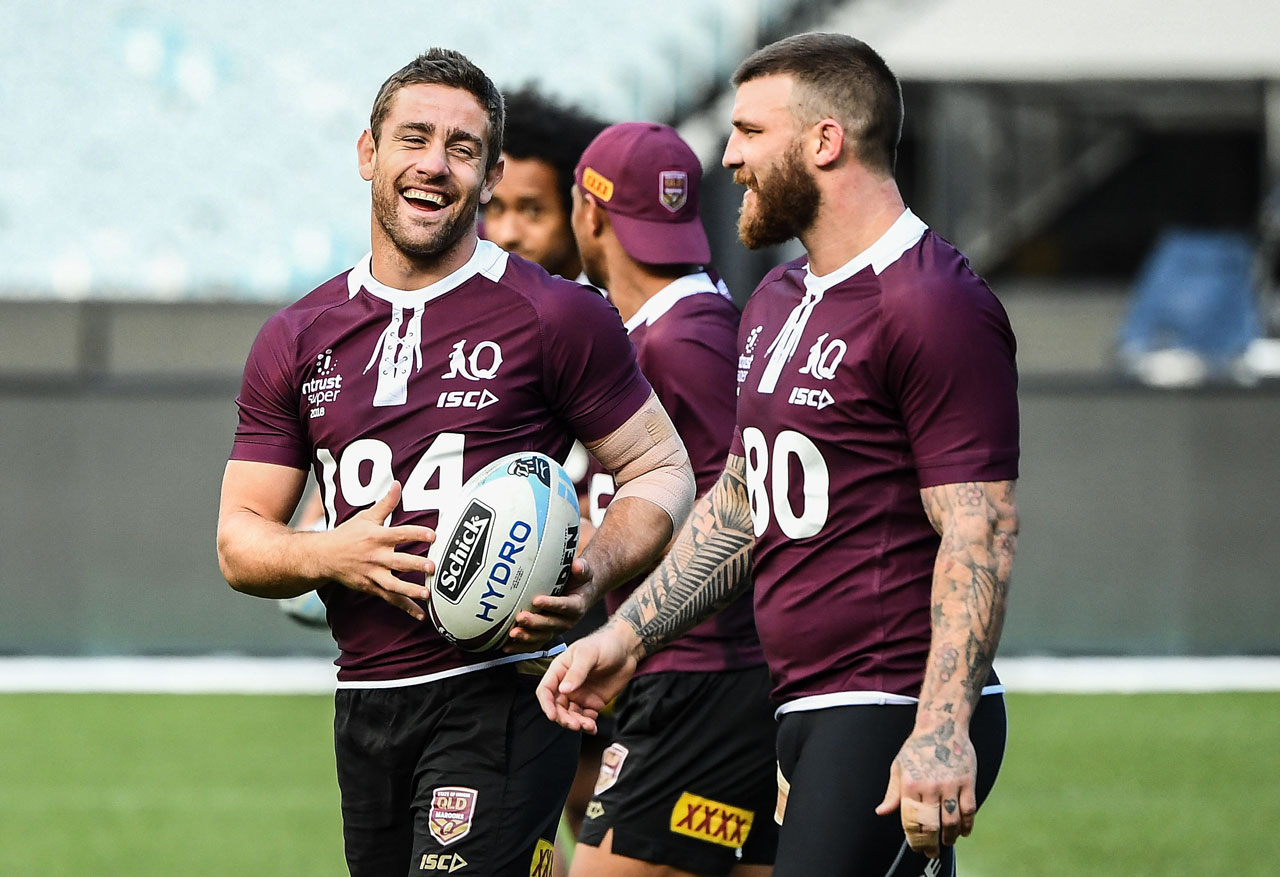 It was well worth the wait. Running out onto the MCG in front of 87,000 people is something I'll cherish for the rest of my life.
I met up with Cam Smith before the opener in Melbourne. It was just after the Captain's Run at the MCG. We discussed the upcoming battle, what might happen, and so on. He basically told me to just play to my strengths, not to be concerned so much with the stats or fancy plays. Just do what the team, your teammates and the coach need.
Queensland didn't win the game, the Blues were too good on the night, but I played OK and certainly got a taste for more.
Origin II was a do-or-die game for us with the series on the line. The stadium in Sydney was chockers with blue wigs and a passion for the home team, it presented a huge challenge for every member of the Queensland team.
Many of us had not been in such a situation before. Big decisions were required, big plays had to be made under intense pressure; we fell just short and NSW won the series. It's something you never want to experience but pure and simply put, we didn't take our chances on the night.
There were some learning curves there for me, some parts I should have and could have done better but NSW was a touch too good. It definitely hurt.
Many of us had not been in such a situation before. Big decisions were required, big plays had to be made under intense pressure; we fell just short and NSW won the series.
Game III at home at Suncorp Stadium was much more to my liking. It's every Queensland kid's dream to play Origin football on home soil and even at my age, I was no exception. The crowd turned out in big numbers. They wanted to see Queensland register a win and send Billy Slater out on a high note.
We won that game to prevent a NSW whitewash and it's definitely something we can all build on for next year and beyond. I know I can do more if I get another chance. I don't feel any pressure after a series under my belt. I have to keep playing Andy McCullough-type football and see what eventuates.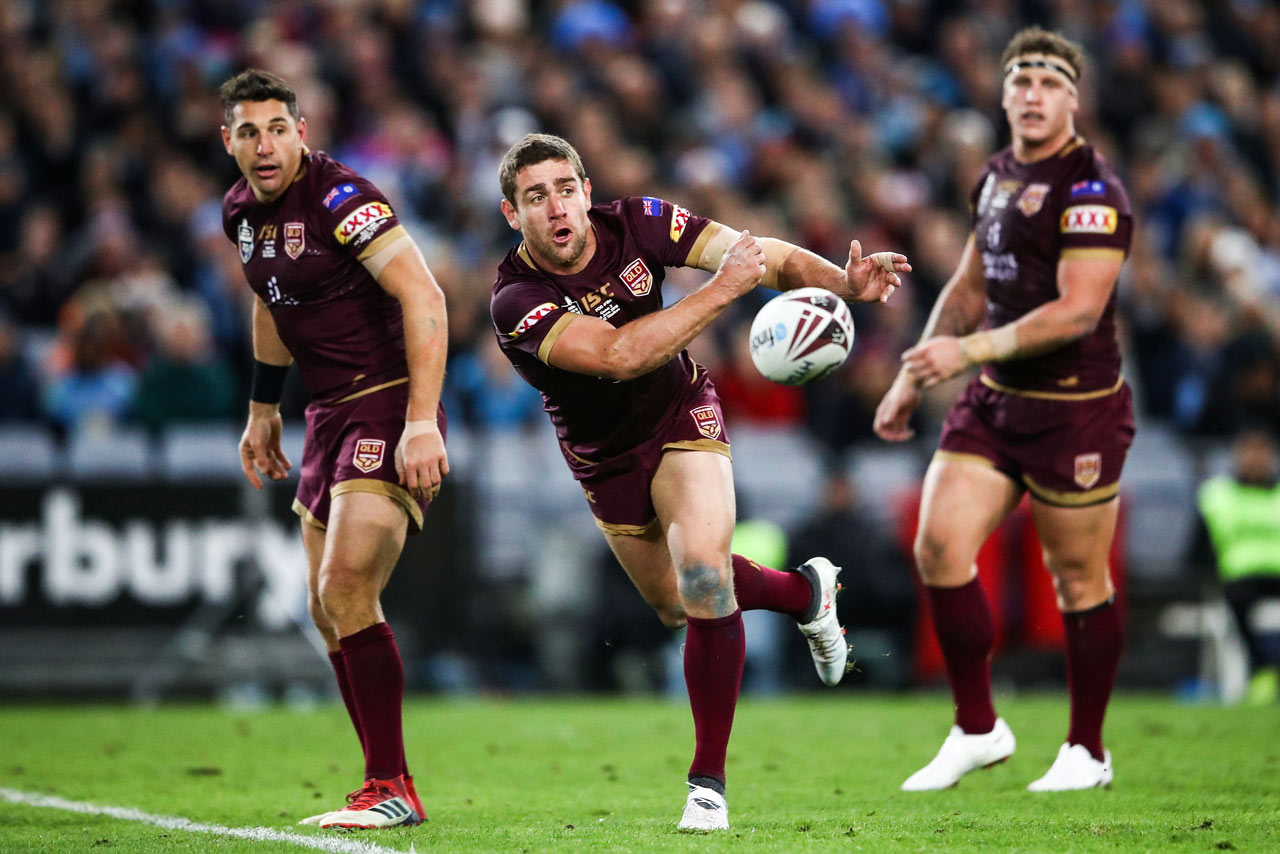 THE BABY BRONCOS
These are exciting times at the Broncos. I'm one of the older players now, but there are so many talented young guys on the rise. It's exhilarating just going to training to see what they can do.
Everyone is talking about Payne Haas. He has been all over the news recently after signing that big contract. Athletically, he is right up there and has shown he can handle the NRL in the handful of games he has played.
He's got plenty of size, that's never going to be his problem, so I think his next big challenge will be more of a mental one as his name is already out there and people will want to take him on.
There are plenty of incredible talents emerging in Brisbane and many of them are forwards. Jaydn Su'a is a back-rower of immense promise, as is David Fifita. There's also a very competitive hooker called Jake Turpin who looks good and will definitely keep me honest.
There are so many talented young guys on the rise. It's exhilarating just going to training to see what they can do.
And then there is Matty Lodge. What an asset he has been for the Broncos this year! We had lost Corey Parker through retirement and Adam Blair moved over to the Warriors.
Lots of muscle, experience and firepower was out of our pack and Matty came into a very difficult climate. In those early games, he was unquestionably the player under most pressure in the entire NRL comp (and with the least number of first-grade games under his belt.)
He has got a young boy to raise, he repaid his debts to that family in the USA, and he has played some really decent football on a weekly basis for the Broncs. Sure, he'll have his ups and downs but Matty is a guy just trying to do his best for himself, his young family and our club.
I have no doubts he'll come out of this as a better person and a very good footballer.
Kotoni Staggs, size-wise, is not the biggest guy in town but he is a natural footballer. I've seen him go repeatedly from zero to 100 at training and it definitely works for him. He doesn't lift the biggest weights or run the fastest times but he is a fierce competitor.
I often remind myself these youngsters are paid to play footy. They are not paid to set athletic records. Kotoni will be a top player for sure.
Another in that category is Joe Ofahengaue. He's still very young but we have relied on him a lot this year and he has certainly produced. He has a heap of talent and it's up to him to see how he wants to go, how good he can be.
Our fullback, Jamayne Isaako, looks to be another big talent. He has won a couple of games for us with some special touches. He is always at the club doing extra kicking, and finetuning his skills. Jamayne just got himself a new contract and I am excited to see what he will produce, what he will become as a rugby league footballer.
After being with the club for so long, winning a premiership with these guys – young and old – would be awesome. It's something I'd love to tick off the list.
We've had a season of ups and downs at the Broncos but there have been some encouraging signs in recent weeks – particularly the Penrith game – that we'll be in a position to make a charge in the big end-of-season games.
More about: Ben Hunt | Brisbane Broncos | Cameron Smith | Jamayne Isaako | Kevin Walters | Kotoni Staggs | Matthew Lodge | Michael Morgan | Payne Haas | Queensland Maroons | State of Origin