This team can win Olympic gold
The best ever Boomers team? We've heard it said.
But without a medal at next year's World Cup and/or the 2020 Olympics – where we firmly believe we can win gold, incidentally – I'm not sure how you can measure it.
If your measure is based on the number of Australians playing significant roles in the NBA, then the answer will be yes. This is the best.
But people said the same things about our team at the Rio Olympics in 2016. We placed fourth. Three other Boomers teams have finished in the same place. Does that make them as good? Better? Worse? I don't know.
It's one of those discussions I don't like to get involved in. No one can accurately compare players and teams from different eras.
This much is certainly true: it's a great time for Australian basketball. So many of our players are active in the NBA, and Europe as well, and the NBL has just reached the end of a fantastic season.  All this means we're assembling a strong national squad with plenty of depth.
There are a lot of expectations surrounding our team, but I don't feel added pressure. I'm excited to be working with players of this calibre. If that creates an expectation from others for us to win, it's a great place to be.
That's why we all compete, isn't it? We're here to be successful.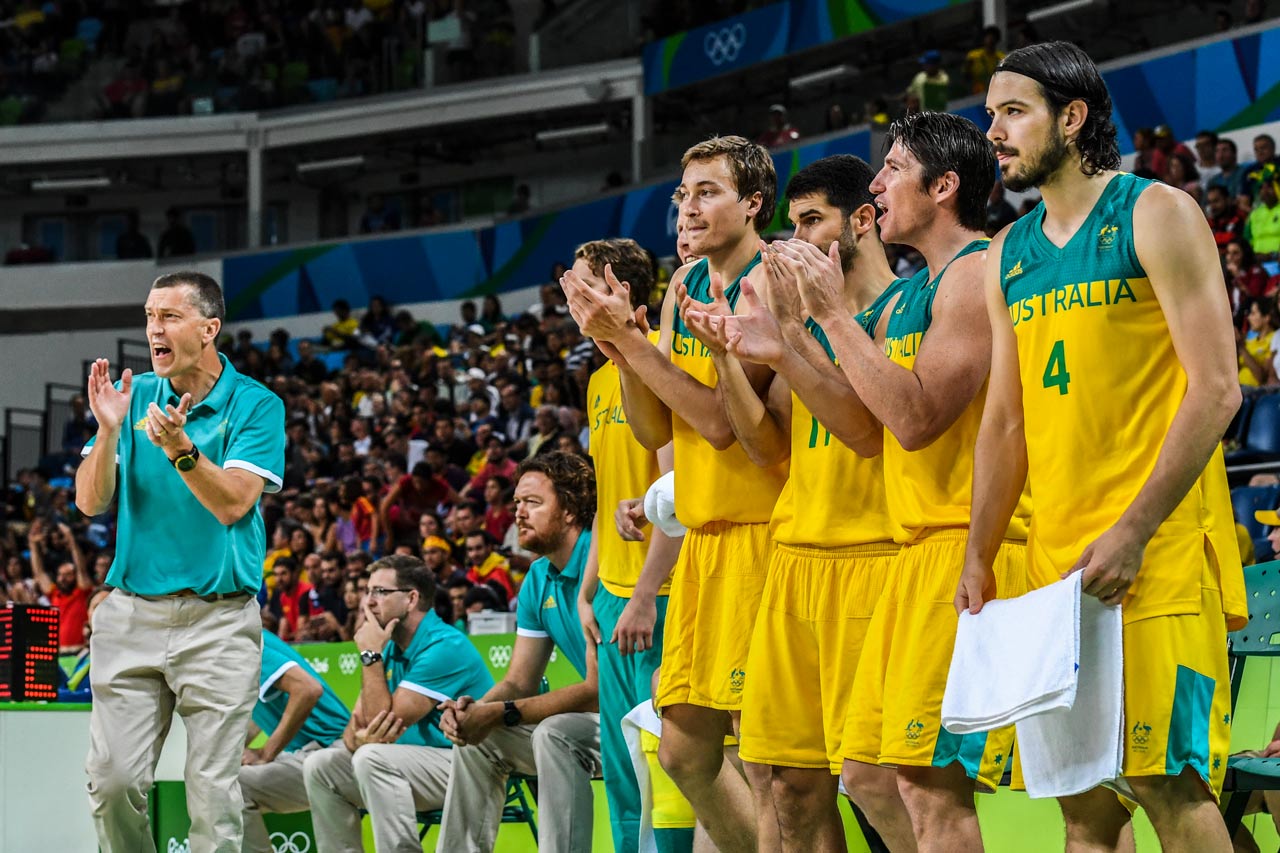 THE COMMONWEALTH GAMES OPPORTUNITY
There's an incredible dynamic within the Boomers.
The overseas players can really only be available for the World Cup and Olympics, so we need our NBL guys to be prepared to do a lot of the heavy lifting without any guarantee of being there when the actual medals are up for grabs.
Before World Cup qualification began we sat the players down, explained how the process would work, looked them in the eye and said: 'We need you guys in order to qualify. We all know the scenario. If you're not prepared to accept the situation, then please put your hand up and do not be part of the team.'
To a man, the response was phenomenal and has stayed that way through each of the four qualifying games since.
I'll give you an example.
Mitch Norton was left out of the initial squad for the second window of games. Then Chris Goulding went down injured the day before camp. It was like, 'Norto, we've got an opening, we'd like you to fill it. Are you in?'
His response: 'Hell, yeah, I'm in.'
It's that willingness to sacrifice for the good of the program and the sake of the team. The joy with which they wear the green and gold. The pride.
We're fortunate to have guys with that attitude in our sport.
No matter how the selection cards end up falling, they will have all played a role. If we win a medal, the guys who helped us get there but didn't make the squad for the final tournament will know they played their part. We don't have that opportunity without them.
History also tells us that not every player we have in the NBA will be available for the World Cup and/or the Olympics. Whether it's injury, NBA clubs putting pressure on them to take some rest or contractual situations, the likelihood is that there will be several positions open for NBL players.
The Commonwealth Games is a brilliant opportunity for them to continue to put their case forward by showing what they offer at the international level and their ability to perform at a high level in a multi-sport tournament format.
The aim is to win gold and show what we're capable of against stiff competition. New Zealand we all know about, Canada will be very good and I wouldn't underestimate Nigeria either.
The Commonwealth Games gives us a valuable opportunity to spend an extended period working together to continue to grow as a team. We'll get challenged and forced into some difficult situations. It'll be good for us to work our way through those.
The Commonwealth Games is a brilliant opportunity for them to continue to put their case forward.
I've seen tremendous growth through those World Cup qualifiers already. Mitch Creek stands out as someone who is really thriving in that international environment. His running mate from the Adelaide 36ers, Nathan Sobey, has made big strides as well.
But I don't want to single too many people out. It's a team game and I'm very pleased with the group and inspired by the attitude that each player brings to the national team environment.
BEN & THE BOYS
When I was out of the NBL and coaching the Boomers fulltime, I would occasionally go to the US to visit our NBA guys.
Luc Longley has taken on a lot of that responsibility since I returned to the NBL with the Brisbane Bullets. Will Weaver, another of my assistants who is also on the coaching staff at the Brooklyn Nets, is another touch-point for those guys.
When the Nets play a team that includes one of our guys, he reaches out and has a chat and sometimes catches up for dinner. It depends on the player and his schedule.
Those guys are really busy. The thing I've learnt over time is that the demands of the NBA are significant, so from a national team perspective it's important to get the balance right. Let them know we're watching their progress – ensure they understand that we're here to help in any way we can be useful to them  – but don't get under their feet.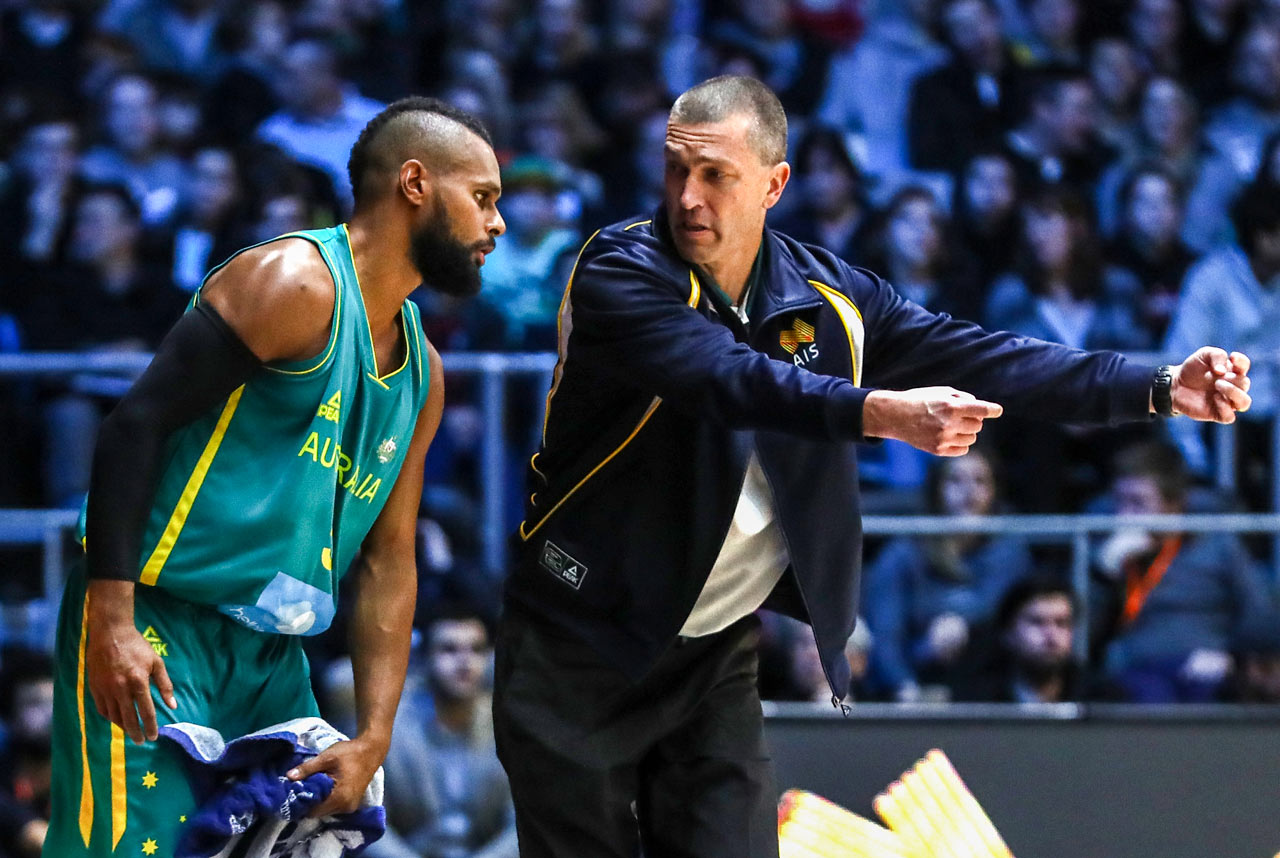 I was assistant coach to Brett Brown for four years with the national team, so I've got a good relationship with him in his position as coach of the Philadelphia 76ers. That's obviously very important to us with Ben Simmons playing there.
I played against Ben's dad, Dave, in the NBL, so that's another line open for us. We keep Dave in the loop. He's generous with his time and it's great to have those connections.
Ben is an extraordinary talent with a unique skillset. He's a fantastic ball-handler for his size but, more than that, his basketball IQ is phenomenal.
That's the thing that stood out for me when we first brought him into the Boomers in 2013, when he was just turning 17. His ability to see the floor and pass and make the right decision and do it all quickly was astonishing. He wasn't just picking up on his own team's offence, but also reacting to how the defence was playing and making appropriate reads.
His ability to impact the game in many different ways is very impressive.
The 76ers use him as the point guard and his size creates significant match-up issues for the opposition. He can score at the rim and helps you with rebounds at both ends of the floor. He can defend and has regularly had double-digit assist games. He's already had 11 triple-doubles as an NBA rookie – that's remarkable and reflects his ability to impact the game in many different ways.
Ben's a good person and the beauty of being involved in this program is that all of our players, whether they're playing in the NBA, Europe, or the NBL, are all good blokes.
Ben Simmons is an extraordinary talent with a unique skillset. His basketball IQ is phenomenal.
Patty Mills, Joe Ingles, Matty Dellavedova, Aron Baynes, Dante Exum and Andrew Bogut – it's a pleasure to be around them. Thon Maker, I haven't spent as much time around him as the others yet, but that will happen.
It comes out in the way they play. They get a lot of joy and excitement from playing together, especially since the chance doesn't come along very often. They share the ball and look after each other. They sacrifice for the good of the team, celebrate each other's success and play the game the right way – it's a pleasure to be involved with them.
Hopefully, we'll get to spend a lot of time together next year, with the two games against the USA in Melbourne in August as well as the World Cup in China straight after. I know growing the game and the profile of the game in Australia is important to the group, so the publicity that playing the USA brings will be a difference-maker in that space. It will a great experience to be involved with.
We've got Jock Landale coming out of the college system with St Mary's, Mangok Mathiang playing in the G-League, Jonah Bolden being drafted by the 76ers and now playing at Maccabi Tel Aviv, and Brock Motum and Ryan Broekhoff well placed in Europe.
That's good depth already, with more players coming through, and the majority of the established guys are at an age where they're still going to be right on their game in 2020.
It's an exciting time for Australian basketball. I'm honoured and humbled to be part of it.
More about: Andrej Lemanis | Andrew Bogut | Boomers | Gold Coast 2018 | Luc Longley | NBA | NBL | Ryan Broekhoff