Amos Roberts - Contributor
1200 games, 500 tries, one family
James Roberts, my nephew, is just the latest. Footballers are scattered everywhere across our family.
Football was just part of life, growing up where we did in country NSW. Footy in winter, cricket in summer.
There are men from past generations who played in the lower grades. But more recently, there are plenty of recognisable names.
I'm the second-youngest of six kids, to my mum, Yvonne, and dad, Amos Roberts Senior. I grew up in Kempsey and Lismore, playing junior footy for the Dragons and for St John's.
James is the son of my sister, Zianna. He already has 116 NRL games and 65 tries to his credit, and just became the third Origin player in the family.
Zianna got to see him make his debut at the MCG – marking his cousin, Greg Inglis, the new Queensland captain and a Maroons legend. James and Greg spent some time playing together at South Sydney, where GI won a grand final – one of his 254 NRL games, for 146 tries.
Our other Origin player? Anthony Mundine, a cousin to James and myself, who played for NSW as well as playing 134 NRL games for 59 tries. 'Mun' grew up around the St George area, Earlwood, but we're family and spent time together at the Dragons.
Tyrone Roberts, who played for the Knights and Titans before moving to Warrington Wolves (150 games total, for 30 tries), is my first cousin. He's son to my dad's youngest sister, Amy.
Tyrone Roberts-Davis, who is at the Titans (seven games, two tries so far), is my nephew. He's the son of my eldest sister, Deleila.
Albert Kelly, who was at the Sharks and Titans before playing for both Hull clubs in England, is a cousin from the Kempsey area. He has played 129 first-grade games for 60 tries so far. Brian Kelly is a cousin too, who has 36 NRL games and 13 tries to his name with Manly.
Before him, Albert Torrens had a good career with the Sea Eagles, before joining the Dragons and Huddersfield. He's another cousin, who racked up 164 first-grade games and 62 tries in his time.
Then there was my career: 232 first-grade games for the Dragons, Panthers, Roosters and Wigan Warriors, for 133 tries.
So within the family, across the NRL and Super League, that's more than 1200 first-grade games for well over 500 tries, with three Origin representatives. Not bad!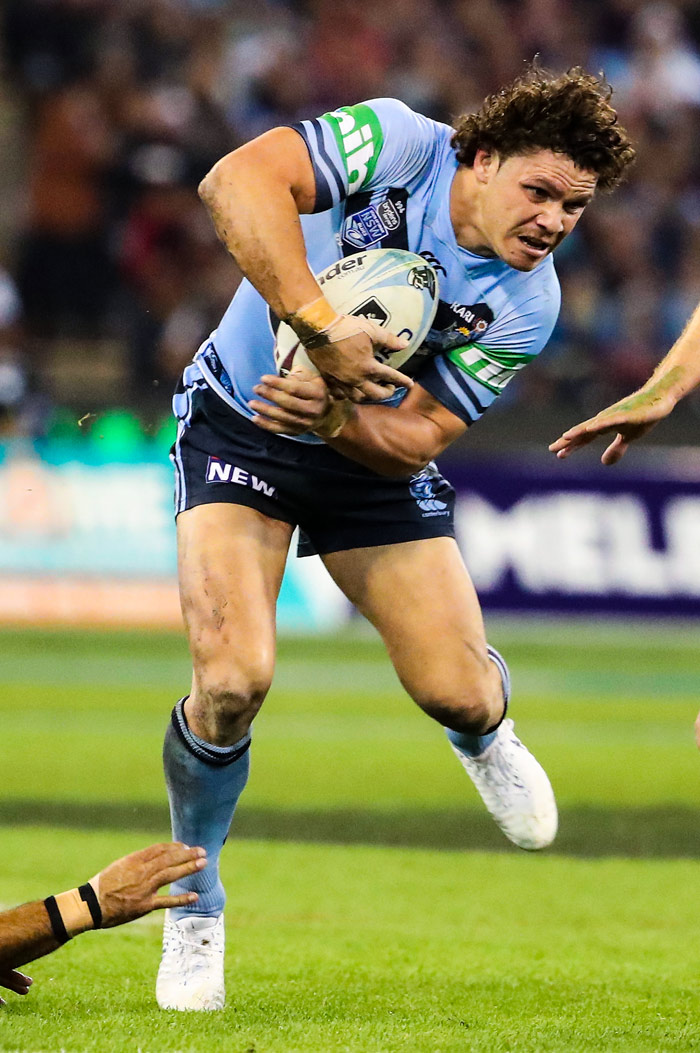 THE JAMES I KNOW
James has just spoken out about some personal stuff. It's hard – I know him as my nephew. I used to joke around with him, pick him up and take him places to do things.
Growing up, I just remember James being a nice kid. He could get up to mischief, like most of us do, but I never thought there was bad inside him. I believe he's a good person.
He's had ups and downs to get to where he is now. He was in and out of the Rabbitohs and Panthers, and had a difficult situation at the Titans before landing at the Broncos.
Some of those things early in his career happened because of stuff that drags down a lot of young guys, footballers or not – they make bad choices, enjoy the off-field stuff a bit too much. Some of it, clearly, was much more serious.
Within the family, across the NRL and Super League, that's more than 1200 first-grade games for well over 500 tries, with three Origin representatives. Not bad!
I guess as he's gotten older, you always try to tell them to be careful who they hang out with, choose their friends carefully. You need to know that the people you're with have your back.
When we speak, I check up on him, how he's going and where he's at. We don't talk about football. We talk about our families.
This high point in his career has coincided with a couple of big things. Being coach by Wayne Bennett at the Broncos has been good for him, I believe. Coaches can be so influential, both professionally and personally. I certainly found that during my own career, right back to when I started with David Waite at the Dragons.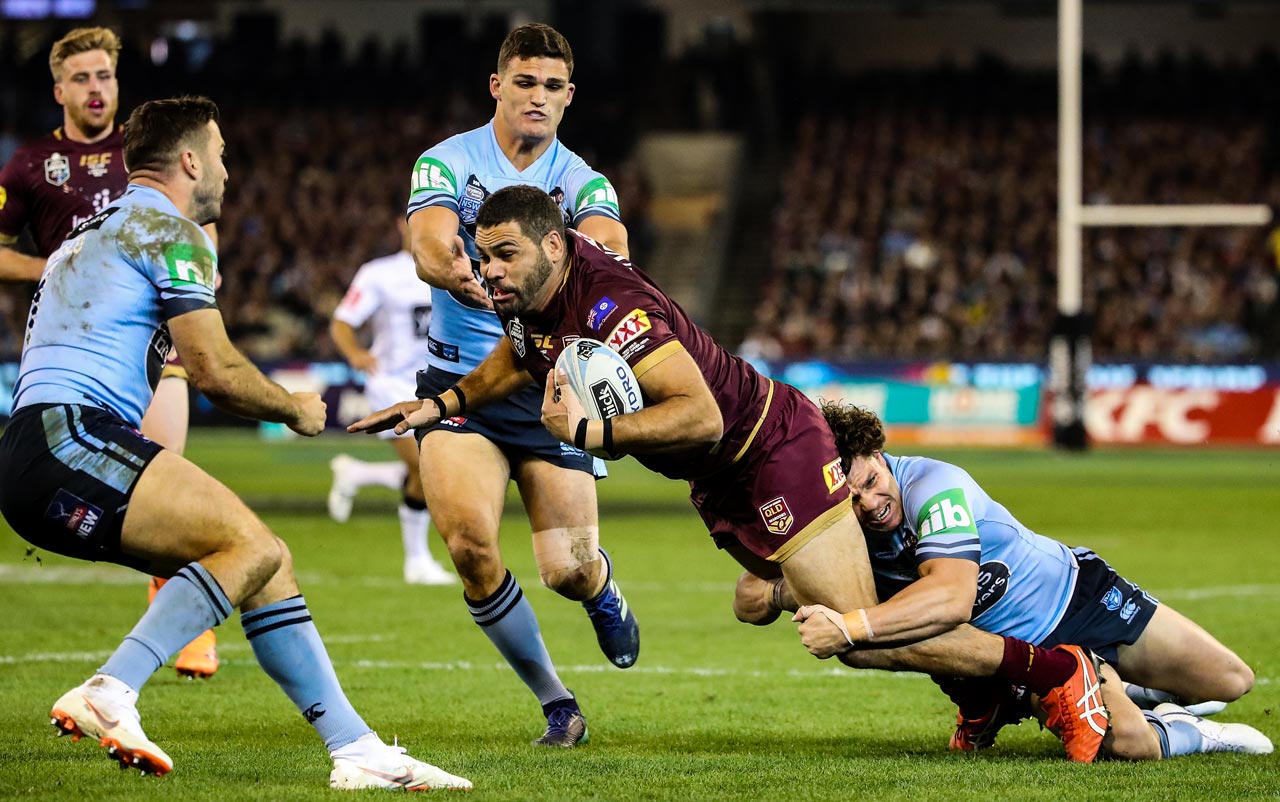 And James is now a father to two kids: Kirk (2), named for both his dad and his brother, and a little girl born just a couple of weeks ago, who he and his partner Anna are yet to name. It's a massive thing that brings perspective to your life.
James loves being a dad. Sometimes, when you're too consumed in your profession or whatever else, it's good to go home and see a little smiling face. It takes all the worries away, whether you've had a tough day at training, a good game or a bad game.
I think Origin selection has come at the right stage of his career. There were other players in the team who gave good service in his position the past few years but now, it's his time, as part of a new generation of guys like Nathan Cleary that could be there for a long time if they have some success.
James had plenty of talent growing up, you could always see it. And more than that, he always had serious pace. Genuine speed is something you can't teach, something coaches dream of. The ability to break open games.
James has speed and he has power. Now, he's using them to their full potential.
All I told him before his debut: rip in.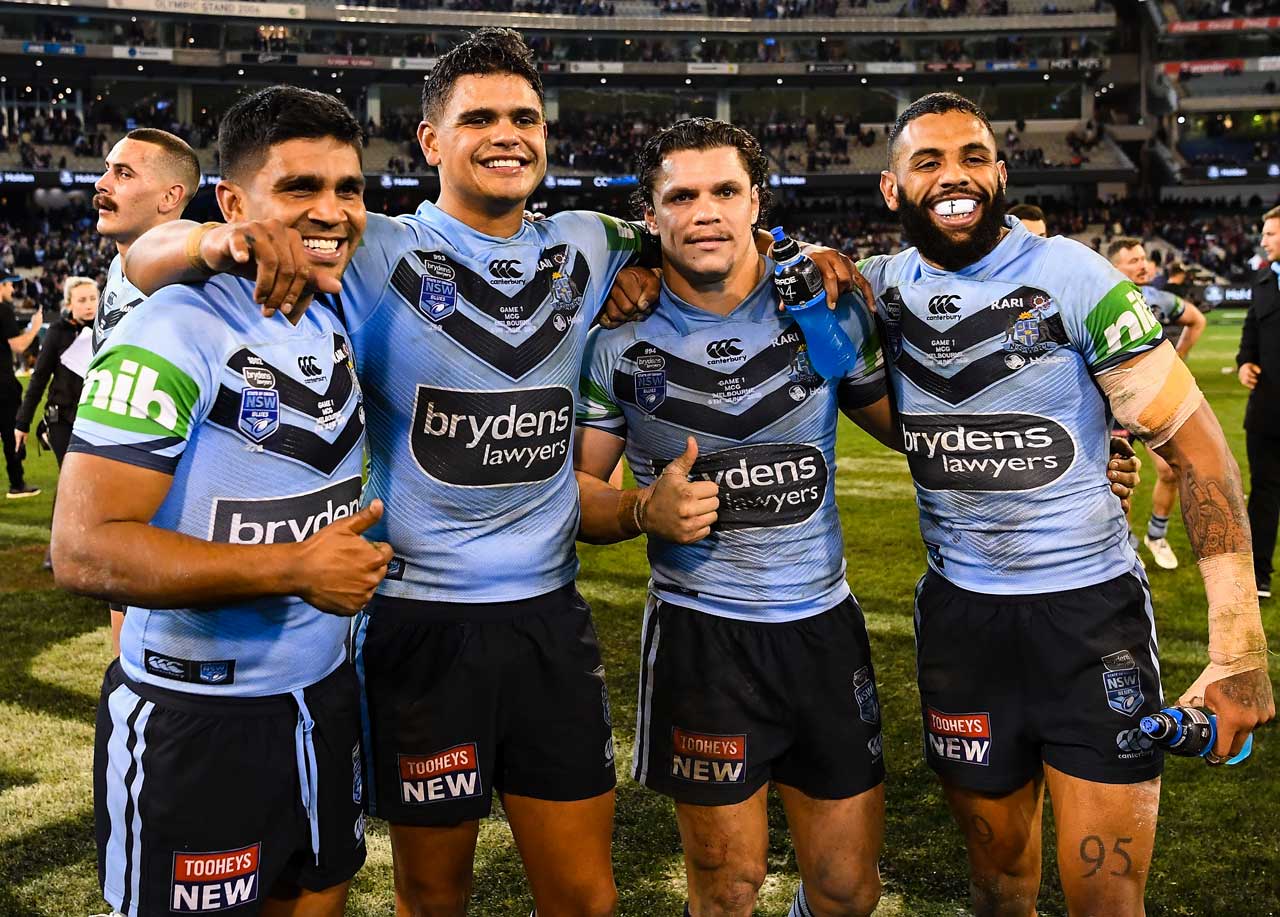 GETTING PICKED, OR SNUBBED
It's rare, having several Indigenous men in the NSW team at the same time. Usually, that's only been seen with Queensland.
It's a great thing for Indigenous communities around Australia to see, especially in those country areas. It will give a lot of inspiration to Indigenous kids hoping to make it to the top in rugby league – and not only Indigenous kids but white fellas as well.
These guys are outstanding players, full stop, an example to anyone. It's great to see them get a chance.
James could get up to mischief, like most of us do, but I never thought there was bad inside him. I believe he's a good person.
'Mun' was outspoken about why he didn't get to play more games for NSW and well … what do you think? He was an absolutely brilliant player. He should have played more than three games – he got just one series in 1999. It hurt him.
He made it clear he thought he should have been getting picked during the Laurie Daley and Brad Fittler era. He made it clear why he believed he wasn't. That's an attribute 'Mun' has always had and always will: he always backs himself. And for all he achieved in rugby league, he's gone above and beyond that in boxing.
Once you speak out, it's easy to get that black mark against your name. Sometimes, even when you don't. Look at Nathan Blacklock.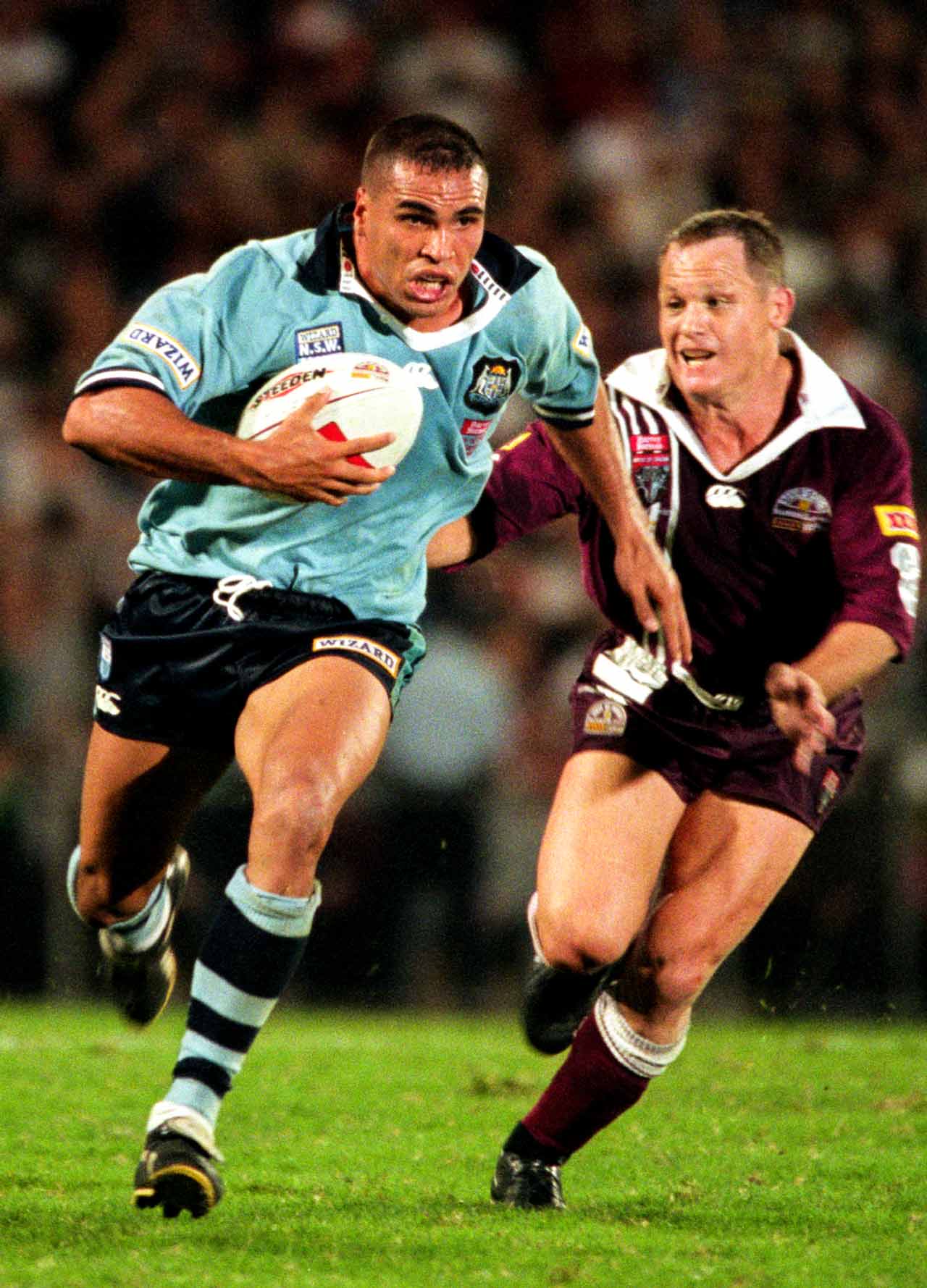 'Tingha' and 'Mun' brought so much excitement to the game, especially with their post-try celebrations. They could break open a game and, when it was won, add the icing on the cake with those backflips that fans loved.
'Tingha' was the NRL's top try-scorer for three years in a row between 1999 and 2001, and he played for Australia during that time. He remains the only player to score 20 or more tries in four consecutive seasons and finished his career with more than 150 tries. Never played for NSW. How does that work?
As for my own career – I thought I should have played a couple of Origin games. I had five consecutive years in the Country team, was top try-scorer in the NRL in 2004 for Penrith, had a few strong seasons with the Roosters. I overcame a couple of shoulder recos early in my career at the Dragons and at a certain point, things just clicked for me.
Anyway, that's in the past. No point pouring more fuel on the fire.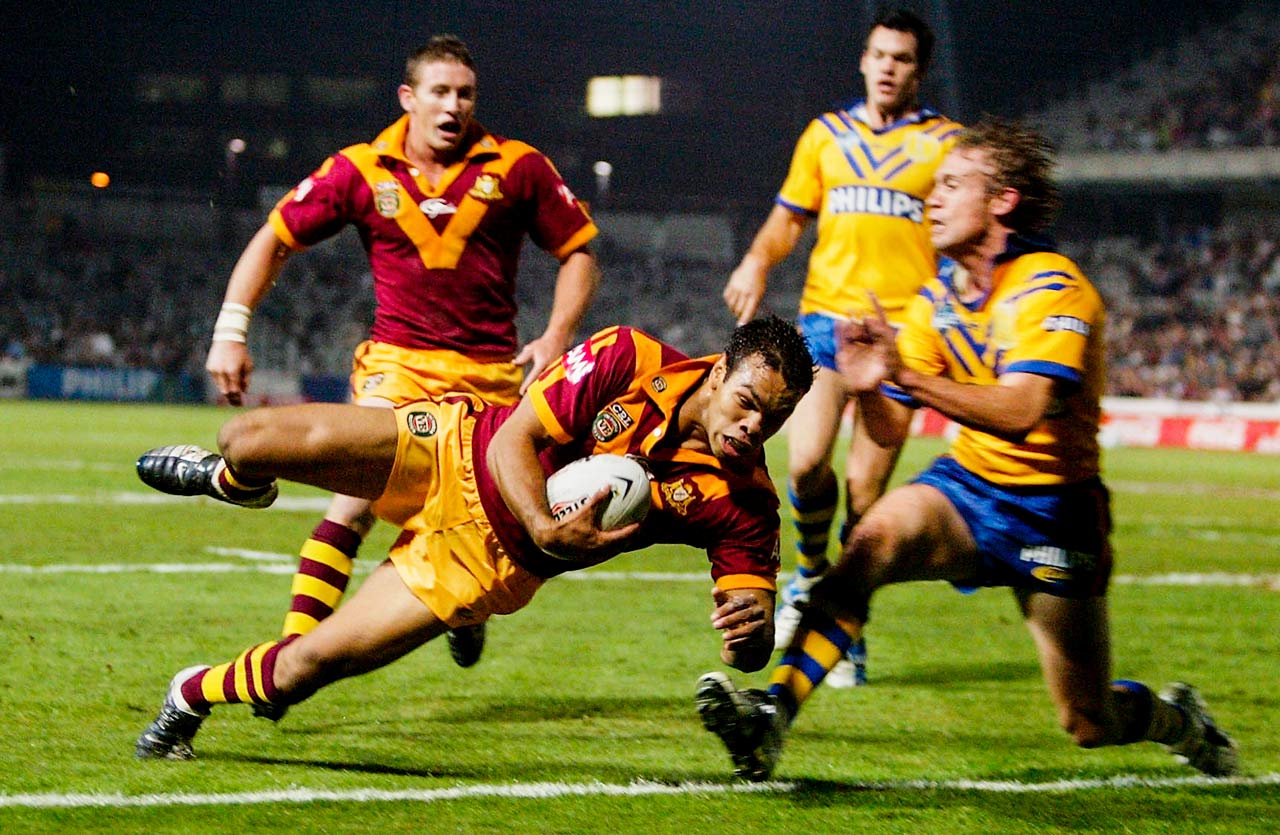 I'm proud to have done what I did in the game. It was great to have still played against the best at NRL level; guys like Laurie Daley and Andrew Ettingshausen.
I came through in the early 2000s and some of those legends of the game had just started finishing off. Watching them as a kid from the country on ABC Saturday afternoons, then to play against them, it was a big deal. I'll always have those memories.
As for GI – his resume speaks for itself. He's done nearly everything in the game and he's a deserved choice as Queensland captain. There's no doubt that the Maroons have made the right move there. He proved that in game one of this series.
He's a massive player. He will be remembered as one of the greatest of all time, for sure.
More about: Anthony Mundine | Brad Fittler | Greg Inglis | Nathan Cleary | NSW Blues | Penrith Panthers | Queensland Maroons | St George Illawarra Dragons | State of Origin | Sydney Roosters | Wayne Bennett