The real story of the Sixers
'Oh no.'
That was my first thought.
The Renegades needed three runs to win off the last ball to advance to the WBBL final. Soph Molineux was on strike and she's strong through the off-side. We'd set a good field to her. Ellyse Perry bowled a hard length, over the top of the stumps, which was right where we wanted it.
I don't actually know how Soph hit it where she did. It was an incredible shot, inside-out and with power. I've watched a replay since to try and figure out how she pulled it off. I still can't quite get my head around it. Ridiculous! Off the bat, I was certain it was racing to the point boundary for four. The end of the line for us.
But once the ball hit the outfield I thought, 'Hang on a sec.' I've been playing at Drummoyne Oval since I was 12-years-old and I know the feeling of hitting one out of the middle and still having to run three or four. It's a soft outfield. Soph's shot started to slow up when it hit the grass and I felt like we might still be a chance of making something happen.
If there was one player in the competition who was going to put their body on the line to stop that ball, it was Erin Burns. She's an unbelievable athlete. Quick across the turf and dives for fun.
Her dive was spot-on. She didn't touch the rope and pushed the ball back to Sarah Aley, who was charging towards her. It was crazy athleticism.
It was about this time I snuck a look at the runners. I knew Claire Koski at the non-strikers' end was well ahead of Soph, because Soph played her shot off the back foot. I could hear Claire over my right shoulder. I figured there wouldn't be enough time to whip Claire's bails off at my end and still have a chance at running Soph out at Pez's end.
If we were going to stop the third run, it had to be at the non-striker's end.
SPEECHLESS.

A super over for a spot in the final. Does it get any better? #WBBL04 pic.twitter.com/dAOPwvMThn

— Rebel Women's Big Bash League (@WBBL) January 19, 2019
Sarah was throwing into the breeze and her return would be coming in on the bounce. I moved towards her to create some extra time to turn and throw. As soon as she released the ball, I threw my right glove off.
Give me that throw nine times out of ten and I'll miss.
This time, for whatever reason, it was hitting the stumps at the other end from the moment it left my hand. You know when you pick a ball up sometimes and it rolls a certain way so your fingers just happen to be in the perfect place across the seam? It was like that – and that was important because I was wearing inners and the ball can slip pretty easily.
It just felt right. Soph was short of her ground and I threw the ball at the right length so it wasn't going to deviate away or bounce over the top. Out.
I got really excited for about three seconds. Sara McGlashan crashed into me and we gave each other a hug. And then the realisation hit us all.
'Shit, it's a super over, time to knuckle down and go again.'
There was an air of calmness around the group. We'd just pulled off an insane team dismissal, but no one lost their heads. There was still a job to do.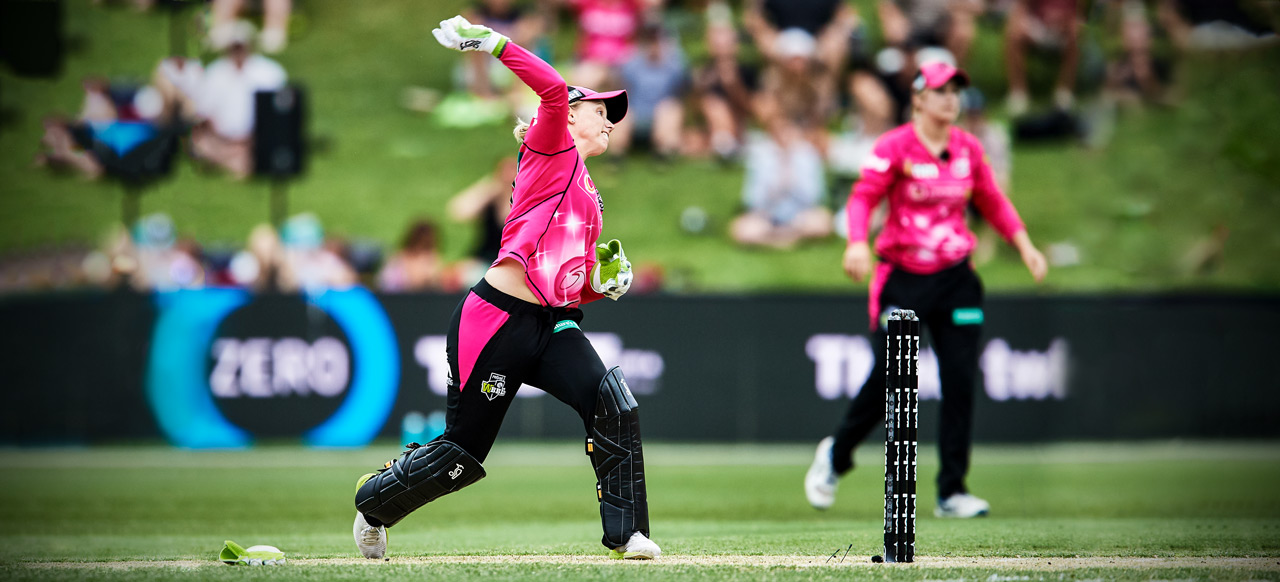 THE LESSON OF HOBART
To me, that one dismissal pretty much sums up what this entire Sixers squad is all about.
It was the ultimate team play. None of us could have executed that run-out and saved the game on our own. Cricket can be weird in that there is so much focus on the individual – how you train, the stats you're racking up and so on – but there can be no success unless the group is pulling together.
That's especially so at the Sixers. A lot of the attention from outside the group tends to focus on Pez and me, but to suggest we're a one- or two-person team is completely inaccurate. I'd actually argue we're one of the better groups going around.
It's the main reason why we're playing in our fourth straight WBBL final this weekend.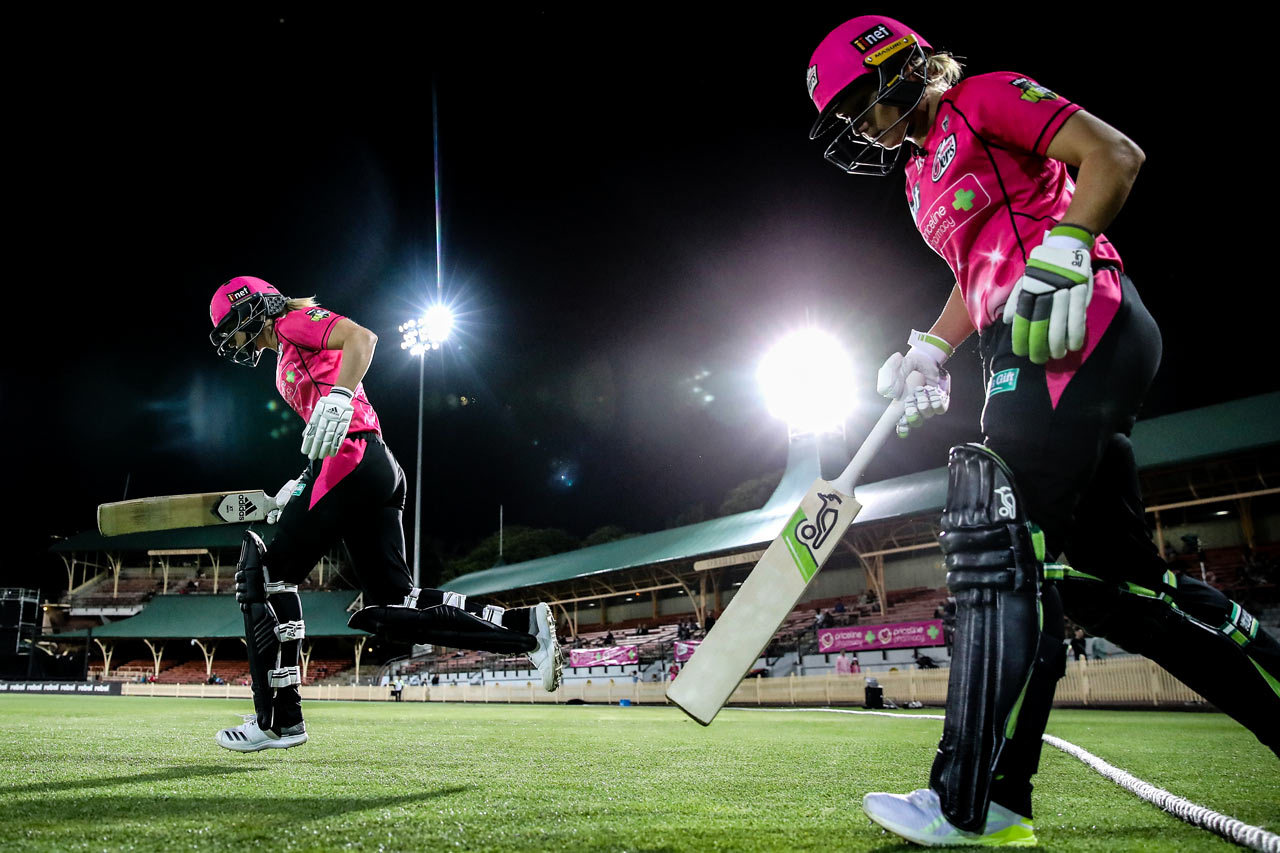 Let me give you an example.
Earlier this season we played a rain-affected match against the Hurricanes in Hobart. The Hurricanes batted first and we fielded terribly. Dropped catches, misfields, the lot.
Everyone was pretty shitty at the break. I could tell Pez was frustrated. And all those feelings compounded when the Duckworth-Lewis calculations said we needed to score more than 140 runs in 14 overs (Duckworth-Lewis seriously makes no sense in the T20 game, but that's a story for another day!).
The run chase started badly. I got out cheaply and Pez was dismissed quite early, too, which was a rarity for her in a season in which she's scored more than 700 runs. By that stage we needed something like 12 runs-an-over for the final ten overs. It would've been easy for us to drop our bundle.
But here's what happened instead: Ash Gardner and Erin Burns walked out and absolutely smashed them everywhere. They got us home. Hobart still haven't beaten us in the four seasons since the WBBL started.
Do you see what I mean?
Cricket can be weird in that there is so much focus on the individual – how you train, the stats you're racking up and so on – but there can be no success unless the group is pulling together.
That's one example – and there are plenty – of how this group combines to lift each other up time and again. Lauren Smith pulling off the catch of the season at the SCG, Hayley Silver-Holmes and Lauren Cheatle trying to bat us out of trouble at Spotless Stadium, Dane van Niekerk's innings with the bat last weekend against the Renegades, Marizanne Kapp in the super over in the same game. Macca lifts us in the field with a catch or a run-out every week. And then there are  the girls who don't always make the starting XI but put in at training week in, week out. The list goes on.
If one of us falls over, we have faith someone else will be there to pick them up. That's not something you come across every day in elite sport. When you're fortunate enough to find it, it's very special.
Twenty20 is the most unpredictable of all cricket's formats and yet, because of the culture we've developed within this team, we've given ourselves a chance to win our third straight WBBL title.
And the funny thing is, there was a period where we really doubted it …
More about: Alyssa Healy | Brisbane Heat | Ellyse Perry | Hobart Hurricanes | Melbourne Renegades | Sydney Sixers | T20 | WBBL | Women's Cricket | Women's Sport