Everyone is playing the bad guy right now. All these ranked opponents think they're hard men, talking shit and trying to be a bully.
I want to fight those guys. Feed them to me.
Jeremy Stephens is one that springs to mind. He prides himself on being a heavy hitter. Well, I'll stand in front of him. Toe-to-toe.
That's my first call-out in the UFC but if these guys want to play that role, I'm more than happy to be the good guy and kick their arse.
I'm loyal and respectful. I pride myself on that. I don't have to put on an act because I know who I am.
I'm a family man. I have a wife, Emma, and two young daughters, Ariana and Airlie. I'm a concreter from the Illawarra who used to be a 97kg front rower. I've transformed into a 66kg featherweight.
I waited a long time to reach the UFC. I was starting to think it might never happen. I was stuffed around by management companies and had some bad luck. But now I'm here.
Fighting in the UFC isn't enough. I'm going to make statements, shoot through these ranks and take that belt.
I'll enjoy the wins, earn some money and then live a good life with my family. That's why I'm doing this.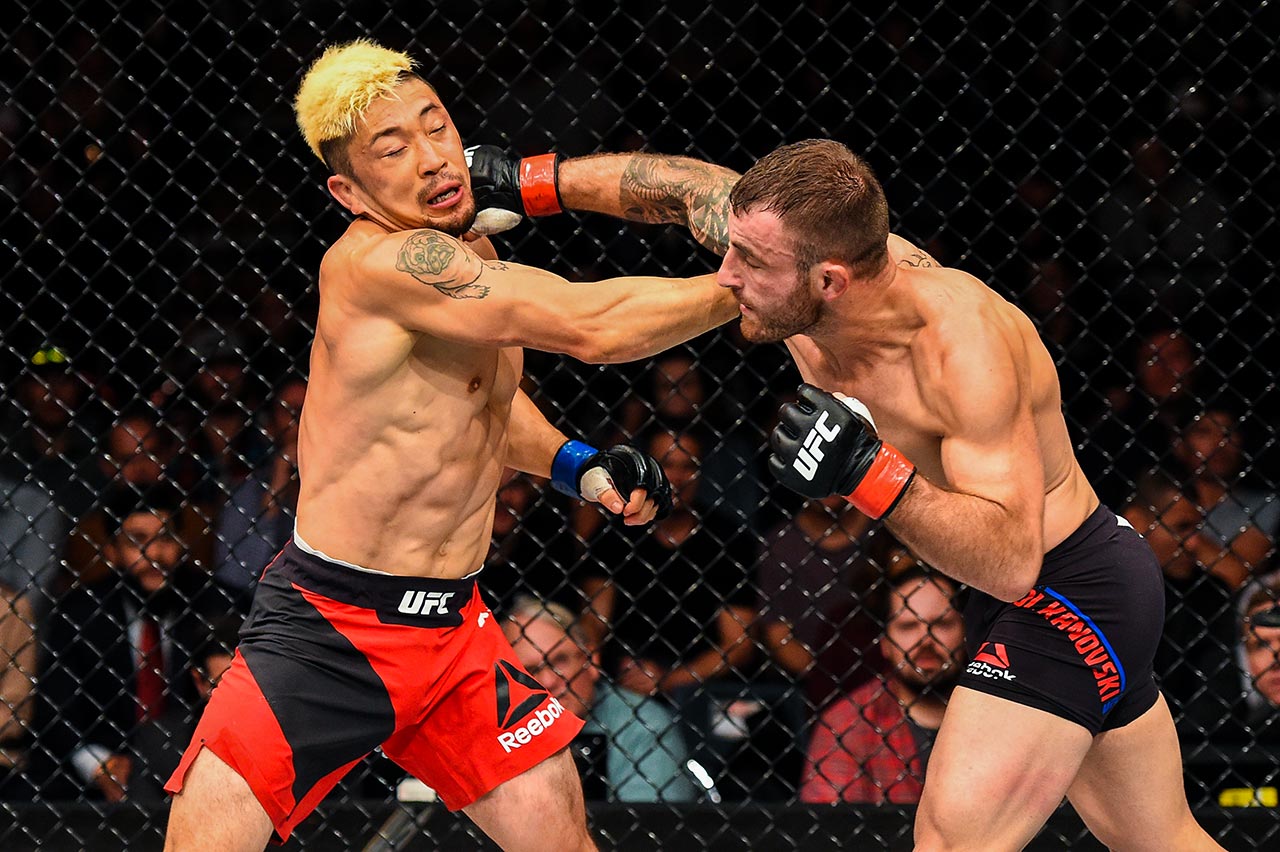 LESSONS FROM RUGBY LEAGUE
I had my first introduction to martial arts when I was 12 years old. I used to go to the local PCYC on a Friday night and they'd have wrestling there. I gave it a go and, from the start, I did really well.
I trained hard and became quite good. I ended up becoming a two-time national champion. I only ever lost two matches and one of them was against my older brother.
It gave me a really strong wrestling base that is still a strength for me now.
The tights turned me off the sport. I looked at the outfit and just thought, 'I don't know if that's for me.'
My mates at school played rugby league. I wanted to be a part of that, so I made the switch. I used to love running the ball – two or three hit ups every set. I was fearless. I'd always run at the big boppers.
Rugby league taught me that sometimes you've got to be a brute. If you're scared of being hit, don't run the ball. You've got to have that mentality in martial arts as well.
Getting punched, kicked in the head or getting taken down – I don't worry about any of that in MMA. I worry about losing.
As a junior I played a bit with the Illawarra Steelers and the Country team. I also played for Southern Division and Group 7 rep sides. I used to dream of playing in the NRL but, towards the end of my career in rugby league, I knew I was never going to make it to the top.
Before my last year of first grade with the Warilla Gorillas, I started to do some MMA training, just to keep fit. A mate of mine was preparing for a fight and needed a training partner. He called me up because he knew that I would take it seriously.
He brought me along to the Freestyle Fighting Gym at Windang. That's where it all started for me.
After a couple of months of hard training our gym hosted a presentation day which was attended by some other gyms in the region.
Some sparring was organised but my coach, Joe Lopez, wasn't too keen on me taking part. He went to get one of the bigger guys but while he was out of the room someone told me to have a go. I stepped in for my first sparring session ever and I did really well.
My opponent was a lot bigger than me but I ended up submitting him a few times.
Rugby league taught me that sometimes you've got to be a brute. If you're scared of being hit, don't run the ball. You've got to have that mentality in martial arts as well.
When Joe came back he couldn't believe it. He was impressed and asked me whether I was interested in training for an actual fight. That was exactly what I wanted.
I decided to finish up with rugby league.
I played my last game of footy when I was 22. I went out on a good note. We won the Group 7 Grand Final! I scored a try and was named man of the match. I was awarded the Mick Cronin Medal that season for being the best player in the comp.
A lot of people thought that I was mad giving up rugby league. My mates couldn't understand it.
THE MOVE TO MMA
My first four fights didn't even add up to one round.
There was a six-second knockout, two 30-second KOs and another that lasted two minutes.
That meant I turned pro with just three or four minutes of amateur experience.
I was fighting at middleweight in those days. I used to be 97kg, standing at just 5'5. I was fighting guys that were twice the size of me.
I quickly won a couple of Aussie titles and was undefeated heading into my fourth fight. That was against the top pound-for-pound fighter in Australia, Corey Nelson, in a tournament for the AFC welterweight title. It was a huge wake-up call.
To this day, it's the only time I've ever been beaten.
He controlled me on the ground without doing too much and, in the end, I lost by TKO. It's a cliché when people say that you can learn a lot from a defeat, but that fight was a huge turning point for me.
I decided to focus entirely on jiu-jitsu for a while. After months of training I entered the Aussie titles and won the gold medal at 85kg. I remember standing on the podium; the guys who finished second and third were still taller than me.
I knew I had to cut more weight and start fighting guys that were closer to my size.
THE WEIGHT CUTS
Cutting weight is incredibly dangerous. I've learned that you need to manage it very carefully.
You see all these main events we're missing out on because fighters are missing weight or are too sick to step into the octagon. Some fighters make weight but can hardly hold themselves up. That's how people die.
At the end of the day, I do this for my family and I need to be around to look after them. I'm going out there and risking a lot already. Putting my life on the line cutting weight is not good enough. That's why you'll never see me fight at bantamweight.
I'm a family man. I have a wife, Emma, and two young daughters, Ariana and Airlie. I'm a concreter from the Illawarra who used to be a 97kg front rower. I've transformed into a 66kg featherweight.
Before my first fight at 66kg, I was walking around at 86 kilos. I still remember my first cut. It was crazy.
I had to lose the last seven kilograms in one night. When I finished in the sauna my eyes had sunk into the back of my head and I felt so drained. It's something I never want to do again.
I was at the shopping centre with Joe getting some stuff for my reload and I was in my own world. He didn't say anything at the time but he was really concerned.
Now I make sure I walk around at about 75kg so it's not as hard on my body.
I've had to cut back on the burek and learn how to manage my food portions.
It's worth it. Once I dropped down those divisions, I really started dominating.
I haven't lost since.
TIGER MUAY THAI
A scholarship at one of the best gyms in the world changed my life. Tiger Muay Thai in Phuket is world renowned and I saw the opportunity to apply come up on social media.
There would have been hundreds of fighters hoping to get in. They looked at everyone's record and invited 30 or 40 of the top guys to Phuket for try outs. Just to make that stage was an incredible accomplishment but I didn't have the money to make it work for my family. Emma and I had just bought a house as well.
It was a big call but we decided to put everything on hold. We moved back in with my Mum so we could rent the house out and started planning a fundraiser to help me get over to Thailand.
A lot of people donated stuff to help get me there. Matt Cooper gave me a few things from his career, including a State of Origin jersey. Fabian Coulthard donated his driving kit. Beau Ryan gave us a signed Sharks jersey, just to name a few.
About 200 people turned up to the Fraternity Club for the event.
I've always had great support from the Illawarra region. They literally invested in my future. I wouldn't be in the UFC today without the support of Emma, my family and the people of the Illawarra. I'm very thankful.
The tryouts in Phuket were insane. I was at this huge facility in the middle of the jungle, being tested every minute of the day. They assess your skills and determination. The final test was a jiu-jitsu comp.
I'd worked so hard on my jiu-jitsu since that loss to Corey that I'd turned it into one of my greatest strengths. My performance that day is really what won me a scholarship.
I went from concreting during the day and training in the afternoon, to this new professional environment. It was a huge reality check.
Going fulltime allowed me to develop quickly. Every week I went up a level because I was training against some of the best fighters in the world. You're pretty much getting shark tanked 24/7.
THE ROAD TO UFC
Fighting in the UFC was always my goal. I'd wanted to achieve that before I had my first child.
Every time a UFC event was in our region I'd do a campaign. I was on a five- or six-fight winning streak, getting knockouts and doing all the right marketing. People were asking how I hadn't made it already. They couldn't believe it.
It started wearing on me. When Ariana was born I felt like I'd broken that promise.
I was taking out the best in multiple divisions and pushed my winning streak to eight fights. I became the only fighter in Australia to hold a world title when I submitted Yusuke Yachi to win the PXC featherweight belt.
Other Aussie fighters were handed their UFC debuts despite having achieved nowhere near what I had.
Some people couldn't see a future for me and would ask Emma when I was going to give it up.
We were still living at my Mum's when this was all happening. It was hard on all of us, living in that small house with a baby. We thought we'd have to move out but we didn't have the money.
That's why I made sure I was always fight ready. I timed AFC title defences to coincide with UFC events in the region, just in case there was a withdrawal.
I'd tell the promoter and make it public so everyone knew I was ready to go.
Finally, there was an opportunity for me when a fighter withdrew from the UFC Brisbane card. That was my chance but it was snatched away. The UFC specifically asked for me as the replacement but they contacted a management company I was no longer affiliated with.
I won't mention the name of that company but they said I was unavailable so they could try and get one of their own guys on the card.
When I got wind of what happened, it really rocked me. I felt cheated.
We were still living at my Mum's when this was all happening. It was hard on all of us, living in that small house with a baby. We thought we'd have to move out but we didn't have the money.
Little things started to get to me. One day I was outside the gym in Windang before training, trying to sort out some marketing. I'd just had enough. I left. It was the lowest point in my MMA career. I was thinking about going back to concreting.
It's funny how things happen, though. Two days later everything started turning around. Southern Cross Industries hit me up about becoming my major sponsor. They threw some money at me straight up. Finally, I had something positive to show my family.
A week later, I got the contract to fight in the UFC.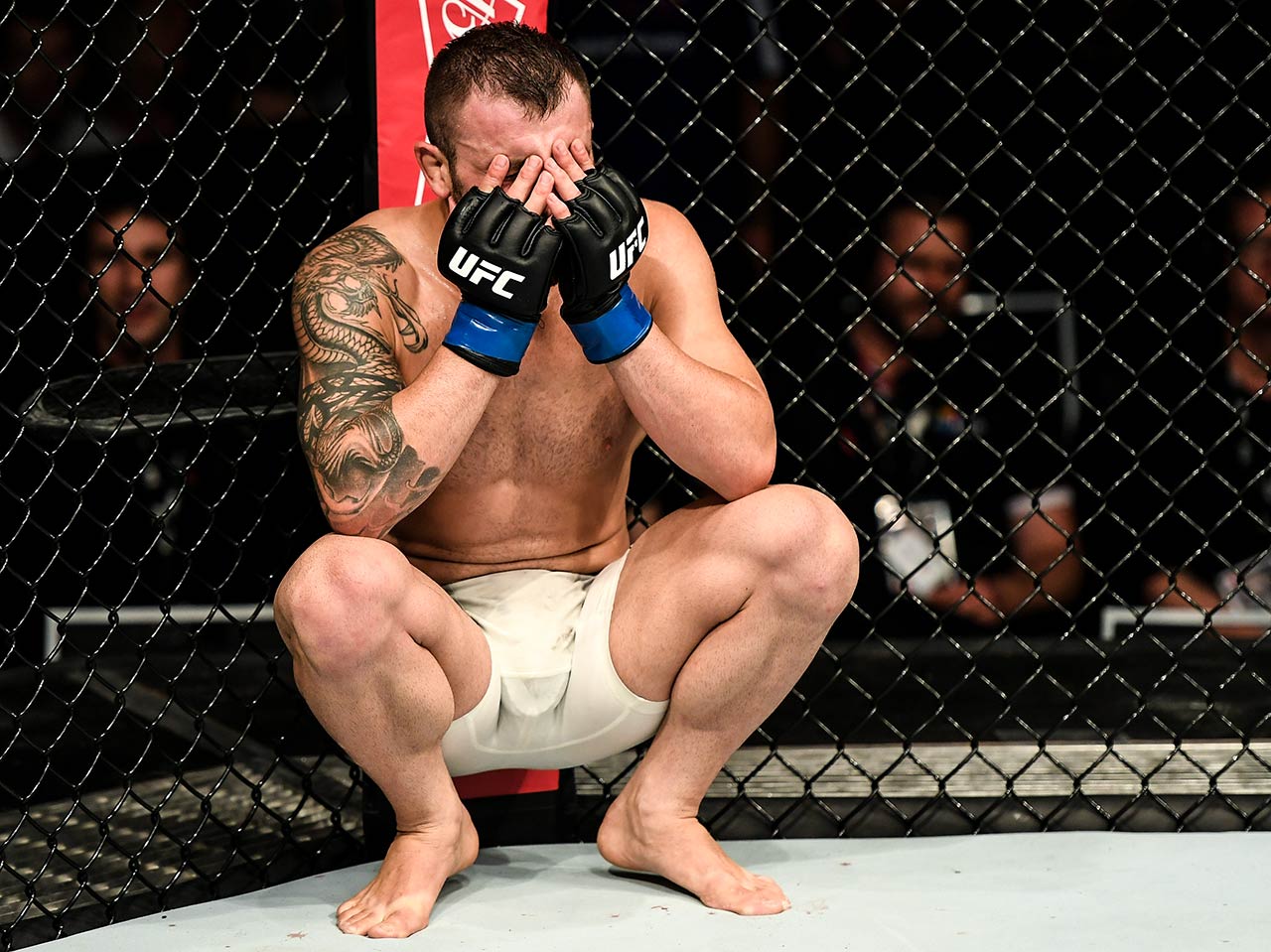 ALEXANDER THE GREAT
I was down to fight John Tuck in Manila in October 2016. The whole card got cancelled.
We couldn't believe it but I had my foot in the door. I stayed positive. It ended up being a blessing in disguise.
I kept training and finally got the phone call. I was locked in for a fight at UFC Melbourne against Kesuke Kazuya. It was at lightweight, a heavier division, but I didn't care. I just needed the chance to show what I could do.
I decided to change my nickname because you can't be a featherweight calling yourself 'The Hulk'. My Dad is Macedonian and my Mum is Greek, just like Alexander the Great. It's a perfect fit.
The Macedonian and Greek communities loved it.
About 200 people flew down to Melbourne to watch me fight. When I got the TKO victory I felt a huge sense of relief. I'd placed all this pressure on myself and I could finally let the emotion out.
I remember Bruce Buffer saying to me, 'Good job Alex.' I couldn't believe it. How good is that! I grabbed the mic during my interview and started singing Whoomp there it is to all my friends and family in the crowd. They all started singing it back to me. It was an incredible moment.
Seeing my wife after the fight was very emotional. Emma always stuck by me and if it wasn't for her I wouldn't be where I am today.
UFC SYDNEY
I've got two wins in the UFC now. Next up, I'm fighting in my home city. Sydney is about as local as it gets so I'm expecting a huge crowd. I can't wait to put on a show for everyone that has supported me.
My fight camp over here has been unreal. I haven't gone to Thailand this time because our new-born, Airlie, is just eight weeks old. I've done most of my preparation in Windang with Joe.
When the UFC Sydney card was announced, I was down to fight Jeremy Kennedy.
He pulled out with an injury and now his replacement, Humberto Bandenay, is out as well. I got that news 10 days out from the fight. The worst part was not knowing if we could get another replacement.
I'm no longer surprised when one of my opponents withdraws from a fight against me. I've learnt that you need to be ready for anything. This sport is a rollercoaster and you need to remain positive. I kept training.
It was a huge relief when I found out Shane Young was stepping in at a catch weight. There aren't many people who would take a fight against me on a week's notice. Especially for their UFC debut. I think I'm a bad match up for everyone in the UFC.
He's a very technical kickboxer from New Zealand.
Not many fighters can handle my right hand though. I want that $50,000 bonus.
I want that belt as well and I believe I'll be there very soon. A few more fights and I'll be in talks for a top contender. I guarantee it.
I know I've got the dedication and the motivation.
I don't miss my concreting days. In saying that, I still help out my Dad from time to time. It's funny, it seems like every time I'm down for a fight he asks me to come help him with a job.
If I've got nothing on, it's a good workout. You can get a good sweat up, burn some calories and get a tan for fight night.
More about: MMA