The first time I saw my mate Kurt Drysdale in his hospital bed, unable to move, I couldn't comprehend it.
I thought of how we used to be at school. Mucking around, having fun. We were part of a tight group of mates. And Kurt was at the centre of it, with his great sense of humour and terrific personality. The girls loved him!
We had a good little combination going in the footy team at Endeavour Sports High. He played hooker and when he got out from dummy-half, I'd make sure to follow him through from fullback. He put me away for a few tries. Kurt loved tackling and all the tough stuff.
We had a pretty good team. Shaun Lane from Manly was there among others. We made the NRL Schoolboy Cup final but got towelled up by Patrician Brothers Blacktown. They had Bryce Cartwright, Dallin Watene-Zelezniak and a few other future first-graders. It was a gun side.
My family lived at Hurstville and Kurt's was down at Stanwell Tops. After we finished Year 12, we stayed mates. We both had the aim of making a career in footy.
I went to Souths and he played under-20s for Cronulla, before going to Cabramatta. That's when he got hurt, playing against Wentworthville.
I remember getting phone calls and messages from a few of the boys. I didn't know the full extent of the injury. Then we got calls and messages from the family to let us know Kurt was in hospital.
The boys were being positive because we knew Kurt was a tough bloke and we saw footage of the tackle. There didn't look to be much in it. They were just trying to get him on his back and he must've ended up in an awkward position.
But he never got up.
AN INSPIRATION
Kurt had no movement in the lower half of his body and the tiniest bit of movement in his top half. Then, that disappeared. He was a quadriplegic.
It was a couple of days after the accident when a few of us went to see him.
I can't tell you if I cried at the hospital. It was all a bit of a blur. I did break down a couple of times after I got home that night, just thinking about it.
Kurt was at Royal North Shore and I'd go to see him once or twice a week with the boys. He was unable to talk for about six months. He'd try to respond with his eyes, but it was more about providing him some company. We'd talk our usual rubbish around him and try to keep it as normal and positive as possible.
When he finally was able to talk again, they rang his brother, Blake, from a hospital phone so Kurt could surprise him by saying hello. There was no caller ID and Blake thought someone had played a joke. Their mum, Sonya, then rang from her mobile and put Kurt on so Blake knew it was real.
Kurt had his good days and bad days, when he just wanted to be alone.
More than three years have passed now since the injury and we visit Kurt at the family home. We talk a bit of footy and get up to date with what everyone's been doing. He's a fan of Love Island and we had a few laughs about what went on there.
A bit of boy talk, a bit of banter. We have a bite to eat and make a night of it.
Kurt's a mad Roosters fan and a few of us went with him to their game against the Dragons last Sunday. He's pretty keen on his team's chances of winning the comp. I reckon Souths are going to have a fair bit to say about that!
I can't tell you if I cried at the hospital. It was all a bit of a blur. I did break down a couple of times after I got home that night, just thinking about it.
How would I handle it if I were in Kurt's position? I've asked myself that question a million times. There's no way of knowing.
What I do know is Kurt's a fighter. He was always one of the fittest and hardest-working players at school. He doesn't accept that this is going to be his lot for the rest of his life. He aims to walk again.
He and his family are heavily involved in fundraising for the Perry Cross Spinal Research Foundation, who are seeking to find a cure for paralysis. The foundation is funding a planned human clinical trial involving the transplantation of cells from the patient's own sensory system, which is scheduled to start in 2020 at Griffith University in Queensland.
It has had some success in trials with animals and, from what I'm told, they're optimistic about that success transferring to humans. But it's a very expensive exercise.
Kurt is doing all of his physio and rehabilitation and staying positive. He turned 24 last Tuesday but he didn't take a day off. He spent it doing rehab at Sydney University.
He's been doing a few TAFE courses as well and looking at getting some computer-based work.
His greatest motivation is to get back on his feet. I can't tell you how much I admire that attitude in him.
It inspires me.
Sometimes things get a bit tough with footy. You lose a game or two or pick up an injury that keeps you out for a few weeks. But that is nothing compared to what Kurt is going through.
If he can keep battling when every day is a challenge, then I have no excuse. If we're in the middle of a tough training session at the Rabbitohs, I think of what he's going through.
Then it's head down, bum up, finish it. No complaints.
REBOOTING THE BUNNIES
It doesn't hurt getting a reminder how hard it is to win an NRL game.
We won nine in a row. Then Wests Tigers came to play two weeks ago. We found ourselves in trouble. That loss had been coming for a few weeks. We hadn't been playing our best footy and some things we'd been getting away with in games finally cost us.
Then we got into trouble again last week against Parramatta and only closed out the win towards the end. It's not the form you want going into a massive home game against Melbourne, so we've got to lift or we'll find ourselves in more trouble.
I know we can do it. We don't lack confidence or self-belief.
Fullback is where I want to stay. it's my dream position. You're more heavily involved. I'll take that.
It's been a breath of fresh air playing under Anthony Seibold's coaching this year. We had some great seasons under Madge Maguire, but sometimes you just need to change things up.
I feel like we're not under as much pressure to avoid making mistakes. You still hate it when things break down on the field, but we're playing fast and trying to win every ruck and apply pressure that way.
The way we play, with our deep-set attack and quick shifts of the ball, suits the players we've got. They're attackers who want to play what's in front of them. They're good at it. If we put on a good move and I join in out wide, I can sense the uncertainty in the defence. That helps me make the right decision about whether to run or pass.
I'm in a different position to where I started, fullback instead of wing. At the start of the year it was dependent on how Greg Inglis's recovery from a knee reconstruction went and he has stayed in the centres. The team's been going well and I don't think they want to change too much.
Fullback is where I want to stay. it's my dream position. You're more heavily involved. I'll take that.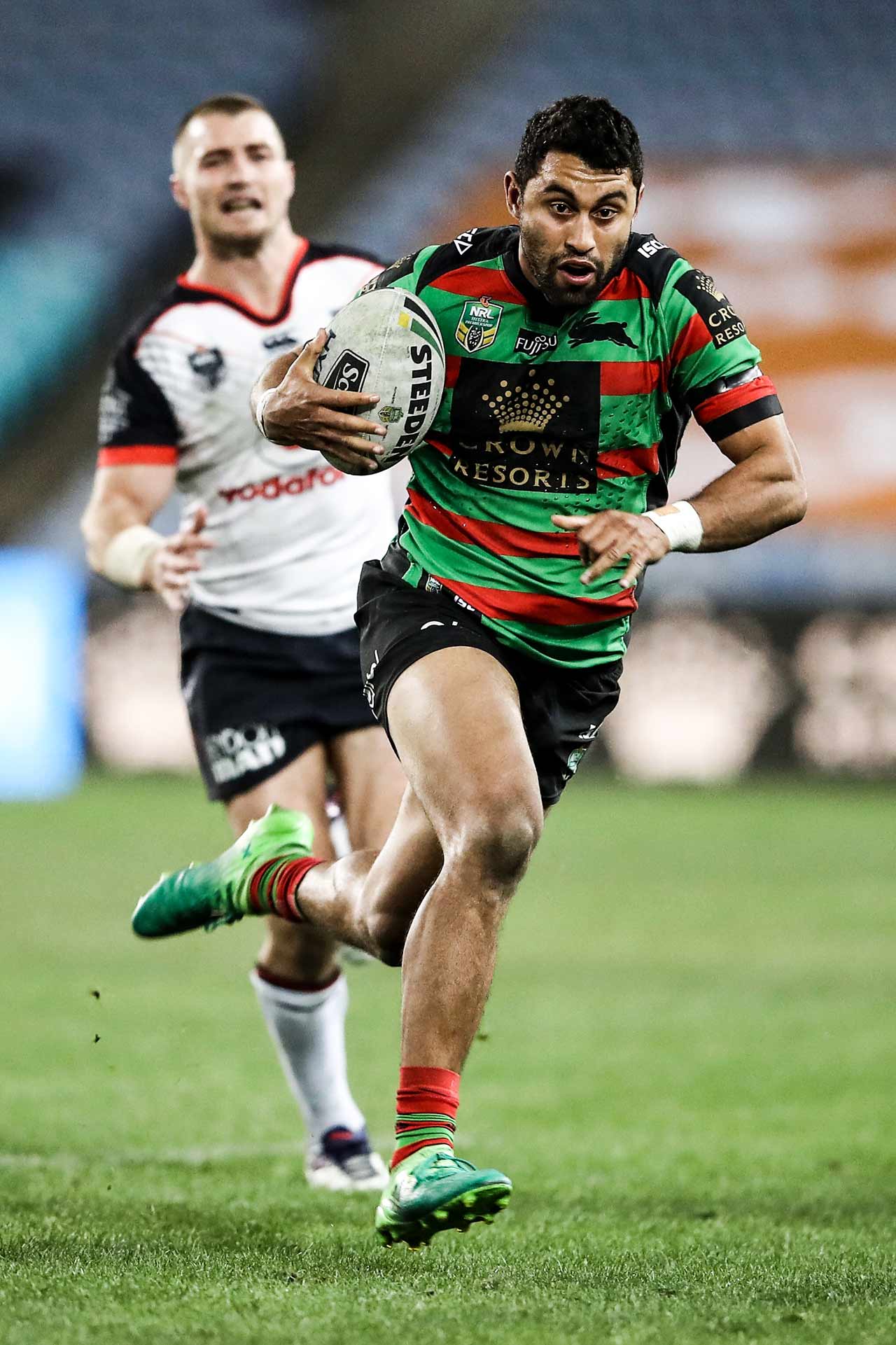 THE FUTURE
I want to experience that premiership feeling again.
I was so nervous running out for the grand final four years ago that when we lined up for the national anthem and the cameraman slowly panned past my face, I couldn't bring myself to sing the words.
I was tingling all over but as soon as the referee blew for the kick-off and the crowd roared, I was ready to go. I felt like it was going to be our night from the start. I scored a try after Luke Keary came down the short side and we had an overlap. I just had to dive over. It was an awesome feeling.
Winning a comp is like getting picked to play in a representative team. It isn't easy and you don't know how many chances you're going to get.
I've represented Australia once, in the mid-year Test against New Zealand in 2015, but I actually received two jumpers – one for each half.
One was framed and given to Kurt for his 21st birthday. The other is hanging in my wardrobe. It's one of a few special jerseys I'll eventually get framed.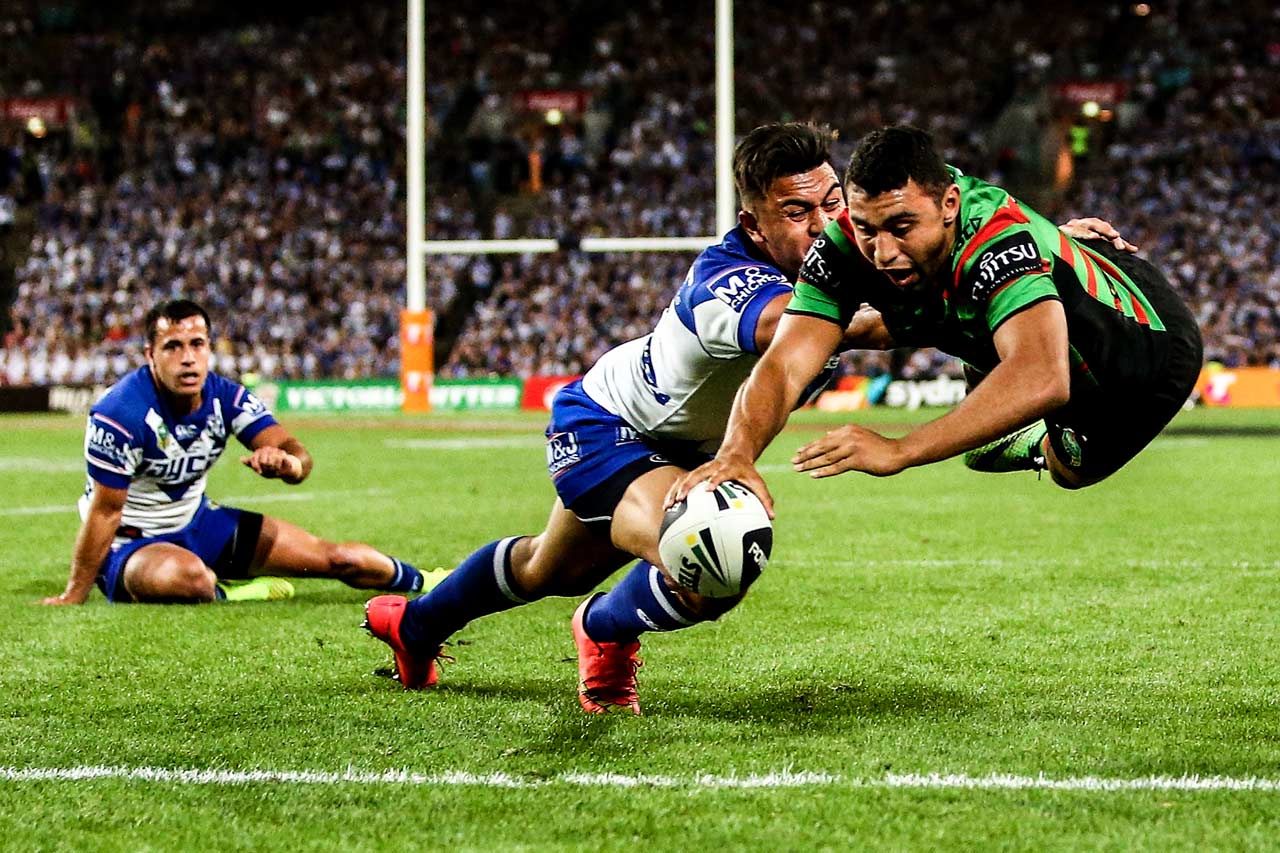 Getting back into the Kangaroos squad is a big goal of mine. So is playing State of Origin for NSW.
I've got a bit of a breakfast club going with Damien Cook. We don't live far apart. Watching him do so well for the Blues was fantastic. I'd love to be a part of that. The good thing is I'm only 23, so I've still got time if I'm good enough.
You've got to aim high. Otherwise, what's the point?
I enjoyed doing English at school and developed an interest in writing. I want to put that ability to use. Perhaps working in TV, writing scripts or comedy sketches. I might even write a book one day.
They say everyone's got one in them. It's just a matter of getting it out.
More about: Anthony Seibold | Damien Cook | Greg Inglis | Indigenous Australians | Injuries | International rugby league | Kangaroos | NSW Blues | South Sydney Rabbitohs | State of Origin