Just one of the boys again
Before the bounce in my first game back last weekend, Collingwood defender Tom Langdon made a beeline straight towards me. I thought, 'It could be on here'. But he's just put out his hand to shake mine and said, 'Congratulations mate'.
Mason Cox also had a few nice words. He came up to me before the bounce and said 'It's a great story, welcome back', which was really nice.
When they told me I was going to play on Mason Cox for most of the night, all I could think was that he was a college basketball player in America who hadn't even heard of AFL the last time I played a senior game. It's pretty weird how things pan out.
The support I had from the whole footy world was overwhelming last week as I prepared to make my comeback from five knee reconstructions and 12 operations after 2,136 days on the sidelines since my last game in the 2012 grand final.
Then to have a few of those moments of good sportsmanship from the Collingwood players on Saturday night, when they wanted to win as much as we did, it was pretty special.
I'd been reasonably relaxed leading up to the game. On the Saturday morning, I read the AthletesVoice piece that Swans defence coach Rhyce Shaw wrote about our friendship, and it definitely gave me a lot of motivation for Saturday night.
In the build-up, I got pretty nervous thinking about the game. The first few minutes were pretty tough. Running around, it was a lot quicker than playing in the NEAFL. AFL is obviously a huge step up from the reserve grade, so I was running around and blowing and you sort of start thinking, 'Am I going to get through the game?'.
Four or five minutes in, I was taking some big deep breaths. I think I said afterwards that I felt like a bit of a headless chook. But Dane Rampe gave me a nice possession early – it's always nice to get the first one away – and then I started to feel more and more comfortable and confident out there as the game went on.
Rhyce said in his AthletesVoice piece that a pass mark for me would be to get through unscathed and to do a job on my opponent. I think I passed. The number one thing for me was to feel good out there, to get through healthy obviously, and to be able to walk off the ground with no issues which I was able to do.
And yeah, I feel like I was able to do a good enough job. It was challenging playing on Cox. He's had an unbelievable year and he's a big man who towers over me, so to come back and play against someone like him who's been in pretty good form was great.
The last few minutes of the game was definitely hectic. It was pretty tense. But the main thing was to get the win which we did, and which was unbelievable. It was a fairytale ending really to a perfect week, and to be able to celebrate with Rhyce afterwards was really nice.
He was just over the moon and proud and really, really happy to get me back into the team.
A DOSE OF NORMALITY
Do you know what I've been enjoying this week? The normality.
The fanfare of last week is behind me now and there is no special treatment this week. I'm in the team to do a job, and that's to go down to Melbourne this week and get over the line against the Demons, who are playing some really impressive footy this year.
It's effectively the season on the line again for us, same as it was last Saturday night. If we'd lost to Collingwood, we would have been right down the bottom of the finals contenders and then faced a must-win three games to finish. But, in a way, it's still a must-win three games to finish anyway.
The number one thing for me was to feel good out there… and to be able to walk off the ground with no issues which I was able to do.
If we're going to make the finals, we need to go in with some momentum and it's just another job to get done in Melbourne on Sunday afternoon.
It was great walking into the footy club on Monday after a really good win. We had the game review in the afternoon, then I went and spoke to Rhyce about my game and went through a few things from the game.
It's all becoming normal again. We're looking to Melbourne this week on Sunday at the 'G, the likely match-ups and that sort of stuff. It's awesome. I'm just so happy to be back playing AFL.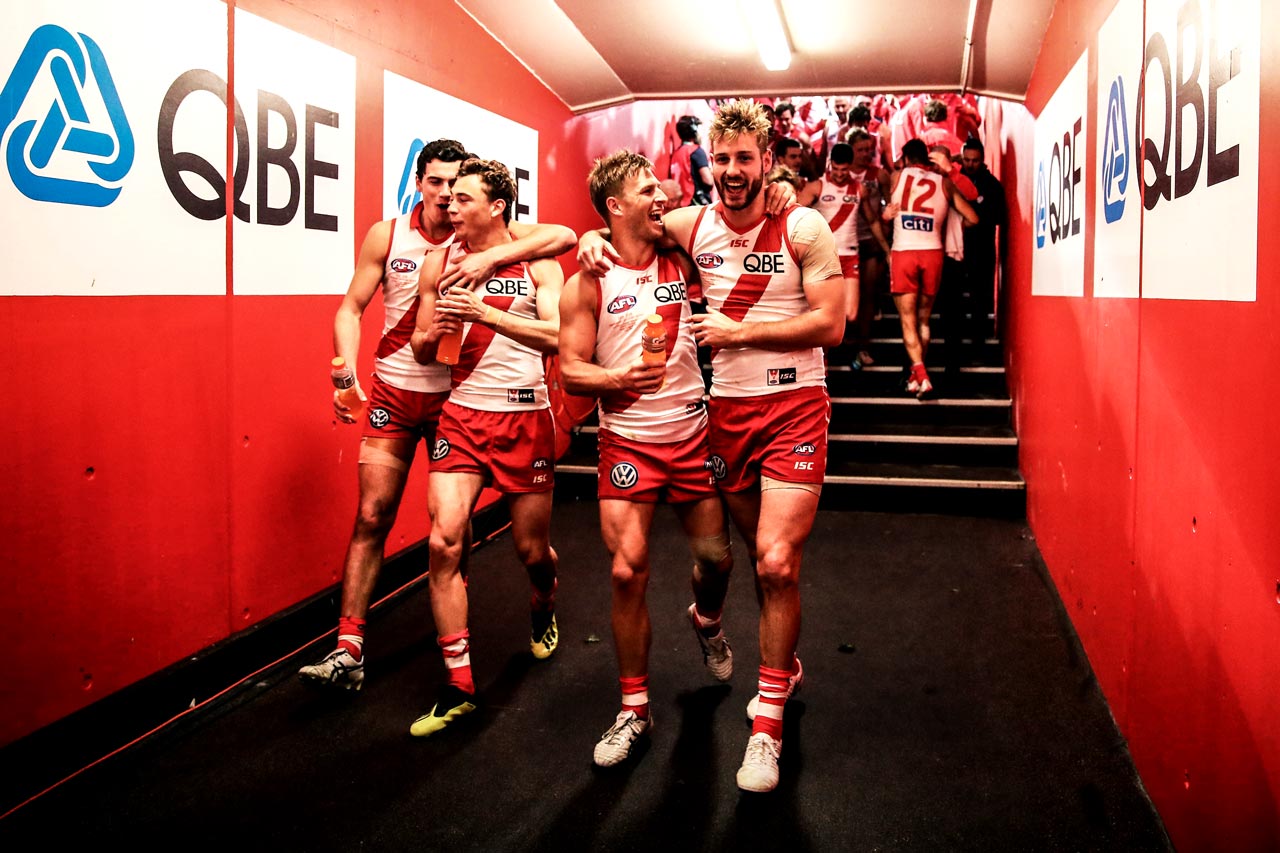 finding a way to contribute
There were times in my rehab when I felt great, when like anyone else, you bounce into the club and attack your rehab or whatever you've got on that day.
There were also times when I thought I was over this. You don't want to do the same thing, it becomes really monotonous, you feel like you're in a holding pattern, which I was for a lot over the journey.
There were definitely some days when I walked into the footy club and thought, 'I don't want to see anyone, I don't want anyone to ask me about my knee, I just want to get in, do my work and then get out and go and do something away from it'.
But in saying that, the club's always been great if I wanted time off or whatever. They could see when I was getting frustrated and they were awesome in terms of allowing me to take time off.
Obviously I went on a few holidays and stuff over the journey, but whenever I wasn't on holidays, I was in at the club pretty much every day, or at least three or four days a week doing things to try and help myself.
Rehab is a constant battle with so many highs and lows. I probably owe it to the physios and the rehab staff that have been my punching bags over the years. I've come in and just absolutely given it to them, and we built a really close relationship because we spent so much time together – too much time if you ask them, and probably me too!
I suppose I also became the rehab guru at the club, which is a title nobody wants. It's been joked about a lot at the club that the dungeon should be named after me because of the amount of hours and sweat that I've spent in there.
I don't really force myself onto anyone who's going through rehab or anything, I was just there if people wanted to chat or do a session or anything like that. If you ask someone who went through a rehab with me, they'd probably tell you that I was a nightmare and they don't want to hear from me anymore!
But it's better to do rehab with someone than to do it alone.
When you see someone go down with an injury, it's not what you want. But when I was going through my rehab for such a long time, it gave me a mate to work with, and my goal was to push them as hard as I could and get a lot out of them.
I feel as though that was a little bit of my role, and if they could get back into the team and be fit after having done a fair bit of work alongside me, I'd feel that I was contributing in that way.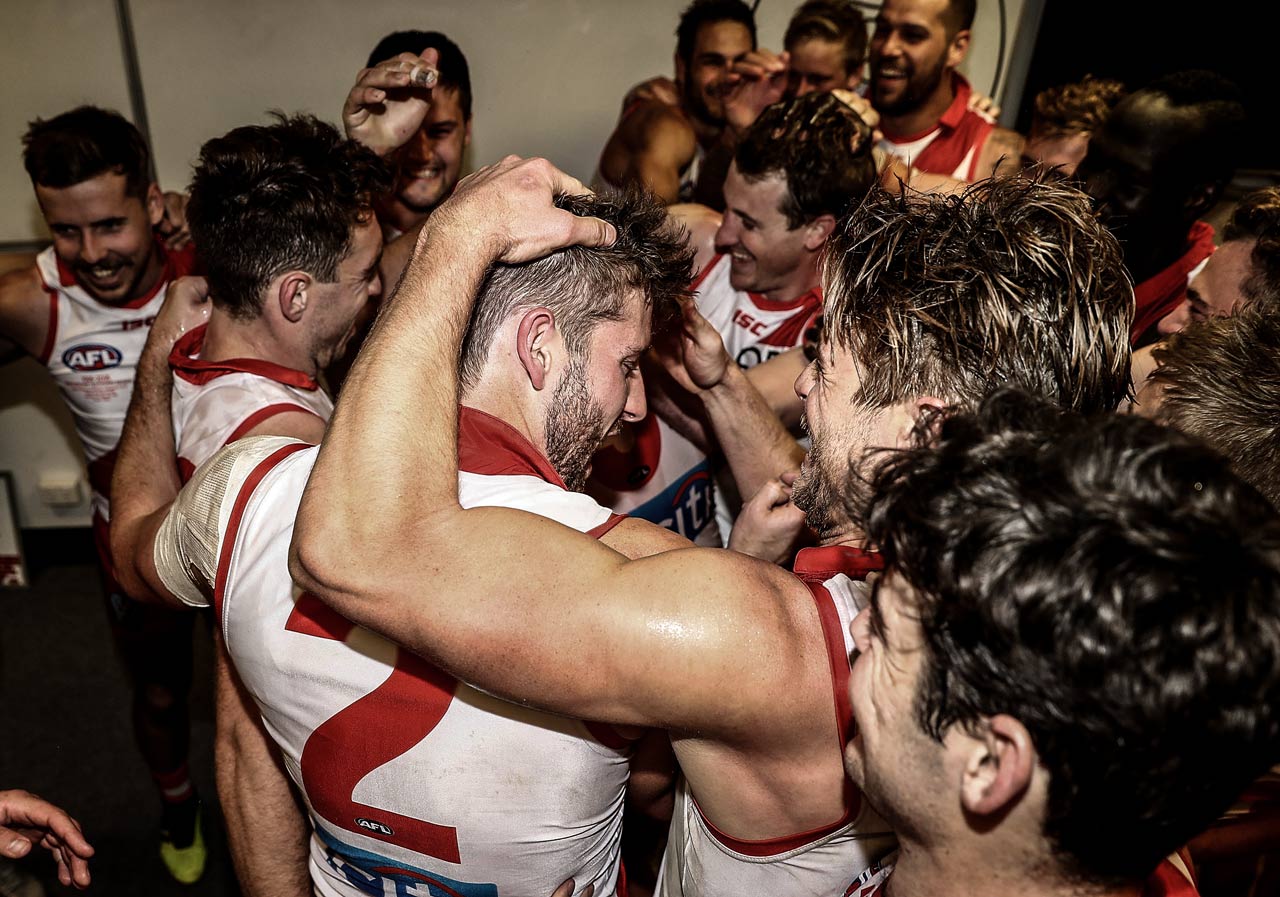 BUDDY BEAUTIFUL
Last Wednesday, John Longmire called me into the match committee room. He asked me how things have been going, and I sort of knew I was a chance after I'd had a chat to him the day before. I knew I wasn't that far away.
But the reserves had a bye the previous weekend, so I thought I was at least two weeks away because I hadn't played. But he gave me the news and I just sort of sat there.
It was a mix of so many emotions that came over me at that point. I had thought about this moment almost every day for the last five-and-a-half years, it was amazing for it to finally be confirmed that I was actually going to make my return to the AFL. I couldn't wipe the smile off my face.
It was a really special moment to share with Horse, who has been there every step of the way. His first season coaching was my first season here at the Swans, and we were obviously victorious in his second year coaching, which was my second year here.
He's been there and supported me over the journey, so it was really special for him to deliver that news just one-on-one.
It was amazing for it to finally be confirmed that I was actually going to make my return to the AFL. I couldn't wipe the smile off my face.
When I left the match committee room, the first call I was always going to make was to Mum and Dad. They were over the moon. They've been there for the journey. Mum's been an absolute rock for me and a sounding board. People have asked me if I've seen psychologists but I haven't needed to because of what Mum's been able to do for me.
She's an unbelievably strong woman. A lot of the time she's probably felt helpless going through this with a son living in a different state, but the amount she's done for me is incredible. I owe her a lot.
Then I called my brother and sister and my girlfriend. To tell them was really special too because AFL is such an all-encompassing game, especially when things aren't going well. It takes more of a toll on people around you than most people would realise.
After the game, I pulled up a little bit sore, but the knee is no sorer than anywhere else. I feel really confident I can land on it and change direction and everything feels fine, so it's in good nick. I still do a lot of rehab and preventative things on it that I've learned over the journey, and I incorporate that into my training week to week, so the knee pulls up sore but so does everywhere else.
The last couple of weeks have been a bit of a whirlwind, and I won't be able to really sit down and think about what I've been able to achieve until after the season.
Right now, I'm just happy I stuck at it when a lot of people wouldn't have. Every time someone wrote me off, I almost added them to a fake list in my head of people I was going to prove wrong. That was something that really spurred me on.
But nothing spurs me on like contributing to the Swans' finals quest, and it was great to help out on Saturday night.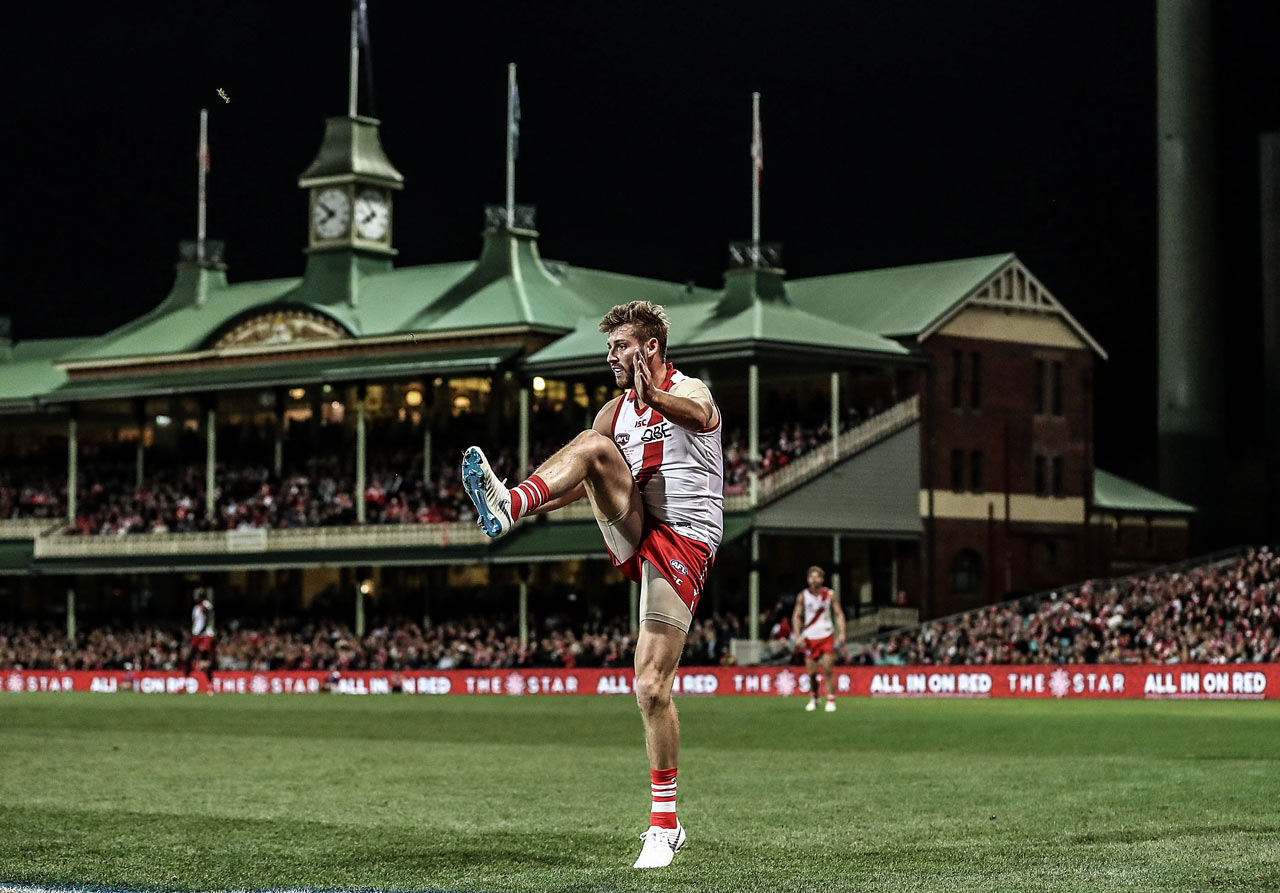 In the first AthletesVoice piece I wrote a couple of months ago, I said I'd never kicked a ball to Buddy Franklin in a game except maybe by accident in the 2012 grand final when he played for Hawthorn!
Well, I finally got one to him in a game on Saturday night. Bud was there and he was open and I hit him. I think he wheeled and put it inside 50, so it was good.
Buddy played an unbelievable game against Collingwood. I owe a lot to him. The fact that he kicked six and made the night an absolute fairytale, and to do it with Harry Cunningham in his 100th game, my return match couldn't have been scripted any better.
More about: Buddy Franklin | Collingwood | Injuries | Mason Cox | Melbourne Demons | Rhyce Shaw | Sydney Swans