The trait Sutto shares with greats
I was 14 when I first saw John Sutton play for Souths.
Back then, I attended Matraville Sports High and lived in Morehead Street, which is only a couple of blocks away from Redfern Oval.
We'd lived in a flat only a kick away from the ground until I was four.  The hallway wasn't very wide, but my brother and I were always up for a game of footy along it. We'd pretend to be this player or that. We'd crash into doors and put holes in the wall. Mum and dad wouldn't be happy about it.
Around the time when I was in my early years of high school, Sutto was making his way as a first grader.
He was versatile, alternating between centre, five-eighth and lock in his first three seasons as Souths struggled in those years after they were readmitted to the league. There weren't too many good days for the Rabbitohs back then. But win, lose or draw we turned up to watch them play at the SFS.
I'm 28 now and about to line up alongside Sutto when he plays his 300th game for the club. I'm having a bit of trouble wrapping my mind around that. One minute you're a kid watching these great players go around – Benji Marshall was probably my favourite, Billy Slater was fantastic – and next thing you're playing against them.
Or with them, in Sutto's case.
Sutto is a Souths great. He's the only player in our 110-year history to have played 250 games with the club. And now he's about to hit 300 against Wests Tigers. Remarkable.
But, the sort of bloke he is, he's made it clear to the players that this week is not all about him. He's done all the media conferences and interviews and stuff, which you've got to do and he deserves all the recognition, but his message when he addressed the playing group was all about the team. 
Basically, he said, 'It's a good milestone, but what we do is all about the team effort. Everyone's got a part to play and I don't want the focus to be on me, I want it to be on the team. Let's all go out there and do our job'.
To me, John Sutton is what Souths are all about.
He's had his setbacks along the way. Broken leg, did his shoulder, torn pec, a couple of wooden spoons, only three wins one season.
Someone even tweeted that he'd been picked to play for NSW at one stage, but it turned out to be a mistake.
But he has always gotten back up off the ground and fought on. That's what the Rabbitohs have always done as a club. We were kicked out of the comp in 1999, wouldn't accept it and fought our way back in 2002.
We won the comp in 2014. That ended a 43-year drought. Sutto was captain.
Nights like that are what I'll always remember about him.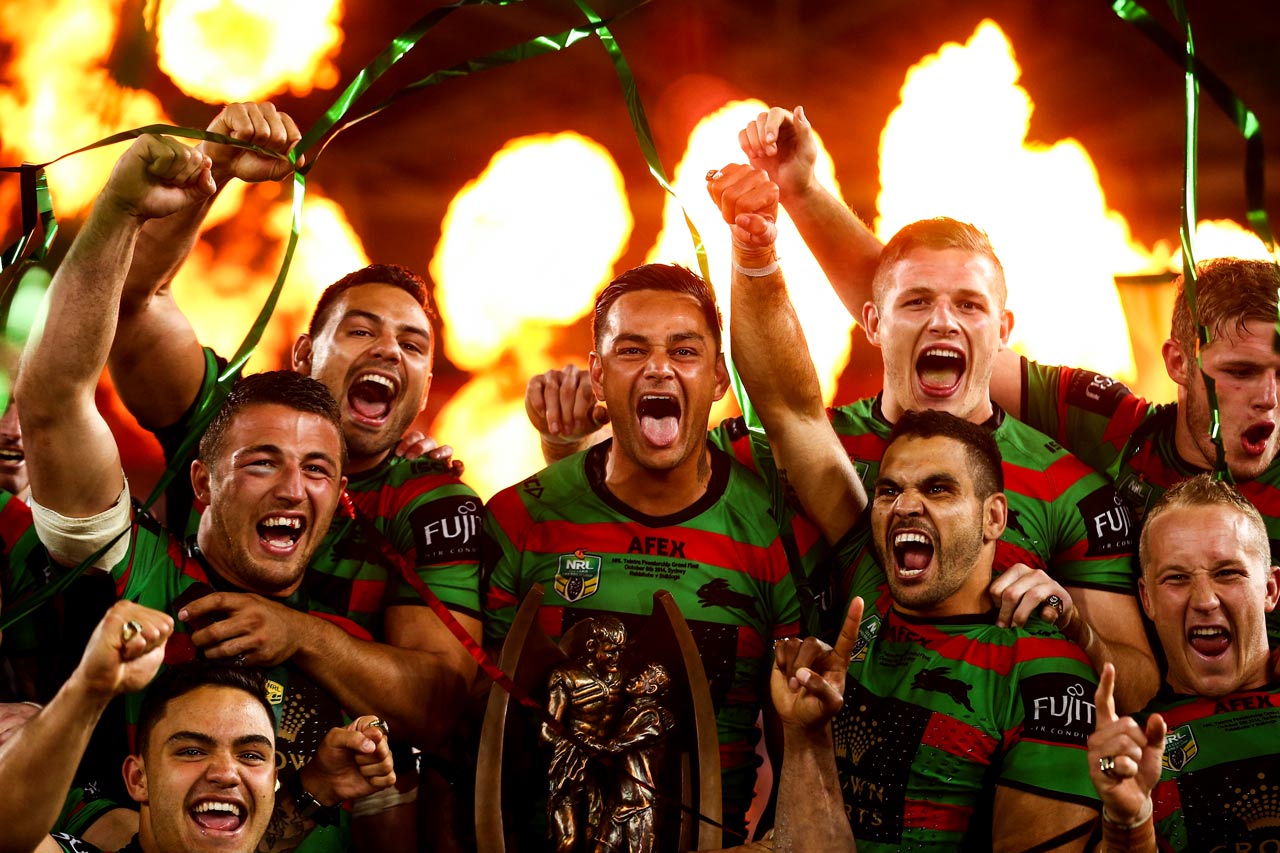 READING THE GAME
I tore my ACL during pre-season early in 2011, so I had to sit the season out.
I spent a lot of time that season studying the players around me at Souths. Chris Sandow was there at the time, and Sutto of course. I learned from them and watched other players like Mitchell Pearce, Cooper Cronk and Johnathan Thurston at other clubs.
By 2012, I was back and playing in first grade. That's when Sutto became such an important influence on me. I knew him a little bit. He was a character. He'd probably admit he was a bit of a ratbag sometimes when he was young, but who isn't?
But now we were playing together in the halves. We had to develop an understanding.
We were two different styles of player. He's obviously a bigger body and good with the ball. He took control of games. I just had to worry about my job, which was organising and making sure the kicking game was right and my defence was spot-on.
I could learn the rest of it on the run.
I already had kids by then and then Sutto's started coming along. We found common ground away from the field. Our families got on really well and we'd find ourselves together relaxing at team barbecues. And if the players went to breakfast before training, he and I would talk a bit about the game and what we needed to do to make things work. We got better all the time as a combination.
Sutto sees the game clearer than anyone I've played with.
His vision is as good as any of the greats of the game. He's smart about reading numbers, he recognises opportunities quickly and he acts decisively. He has taught me a lot. I reckon he'd make a great coach if he wanted to do that.
He pretty much coaches on the run in games. 'They're not reacting well in defence there, let's go that way', or whatever.
When we lost to Manly in the preliminary final in 2013, it was very tough to take for all of us. Sutto shed a few tears on the field at the end of it. We'd reached the same stage the year before and we knew what we were capable of. To not get to the grand final this time was a huge blow.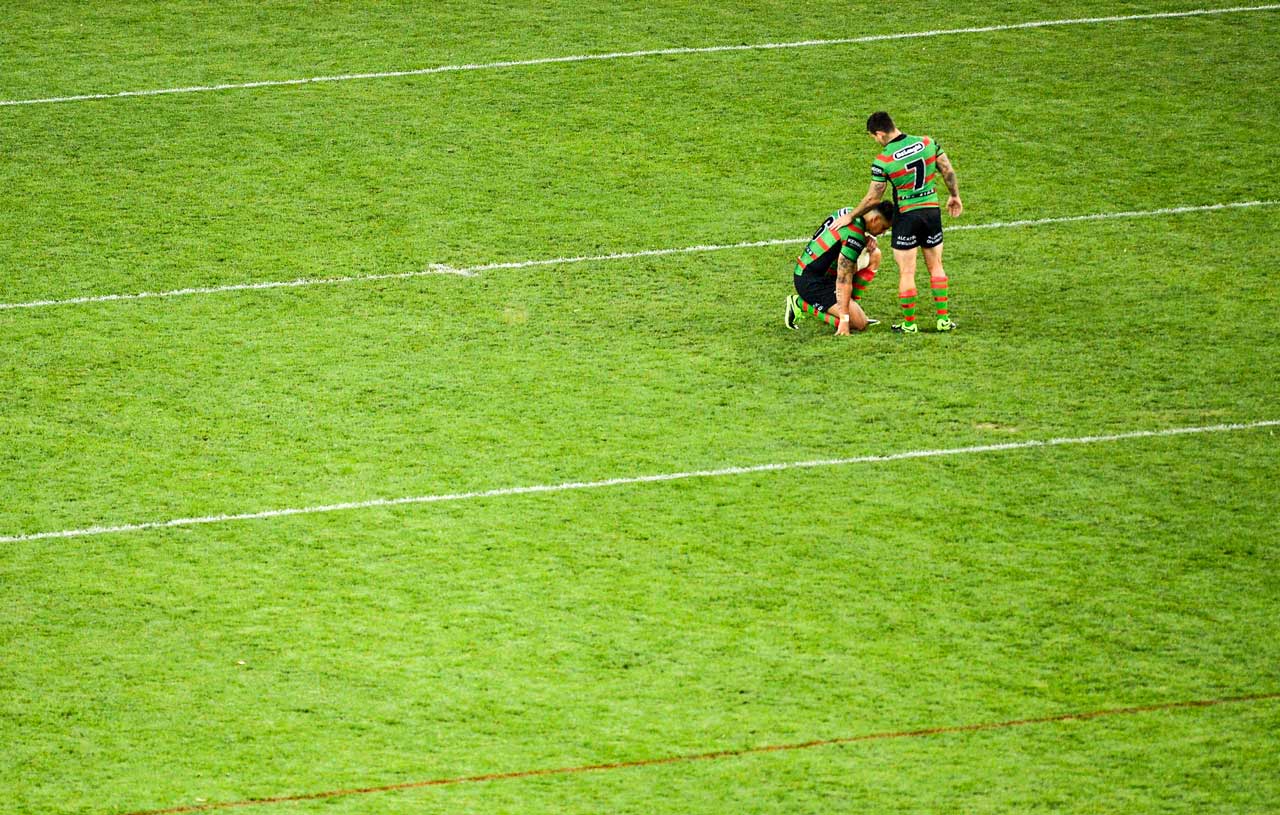 But we learned from it. Everyone was still hurting bad when we started the next pre-season and we talked about it as a group. A few of us had something to say and Sutto was as vocal as anyone. He didn't like the chatter from the outside that 'Souths can't do it, they can't win the comp'.
Sutto wanted to shut that up. We all did, so we made a pact that we were going to go all the way. We were hungrier, more desperate, and senior blokes like Sutto drove that attitude at training. He doesn't talk just for the sake of it, so everyone listens when he does.
As good a player as he already was, Sutto has always tried to find ways to get better. He still does now. He likes to lead by example at training, but if he sees one of the young blokes struggling with the workload he'll get alongside him and say, 'You'll get through it, just keep going'.
He'll give you honest feedback during games. If you're not doing things right, he'll say something at halftime and remind you how you should be doing it. If you go back out there and keep making the same mistakes, he'll really give you a serve.
To me, John Sutton is what Souths are all about.
Sutto still played a lot of five-eighth in the year we won the comp, but he went to the second-row for the finals with Luke Keary at five-eighth. Having a ball-player like him in the forwards, it just increased our options for those big games.
His influence as not only a great player, but a great leader, was a big reason we came out of that finals series on top.
The celebrations were big, as you can imagine, and after a couple of days of it I was having a break when Sutto rang me and said to meet him down at the pub at Maroubra. He was there celebrating with his mates.
Myself and Chris McQueen and a couple of other players went down there and had a great time. Sutto eventually started saying to me, 'I'm pretty tired', and I guess that was his way of warning me he might be gone soon. Next thing you know, he'd disappeared and left me with his mates.
They looked after me. They were over the moon that their mate Sutto had won the comp and were enjoying it just as much as we were.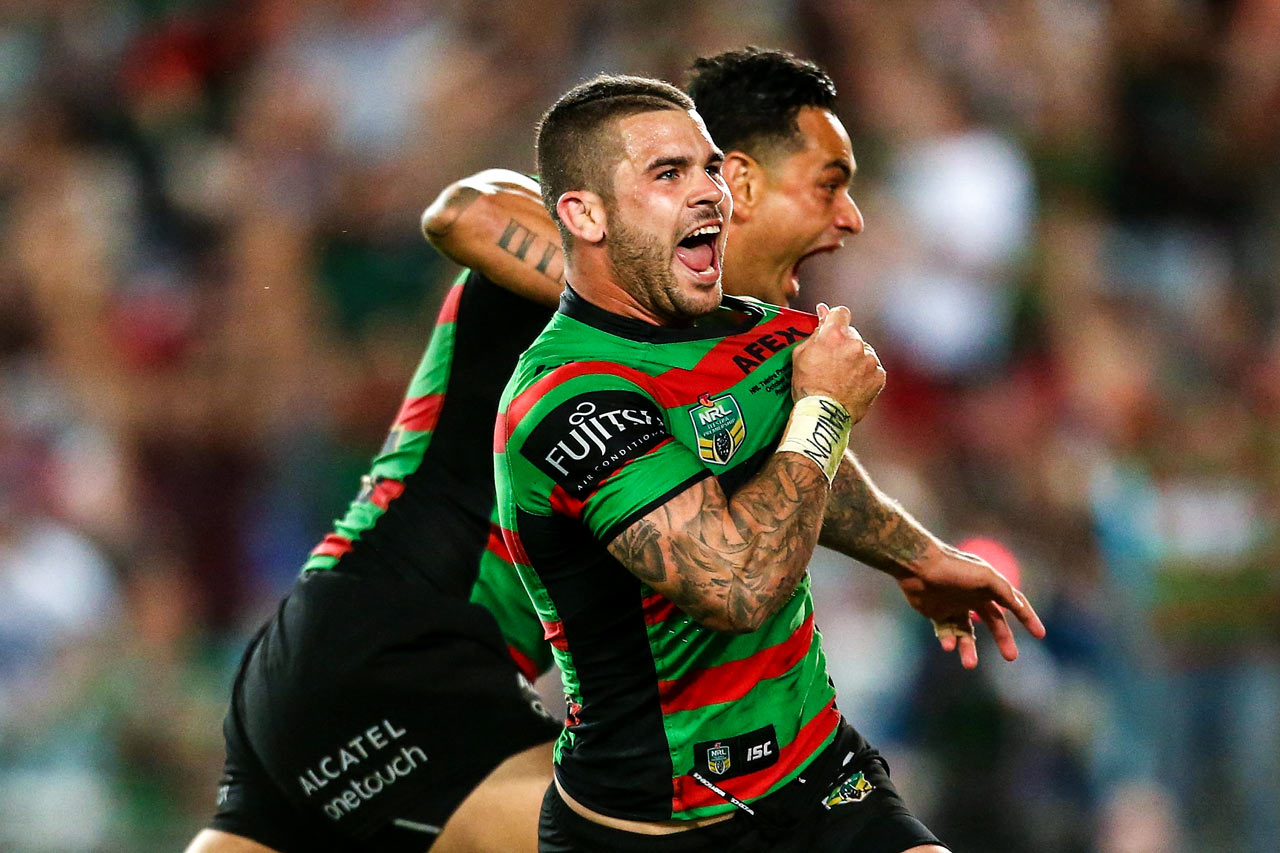 EMOTIONS & ACCOUNTABILITY
Sutto and I have had plenty of blow-ups on the field.
We've said things to each other I wouldn't want to repeat here – plenty of swear words obviously – but all it means is that we care. About our footy and each other.
He's as passionate as they come. We're all wearing our heart on our sleeve and, if something breaks down in our game, things can get heated. It might be a bad pass, a wrong option or whatever, and tempers become frayed. I found it pretty intimidating in my early years in first grade, but as I've gotten older I've given a bit back.
It's all part of football if things don't go right. Accountability is a good thing. Everyone goes through it. It's all sweet after the game. There's never any need for anyone to apologise or anything like that. It's a game of footy and we're just trying to make each other better. We're just trying to win.
The best advice Sutto's ever given me is 'Back yourself'. If there's a smarter way of doing what you're trying to do, he'll tell you and then it's up to you to run with it.
Sutto sees the game clearer than anyone I've played with. His vision is as good as any of the greats of the game.
Sutto is pretty laidback off the field and away from training, but on the field it's different. That's when you see the other parts of his character come out. He's a winner. He doesn't take no for an answer and he's willing to go to great lengths to succeed.
He was obviously hurt when he lost the captaincy before the 2015 season, but what happened didn't affect how we saw him. We cherished him all the same.
We all make mistakes. You learn and you grow and you get better from that. Sutto didn't have a whinge about it. He got on with things and has excelled from that point.
He's an even better leader now. When he speaks, everybody listens.
And the camaraderie in the dressing-room after a game, when you win, it's something else. Sutto loves it and he knows he's going to miss it a lot when he eventually retires. You have a beer and a joke in the shower, gee each other up.
It's the time of your life when the team is playing well.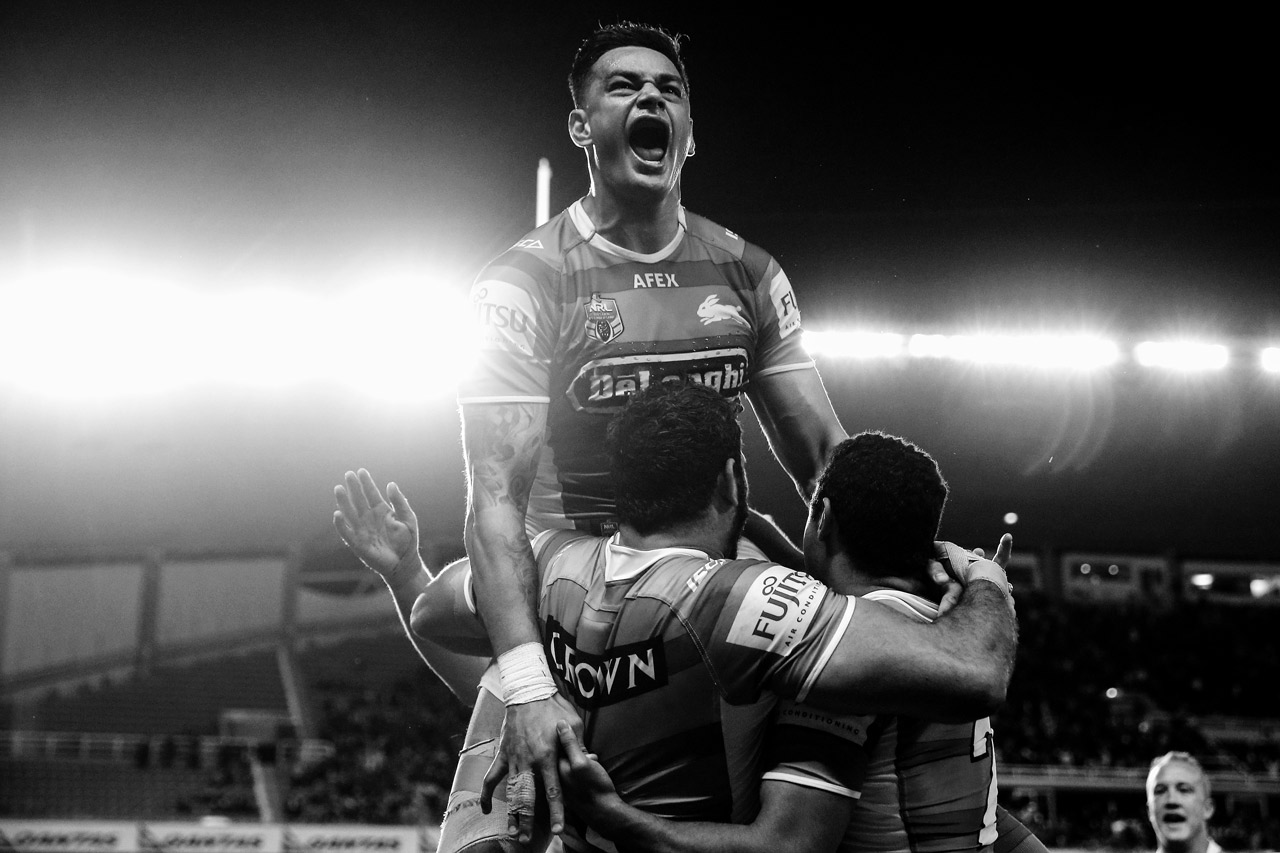 THE STREAK
People ask me why I think the team is firing again after two straight years of missing the finals. There are a number of reasons. Some are simple and some more complicated.
Madge Maguire did a wonderful job in turning the club around when he was coaching here and we should remember that. He instilled a mentality and culture among the group that was built around hard work and which we basically still live by.
Then Anthony Seibold came in this year. He has done a fantastic job. Seibs has changed up the structures, the training loads, put his stamp on things. It's working.
We've altered our style of play and getting that right in attack all comes down to repetition. We did reps upon reps upon reps in pre-season on the plays you see us use in games and, during the week at training, we'll put another 100 reps in.
I know I'm getting smarter as a player as I get older, but you have to. The game gets harder. It's difficult enough to win one game, let alone a premiership. We've won nine games in a row and we're on top of the table, but we still get it wrong at times. It's not all rosy.
Whether you win or lose, you've got to remain prepared to work hard, look after your body and turn up to play at full capacity. Nothing is guaranteed in this competition. You might be travelling well one week, but that feeling can easily be ripped away from you the week after if you're not careful.
There's still a long way to go.
More about: Adam Reynolds | Anthony Seibold | John Sutton | Leadership | Luke Keary | Michael Maguire | South Sydney Rabbitohs