Footy, fishin' and fashion
It's a long off-season for female footy players. You look at the boys and they've probably got eight weeks a year off whereas we've got more like eight months.
Obviously, we still have a heavy focus on strength and conditioning and our skill work outside of the AFLW season, and most of the girls will go back to their local clubs and play a couple of games in their respective leagues. It's not like football totally stops.
During the off-season for us, the Crows girls are playing for the NT Thunder side in the VFLW competition which is the first year that this has ever happened. It's really good for us to still be able to train together in Adelaide as a group as, in the past, we have literally come together and basically played the eight games a year and that was it.
That's the unique thing about the Adelaide Crows in our partnership with AFL Northern Territory. The majority of the girls are based in Adelaide but we have a number of our squad members living in Darwin.
The NT Thunder are doing really well in the VFLW competition which is exciting, because for many years we were told that there was not a lot of talent coming out of the Northern Territory and that we were behind the other states in terms of development. There is nothing better than proving the doubters wrong.
Now it's really nice for the NT girls to have a pathway and a platform in the VFL to showcase just how much undiscovered talent there actually is in the Northern Territory.
I only moved up to the Northern Territory and started playing footy competitively in 2012, but I pretty much call myself a proud Territorian now. I spent the first 21 years of my life in Adelaide – and don't get me wrong, I love it here – but the Northern Territory is an incredibly special place.
I am very passionate about the NT and the talent that we do have there, and I'm so glad that it's now being seen week-in, week-out in the VFL competition and the girls have AFLW recruiters eyeing them off.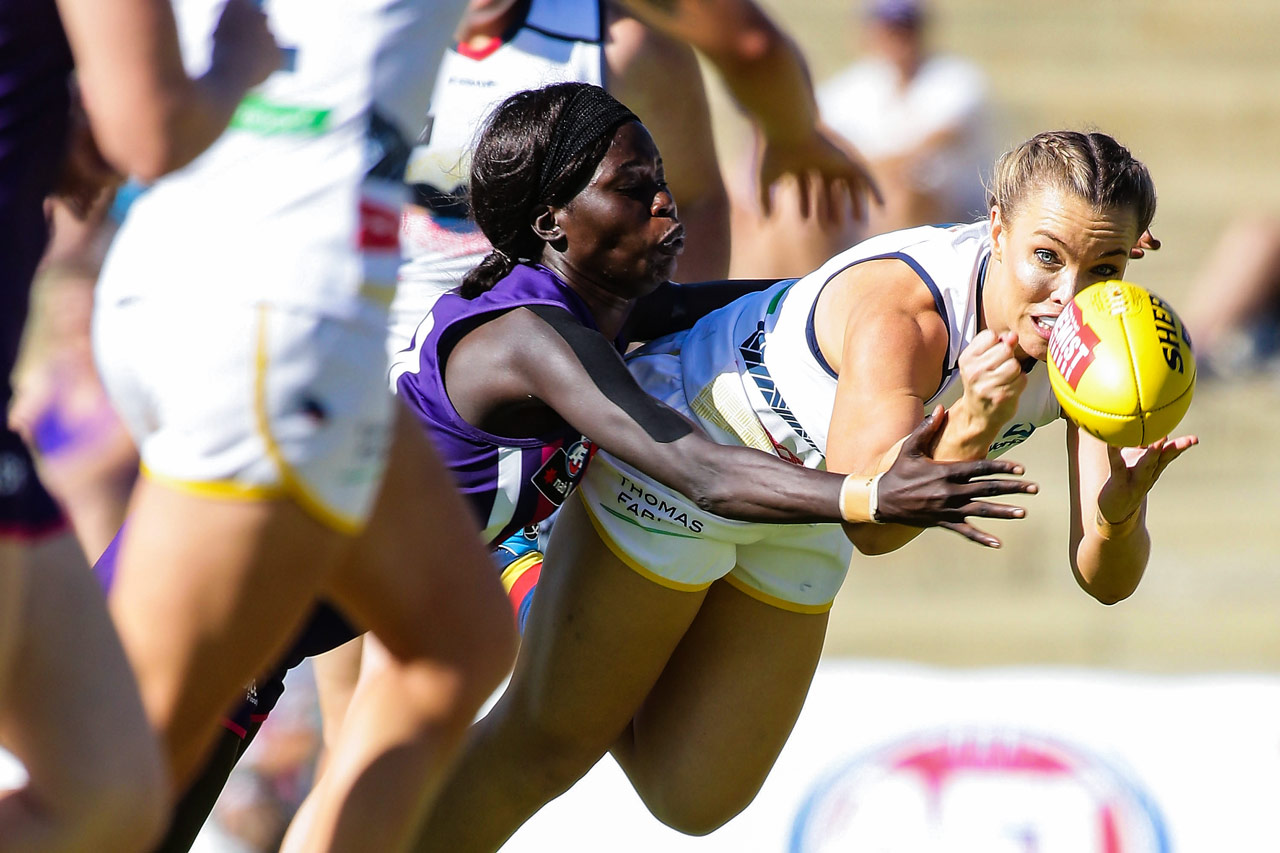 broken pathways
F
or many years it has been a similar story. Girls growing up, loving and playing Australian Rules Football, only to reach the age of 12-13 years and to be told they are no longer able to play the game.
Unfortunately, there weren't the pathways available for young girls/women to follow through to reach an elite level – it was only for the boys.
My Adelaide Crows teammate Erin Phillips is a sensational story of a broken pathway. Erin grew up with football in her blood. He father Greg, is a legend of the game, particularly in South Australia where he played 343 games for Port Adelaide from 1976-1993. She played Auskick with the boys until she was 13 and then was told she could no longer play football anymore.
That was when basketball took over and she achieved many great accolades within that sport, including two WNBA Championships and a World Championship in 2006 just to name a few.
Eighteen years later, at the age of 31, with the AFLW preparation in full swing, she was selected as a rookie for the Adelaide Crows and realised her dream of being able to play AFL football. This is just one example of many similar stories in the AFLW, but it's great to see that there is now a pathway for young girls to follow and not have to wait 18 years, like Erin, to realise their AFL dream.
FISH AND CHICKS
The Northern Territory really is the land of opportunity and I'm now working on my own TV show filming out of the NT. I'm so glad that I can share with the rest of the world – and not just Australia – what the Northern Territory really encapsulates. It's such a beautiful place.
The show is called Living The Dream with Abbey Holmes and it's a series of nine episodes filmed throughout the entire Northern Territory from Uluru to Nhulunbuy. I went over to London and met with the network there a few weeks ago and we're lucky enough the show is going to go worldwide – hopefully to countries all around the world and a viewership of about 600 million.
I can't wait for the rest of the world to see the Northern Territory. I feel like when tourists come to Australia they go to Melbourne and Sydney – and don't get me wrong they're incredible cities – but I want to show people the real Australian outback. The red dirt and the remote beaches that are hardly stepped on, that's what the show's all about. Plus there's lots of fishing and adventure, so it's a really upbeat and exciting show.
My dad's mad for fishing, so we grew up throwing a line in wherever we could. A few of my family members fish professionally off the west coast of South Australia in Smoky Bay. Moving to the Northern Territory has been amazing. There is some of the best fishing in the country here all year round and some of my favourite fish to chase are barramundi and Spanish mackerel.
One of the angles of our pitch to a major international network is that there are so many fishing shows with male hosts. On their own network they have 20-odd fishing shows, but not one of them are hosted by a female.
Don't get me wrong, the show is not just about fishing. But where we can dabble a line in, we certainly do, and as I said, the fishing world has been male-dominated for a very long time so it's great to be making waves in that space too.
BUSYNESS AND BUSINESS
I've always been a very busy person. Work-wise, the main focus at the moment is the show but that changes from month to month. I'm trying to juggle that with my football broadcasting commitments, and an activewear business so I'm constantly flying around the country.
Throughout the men's AFL season I work in broadcasting on TV and radio, which has been a goal of mine for many years. I pinch myself to think that I work in football.
I grew up never really having a female role model in the AFL. It has for many years been a man's world. It really is a dream come true for young girls to be able to turn on a TV and see women playing footy and working in football. They can envisage themselves in those roles now.
For me, it feels like I don't work because I literally love everything I do. It's like that old cliché – 'love what you do and you will never have to work a day in your life!' I'm very lucky to be in that position.
One of the angles of our pitch to a major international network is that there are so many fishing shows with male hosts. On their own network they have 20-odd fishing shows, but not one of them are hosted by a female.
My activewear business, Esnetica, also keeps me busy during the day. I always laugh when I hear that activewear parody song, because it's so true! People wear activewear to do a wide range of things, not just to workout or hit the gym.
It's quite an incredible space to be in – to be working out fitness trends before they happen. I've got some incredible business partners who've worked in the industry for a very long time.
It certainly keeps your mind working and ticking over. You take risks, you live and you learn. It's interesting because I can't really see the end of this activewear phase for a very long time.
For me, when I look at my life, I am constantly travelling. Everyone who travels wants to be comfortable, whether it's from Adelaide to Melbourne, or Melbourne to LA, so that's an area that we're focusing on at the moment. You'll have to see what we come up with, won't you!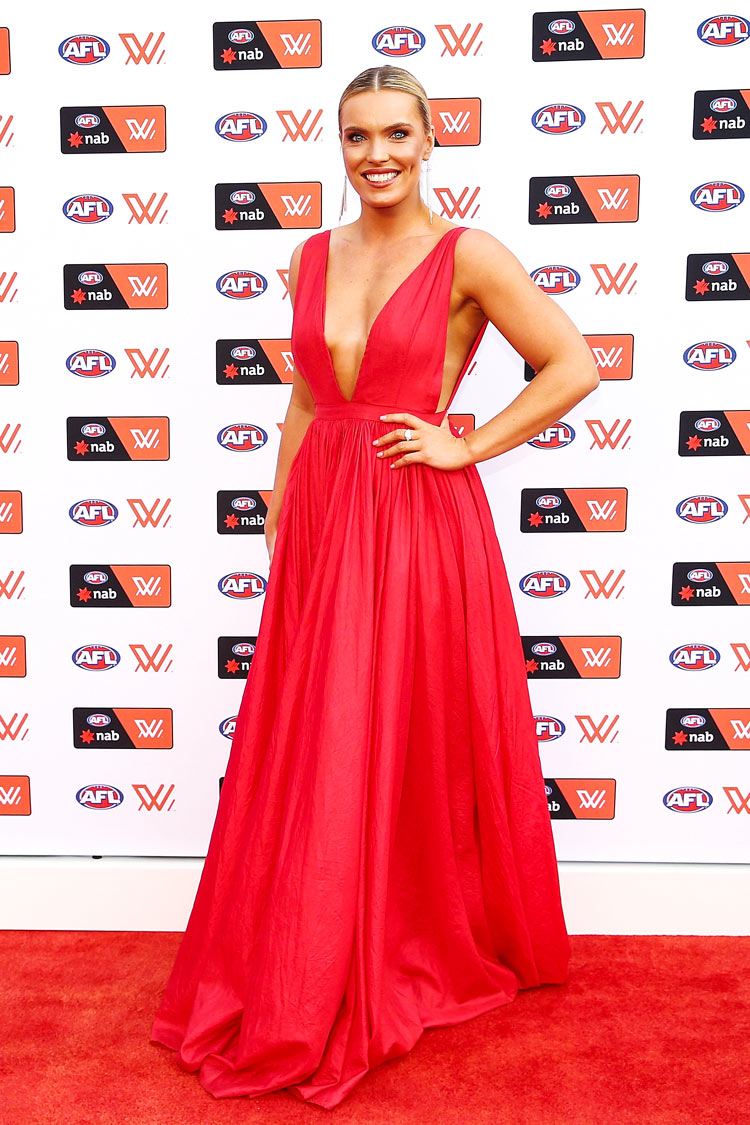 EVOlving as a footballer
I think netball was a really good grounding for my footy career. It's fantastic because up in the Northern Territory the seasons don't collide. We play netball for six months of the year from April to September and put on the boots and play footy from October through to March.
You can certainly transfer the skills from netball to football, and we find that a lot of sensational netballers are good at football as well due to the same concepts such as keeping possession and being able to read the play.
I set out to try and kick 100 goals in the NTFL to try and bring more attention and interest to women's footy in the NT. We did not have any girls drafted to the Melbourne or Western Bulldogs side for the exhibition series that had run since 2013, so that was the reasoning behind setting this goal. But despite achieving this goal, we still did not have any girls picked up – including myself.
I asked for feedback from Michelle Cowan who was the coach of the Melbourne Football Club at that point in time. She said, 'It's all well and good that you can go out, take a mark and kick a goal but we want to see you really push up the ground and create more opportunities for goals'.
Taking that feedback on board, I moved up the ground and started playing as a centre half forward and occasionally rotated on ball. Once I made that change, my game became less one dimensional and more well-rounded which had a large impact on getting drafted to the Adelaide Crows in October 2016.
I was unfortunately restricted for season 2018 with a knee niggle sustained prior to round one, but now, looking toward 2019, I am just doing everything I can to get this knee right to hopefully give myself another opportunity to play in the AFLW.
More about: Adelaide Crows | Erin Phillips | Melbourne Demons | Port Adelaide | Sponsored | Women's Sport