AthletesVoice Contributors
Footy rejection, cricket triumph
Many people draw motivation from athletes. But who do the athletes turn to? In these powerful AthletesVoice pieces, Australia's leading sportspeople reveal what motivates them.
---
How a Giant became Australia's keeper
Dylan Shiel – Contributor
Alex Carey wasn't blessed with blinding speed or dazzling skills. He wasn't the best kickerp of the footy you've ever seen, either.
But he had courage to burn. He was a leader, the kind of player who could lift everyone around him with one inspirational act. And he was tough. Bloody tough.
That's what Greater Western Sydney Giants saw in him when they named him the club's first-ever captain. And I reckon it's safe to assume that's what the Australian cricket selectors see in him, too, after calling him up for his one-day international debut earlier this month.
It's been a long, difficult journey for Alex. My girlfriend, Georgie, jokes that I'm like a proud dad when I watch him play. She's right. I'm incredibly happy for him and all he's achieved.
Nothing has come easy for him. He has earned it all.
---
Why I had to leave my mum
Arianna Clarke – Contributor
I grew up in a small bush town called Kambalda, out in the red dirt of Western Australia's golden outback.
It was a close-knit mining community of about 3,000 people, 40 minutes south of Kalgoorlie where my mum worked in an underground gold mine driving 50-tonne trucks.
She had to do it all by herself because my dad has never really been in the picture. For her, that meant doing long hours of shift work, day and night, to provide.
Watching her work her arse off for the two of us taught me three things.
First, a work ethic. Second, how to be an independent woman. And third, how to have a sense of humour about things regardless of how tough they are.
And even as a little girl I put those lessons into action.
From about eight years old, I got myself to and from school. I made my own lunches and did my own laundry. I washed the dishes. I made my bed and cleaned my room. I'd get groceries with the money that Mum left out.
I spent a lot of time at my Nanna's but mostly I was looking after myself. And I enjoyed that responsibility because the flip side was freedom. It meant I didn't have a strict mother on my case all the time and I could do what I wanted, as long as I was home before the streetlights came on.
---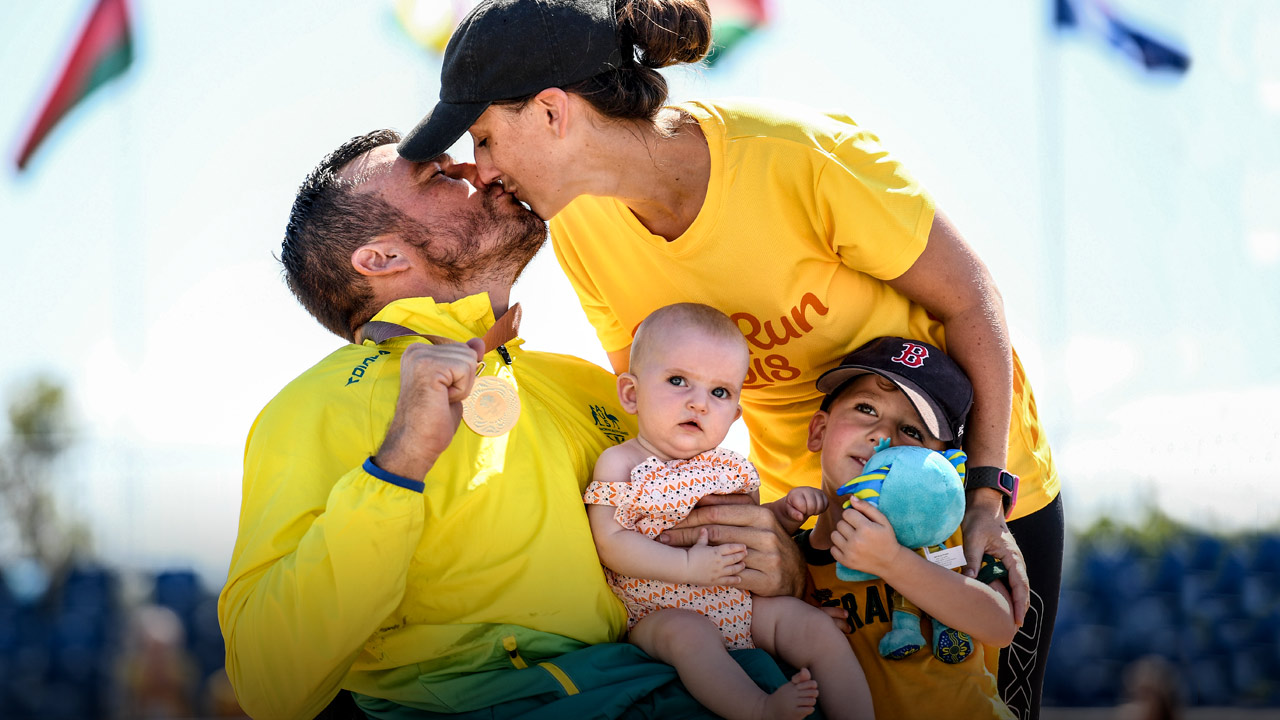 To every single one of you, thanks
Kurt Fearnley – Contributor
Every battle I win on the track or for a new ramp or change of policy that brings long-deserved rights and access to people with disability is their win. If I can use my profile and ugly mug to give a voice and face to those who don't have the chance themselves, I must.
The true beauty of these Commonwealth Games has been the feature of the largest-ever integrated para-sport program in a major sporting event. We've had disability on the television, in the papers, all across social media. Not because we had been denied access to a flight, been involved in an accident or stuck outside a building with a flight of stairs blocking access. We've been in your faces because of hard work, determination and success on the track and in life.
We are too often marginalised by invisibility. These Games have helped remove that cloak. I hope future Games build from this platform.
---
The day Hughesy ruled Durban
Simon Katich – Contributor
On first inspection, the Kingsmead wicket was about as ugly a pitch as I'd seen in Test cricket. We had no idea how it was going to play. 
Thankfully, it ended up playing better than it looked and Hughesy was on the offensive from the start. The Proteas thought they could pepper him.
He responded by taking each and every one them to the cleaners.
They set a seven-two field for most of the day, thinking they could get him nicking off at gully or in the slips. Instead, he smashed them square of the wicket when they went short and down the ground or off his pads when they tried a fuller length. He was just as potent off the front foot as the back.
Steyn was at the height of his powers back then and he responded with some seriously quick spells. That would've rattled most batsmen in world cricket. Hughesy? I remember him walking up to me at the end of one of those Steyn overs and saying, 'Kat, how good is this, mate?' He was loving the battle.
We talked a little bit about the match situation in between overs – see off the new ball, build our partnership up in blocks of ten runs, get through to drinks and then lunch – but the main topic of conversation seemed to be his cows and bulls. I've seen people more outwardly nervous in club games!
---
We felt like outlaws
Rod Laver – Contributor
I'd dreamed of Wimbledon virtually since I'd first lifted a racquet and I was fortunate enough to win the championship four times. I've been going back there as a spectator for a few years now.
It's still a great thrill walking through those pearly gates. It's just wonderful being able to come back, and enjoy some of the memories it brings. 
You're walking past a few of the courts and you think, 'I remember playing so-and-so, or doing such-and-such and it was a long match, or whatever it was'. Some of those things just don't go away. That part of Wimbledon for me just doesn't fade.
There were some funny moments. The old No.1 court was close to the centre court back in those years and I do remember one time there was this strange situation when I was playing Stan Smith in a quarter-final or something and the balls wouldn't bounce.
They put all the balls in refrigerators, but they'd turned the refrigerator up too high that day and I was telling the umpire, 'These balls are cold, they don't bounce'. He said, 'Two minutes to go'. So I said, 'Are you listening to me? These balls, we can't play with them. They don't bounce'. He said, 'One minute to go' … then, 'OK, OK, we're going to have to stop. Oh yeah, that ball is cold. We'd better change them'.
Yes, I always was a troublemaker!
---
Running for our father
Thomas Burgess – Contributor
I'll never forget the way dad carried himself throughout the disease. At first it took over his fingers and toes, and then his hands and feet and eventually his whole body. George and I were only about 12 or 13 when it started to take away his ability to speak. That's when we realised how serious it was.
Until then, I thought of MND like dad's other footy injuries. He'd had problems with his knees as a player and he got over those. I thought this would be the same. I hadn't heard of MND before. I didn't know what it was.
It was hardest on Sam. He was about 15 at the time and he understood the consequences better than I did. Dad sat Sam and Luke down at home to tell them about the diagnosis – George and I found out a bit later – and Sam stayed with dad until the end, carrying him up the stairs to bed when he became too frail to walk up himself.
That is a lot for a teenager to go through. Sam shouldered much of the load and protected us from the worst stuff, all the while building towards his senior debut with Bradford.
Dad died in 2007, just before Sam scored a try on debut for Great Britain as an 18-year-old.
---
I look sexy in whites
Dylan Alcott – Contributor
I never thought I would play at Wimbledon. One hundred thousand per cent no.
There are a couple of reasons: firstly, I found it really tough growing up with my disability. I was OK, but then I got bullied at school and it became really hard. I don't think I'd be doing much, if anything, now if not for sport. It saved me.
I went through a tough time when I was just playing video games and eating junk food on the couch. If that kid who was embarrassed to go out of the house was told he would have played Wimbledon, there's no way he would have believed it.
I ended up playing basketball first, and I won Paralympics gold and silver medals for Australia. I'd played tennis a bit as a kid, but I never thought I'd come back to it, and then when I did, in 2013, I never thought I'd be playing Wimbledon.
Now I've won two more Paralympic tennis gold medals and five grand slams, and pulling on the all-whites for the first time is the definition of a dream come true.
More about: Australian Open | Disability | GWS Giants | Kurt Fearnley | Para Sport | Paralympics | Phillip Hughes | Resilience | South Sydney Rabbitohs | T20 | Thomas Burgess | Wimbledon